Fall is almost here and in Downtown Los Angeles that means a wave of new programming seasons for museums, theaters and other venues, as well as assorted Halloween activities. Los Angeles Downtown News rounded up 40 of the top arts and entertainment events coming to the area in the coming weeks.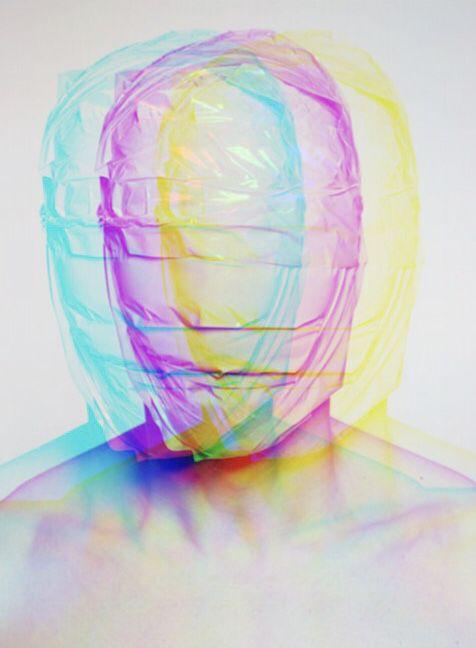 HAUS OF CREEP
Sept. 12-Nov. 3 at Row DTLA
Halloween is still more than a month away, but Downtown is getting a jump on getting spooky. Horror-focused collective Creep L.A. is back for its fifth year, this time with a 75-minute excursion dubbed Haus of Creep. The pop-up installation in Row DTLA is a multimedia experience full of shocks and ghastly sights. It also, according to its own description, is a "darkly satirical and terrifying send-up of social media-driven culture," so think twice about that Instagram post. The experience includes 20 actors and a puppet show in a 5,000-square-foot space. There's also a lounge, so when not jumping in terror, guests can enjoy beer and wine.
At 777 S. Alameda St. or creepla.com.
TY SEGALL RESIDENCY
Sept. 13, 20 and 27 at the Teragram Ballroom
If you haven't seen Ty Segall live at the Teragram, there's still time. The local alt-rock musician is in the home stretch of a 10-week run where he plays at the City West venue every Friday night. Each evening he performs two full albums, starting with his new one First Taste, before digging into his standout catalogue. With a large green "Salad Head" mask behind him on stage, Segall rocks out, backed by his Freedom Band. He doesn't limit himself to just the guitar, as he gets behind the drum set. Segall's music blends intense, hardcore beats with melodic riffs and vivid lyricism.
At 1234 W. Seventh St. or teragramballroom.com.
ART OF TELEVISION COSTUME DESIGN
Through Oct. 26 at FIDM Museum
Can't get enough of your favorite TV shows? Then glimpse the costumes from those programs up close at the Fashion Institute of Design & Merchandising's annual show. The 13th installment includes more than 100 outfits, and they run the gamut, from the fantasy duds of "Game of Thrones" to the gear created for the choreographer/dancer drama "Fosse/Verdon." The exhibit includes costumes from 10 Emmy Award-nominated shows, including "The Marvelous Mrs. Maisel," "Pose" and "Good Omens." Visitors also get a look at costume development, with a selection of sketches and info on fabric choices made by some of the designers.
At 919 S. Grand Ave. or fidmmuseum.org.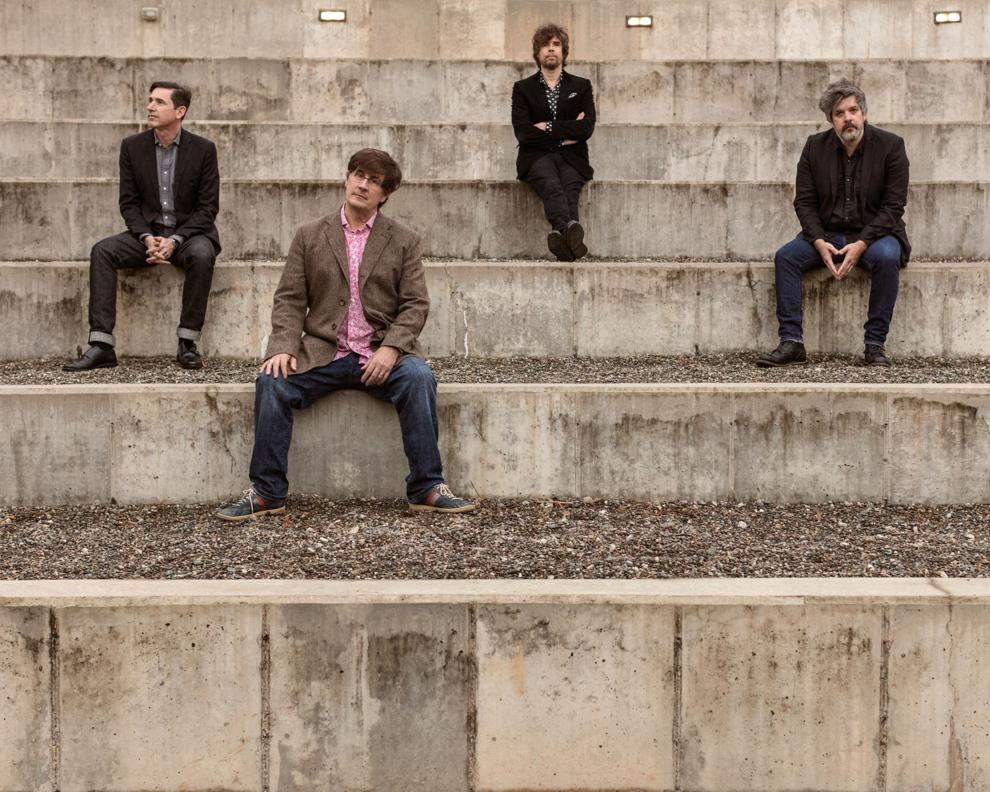 THE MOUNTAIN GOATS
Sept. 14 at The Belasco
Indie rock icon John Darnielle and the gang are returning to Downtown, this time in support of their latest album In League With Dragons, which happens to be inspired by Dungeons & Dragons. The genre-busting band has come a long way since the days when Darnielle recorded songs solo on a boombox, but The Mountain Goats still mix raw emotion with clever lyrics. If you have never seen a Mountain Goats show, get ready for at least two full sets, hilarious stories, songs that swing from folk ballads to near-metal, and audience members singing along to anthems of young adult angst, drugs, optimism and the best-ever death metal band in Denton.
At 1050 S. Hill St. or thebelasco.com.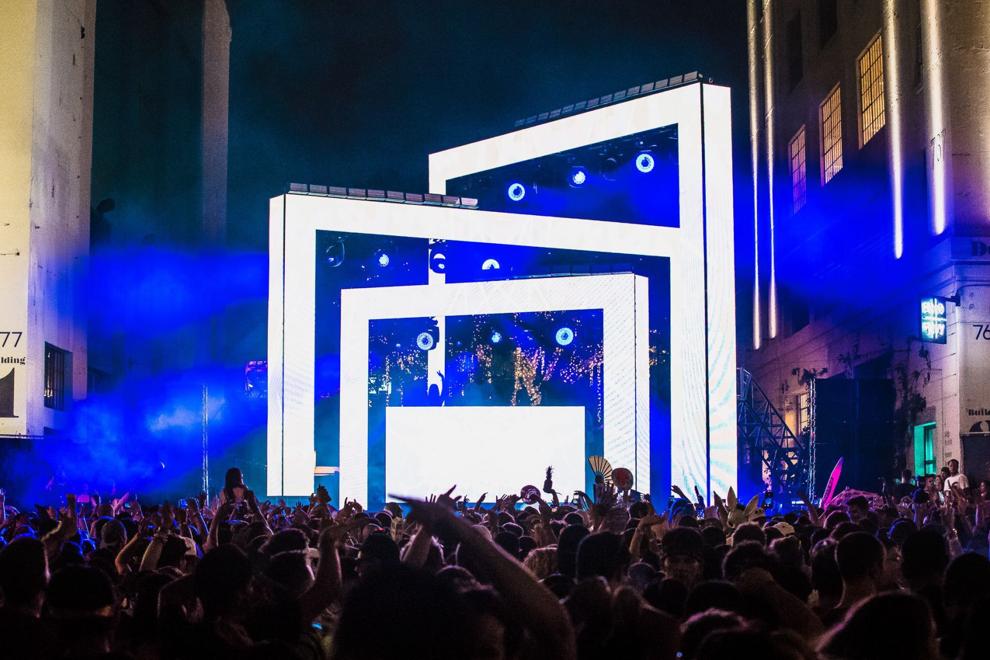 AMF FESTIVAL
Oct. 19-20 at Row DTLA
Downtown continues its emerging role as a destination for electronic music festivals with the return of All My Friends. Also known as AMF, it will fill the Industrial District's Row DTLA complex (there's plenty of on-site parking). The two-day happening, from HARD events founder Gary Richards, features about 10 acts each day. Highlights and headliners include Justice, Black Coffee, Kaz James, Destructor and Blond:ish. Also on the bill is Stringer Bell and John Luther himself, Idris Elba. The actor also moonlights as a DJ and rapper. There are single day and full-weekend tickets.
At 777 S. Alameda St. or amfdtla.com.
NATURAL HISTORY OF HORROR
Opening Oct. 10 at the Natural History Museum
This fall, Downtown's default destination for dinosaurs and dioramas is getting downright spooky. The Natural History of Horror exhibit dives into the science and impact of some of the world's most famous movie monsters. The exhibition is partly inspired by the 1930s and classic horror films from Universal Studios. So expect objects and artifacts from offerings such as Dracula, Frankenstein and Creature From The Black Lagoon. The show will include interactive experiences as well as informational displays on galvanism, mummification and more.
At 900 Exposition Blvd. or nhm.org.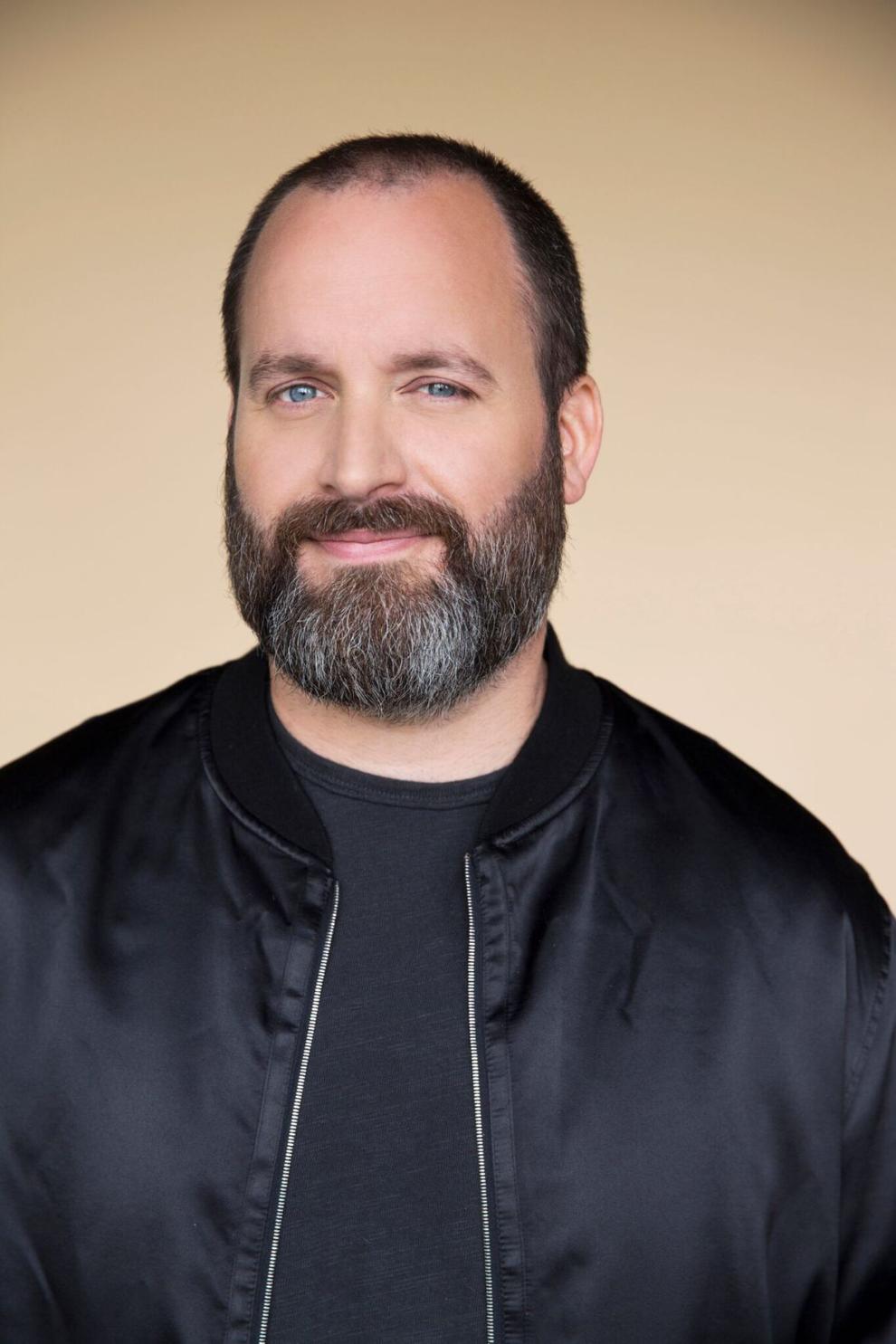 TOM SEGURA
Sept. 20-21 at the Orpheum Theatre
With a string of Netflix comedy specials to his credit, the hit podcast "Your Mom's House," which he does with his wife Christina Pazsitzky and regular radio slots, comedian and actor Tom Segura is a busy man. He's also in demand, as evidenced by his 38-city "Take It Down Tour." Although his special "Disgraceful" only arrived last year, Segura already has enough new material for a fresh show, and he's dropping by the lovely Orpheum on Broadway to riff on scenes from his life, everything from a conversation on an airplane, to becoming obsessed with a television show and his two children.
At 842 S. Broadway or tomsegura.com.
LUCHA VAVOOM
Oct. 23-24 at the Mayan Theatre
What better way to prepare for Halloween than to watch other people in masks and fancy garb toss one another around the squared circle? Downtown's resident wrestling show returns this fall with a bill dubbed "Fiesta Fantasma." As usual, a whole cascade of grapplers will enter the ring, including Rey Fenix, Pentagon Jr., the sleazy Joey Ryan, the energetic Lucha Chickens and the ultra popular Li'l Cholo. This will be interspersed with burlesque dancers such as Michelle L'amour and Karis, and there will be a consistent, ribald comedy track from the announcers. Pro tip: Unless you want to get hit with 200 pounds (or more!) of wrestler, when the security guards say move, you move.
At 1038 S. Hill St. or luchavavoom.com.
ALL-STAR CHEF CLASSIC
Oct. 2-5 at L.A. Live
Have you ever wanted to experience the skills of a world-renowned chef? How about 40 chefs? If the answer to either question could not be heard because your stomach is rumbling, then head to L.A. Live for the sixth All-Star Chef Classic. Taking place within a specially crafted temporary venue known as Restaurant Stadium, the four-day culinary happening includes seven chef-led dining events. Among the highlights are the meat-centric Carneval, the seafood-focused Grill and Chill and the Korean Master Dinner. The chefs hail from around the globe, but you can catch a few local favorites, among them Broken Spanish's Ray Garcia and Wes Avila of Guerrilla Tacos.
At 800 Olympic Blvd. or lexusallstarchefclassic.com
KISS
Sept. 20 at Staples Center
If you can tell the difference between the man behind The Starchild and the man behind The Catman, then you probably already know that Kiss is calling it quits soon. For everyone else, surprise! Kiss is purportedly taking off the makeup and hanging up the sequin jump suits and platform boots after completing the final leg of their ongoing "End of the Road" world tour (though, to be fair, the band has staged goodbye shows before). Paul Stanley, Gene Simmons, Eric Singer and Tommy Thayer will belt out Kiss classics such as "Rock and Roll All Nite," "Detroit Rock City," "Love Gun" and "Calling Dr. Love."
At 1111 S. Figueroa Blvd. or staplescenter.com.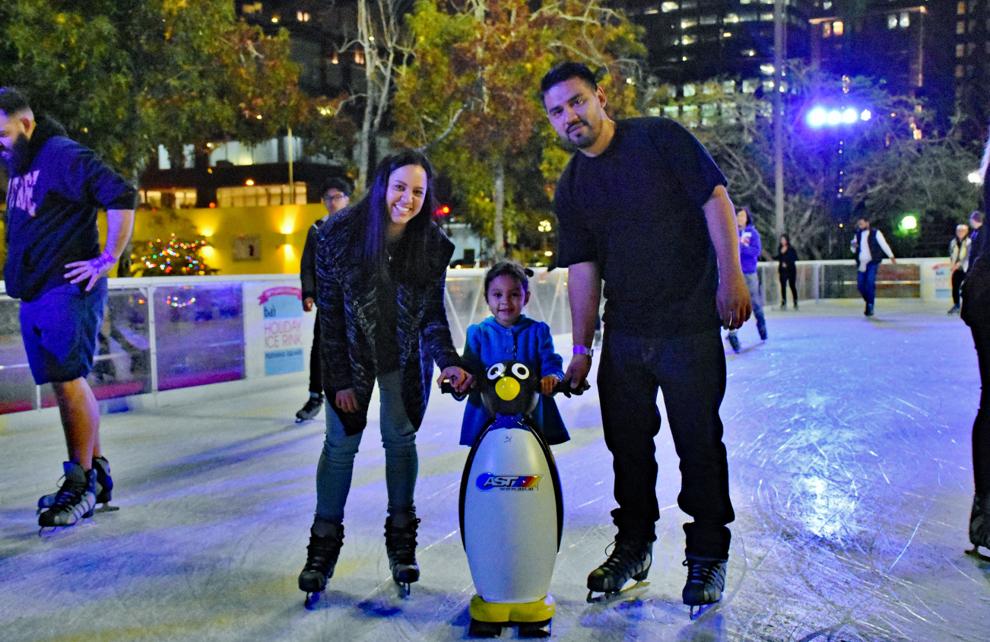 BAI HOLIDAY ICE RINK PERSHING SQUARE
Opens Nov. 14 at Pershing Square
The opportunity to glide on ice under palm trees and sunny skies returns to Pershing Square this fall. The 60-by-120-foot rink will be open seven days a week, and in addition to one-hour skate sessions there will be a roster of activities ranging from curling lessons (yes, the Olympic sport with the big stone and the brooms) to Thursday evening DJ sets. There will also be a slate of Friday night concerts. The Pershing Square rink is always an amazing sight, drawing a mix of graceful figure skaters and newbies white-knuckling the walls for support.
At 532 S. Olive St. or holidayicerinkdowntownla.com.
SIEGFRIED TIEBER: RED THREAD
Oct. 3-Nov. 10 at Pskaufman Gallery
A subterranean art space becomes the site of a close-up magic spectacle when Tieber returns to Downtown Los Angeles. The Ecuador-born magician specializes in jaw-dropping tricks — he stumped Penn & Teller with a card trick on their TV show — that he executes right in the faces of audience members. Performances are limited to just 34 people, and the theme and philosophy of the show is built around chance and chaos. This is up-close and very personal magic, but even with the proximity, you won't have any clue how the impeccably dressed Tieber does it.
At 113 E. Eighth St. or atlasobscura.com/events/red-thread-oct-2019.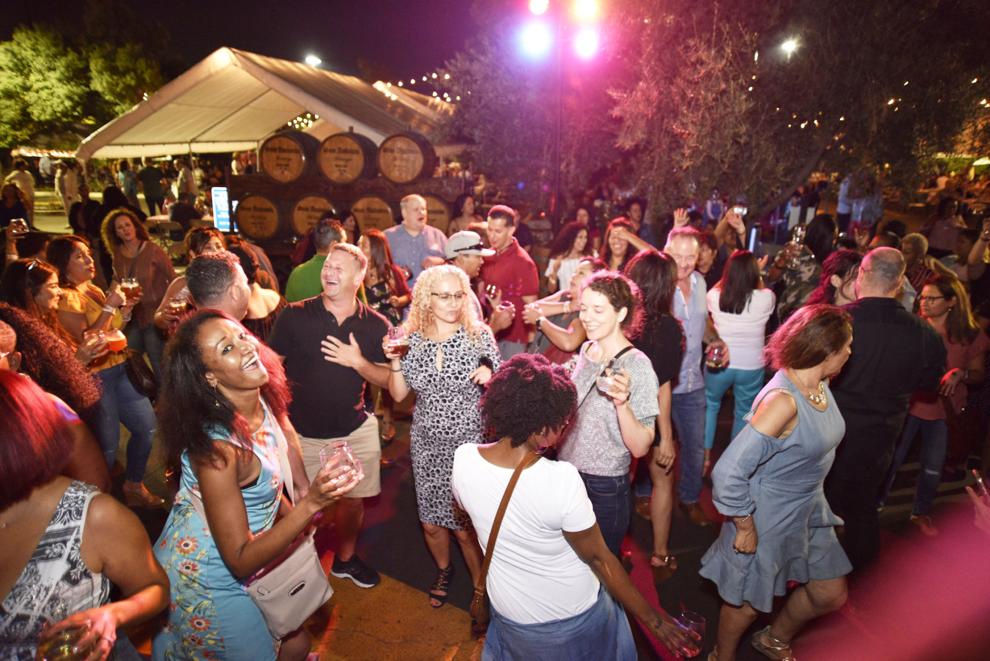 HARVEST FESTIVAL
Sept. 28 at San Antonio Winery
The century-old winemaking facility on the edge of Downtown welcomes the harvest at its third annual fall celebration. Yes, we all know seasonal crops are in short supply in the Downtown environs, but who cares? The facility owned and operated by the Riboli will have copious amounts of beer, wine, food, performances and dancing. There's even a charity grape stomp. When's the last time you stomped grapes in Downtown? The event is 21-plus.
At 737 Lamar St. or sanantoniowinery.com.
DTLA HALLOWEEN FESTIVAL
Oct. 31 at Grand Hope Park
Downtown's biggest and best family-friendly Halloween celebration unfolds again this year on the lawn at FIDM. This is all about the kids, with face painters, bounce houses and arts and crafts stations. Organizers make up for the Central City's lack of single-family homes with numerous trick-or-treat doors, providing plenty of opportunity to fill candy bags. The wee ones always come out in costume, and adults are encouraged to do so as well.
At 919 S. Grand Ave. or downtownla.com.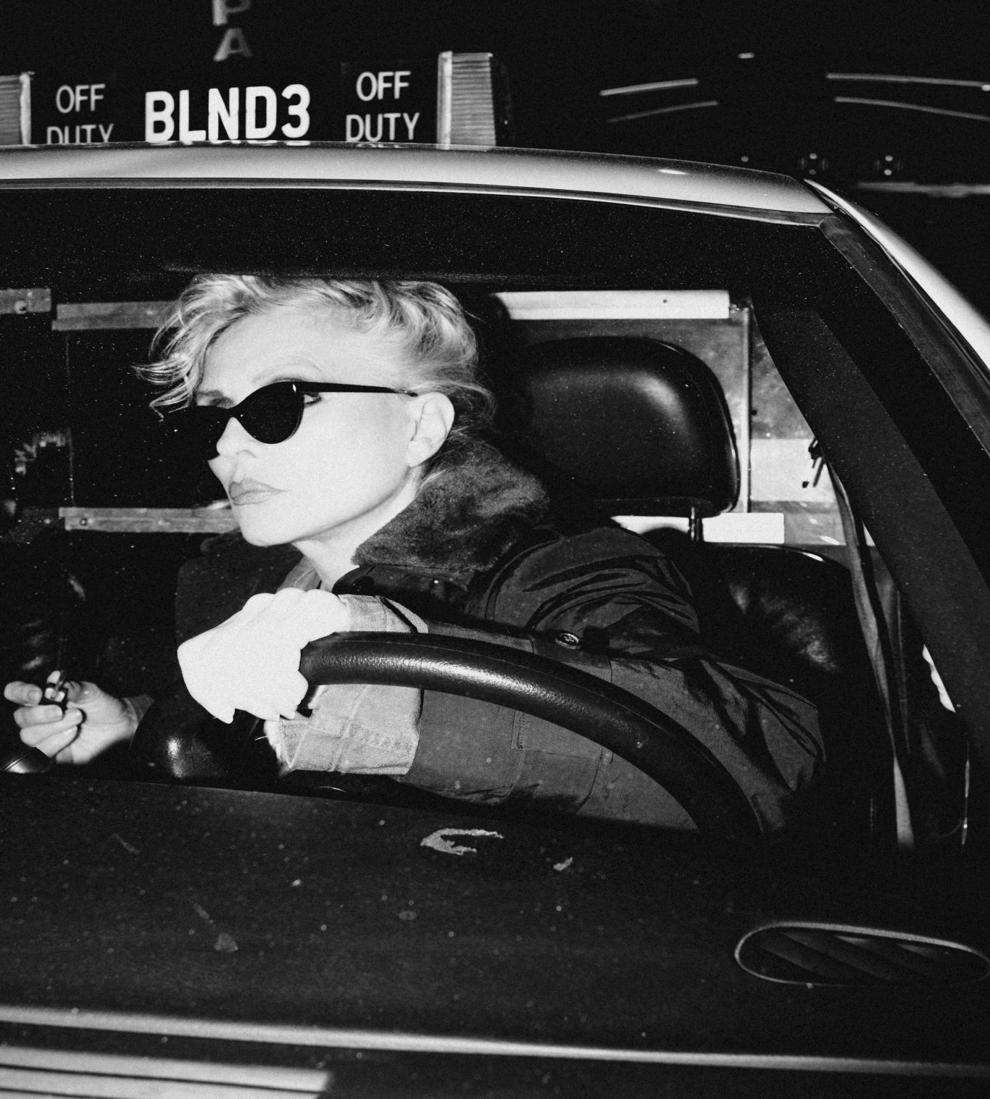 DEBBIE HARRY AND CHRIS STEIN
Oct. 4 at the Aratani Theatre
The Live Talks series has a stacked lineup in Downtown this fall, and one of the highlights features the founders of the New York new wave band Blondie. Most people know the group for hits including "Heart of Glass" and "The Tide Is High," but this event is built around Harry's memoir Face It, and she and Stein will be in conversation with artist and director Rob Roth. Other Live Talks events on the calendar include political columnist George Will at the Colburn School's Zipper Hall on Oct. 2 and actress Busy Phillips on Oct. 23 at the Bootleg Theatre.
At 244 S. San Pedro St. or livetalksla.org.
RETROCADE
Sept. 22-23 at Union Station
The expansive arcade might be a thing of the past, but you can still get your classic "Pac Man" fix during the return of Union Station's free Retrocade Experience. The art deco transportation hub's ticket concourse will transition into an arcade ripped from the 1980s with over 40 arcade cabinets available to play on including fan favorites like "Street Fighter" and "Donkey Kong". If you're really hot stuff, you can also register to enter a "Pac Man" tournament for a chance to take home a prize for highest score, and there will also be food trucks and a lounge space to relax in between games.
At 800 N. Alameda St. or unionstationla.com.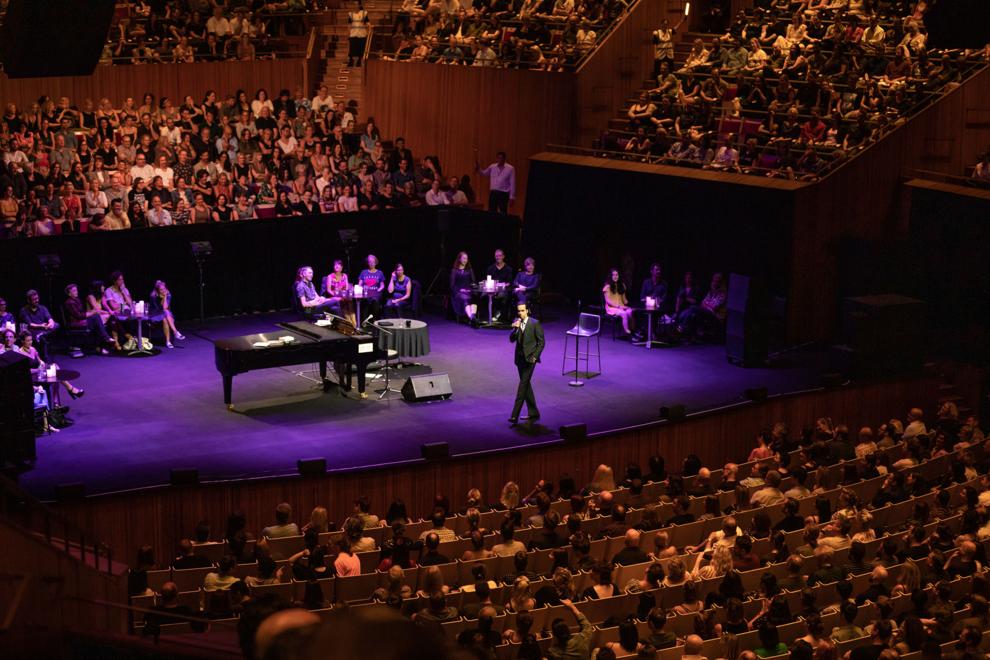 CONVERSATIONS WITH NICK CAVE
Oct. 15 at Walt Disney Concert Hall
The dark prince of literate rock has picked an unexpected venue for an unlikely visit. Cave, a killer tunesmith with a smart fashion sense and a fascination with murder and mayhem — his 1988 "The Mercy Seat" is the single greatest song ever written about the electric chair — will visit Downtown for an evening of songs on the piano and no-holds-barred Q&A. He'll be fielding queries from audience members on all manner of subjects, and those who buy tickets are urged to be bold, challenging and unafraid with their queries. Get ready for a deep dive into Cave's mind.
At 111 S. Grand Ave. or laphil.com.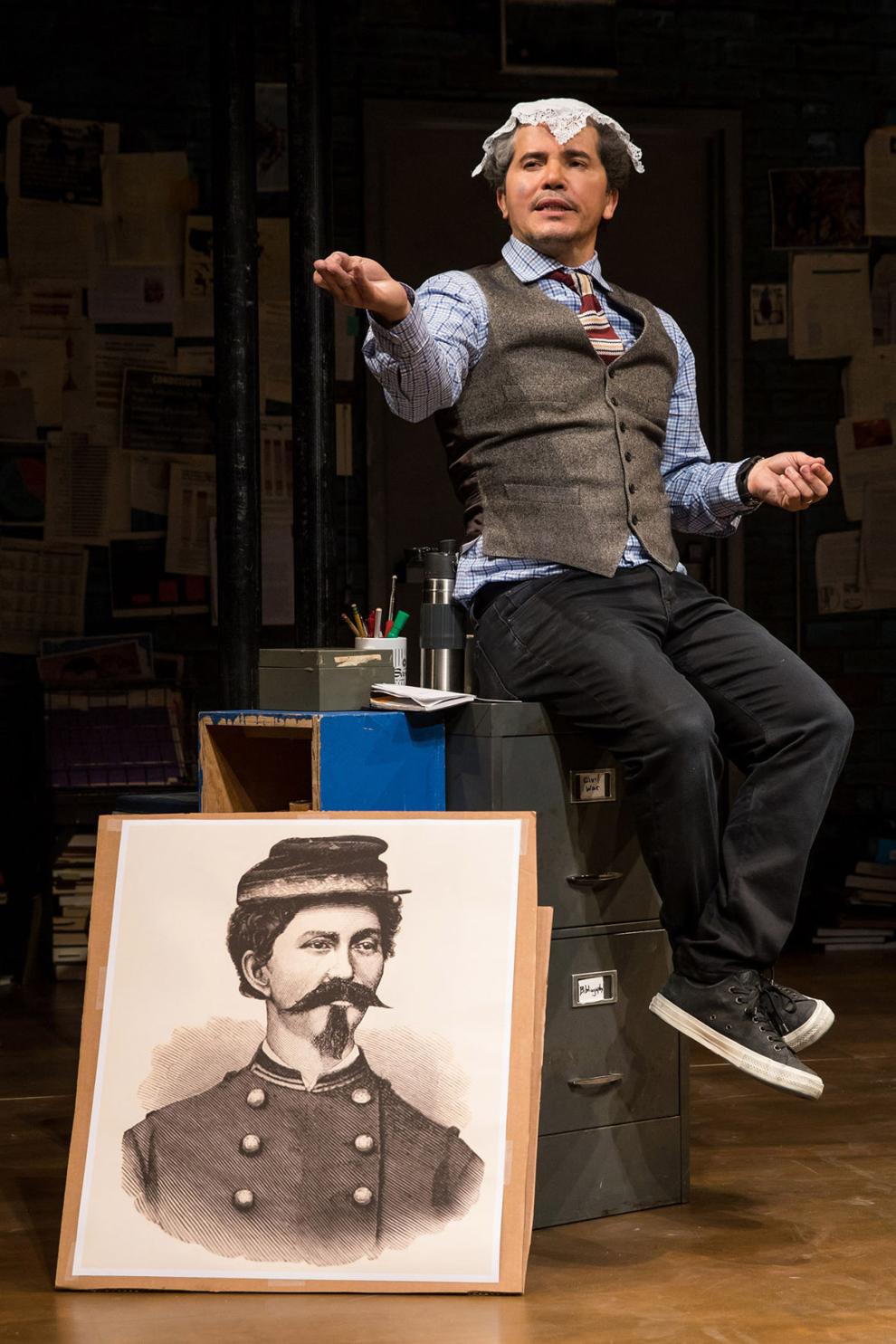 LATIN HISTORY FOR MORONS
Through Oct. 20 at the
Ahmanson Theatre
In his Tony Award-winning one-man show, John Leguizamo leads audiences on a wildly entertaining and thought-provoking tour through 3,000 years of an often-overlooked past. Latin History for Morons is animated and educational as the veteran of the screen and the stage embarks on a rapid-fire search to help his son find a hero to feature for a school project. The 110-minute show, directed by Tony Taccone, holds impersonations, a blackboard and even a reading list. It's the rare production where audiences not only laugh, but leave smarter.
At 135 N. Grand Ave. or centertheatregroup.org.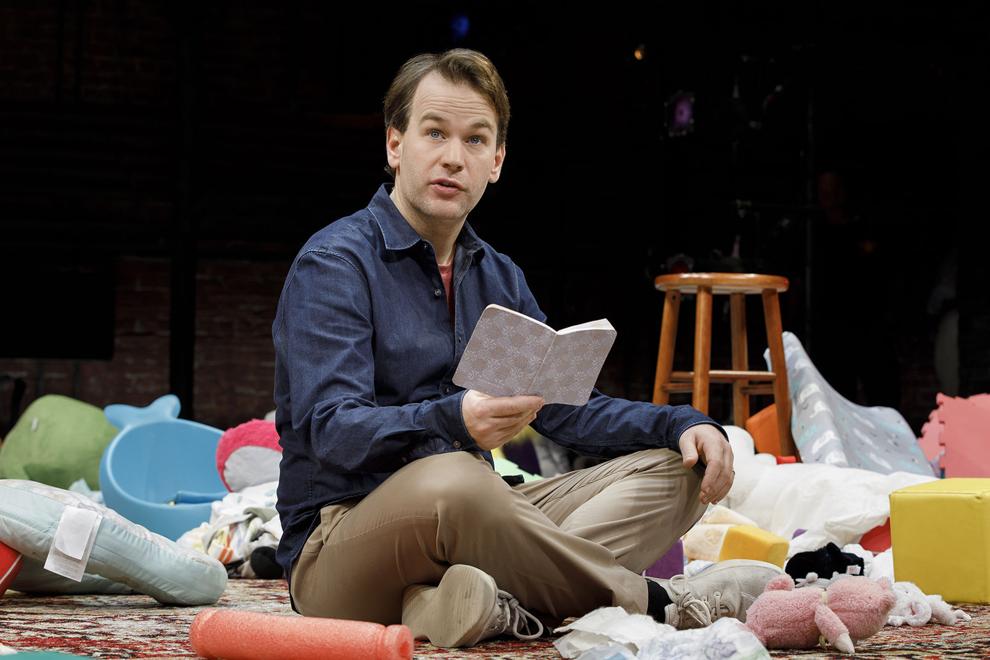 MIKE BIRBIGLIA'S THE NEW ONE
Oct. 23-Nov. 24 at the Ahmanson Theatre
The Ahmanson holds its second consecutive humor-tinged solo show, this time with the comedian whose resume boasts a selection of stage works, including the noted Sleepwalk With Me (it was also a film). Birbiglia's new show, directed by Seth Barrish (who helmed the recent Broadway run), recounts the life changes and challenges that he faces after the birth of his daughter — the figurative "new one." The approach is warm and personal, funny and poignant, with Birbiglia adopting a self-effacing delivery. Just be sure to leave expectations at home, as The New One packs some left turns and surprises.
At 135 N. Grand Ave. or centertheatregroup.org.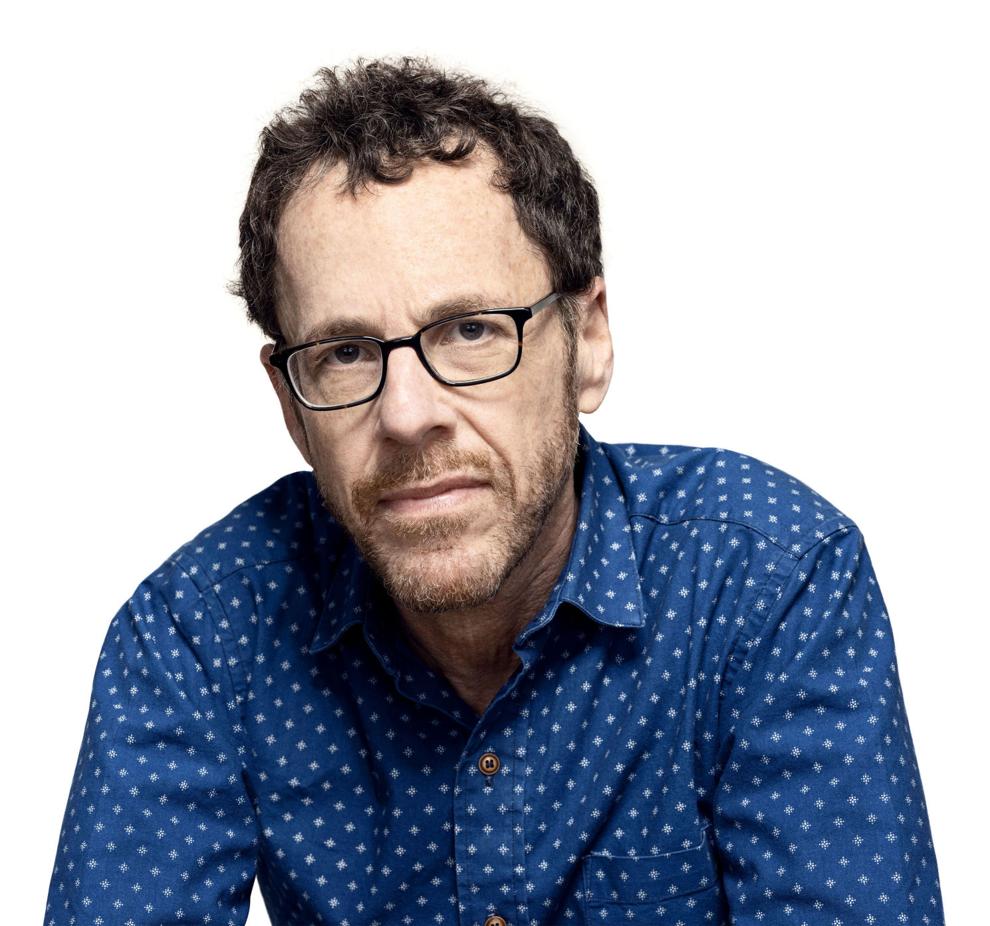 A PLAY IS A POEM
Sept. 11-Oct. 13 at the Mark Taper Forum
Most people know Ethan Coen as a leading voice in independent film through his partnership with his brother Joel. But Ethan Coen also writes for the stage, and the world premiere of his newest work is taking place in Downtown Los Angeles on Sept. 21 (earlier dates are previews). A Play Is a Poem, directed by Neil Pepe, is a collection of five one-acts set in different locations across the country. The scenes he explores include a New York City tenement, the Los Angeles office of a private eye and a gazebo in Natchez, Mississippi. Coen Brothers movies have always stood out for their complex and unique characters, so expect similar traits — but this time in person.
At 135 N. Grand Ave. or centertheatregroup.org.
DIA DE LOS MUERTOS
Oct. 26-Nov. 3 at Grand Park
The Day of the Dead is a chance to honor and remember late family and friends, and once again Grand Park is hosting a large-scale celebration for it over nine days. The park's annual event features a series of altars designed by local artists set up around the 12-acre space. Each one is done in a different style, including Oaxacan influences. The whole event kicks off with the Noche de Ofrenda (Night of Offerings) where people can bring flowers and candles to remember loved ones and see traditional dances and songs. There will once again be a community altar for Angelenos who wish to contribute to the artistic display.
At 200 N. Grand Ave. or grandparkla.org.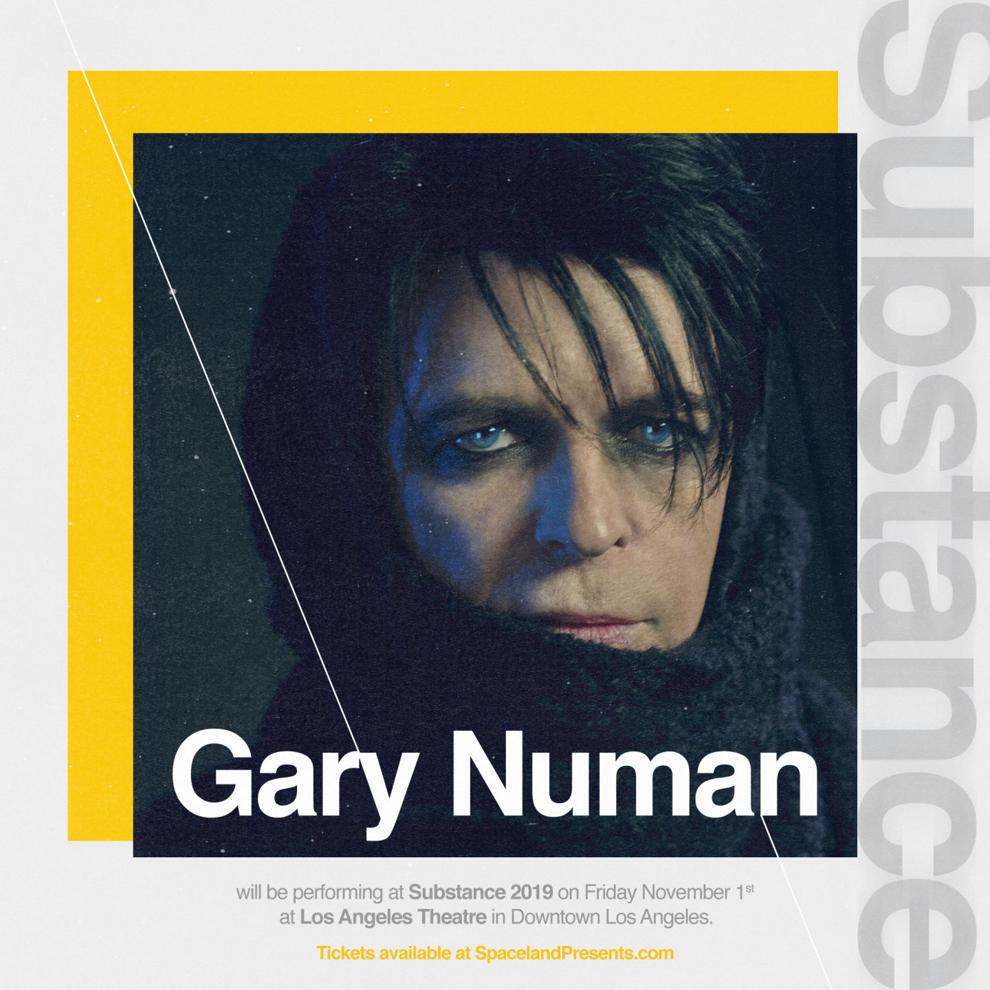 GARY NUMAN 40TH ANNIVERSARY/SUBSTANCE 2019
Nov. 1-2 at The Los Angeles Theatre
Halloween will officially be over, but don't put away the black clothes or spooky thoughts just yet. Substance is a two-night event in the historic Los Angeles Theatre on Broadway, celebrating darkwave music and all of the heavy, moody synth bands of the genre. Singer Gary Numan headlines the first night, part of a celebration of his 40 years as a solo act in the industry. Numan is a stalwart of the scene, so expect classics such as "Cars" and "We Take Mystery (to Bed)." The second night is big on electropop with John Maus, A Place to Bury Strangers and Ritual Howls set to perform.
At 615 S. Broadway or spacelandpresents.com.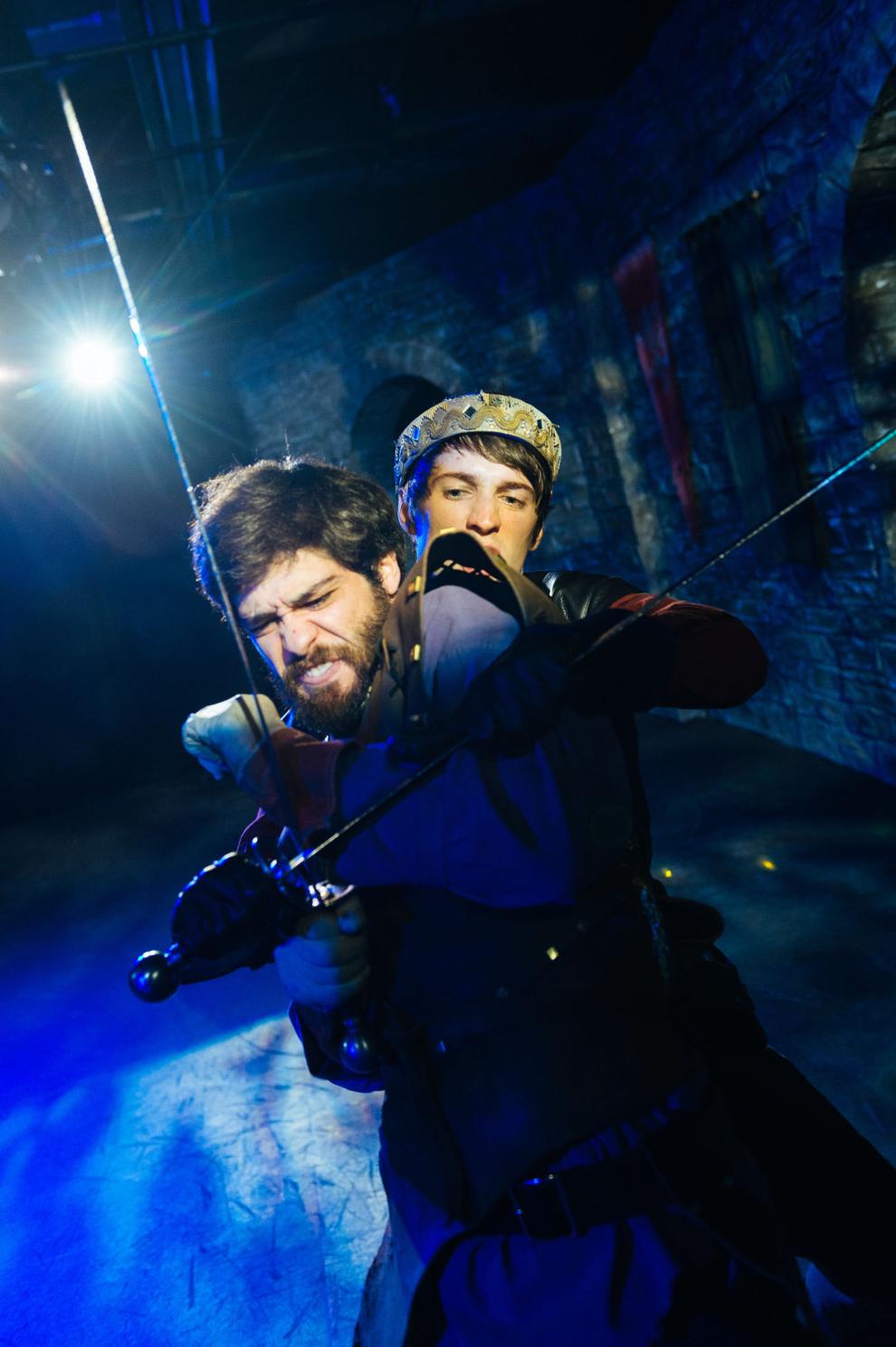 THE TRAGEDIE MACBETH
Oct. 12-Nov. 3 at the
Shakespeare Center of Los Angeles
Something wicked comes back to Downtown Los Angeles. Macbeth isn't a rarity in Downtown — ArtShare L.A. is wrapping up a desert-tinged production now — but the Shakespeare Center of Los Angeles is bringing back its immersive, horror-themed production of Shakespeare's tragedy for a second year. The 90-minute show is a moving play, starting in the basement of the Shakespeare Center and moving to stages set up in the back hallways and nooks of the building, putting audiences in the middle of Macbeth's banquet hall or in the woods to witness murders. Consider it Shakespeare by way of a haunted house.
At 1238 W. First St. or shakespearecenter.org.
NO WRONG HOLES: THIRTY YEARS OF NAYLAND BLAKE
Opens Sept. 29 at the Institute of
Contemporary Art, Los Angeles
This retrospective of Blake's work spans the spectrum from sculpture to video, mixing presentation formats and artistic movements. Blake, a biracial artist heavily active on the West Coast, gets a comprehensive look, with the ICA LA showcasing work that explores race and gender identity. No Wrong Holes also looks at LGBTQ rights and issues, with works addressing the AIDS epidemic and cultural attacks on minorities.
At 1717 E. Seventh St. or theicala.org.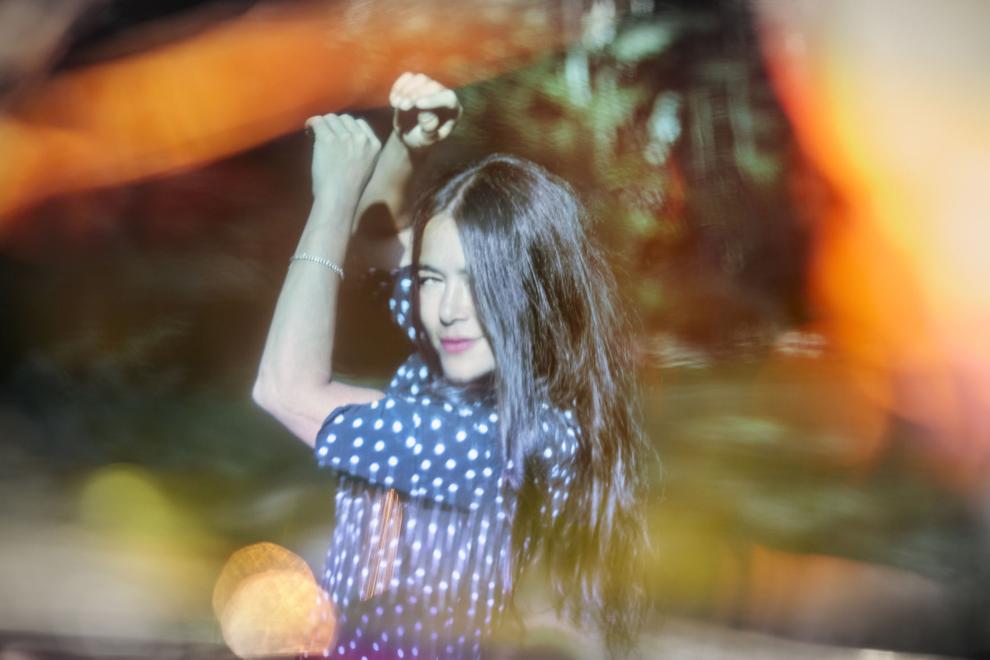 RACHAEL YAMAGATA
Sept. 21-22 at the Moroccan Lounge
Indie singer-songwriter Rachael Yamagata is taking her globe-spanning tour to the Arts District, playing two nights on First Street. She'll be playing songs from her 2018 EP Porch Songs as well as her catalogue of tracks about life's struggles and empathy, all laced with a biting edge. Also coming to the Moroccan Lounge this fall are R&B songstress Ambar Lucid on Sept. 26, singer-songwriter Faye Webster on Oct. 9 and pop singer Tom Speight doing an early show on Oct. 25.
At 901 E. First St. or themoroccan.com.
RESILIENCE:
PHILIP GUSTON IN 1971
Opens Sept. 14 at Hauser & Wirth
Los Angeles
Enjoy the cartoonish and critical works of Philip Guston at Hauser & Wirth Los Angeles. In 1971, then-abstract artist Guston decided to change his style and try something different, pulling inspiration from the politics and turmoil of the late 1960s and early 1970s. Resilience is the first solo show of Guston's work in Los Angeles in more than four decades. The show features both his "Roma" paintings series and his "Nixon" drawings, the latter of which portrays a caricature of the former president in a series of silly situations. The two series are dissimilar, but show Guston experimenting with his style and refining his skills in new areas.
At 903 E. Third St. or hauserwirth.com.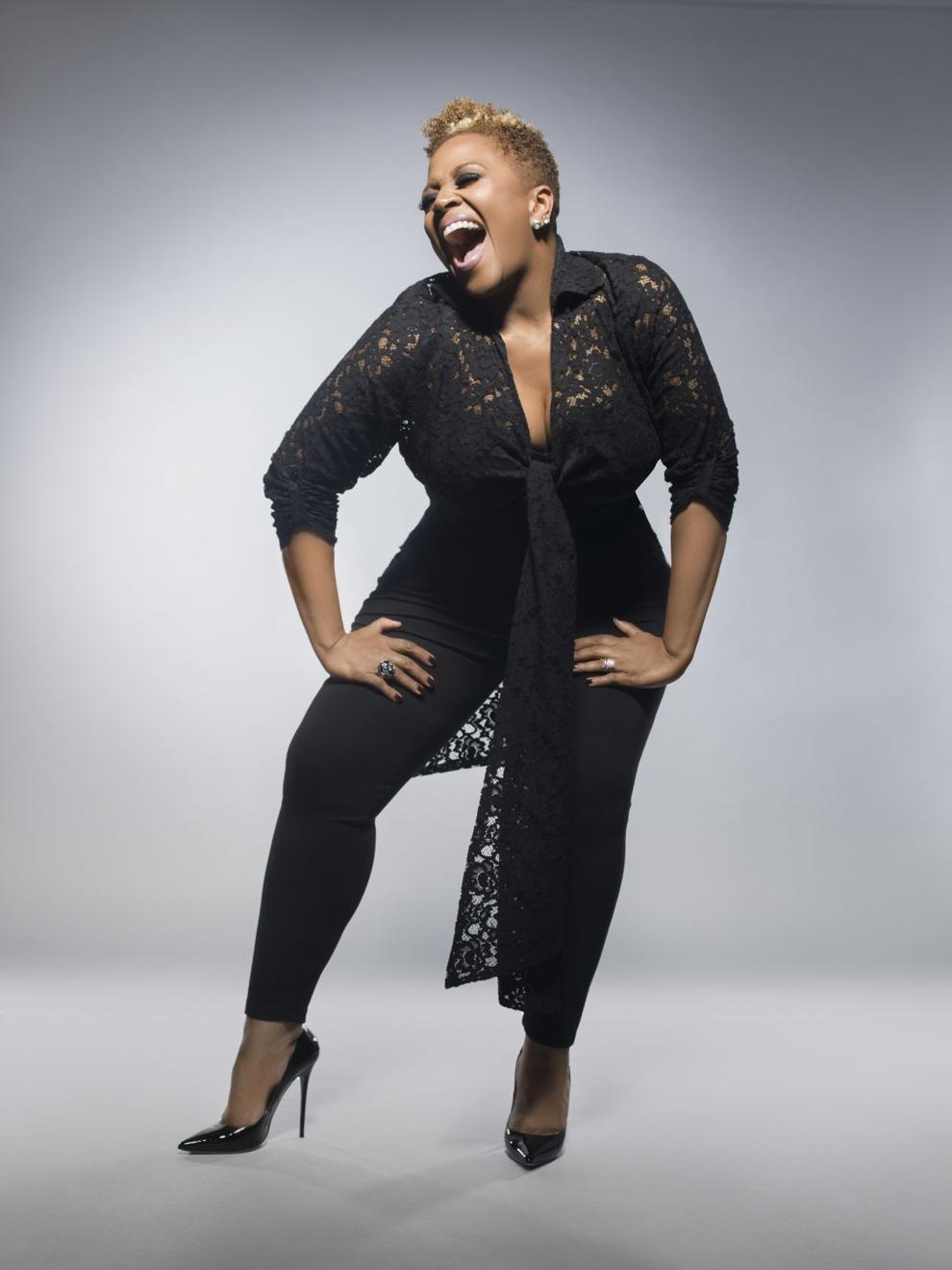 AVERY*SUNSHINE
Nov. 23 at The Theatre at Ace Hotel
R&B singer and NPR Tiny Desk Concert veteran Avery*Sunshine is bringing her mix of piano and vocals to Downtown Los Angeles, as part of UCLA's Center for the Art of Performance's programming. She mixes classic soul sounds with more modern genres, with songs like "Stalker" melding techno and house beats to match her soaring vocals. Go for the gospel-style sounds and stay for her unique arrangements. Her husband Dana Johnson joins her on stage, backing her on guitar.
At 929 S. Broadway or cap.ucla.edu.
MARIINSKY BALLET
Oct. 24-27 at the
Dorothy Chandler Pavilion
Russia's iconic Mariinsky Ballet is making its way to the West coast in October for five performances of the classic "Jewels." Originally choreographed by George Balanchine in 1967 and set to the music of three different composers, it comprises a trio of dances, "Emeralds," "Rubies," and "Diamonds." The names comes not from a specific theme, but rather the costumes the dancers wear in each piece, which mimic the titular gemstones. The ballet is one of the Mariinsky Ballet's signature works.
At 135 N. Grand Ave. or musiccenter.org.
DUDAMEL CONDUCTS AMERICAN ICONS
Oct. 3-6 at Walt Disney Concert Hall
For its 2019-2020 season, the Los Angeles Philharmonic is paying tribute to accomplished American conductors. For four nights the Phil's Music and Artistic Director Gustavo Dudamel will lead the orchestra in performing works from George Gershwin and Aaron Copland, specifically the former's "Concerto in F" and the latter's "Appalachian Spring Suite." Each performance also features two other pieces, and guest soprano appearances.
At 111 S. Grand Ave. or laphil.org.
KAMASI WASHINGTON
Sept. 19-20 at Theatre at Ace Hotel
At the crest of jazz's resurgence to the forefront of popular culture sits saxophonist Kamasi Washington. In just a few short years, the musician has solidified his place as not only one of the most talented acts in jazz, but also one of its best selling, championing a sound that marries jazz with hip-hop and R&B. Backed by his nine-piece band and flush with mass appeal, catch Washington when he returns to his hometown for a two-day set at the ornate Theatre at Ace Hotel. Expect to hear selections from Washington's past two albums, including the funky "Street Fighter" from Heaven and Earth.
At 929 S. Broadway or theatre.acehotel.com.
CAMP FLOG GNAW
Nov. 9-10 at Dodger Stadium
Tyler, the Creator seems to have a good thing going on. For the seventh year, festival fans are gearing up for the return of Camp Flog Gnaw, the rapper's annual music festival-meets-camp carnival. Located at the Dodger Stadium grounds, the two-day festival includes carnival rides and food options as well as musical acts. In total, nearly 40 performers are set to take the stage over the weekend. Solange, Tyler, the Creator, H.E.R and YG are headlining the festival, with acts including Thundercat, The Internet and Yasiin Bey (formerly Mos Def) also set to perform.
At 1000 Vin Scully Ave. or campfloggnaw.com.
CYPRESS HILL HAUNTED HILL
Oct. 30 at The Novo
If you're looking for ways to fill out your Halloween week, B-Real, Sen Dog and DJ Muggs have you covered. The "Dr. Greenthumb" rappers are bringing back the Haunted Hill Festival for the second year in a row in Los Angeles, after doing the annual Halloween celebration on the East Coast for the past decade. It's not exactly a Halloween party so don't expect any jump scares or anything of the like as you nod your head to "Rockstar" and "I Can Just Kill a Man." Musicians Mariachi El Bronx and Meyhem Lauren are also on the bill for the evening.
At 800 W. Olympic Blvd. or thenovodtla.com.
WITH PLEASURE: PATTERN & DECORATION IN AMERICAN ART,
1972-1985
Opens Oct. 27 at MOCA Grand Avenue
With lasting impacts that still resonate today, the works artist such as Merion Estes, Takao Yamaguchi and Valerie Jaudon made in the pattern and decoration movement of the 1970s and 1980s is often understated and shortchanged. The period is getting its due in the first full-scale survey of its kind at the Museum of Contemporary Art's Grand Avenue location. Featuring the paintings, sculptures, ceramics and installations of nearly 50 artists from across the United States, the exhibit examines their embrace of forms and designs that were typically viewed as inferior to fine art at the time.
At 250 S. Grand Ave. or moca.org.
THE AUTOGRAPH BOOK OF L.A
Opens Sept. 26 at Central Library
In 1906, City Librarian Charles Lummis created the Autograph Collection, a grouping of hundreds of signatures from notable men and women across the country. Last year, John F. Szabo, city librarian, took it even further, adding nearly 500 John Hancocks to the collection. Now, Josh Kun, author and director of the USC Annenberg School of Communication, is taking a look at those signatures in a new exhibit and book. The project, located in the library's First Floor Galleries, examines the evolution of the autograph, from simple scribbles to larger ornate graffiti tags. Visitors to the exhibit will also be able to check out famous signatures from President John Quincy Adams to former Los Angeles Dodger Fernando Valenzuela.
At 630 W. Fifth St. or lapl.org.
FACE THE MUSIC
Opens Sept. 12 at Grammy Museum
One is auditory, the other is purely visual, but music and photography share a heavy connection. The Grammy Museum is exploring that relationship in Face the Music, a new photography exhibit at the South Park museum. The images capture intimate, close up images of musicians' facial expressions as they listen to their music of choice. Featuring images of 41 musicians, including Quincy Jones, Iggy Pop and RZA, the exhibit springs from the work of photographer Richard Ehrlich, who over five years, melded the two art forms to explore the influence that music can have on human emotion.
At 800 W. Olympic Blvd. or grammymuseum.org.
LINDA VALLEJO: BROWN BELONGINGS
Throughout Fall at
LA Plaza de Cultura y Artes
Chicana artist Linda Vallejo takes a deep dive into what it means to be a person of color in the United States in an ongoing exhibit at LA Plaza de Cultura y Artes. The first solo exhibition at the museum dedicated to a Chicana artist, Brown Belongings incorporates four of Vallejo's portfolios — Make 'Em All Mexican, The Brown Dot Project, Datos Sagrados, and Cultural Enigma — and displays them across the museums. Linda Vallejo's affinity for the color brown can be seen in Make 'Em All Mexican, which recast famous historical figures like Marilyn Monroe and John Wayne in brown paint as a commentary on lack of representation in the media.
At 501 N. Main St. or lapca.org.
THE SOLID LIFE OF SUGAR WATER
Sept. 12- Oct. 13 at
Inner City Arts – Rosenthal Theatre
Bedroom antics make for an intimate portrait of a deaf couple's marriage in Deaf West Theatre's latest stage performance. Told through DWT's signature style that mixes spoken English with American Sign Language, The Solid Life of Sugar Water comes from Tony Award-winning playwright Jack Thorne and mixes adult themes with a level of candidness that The Guardian called unflinching, forthright and dangerous.
At 720 Kohler St. or inner-cityarts.org.
ADAM LINDER: THE WANT
Sept. 19-22 at REDCAT
The Center for the Art of Performance at UCLA's 2019-2020 season kicks off with four-day performance of Adam Linder's contemporary opera, The Want. Inspired by the client/dealer relationship in the play Solitude of The Cotton Fields, Linder's work fuses vocals with engaging theatricality to explore the vulnerability and cunning that is at the center of any type of transaction. Actors Jess Gadani, Justin F. Kennedy, Jasmine Orpilla and Roger Sala Reyner take on the roles of European merchants in the performance. It's at the REDCAT, so avante garde is the name of the game.
At 631 W. Second St. or redcat.org.
LA BOHÈME
Sept. 14-Oct. 6 at the
Dorothy Chandler Pavilion
For the first time in 25 year, the bustling cafes and tight alleyways of 1800s Paris comes to the Dorothy Chandler Pavilion in the L.A. Opera's first production of La Bohème. Heralded as one of the most romantic pieces ever penned, the four-act opera follows a grouping of struggling young artists as they search for love and life in an increasingly changing France. A staple of Italian operas, expect to shed a few tears by the end of the runtime.
At 135 N. Grand Ave. or laopera.org.
PSYCHO
Oct. 25-31 at the Theatre at Ace Hotel
Head into Halloween properly spooked with six special screenings of Alfred Hitchcock's iconic and terrifying thriller Psycho. Part of the L.A. Opera's now-annual October run at Broadway's Theatre at Ace Hotel, the Opera's orchestra will provide a live score while audiences in the ornate theater watch Janet Leigh and Anthony Perkins on screen. Be ready for a live rendition of the haunting and piercing strings during the film's still-scary shower scene.
At 929 S. Broadway or laopera.com.