DTLA - Lawrence Halprin might not be a household name, but his work has been seen and enjoyed by millions of people in Downtown Los Angeles over the decades. The landscape architect designed the Bunker Hill Steps across from the Central Library, next to U.S. Bank Tower. He also created the design for one of Downtown's few green spaces, Grand Hope Park, next to the FIDM campus.
[Get DTLA stories in our daily email newsletter.]
So it is only fitting that the late Halprin is being honored in a Downtown museum. Last month, the A+D Museum in the Arts District opened the exhibit The Landscape Architecture of Lawrence Halprin. The retrospective and celebration of his work — which included parks and public spaces around the world — continues through Dec. 31.
Halprin died in 2009 at the age of 93, having designed public spaces in cities such as Denver, Seattle and Jerusalem. He worked extensively in California. In addition to his Downtown projects, he helped design the Sea Ranch community and vacation destination in Sonoma County.
The Washington, D.C.-based Cultural Landscape Foundation, a nonprofit focused on researching landscapes and landscape architecture, curated the touring showcase of Halprin's life. It originated last year in Washington.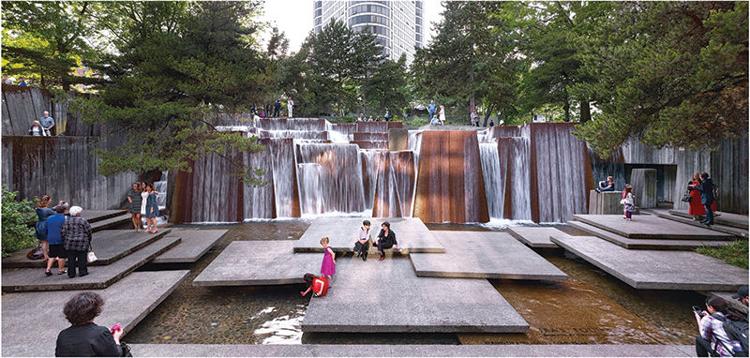 The exhibit, which collects 56 newly commissioned photographs of Halprin's work, was organized in 2016 for the centennial of his birth. It shows a timeline of his major projects and is arranged to reflect his different artistic periods, said Cultural Landscape Foundation President and CEO Charles Birnbaum.
A+D Museum Executive Director Dora Epstein Jones said that Halprin has had an outsized role in the shaping of Los Angeles.
"I don't think we recognize how much Halprin influenced the urban design of L.A., the feel of our city parts like the Maguire Gardens," Epstein Jones said. "It's not only timely, but he also in many ways belongs to Southern California. I was surprised the exhibit didn't originate here."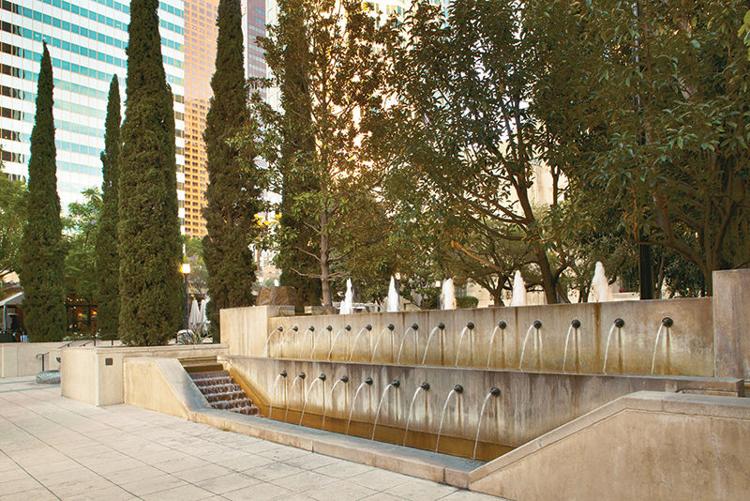 Active Spaces
Halprin was born in Brooklyn in 1916. He spent three years as a teenager living in a kibbutz in what is now Israel before studying at Cornell University and Harvard. He served in the Navy in World War II, then went into landscape architecture. 
He first gained attention for planning the landscape of the 1962 Seattle World's Fair. He followed that by designing Ghiradelli Square in San Francisco. He became known for an ability to create active public spaces in urban areas.
The exhibition is in the center of the A+D Museum, laid out in a long hallway. After passing a wall with biographical information on Halprin, visitors proceed in a loop, following large pictures showcasing the architect's finished works. At the far end, a picture by Birnbaum of Halprin at work in Sea Ranch is on display, showing the creator flanked by his creations.
The photos are complemented by signs detailing milestones and shifts in Halprin's career. Epstein Jones said they are arranged to correspond with the different levels in the Maguire Gardens at the Central Library.
The A+D space is smaller than other locations where the exhibit has been displayed. The museum built a temporary wall to section off the space and create the hallway, Epstein Jones noted.
Downtowners will likely be drawn to the photos of what was labeled the Los Angeles Open Space Network, comprising Wells Fargo Court, the Maguire Gardens, the Bunker Hill Steps and Grand Hope Park; the project finished in the mid-1990s. Those four spaces were designed with contiguity and continuity in mind, Birnbaum said.
"That L.A. work in particular really reads like a musical score," he added.
The exhibit as much a photography show as it is about Halprin, Epstein Jones said. The 56 images were captured by a mix of landscape photographers and shooters living in the cities where Halprin designed public spaces, Birnbaum explained. They range from a stark portrait of the steps and waterfalls at the Franklin Delano Roosevelt Memorial in Washington, D.C., to crowds walking through Ghiradelli Square. Contrasting that is a photo of the Lovejoy Fountain Park in Portland.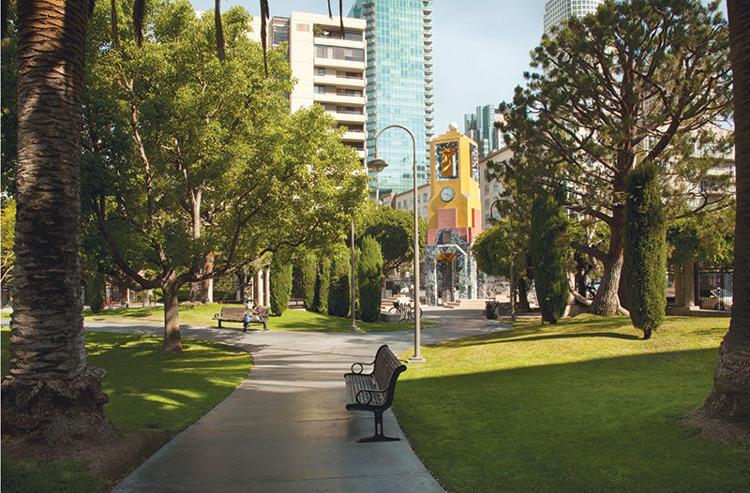 "These photographers are artists unto themselves," Epstein Jones said. "That's an aspect that's important to architecture and design. It's about how it gets received and looked at."
The exhibit coincides with a series of events looking at Halprin's impact and legacy. On Nov. 4, the A+D Museum is hosting the symposium "Landscape as Catalyst: Lawrence Halprin's Legacy and Los Angeles." Speakers at the daylong event include Birnbaum, as well as Robert Maguire, who developed U.S. Bank Tower.
There are also events this week. Halprin's daughter Daria and others will be at the Edward Cella Art + Architecture space on La Cienega Boulevard on Saturday, Oct. 21, for a discussion of his work. In Downtown, the Los Angeles Conservancy is leading a walking tour of the Los Angeles Open Space Network this Sunday, and again on Nov. 5, Nov. 19 and Dec. 17.
On Oct. 24 at noon, the Heidi Duckler Dance Theatre is performing a site-specific routine in the Maguire Gardens. The event is free and open to the public. It is meant to highlight the way Halprin factored movement and pedestrian flow into his designs. 
Los Angeles was a kind of closing bracket for Halprin's career, Birnbaum said, with the Los Angeles Open Space Network serving as a capstone for his ideas. The city is where much of the progressive architecture is born, Epstein Jones added. Designers here are more willing to take chances, she noted, and that's what kept bringing Halprin back. 
The Landscape Architecture of Lawrence Halprin runs through Dec. 31 at the A+D Museum, 900 E. Fourth St., (213) 346-9734 or aplusd.org.
© Los Angeles Downtown News 2017