It doesn't matter if a writer turns away from his creation or allows it to be censored and have its textual heart and soul ripped from it. It doesn't matter if those who first brought it to life are long gone, and the work itself lays forgotten beneath layers of ash.
A work of art lives beyond time and space, and at any moment can rise from the ashes and take flight.
[Get DTLA stories in our daily email newsletter.]
Such is the case with a pair of plays, and the pair of artists who bonded with a long-deceased playwright to create something ancient and modern — timeless, yet crucial to today.
Indecent, conceived by Pulitzer Prize winner Paula Vogel and director Rebecca Taichman, and penned by Vogel, is 100 spellbinding, nearly flawless minutes of storytelling that does more than re-examine Sholem Asch's 1906 play God of Vengeance and its notorious Broadway run that ended with its cast and producer arrested.
Indecent is an ode to love and to art itself and to the power of both to withstand anti-Semitism, homophobia and other forms of blind hatred.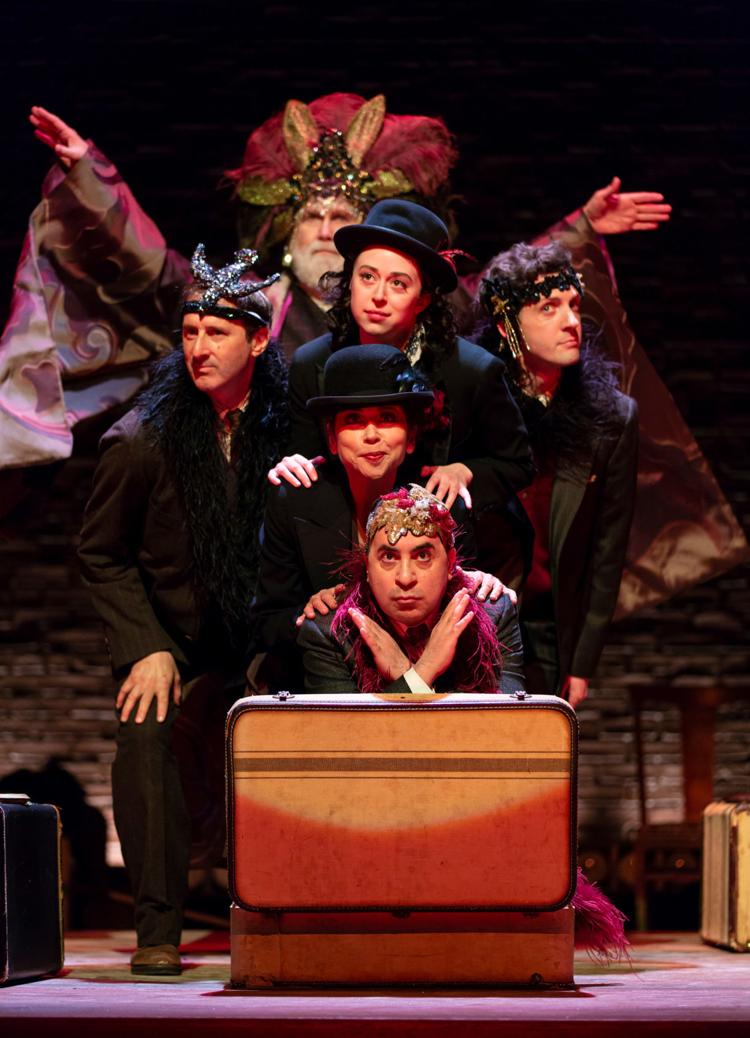 The one-act masterpiece, which earned a 2017 Tony for Taichman's innovative direction, is running through July 7 at Downtown's Ahmanson Theatre.
Reflexive in nature, it's a play about putting on a play, with seven actors and three musicians that remain on stage the entire time, perform multiple roles and never hide the artifice of their craft.
The show is introduced by Lemml (Richard Topol), the stage manager, whose life is forever changed by a happenstance invitation in Warsaw, Poland, to the first reading of young Sholem Asch's (Joby Earle) first play, God of Vengeance. Less than auspicious, his tale that includes a romance between two women and a throwing of the Torah, shocks those in attendance, and he is advised to burn it.
Lemml, though, is transformed by the Yiddish language play about flawed, real characters he recognizes, and he is taken by the love of these fictional women, in particular the act two rain scene that Indecent returns to several times.
Undaunted, Asch takes his play — and Lemml — to Berlin, a shift that is accompanied by a whimsical, funny and clever song composed by Lisa Gutkin and choreographed by David Dorfman that rivals some of the best performances in hit musicals. There, Asch finds famed actor Rudolph Schildkraut (Harry Groener), the play is produced and it becomes a hit.
When it comes to America, though, things change. It's popular — though scandalous — when performed Downtown, but when it moves to Broadway and the translation is heavily edited, including the loss of the rain scene, the cast is upset. Even censored, the play is reported to the police by a popular rabbi, who is angered by its portrayal of Jewish people, and the cast is arrested for obscenity. A big question that isn't answered until near the climax is why Asch agreed to let his work be edited, and why he seems to have turned his back on the play that helped catapult his career.
Taichman's direction is masterful. With few props and almost no set pieces, her blocking transforms a world made mostly of Christopher Akerlind's moody lighting into a rich tapestry of characters, times and places. Likewise, her pacing never hurries the quietest moments, yet she never lingers to push for a greater reaction. One of the best examples uses the supertitles that provide information and occasional translations. At a few key moments, the words "a blink in time" flash and the cast freezes — a reminder that life is made up of mere blinks where everything can change.
The seven-member cast is remarkably versatile, though much of the heavy lifting comes from Elizabeth A. Davis and Adina Verson, whose various characters include real-life lovers, as well as those in the play-within-the-play. Also, Topol's heart-wrenching portrayal provides a worthy stand-in for the audience. His simple reaction reflects the pure truth of what he sees.
More than the director or cast, perhaps its God of Vengeance itself that is the star. As Lemml angrily admonishes Asch, the play is no longer his. It belongs to those who perform it and live with it night after night — and now it belongs to a new generation that is experiencing it through Indecent.
On further reflection, perhaps the star is theater itself.
While the story has powerful things to say about anti-Semitism and the right to free expression, Vogel and Taichman use every moment to express their love of theater.
From the falling ashes, which lose impact by simple description, to the falling rain, which elicits a smile through tears, Indecent shows that live storytelling has no equivalent. It's a shared moment that can forever touch and change those who tell it and those who are told.
This is one of those moments, and it is one that should not be missed.
Indecent runs through July 7 at the Ahmanson Theatre, 135 N. Grand Ave., (213) 628-2772 or centertheatregroup.org.