There are many signs of summer in Downtown Los Angeles. They include temperatures that turn the pavement into baking sheets and long lines at gelato stands.
[Get DTLA stories in our daily email newsletter.]
Then there's the clearest indicator of all: Crowds carrying folding chairs and blankets and walking from all directions to Pershing Square for a robust lineup of music and film screenings.
The annual festivities began last week, and will continue through mid-August. As usual, it's many-splendored, and is headlined by the Downtown Stage, the moniker for the Saturday night concert series with prominent artists. The programming also includes a lineup of a Wednesday lunch concerts, a variety of musical acts on Thursday nights at the nearby Spring Street Park, and a slate of Friday film screenings back at Pershing Square.
The Saturday night concert series is the biggest component of the summer, as crowds of more than 6,000 people have turned out for acts such as L.A. punk legends X. Organized by the city Department of Recreation and Parks, the Saturday concerts are now in their 11th year and take place on a 70-foot stage at the northern end of the park. Admission to the concerts is free, but those who RSVP through Eventbrite receive priority admission as some nights reach capacity.
Louise Capone, the park's senior recreation director, has been involved with the series since it began in 2009. While the bands and films draw people to the park, Capone said it doesn't hurt that all the offerings are free and take place during the relatively cool summer evenings.
"It's just that summertime spirit," Capone said. "There is just such a wide variety of genres and a great atmosphere that I think our audience will really have fun, and that keeps people coming back for more."
The Saturday concerts kicked off on July 13 when the Beatles tribute band Rain performed. It continues this week at 7 p.m. when percussionist and former Prince protégé Sheila E. takes the stage. Also on the bill is the soul band Pimps of Joytime.
Another highlight comes on July 27, when Elefante, a Latin rock and pop band from Mexico City, is paired with Columbian rock act Aterciopelados. The Saturday concerts will continue every week until Aug. 17, when Blues Traveler closes things out.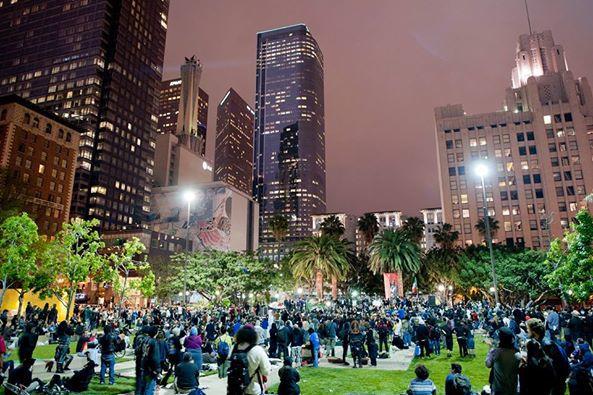 Capone said that this year's slate of concerts involves a combination of artists across a bevy of genres. She hopes that the varied lineup will bring both regulars and newbies to the park.
"We have a very diverse audience, culturally as well as demographically and age wise," Capone said. "When you look at the entire series, you try to reach everybody or try to turn people on to new music that may be out of their demographic."
That theme of diversity spreads beyond the Saturday night shows to the rest of the offerings at Pershing Square, including the Wednesday afternoon concerts. Those take place from noon-1:30 p.m., and complement the weekly farmers market at the park.
The concerts touch on different genres, from the Disco Freaks to Radio Rebel's '80s-inspired sound. The Rob Staley Band, a local country act, is scheduled to perform this Wednesday, July 17.
"The concerts are really so much fun," Capone said. "People come down for the farmers market, we have seating, we have shade, and it's just a great time."
Shaking up Spring Street
In a unique twist, Pershing Square's summer programming actually extends beyond the park. The local team also stages the concerts that take place each Thursday evening from 7:30-9 p.m. at the Spring Street Park (428 S. Spring St.). Admission is free and an RSVP is not required.
In its first two years the series dabbled primarily in jazz, but this year Capone said they are varying the genres.
"We are expanding the listening audience there," Capone said. "We tried jazz and we'd get about 150 people a night, but we really wanted to have some dancing-in-the-street music, so we have a great variety."
The Spring Street Park series started with Grammy-nominated fiddler and vocalist Lisa Haley. Up next is Brazilian jazz duo Brasil Brazil, performing on July 18.
The series will conclude on Aug. 15 with a performance from Patti Berman. If the name sounds familiar, it's because she is a Downtown fixture who is president of both the nonprofit organization Friends of Spring Street Park and the Downtown Los Angeles Neighborhood Council.
Berman said that she leans toward the more traditional sounds of jazz and ragtime, but is excited about what the new acts will bring.
"It should be very interesting," Berman said. "Personally I loved the jazz, but the city wanted to mix it up and I think it's going to be really fun."
Pershing Square also has something for film fans with its Friday Night Flicks lineup. It projects movies on a 20-by-40-foot screen. The films are free and start at sunset, and guests are encouraged to bring lawn chairs, blankets and food. Well-behaved dogs on a leash are allowed.
This week brings the Marvel megahit Black Panther. Other screenings include The Motorcycle Diaries, about pre-revolutionary Che Guevara's cross-country road trip, on July 26, the musical coming-of-age comedy/drama Sing Street on Aug. 2, and last year's Oscar winner for Best Animated Film, Spider-man Into the Spider-verse on Aug.
Pershing Square's summer programming continues through Aug.17 at 532 S. Olive St. A full lineup and additional information is at laparks.com/pershingsquare.
©Los Angeles Downtown News 2019