DTLA - In many ways X is Los Angeles' punk band.
The group burst onto the scene in 1977, and its 1980 album named for the city captured the raw underbelly of L.A. at the time. Four decades and seven studio albums later, the band continues to be celebrated for being part of the changing metropolis' musical pulse.
[Get DTLA stories in our daily email newsletter.]
That change, and that pulse, is now being manifested in a way that surprises even the band members. On Oct. 13, the exhibit X: 40 Years of Punk in Los Angeles opened at the Grammy Museum at L.A. Live. The second-floor showcase is a tribute both to the band and to the era from which it emerged.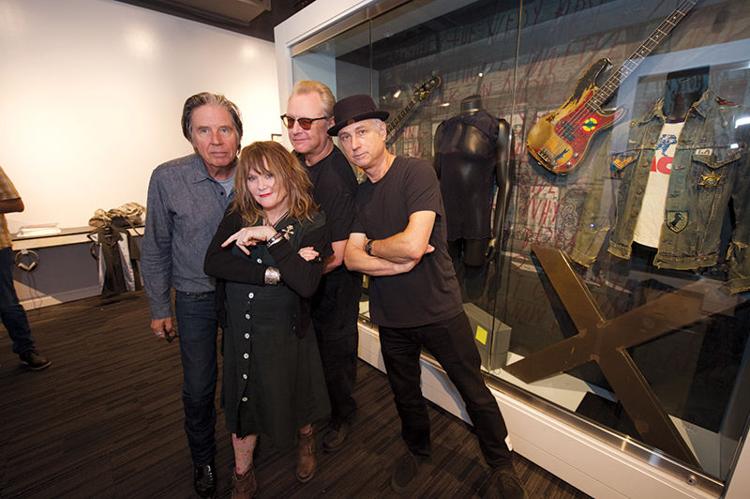 40 Years of Punk is filled with memorabilia, artifacts, photos and more. It's a time capsule of the late 1970s and early '80s when underground bands played loud in tiny venues. It has personal items from members Exene Cervenka, John Doe, Billy Zoom and DJ Bonebrake. The exhibit is on view through the end of March.
"It's weird. It's real strange. I didn't think it qualified for being in a museum, but evidently after 40 years it does," Doe said of the exhibit at a media event the day before the opening. "So as you can imagine it's odd and somewhat surreal, but I'm glad it's here."
X has been doing the rounds in honor of the anniversary. The group played to thousands at a free outdoor concert at Pershing Square in August. The members were recently honored at Dodger Stadium, where Doe sang the national anthem and Cervenka threw out the first pitch. They came to City Hall on Oct. 11 for what the City Council declared as "X Day." On Nov. 22 they will have a concert at the Novo at L.A. Live.
Meet the Members
Grammy Museum Executive Director Scott Goldman said that all of the roughly 80 items on display are on loan from the band. The museum wanted to tell the story of the group and its musical influence.
"Everyone knows X," Goldman said. "To a certain extent they know Exene and John, but they don't really know much about what their process was and who they were as people."
The exhibit provides a personal look at each member. After walking past a large metal X flanked by some of the group's records, museum visitors step into a gallery filled with vintage punk memorabilia and history. Glass cases for each member house personal items, articles and photos. There's a silver spray-painted jacket in Zoom's case, while DJ Bonebrake has some drum sticks mounted in his (naturally, they're crossed in an X). Singer Cervenka's case contains some of her old dresses and the band buttons she collected over the years, along with journals filled with her lyrics.
Doe's case contains a mesh tank top, one of his first bass guitars, another large metal X and what he called the "sweat and beer" stained notebook where he first wrote the lyrics to the song "Los Angeles." Doe said that he and Cervenka were constantly writing, and the notebooks scattered throughout the exhibit reflect that, featuring scrawled thoughts and lyrics, and early versions of what would become songs such as "White Girl," "The Hungry Wolf" and "Poor Girl."
The walls serve as a look back at the shows the band played, with vintage concert flyers advertising X gigs with Oingo Boingo, The Blasters, Devo, Redd Kross, The Screamers and many others. They tout performances as venues such as the Whisky-a-Go-Go and spaces that no longer exist, among them the Masque in Hollywood.
Another wall holds a row of black and white photographs of the band, in concert or behind the scenes. They range from Doe and Cervenka in a dusty yard under the California sun, to a photo by Los Angeles Downtown News photographer Gary Leonard of the band performing on "American Bandstand" in 1982.
The exhibit includes clips from W.T. Morgan's X: The Unheard Music, a 1986 documentary. Morgan said that X has stuck around because the band's music was a hyper-realistic look at the L.A. underground scene and it spoke to people. Doe said that Los Angeles' punk environment was very different than the one in New York, which was more centered around art galleries and had a darker vibe. L.A., he said, had a "Who says I can't do it?" attitude.
"It was a gas. It was a bunch of kids who didn't give two [expletive] about anything and couldn't care less. It was like, [expletive] all of you, we're going to do what we feel like doing," Doe said. "We were a bohemian culture and we had enough people that we felt like if they don't get it, at least we do."
In many ways, the exhibit reflects a Los Angeles that no longer exists. Los Angeles was "built to be torn down," Cervenka declared. The era X emerged from is gone, but was never meant to last, she opined.
"L.A.'s changed. They were already changing things when we got here. The Garden of Allah [hotel on Sunset Boulevard] was gone, the Hollywood sign had fallen down," Cervenka said. "Now it's going, going, going. We've got to fight to save everything. But that's what life is."
X: 40 Years of Punk in Los Angeles runs through March at the Grammy Museum, 800 W. Olympic Blvd., (213) 765-6800 or grammymuseum.org.
© Los Angeles Downtown News 2017