DTLA - Downtown Los Angeles has never seen anything like A 24-Decade History of Popular Music.
[Get DTLA stories in our daily email newsletter.]
Divided into six-hour installments and scheduled over four nights, the 24-hour assemblage of musical theater, dance and performance art takes on the history of the United States, with a focus on marginalized groups. Enthusiastically received when it appeared in New York City in 2016, the production this week launches at Downtown's Theatre at Ace Hotel, part of the CAP UCLA performance series.
Expanding the Downtown Arts Scene
Mac, 44, received a MacArthur Foundation "Genius" grant in 2017. He is touring the show, which opens at the Ace on Thursday, March 15, with the following chapters on March 17, 22 and 24. Each evening covers 60 years — a decade an hour — and spins in unexpected directions, with Civil War "reenactments," multiple bands and celebrity appearances. Audiences might even find themselves as part of a soup kitchen line during the segment that covers the Great Depression. 
During a break in Washington, D.C. last week, ahead of a performance at the Kennedy Center, Mac spoke with Los Angeles Downtown News about the dynamic undertaking.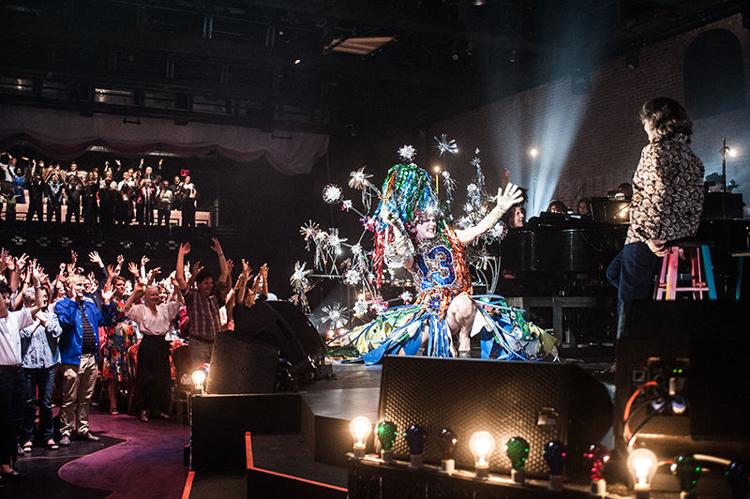 Los Angeles Downtown News: This is a history of popular music, but you're focusing on groups and communities that fall outside of the mainstream. So what defines "popular" music?
Taylor Mac: It's music that's maybe not popular with the entire country, just small pockets of communities. Sometimes the songs are ones people know, like "Yellow Brick Road." We have a bunch of those. "Amazing Grace" is in the first decade. Sometimes it's a song like "Black Is the Color of My True Love's Hair" that became way more popular in the 1960s, but it's originally from the 1770s. You just kind of juggle it around. 
Q: How did you go about researching this? You're looking at history, both communal and musical, that's probably hard to find. 
A: If I had done this show 20 years ago it would have been really hard. I would have had to get a travel grant. This was primarily research done online. There are lots of people who have their own hobby sites that have information on these sorts of things. So even if it doesn't give you the exact one, it leads you to a source you can trust. It was years of my life, but I did most of it online. I did have to go to a few libraries to help me solve a narrative problem or a missing piece.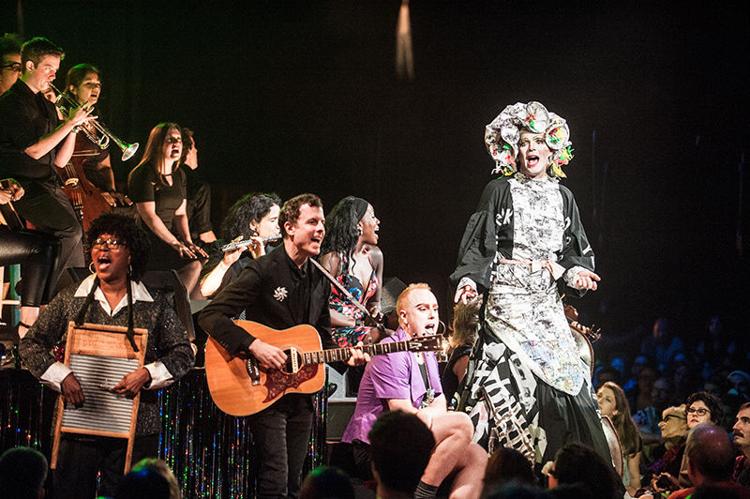 Q: Each night is its own spectacle. Can someone attend only one evening and not get lost, or is the full narrative needed?
A: I think a lot of people treat it differently. You come to the early stuff and can decide if you want to see more, then come at the very end. Some come to the very end and they love it. We've had people come to chapter one and they go into the box office during the show to get tickets for the rest of the run.
Q: So much of American history involves the oppression of minorities; there are massacres and even groups that are written out of the history books. How do you approach that?
A: The trick is we don't ignore things. The whole show is about communities falling apart, or building themselves up as a result of falling apart. We can't ignore all the minstrel songs, for instance, but we have different tactics on dealing with them. I dedicated an entire decade to Steven Foster and Walt Whitman, because Steven Foster is considered the father of American song. We have an epic smackdown between them to see who should be the father of American song. They're contemporaries, so you can't argue that Foster is a product of his time. Walt Whitman was of the same time, and he wasn't writing minstrel poems. So we try to get real creative with it. We're grounded in the reality of the circumstances.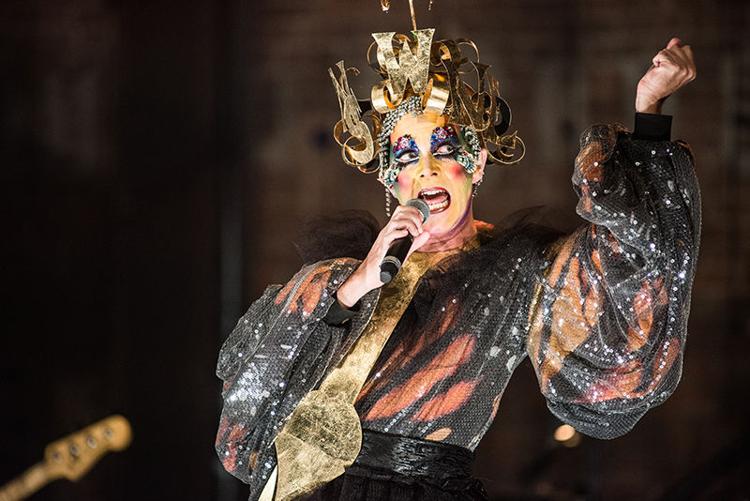 Q: You started working on this in 2011 and we have since seen some tremendous upheavals in society. Same-sex marriage was legalized, for instance, and now there's a wave of resistance to Donald Trump's presidency. How do you juggle that arc of history with more recent milestones and reactionary moments? 
A: I'm not a teacher. I don't know a smidgen as much as the people in the audience know. I do think of myself as a reminder of things that the audience dismissed or buried or others dismissed for them. One thing we forget is that history is cyclical. The same tactics used to stop women from getting equal rights in the 1780s were used against Hillary Clinton in the election. I don't have to comment on our current politics, as our history is doing that for me. After the Civil War, there were 1,500 black elected officials in the South, but because of terrorist organizations like the KKK and with the help of the Supreme Court, they were eliminated. We have this history of, "We get rights, we don't get rights, we get rights, we don't!" It's back and forth.
Q: This show is opulent and bold, with big costumes, lots of spectacle and you performing in drag. How did that come about as a way to address the subject matter?
A: There's not much queer history in the books; I wanted to make something so big it couldn't be ignored. It's a giant, queer show. Queerness is always there and present. It's a reference for contextualization, but it's not the point. The point is communities building themselves. Queers are a part of that, like other communities.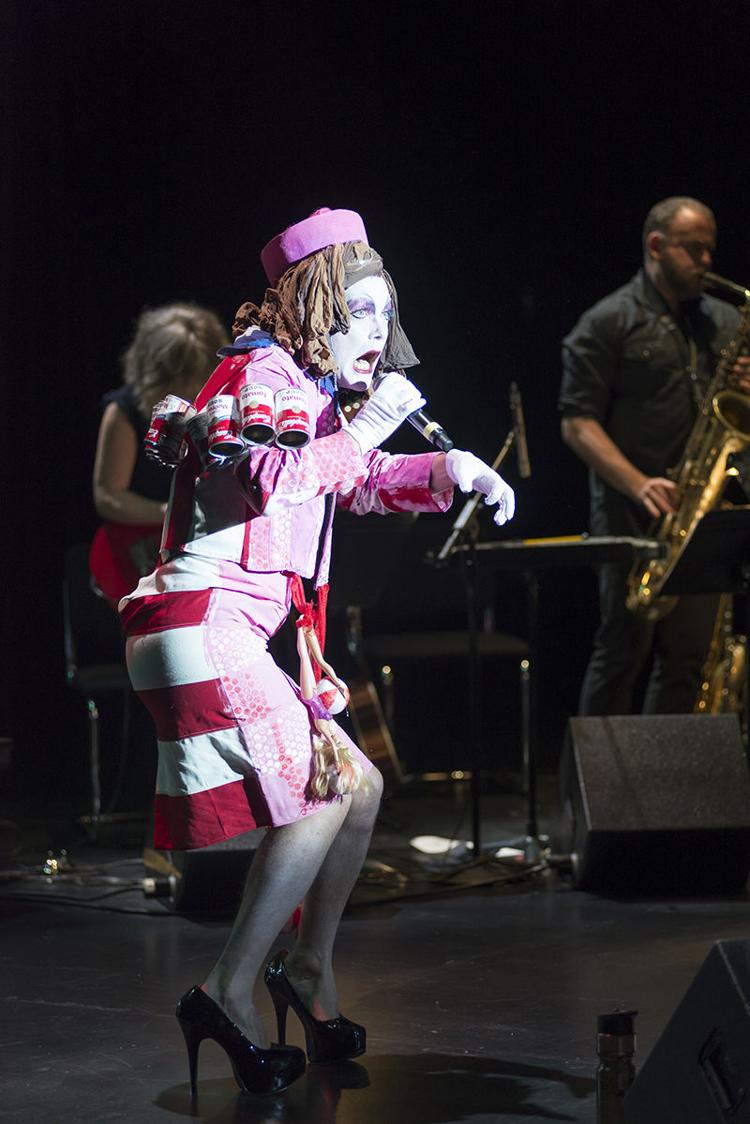 Q: This is a massive endeavor. Talk about some of what goes into it.
A: There's a 24-piece orchestra that we start with. Then we lose a musician every hour until it's just me. We also have guest artists, a marching band, dance troupes, choirs. It's an authentic extravaganza.
I was watching the Oscars, and it was great to see this inclusion. They have good intentions, but it all felt like a big salesman pitch, rather than the lived experience. What's different with us is we pull together something authentic. We're putting virtuosity and imperfection side by side. We're allowing ourselves to [expletive] up. Part of the fun is we mess up every time.
A 24-Decade History of Popular Music runs March 15-24 at the Theatre at Ace Hotel, 929 S. Broadway, (213) 235-9614 or cap.ucla.edu.
© Los Angeles Downtown News 2018