DTLA—The caveat for the mega-successful musical Mamma Mia! is simple. If you truly can't stand ABBA's infectiously catchy pop hits — not the people who pretend to hate them but then secretly sing along to "Dancing Queen" in the car — then its two-and-a-half hours of toe-tapping hooks and joyously insipid lyrics likely is a bridge too far.
Leaving the haters aside, Mamma Mia! has remained a worldwide favorite since its premiere 20 years ago because, when it's done well, the show is easily digestible entertainment.
East West Players Puts Its Spin on Mamma Mia!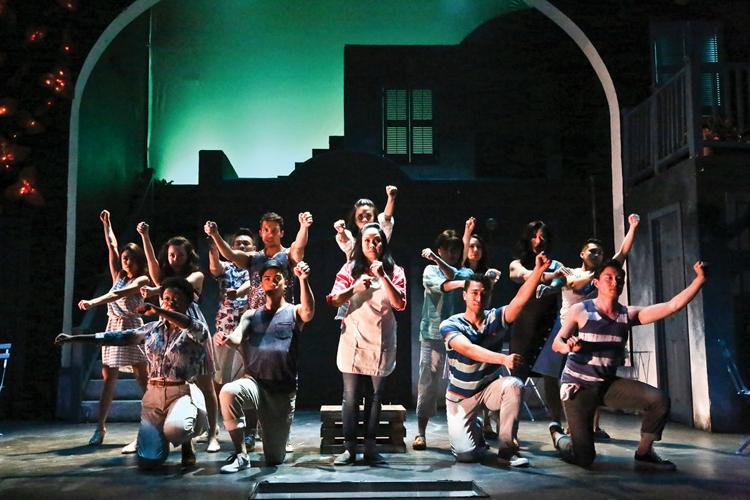 Little Tokyo's East West Players does exactly that — and more — by using its status as a prestigious Asian American theater to layer the typically white, culturally bland story with Filipino flair. Despite a few missteps by director Snehal Desai, and a couple of casting weak spots, a powerhouse quartet of female principals and some memorable choreography make this Mamma Mia! a worthwhile jaunt. The show runs at the David Henry Hwang Theatre through June 9.
The two elements of the show that have been rock solid since its inception in 1999 are the songs by ABBA members Benny Andersson and Björn Ulvaeus, and the often maligned book by Catherine Johnson. Yes, there is standard sitcom dialogue, but Johnson should be celebrated for how she managed to create a story that feels like the songs were written specifically for it.
The plot, which is duplicated in the 2008 movie version, begins with the upcoming wedding of 20-year-old Sophie (Grace Yoo) to Sky (Max Torrez) on a fictional Greek island where her mother Donna (Joan Almedilla) owns a hotel. Sophie doesn't know her father, but by reading her mother's diary she discovers that he is one of three men. Pretending to be her mother, she sends them all invitations to her wedding.
The men are Australian writer and adventurer Bill (Michael Palma), the English banker Harry (Danny Bernardo) and Donna's great love, Sam (Alan Ariano), who left her on the island to marry another woman. Donna doesn't know they are coming, and is expecting only her two best friends, wealthy and thrice-divorced Tanya (Anthea Neri) and the lighthearted Rosie (Elvira Barjau).
Reviewing East West Players' 'Man of God'
While the music is the main attraction, Desai probably should have eschewed the several minutes of overture and entr'acte because the five-piece band feels thin when not accompanied by the singers. Also, his pacing drags in most of the spoken sections, which keeps some laugh lines from landing sharply and the actors looking a bit lost.
The good news is that Desai and choreographer Preston Mui more than make up for those sluggish spots during the musical numbers.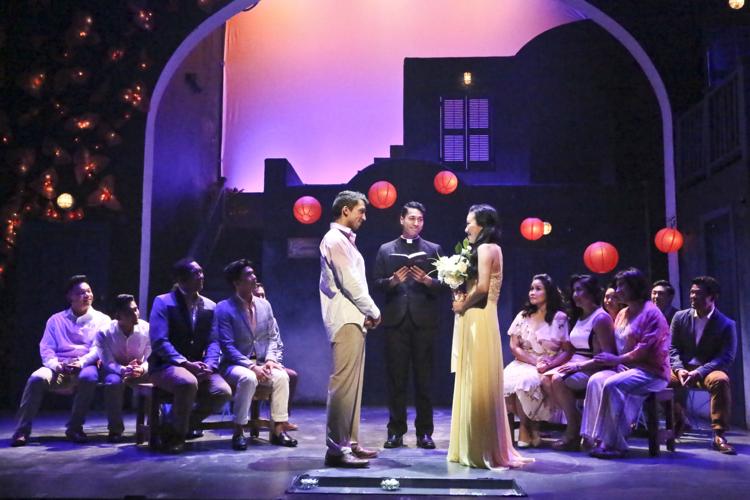 Mui's mix of styles is dynamic. He harkens to the 1980s with Michael Jackson's Moonwalk and a bit of the "Thriller" dance, with some shout-outs to the 1990s as well. In several scenes, Mui stages dances with nearly the entire cast in a fairly small space without it feeling cramped. His first act climax dance to "Voulez-Vous" has Sophie literally and physiologically spun around as her plans start to fall apart.
Mui's use of traditional Filipino stick dancing and fan dancing puts an organic and original spin on what in other productions have been less-memorable parts of the show.
The use of Filipino culture is Desai's smartest move, and he even includes bits of Tagalog. In his opening night speech, Desai talked about injecting more people of color into stories that tend to be played by white actors, but his direction shows clearly that he knows it should to be done with proper motivation. The result is that he gives the characters deeper personalities without losing any of the original emotions that were developed by Johnson.
None of this would work without the voices, which is why casting Almedilla is key. An East West all-star, Almedilla remains a world-renowned powerhouse vocalist, and she delivers, in particular on "The Winner Takes It All." The bonus is that she's backed by Neri and Barjau, who more than hold their own and provide consistent humor throughout the show.
None of the male cast members are memorable, though they don't detract either. The lynchpin, though, is Yoo, as Sophie. While she isn't the strongest singer, her pleasing voice and acting chops make her performance the most engaging.
No one has, or ever will, call Mamma Mia! a deep, complex work. East West Players gets that, and while entertaining, the company even manages to make this tried-and-true show feel new.
Mamma Mia! runs through June 9 at the David Henry Hwang Theater at 120 Judge John Aiso St., (213) 625-7000 or eastwestplayers.org.
Copyright 2019 Los Angeles Downtown News