DTLA - In recent years, LGBTQ issues have become increasingly prominent and have garnered attention across the country. So it makes sense that yet another layer is being explored in Downtown Los Angeles.
[Get DTLA stories in our daily email newsletter.]
LA Plaza de Cultura y Artes recently opened ¡Mírame! Expressions of Queer Latinx Art. The show, which runs through Dec. 9, explores how a number of artists from different generations, and working in a variety of styles, have explored their identity and place in society.
¡Mírame! ("look at me!" in Spanish), which launched during Pride month in the cultural facility near Olvera Street, features creations from 11 artists who work in everything from painting to video to even knitting. It marks the first time LA Plaza has done an exhibition focused on Latinx (a gender-neutral term encompassing men, women and transgender people who wish to avoid the binary of "Latino/Latina") LGBTQ artists, according to museum CEO John Echeveste.
"We're having a discussion about LGBTQ issues in the community and how they reflect through the years, and how we're moving toward fuller acceptance, which has been something of a taboo subject in the Latino community, though we're seeing change," Echeveste said.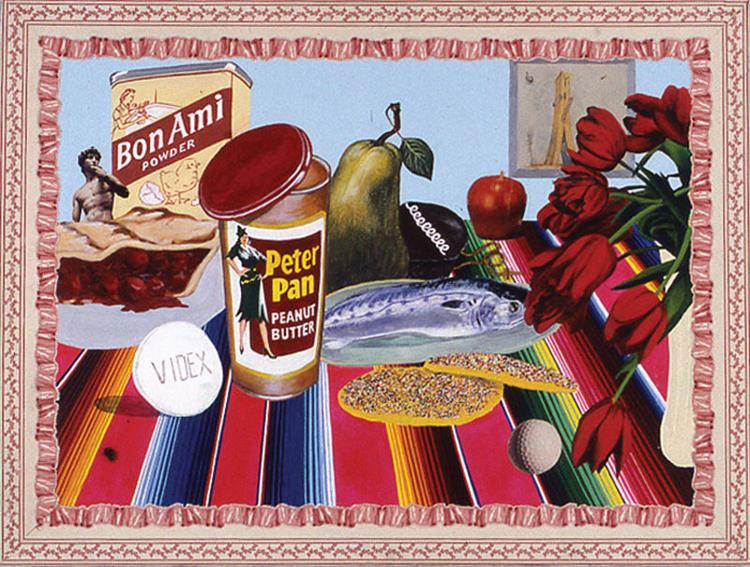 The show is presented in a hallway gallery that spills into a wider room. Paintings, photographs and mixed-media works line the walls of the hallway, while a pair of small galleries hold more art, including magazines and photographs. Some three-dimensional pieces, such as Ben Guila's knit work of a heart, brain and intestines, are on display.
The art is organized around three themes: body, space and language. The exhibition also includes a timeline detailing major events in Latinx LGBTQ history in Los Angeles, from the opening of LGBTQ-friendly nightclubs to protests and rallies.
The participants include Joey Terrill, who has been working since the 1970s, and who referred to himself as the "grandpapi" of the exhibit. His four works include two still-life paintings and a pair of issues of his old magazine, Homeboy Beautiful, from 1978 and '79.
"We're looking at the magazine as a seminal attempt in the 1970s, where my gay sexuality and my advocacy for the Chicano movement intersected," he said.
Many of the artists in ¡Mírame! are decades younger, with some still in art school. Museum curator Erendina Delgadillo said the participants were selected to reflect the evolution in the arts community in both message and medium.
"The conversations in the queer and Latinx community are specific," Delgadillo said. "Previously people focused exclusively on the Chicano identity, class, or sexual orientation. Now we're seeing more of that coming in all at once."
She pointed to artist Julio Salgado, an undocumented, self-described queer man. Delgadillo said that all facets of Salgado's life intersect in his paintings, which depict him staring out at viewers. In one the backdrop is hot pink and bears the phrase "Work in Progress."
Delgadillo noted that some of the younger artists work in a wider range of media than older participants. That includes Guila's knit creations, Xandra Ibarra's display of altered hot sauce bottles showing a smiling woman, and a video piece on display in the rear of the gallery.
"It could just be access to materials and how mediums evolved over time, but the younger artists are more open to experimentation," she said. "The work they've brought to the show uses more colors and are more tactile. They're getting out of the two-dimensional rectangular box."
The exhibition was originally set to include a 12th artist, Dorian Wood, but the museum found some of his submissions inappropriate due to sexual elements and nudity. After a dialogue with the museum, Wood chose to leave the show. LA Plaza elected to incorporate that into ¡Mírame!: Two walls that would have held Wood's work are now dedicated to the idea of exclusion and censorship. The other artists put up creative responses to the issue, and there is a space for visitors to explore the power dynamic.
"It's kind of a comment wall now, where people can discuss instances where they felt their needs and interests had not been respected," Echeveste said. "We're welcoming the opportunity for people to express that."
The show is complemented by a lineup of panel discussions and other events. They include documentary screenings on East L.A. bicycle activists, and on coming out in Latino communities. LA Plaza will also hold a poetry reading in August and a dance party in October.
Before that, there is the opportunity to see changing art amid a transforming culture. That has connected with Terrill, who remarked on the evolution he has seen over 40 years.
"When I was in the my early 20s trying to exhibit my work, art shows geared toward Chicano art didn't want to display my stuff because it was too gay or queer. There was always a sense of being marginalized on the outside," he said.
The LA Plaza show reveals just how much the world has changed.
¡Mírame! runs through Dec. 9 at LA Plaza de Cultura y Artes, 501 N. Main St., (213) 542-6200 or lapca.org.
© Los Angeles Downtown News 2017