DTLA - When Tadao Sakamoto was a young man in Japan, he played the shamisen, a long-necked, three-stringed taiko instrument similar to a guitar or banjo. The shamisen is a staple in traditional Japanese folk songs such as "Sakura" and "Soran Bushi."
Now, 82 and a resident of Little Tokyo, Sakamoto is still plucking away. The only difference is, he's added a string.
On a Thursday afternoon, Sakamoto was one of about 25 senior citizens who had gathered on the first floor of the Japanese American Cultural and Community Center to learn the ukulele. It was the JACCC's weekly Ukes for Little Tokyo class, a program intended to combat social isolation amongst Japanese-speaking elderly individuals.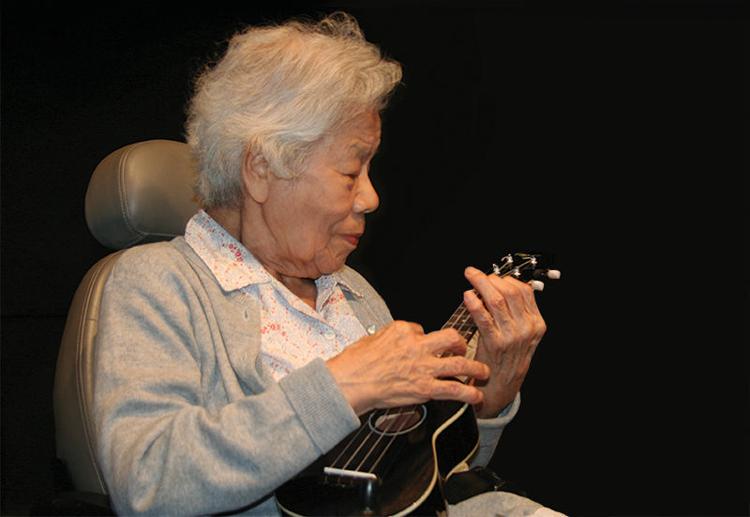 Through an interpreter, Sakamoto said that the class gives him an activity to look forward to each week now that he no longer works.
"I can learn to play the songs that I learned as a child," he said. "It's very nostalgic. But also, I have made new friends through this. Those are exciting moments for me."
Making connections is the focus of Ukes for Little Tokyo, according to program curator Jason Arimoto. The hour-long class helps entice an older generation to leave their homes and mingle with other individuals. The goal is to foster connections through an instrument he described as "accessible to the population that we are trying to serve."
The class is free. Each student is given a ukulele to practice with, and after 25 hours of the program the seniors are allowed to keep the instrument. Although there is no hard-and-fast age limit, students tend to be 64 to 83, said Kent Marume, community engagement coordinator at the JACCC.
The learning curve is simultaneously obtainable yet challenging enough to keep the musicians engaged, Arimoto said. With just three chords, hundreds of familiar songs and melodies can be composed.
The focus is less on technical expertise and more on creating a welcoming environment through music, Arimoto said. While arthritis or other muscle and joint conditions can make it hard for seniors to glide their hands and digits across the neck of the instrument, that's not a problem in this classroom.
"If you can get three out of the four strings, that's good," Arimoto said. "It's about enjoying it. It's about empowering people and bringing the community together so they can share in this experience of creating music."
Communal Focus
The program began more than two years ago with a grant from the Annenberg Foundation. The funding lasted a year and provided ukulele classes at the JACCC in Japanese, Korean, English and Spanish.
Arimoto, who runs USpace, an amalgamation of a coffee shop and a ukulele store at the JACCC, organized the 20-week program.
After the grant expired, the Los Angeles-based Keiro organization stepped in. Keiro, founded in 1961, focuses on quality-of-life improvements for Japanese and Japanese-American senior citizens, with a focus on reducing social isolation.
"We felt that this was a really innovative and unique approach to engaging Japanese-American older adults who live in the area," said Brandon Masashige Leong, Keiro's director of programs and strategic partnerships.
Marume said the Japanese-language classes were the most popular (they are now the only ones the center offers). He partly credited that to lead instructor Chester Ikei.
"He's older and bilingual," said Marume. "The students are able to appeal to him on a peer-to-peer level. They are able to connect with him."
Ikei works with Arimoto to ensure the program fits the needs of the students. He said that when he and Arimoto select songs to practice in class, they lean on works that the participants would have sung during their youth. The reason is twofold: The songs jog the students' memories, and help exercise their brain and hand-eye coordination.
"Singing and playing instruments are two different things," Ikei said. "If you want to sing and play, it can be hard. But it's easier because they don't have to memorize everything. They already remember the melodies. It's just a fun time they can spend singing and practicing."
Jane Sakamoto, 70, who lives in the Little Tokyo Towers, said that singing the songs of her childhood is her favorite part of the class.
"There are so many songs that I hadn't heard in years," said Sakamoto, who is not related to Tadao Sakamoto "It's so much fun."
Sakamoto was introduced to the class through a friend almost a year ago. The playing doesn't end at the JACCC door, as she often joins three or four friends every week to practice on their own before retuning to class.
"We kind of have our own little ukulele session," she said with a smile.
The students also get an opportunity to perform in public. Marume said that the JACCC lines up two or three shows a year, including a Christmas program during the holiday season.
Leong views the program as a success on multiple levels: The students learn music, he said, and make new friends.
"I think it's doing exactly what we intended it to do," Leong said.
© Los Angeles Downtown News 2019