For close to 60 years, the Olympic Auditorium dominated Los Angeles wrestling, boxing and roller derby landscape, holding luminaries from legendary boxer Muhammad Ali, to Hulk Hogan, Andre "The Giant" and the motor-mouthed "Rowdy" Roddy Piper.
Located on the corner of 18th Street and Grand Avenue and built in 1925, the former sports mecca is now a Korean-language church, obscuring the venue's original use. But hopefully, that's subject to change.
First-time filmmaker Steve DeBro is currently putting the finishing touches on his Olympic Auditorium-focused documentary 18th and Grand: The Olympic Auditorium Story, which was scheduled to have its world premiere at the ArcLight Hollywood Cinerama Dome on Thursday, March 26 prior to its coronavirus related postponement.
Five years in the making, the 85-minute film explores the heyday of the Olympic Auditorium, from its early years as a West Coast rival to Madison Square Garden, to its later years as a punk rock and pro wrestling venue.
Los Angeles Downtown News spoke with DeBro about the upcoming release of the film, the motivations behind it, and what makes the Olympic Auditorium such an endearing piece of Los Angeles history.
This interview has been edited for clarity.
Los Angeles Downtown News: Why was the Olympic Auditorium of interest to you and the team?
Steve DeBro: Like a lot of Angelenos I would pass the Olympic Auditorium all the time. I watched wrestling on TV; Freddie Blassie, The Destroyer, Roddy Piper and the Guerreros and it's sort of ingrained in my memory.
When I started to look into the story of the Olympic it was very fascinating to me and when I started to get deeper into the story of the Olympic, it became a very fascinating window into the history of Los Angeles.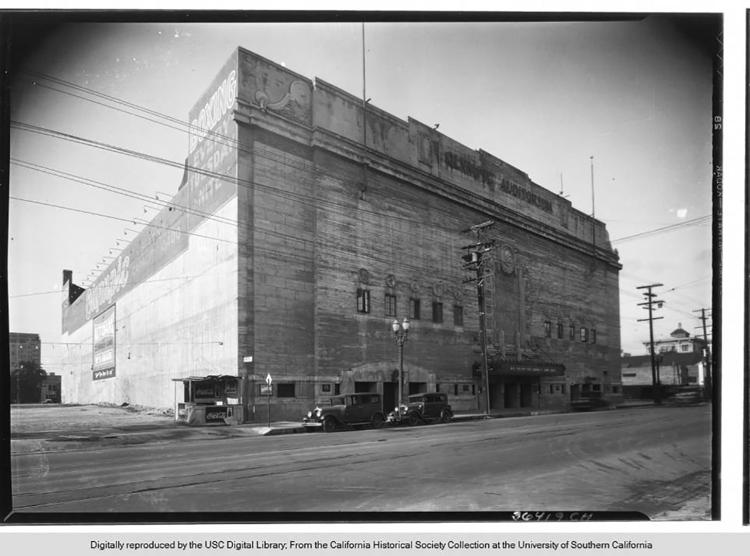 Q: Was there anything that really surprised you about the Olympic Auditorium as you conducted your research?
A: The most surprising thing was the Aileen Eaton story, the woman who ran the Olympic Auditorium from 1942 to about 1980. The fact that this sort of palace of violence had its most successful years with a woman in charge was very eye opening, and the fact that this story was ever forgotten really hooked me.
Q: I'm glad you mention Aileen. Professional wrestling, boxing and other fight or combat sports were especially popular at the Olympic Auditorium during that time, but they were essentially dominated by men. But the Olympic was run by a woman, why do you think she was so successful in this arena?
A: Well, number one, she kept her eye on the bottom line. Before she was there, the Olympic had gone through a change of promoters who were either stealing money — it was a corrupt time in L.A. in the '20s and '30s — or they were either putting money in their pockets or not making any money. The L.A. Athletic Club owned the building and leased it to a list of promoters who failed. In desperation, they turned to this divorced single mother who had done some work for Frank Garmin, head of the Athletic Club.
She was a natural-born promoter. She very much focused on bringing fights that people wanted to see. She understood more than most people how to use television to her advantage. She catered to her audience and understood that a larger part of the audience at the Olympic was Mexican American and there were a lot of people who would cross the border to see the fights. She definitely understood her audience and worked to appeal to them in how she promoted shows. She was the only woman in the Boxing Hall of Fame for a while, thousands of men and just one woman. She's just a remarkable person. I have an incredible amount of respect for her.
Q: You started this project in 2015. What was the crowdsourced fundraising experience like? As you're telling people that you're going to move forward with this project, what was their reaction?
A: It was very interesting. When I brought up the Olympic, for those who it mattered to, it mattered deeply to. I did one of the last interviews of Roddy Piper before he died. Piper told me that the Olympic was the first place where he had a microphone in his hand, where he got to be the star. I just got off the phone with Carlos Palomino, world champion welterweight boxer, for him, when I mention the Olympic Auditorium, it's a deep respect.
Roller derby too. It's amazing how many people love and remember the T-Birds. It was a meaningful place for these people and once people knew I was serious, wanting to hear their stories not as a novelty, people were very eager to share their stories. There is something deep and powerful there. When I first started the flick I didn't think I quite understood that reservoir of love, but if you look at our social media, you can see it. It's not just nostalgia for nostalgia's sake. It's touching on the past, but also I think these stories are relevant now.
Q: You have a strong list of interviewees in the film, from Roddy Piper, to the The Destroyer and Gene Le Bell, but you also had to find tons of archival film and images for the documentary. What was that process like?
A: Digging everywhere. Talking to big wrestling fans and going to everything from Youtube to the UCLA film and television archive, just really digging around for everything. There were also some collections that just found their way to us overtime. It was really a process. Also, people have reached out to us. Even now, after hundreds of hours of research, things are still popping up. I know that when the film screens there will be some things that will pop up, but it's amazing all the stuff that our fans have come back to me and said "I have this, or I have this, would you like to use that?"
We started shooting this in 2015, people know if you are for real or not, and people have trusted me to tell this story. So a lot of people shared family heirlooms, video tapes and still images.
Q: Did you have a particular favorite interview from the piece?
A: There were a lot, but one of our favorites was when we interviewed The Destroyer. He had wrestled Freddie Blassie in Hawaii and when he came to L.A. they handed him a wool mask that he could barely breathe out of, and told him his new name was The Destroyer. He realized that it was easier to get people to hate him than to love him, and through that process he fell in love with the mask and although people hated him, he became a beloved figure in Los Angeles.
That was a really wonderful moment, seeing this 80-something person who did the entire interview in the mask, it's very meaningful to share the stories of someone like him. Piper was amazing too. He struck me as such a genius. He was so brilliant, funny and smart and really wanted me to understand that as much of a showman he was, he was a wrestler first who took his craft very seriously.
Q: I understand that the exodus of professional wrestling to the East Coast was a major death knell for the Olympic Auditorium, but what were you able to find as the true downfall of the Olympic Auditorium?
A: I almost look at Aileen. To me, Aileen held it together. She was the glue that kept it together. Boxing was really solid until she left and it was doing quite well. She turned over wrestling responsibilities to her son Mike and Mike didn't really have a passion for the business. He looked at it as a means to an end to make money. Especially after the Chavo Guerrero Sr. and Roddy Piper feud played itself out and Roddy moved onto bigger things, that was kind of the last hurrah for wrestling at the Olympic.
Aileen was the central figure that held it together. When she was gone, other than Gary Tovar who did Goldenvoice for a few dates there, there was no one creative enough to keep that 10,000-seat venue going.
There is a lack of understanding about its history. This city has a great history and it matters. Downtown has a lot of great history; it's still amazing that the theaters along Broadway have been saved. Those kind of things give L.A. texture.