DTLA - For most Americans, Vietnam evokes not a country, a culture or a people, but a controversial war. Its effects live on for many, and it has been replayed frequently in books, film and theater.
[Get DTLA stories in our daily email newsletter.]
In a number of those stories, Vietnamese people are used as the backdrop for an American tale — think Platoon. Or, their fate depends on a U.S. solider, as was the case in Miss Saigon.
Qui Nguyen is having none of that, which is what makes Vietgone his most personal play and one of the more original stories about the impact of the war on the Vietnamese people.
The opener of East West Players' 53rd season, Vietgone, running through Nov. 18 at Little Tokyo's David Henry Hwang Theatre, will take most everyone by surprise — unless you saw Nguyen's Krunk Fu Battle Battle in 2011. One of the clearest, albeit wackiest, voices in modern theater, the playwright and founder of New York's Vampire Cowboys theater company writes about what he loves, namely comic books, video games, hip-hop culture and martial arts-style stage fights.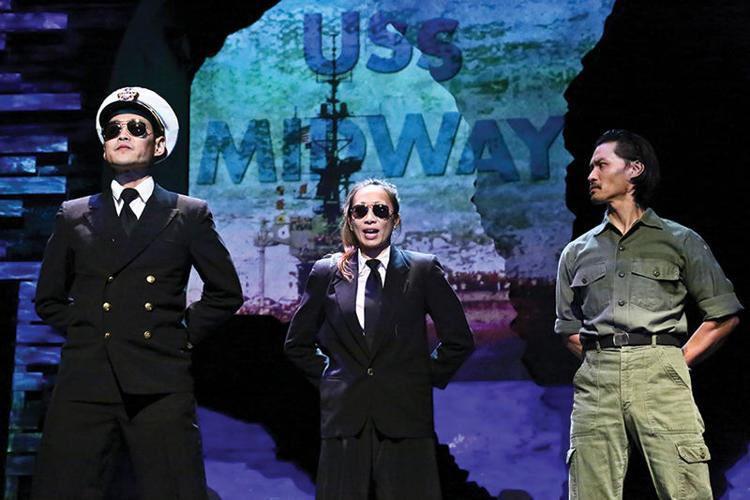 Nguyen's style is playfully adolescent, but Vietgone, which premiered in Orange County in 2015, is also a mature and fully realized story. It has sharper characters and bigger laughs than Krunk Fu, plus a touching final scene that completes the tightly wrapped two-and-a-quarter-hour package.
Director Jennifer Chang understands the need to drive the pace and push for laughs, because the absurdity of Vietgone is what bulks up its meaning.
That absurdity begins with opening announcements from the Playwright (Albert Park), a surrogate for Nguyen. He explains the play is definitely not about his parents, even though that's clearly untrue, as it reflects several historical details of their meeting at Camp Chaffee in Arkansas. That's where many South Vietnamese people were sent after escaping their country and winding up in the United States at the end of the war.
Quang (Paul Yen), a pilot in the South Vietnamese military, is forced to go without his wife and two children. He comes with longtime pal Nhan (Scott Ly). The foul-mouthed, acerbic Tong (Sylvia Kwan) makes it to the camp with her mother Huong (Jane Lui), leaving behind a fiancé and a younger brother.
Tong hopes to make a new home in America, while Quang and Huong want to return to Vietnam.
It may sound like a straightforward tale, but it isn't. Asians, the Playwright explains in the opening, will not be speaking in typical racist vernacular, by saying "Herro! Prease to be meeting you! I so Asian!" Instead, it will be Americans who use nonsensical mishmash, such as "Hamburger, freedom, monster trucks," spoken with exaggerated Southern accents.
Also, while it's not exactly a musical, there are several hip-hop songs, backed by driving, thumping tunes composed by Shammy Dee. Most of these dig deeper into the anger and frustration Tong and Quang are feeling.
Nguyen is known for his strong female characters, and Tong is no exception. With a sharp, sarcastic wit and frankness about her physical passions, Tong battles internally with her desire to move on and her sadness about leaving her brother. Kwan, who also shined in Water by the Spoonful at the Mark Taper Forum, gives Tong an edge that provides plenty of laughs without resorting to mugging.
Likewise, Yen balances the sensitive and macho sides of Quang. Lui gets the biggest laughs of all with the deadpan barbs she directs at her daughter.
Nguyen's signature is stage fighting, which he taught, and the second act has a comical doozy of a battle, choreographed by Thomas Isao Morinaka and Aaron Aoki, which derives much of its humor from references to classic video games. Likewise, he inserts a montage of two men trying to woo Tong by copying famous moments from popular movies, including Dirty Dancing and Titanic.
The set is minimal, but a projected design by Kaitlyn Pietras and Jason H. Thompson floods the background with images of icons and locales relevant to the story.
While it succeeds as a comedy, the lasting impact of Vietgone comes from its climax. Director Chang allows for a gradually paced partial blackout as the time period shifts forward. It's there that Nguyen, without resorting to soapbox declarations, offers context that is complex, refreshing and unlikely to show up in most American stories about Vietnam.
Much of Nguyen's canon is plays that might seem out of place at East West Players. Credit producing artistic director Snehal Desai for bringing the playwright back to Little Tokyo.
Vietgone runs through Nov. 18 at the David Henry Hwang Theater at the Union Center for the Arts, 120 Judge John Aiso St., (213) 625-7000 or eastwestplayers.org.
© Los Angeles Downtown News 2018