This past year had its ups and downs, but one certainty was that Downtown hosted dozens of engaging and creative festivals, exhibitions, and concerts.
One-man shows like Leguizamo's record-breaking Latin History for Morons, and Mike Bribiglia's The New One enthralled audiences at the Music Center, while on the other side of town, East West Players put their unique spin on a classic jukebox musical, Mamma Mia!, rapper Tyler, the Creator brought his quasi musical carnival to the Dodger Stadium grounds and the Adult Swim music festival got "swifty" at the Banc of California stadium to legions of adoring fans. Not to be outdone, the museums pulled out all the stops, bringing fresh exhibits like Annie Liebovitz, The Early Years, 1970-1983: Archive Project No.1 to Hauser & Wirth in the Arts District, and Soul of a Nation: Art in the Age of Black Power, 1963-83, which explored an often under recognized segment of art history.
That trend doesn't appear to be letting up for 2020.
The full line-up of shows coming to Downtown have not been released, but the winter and spring offer a wide range of noteworthy events, from opera to postminmalistic installation. Here are 11 exhibitions and shows worth seeing in the new year.
THE LAST SHIP
Jan. 14-Feb. 16 at The Ahmanson Theatre
Sting, the former frontman for The Police, stars in this musical inspired by his upbringing in a English ship-building town. The Last Ship tells the story of Gideon who comes home to find the shipyard closing and his town unsure of its future. Labor fights grow as a foreman, played by Sting, tries to keep the yard open for as long as possible. The score and songs are all composed by Sting.
At 135 N. Grand Ave. or centertheatregroup.org.
CIRQUE DU SOLEIL
Jan. 18-March 8 at Dodger Stadium
The high-flying acrobats of Cirque du Soleil are returning to Los Angeles in January. This time they're bringing their show Volta, about the mythical topic of extreme sports, to a big tent set up just outside of Dodger Stadium. So while there are aerial feats, there are also BMX ballet duets, and other acts reflecting the kind of competition found in events like the X Games. As with any Cirque du Soleil show, expect dazzling acrobatics, mind-bending contortion and plenty of whimsy.
At 1000 Vin Scully Ave. or cirquedusoliel.com.
WOLF PARADE
Jan. 30 at The Regent
If you like indie rock, you're in luck. Wolf Parade, the Canadian stalwarts of the genre, are coming to Downtown in support of their forthcoming album Thin Mind. The group has been steadily turning out new music since their return from hiatus, and Angelenos can expect a mix of new tracks and fan-favorite cuts from their debut album Apologies to the Queen Mary.
At 448 S. Main St. or spacelandpresents.com.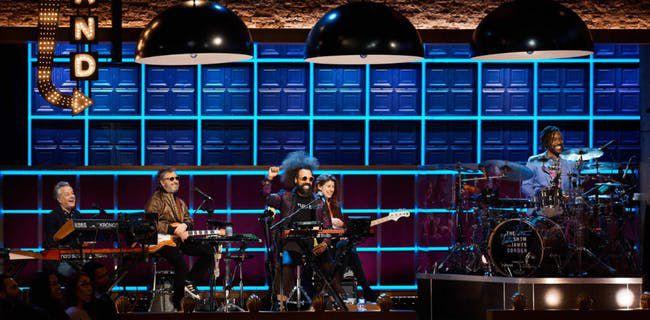 REGGIE WATTS & KAREN
Jan. 30 at the Teragram Ballroom
There's not much Reggie Watts can't do. The actor, comedian, writer and musician has made waves as one half of the group Wajatta, and now he's bringing his solo show to City West. Joined by his backing band Karen, Watts will likely be mixing it up, improvising drum-heavy compositions and throwing in some humor along the way. He also has impressive beatboxing skills, so don't be surprised if he goes on a tear.
At 1234 W. Seventh St. or teragramballroom.com.
EURYDICE
Feb. 1-23 at the Dorothy Chandler Pavilion
The L.A. Opera's first show of the new year is the world premiere of Eurydice, a POV-flipped take on the classic Greek myth of Orpheus and Eurydice. Written by playwright Sarah Ruhl, it follows Eurydice (Danielle de Niese) as she dies on her wedding day and descends into Hades, where she finds her lost family.
At 135 N. Grand Ave. or laopera.com.
AL DI LÁ: AN EVENING OF SOUND WORKS BY SIMONE FORTI
Feb. 1 at REDCAT
Simone Forti is best known for her dancing and choreography, but she's spent much of her career creating songs and scores through often unconventional means (i.e. metal nails). In February she presents a retrospective on 50 years of those sonic creations. The program will include more than half a dozen of her songs, performed by Forti and collaborators.
At 631 W. Second St. or redcat.org.
LUCIO FONTANA. WALKING THE SPACE: SPATIAL ENVIRONMENTS, 1948-1968
Feb. 13-April 12 at Hauser & Wirth Los Angeles
The late artist Lucio Fontana spent the last 20 years of his life experimenting with how to present his paintings, sometimes even forgoing canvas to use neon to illustrate a wall. Each of his installations played with the space around him, and now the Arts District's Hauser & Wirth is showcasing nine of Fontana's experimental installations, each one showing an artist trying to use new technology to better convey his vision.
At 901 E. Third St. or hauserwirth.com.
REE MORTON: THE PLANT THAT HEALS MAY ALSO POISON
Feb. 16-June 14 at the Institute of Contemporary Art, Los Angeles
Ree Morton passed away in 1977 but left a major impact on postminimalism and contemporary art, with large-scale but succinct paintings and sculptures. The ICALA is hosting the first major American exhibition of her work in 40 years, mixing full pieces with some sketches, drawings, and other archival works. In February the museum is also showcasing the readymade work of Los Angeles-based artist Ann Greene Kelly.
At 1717 E. Seventh St. or theicala.org.
WHISTLEBLOWER
March 21 at The Theatre at Ace Hotel
UCLA's Center for the Art of Performance continues to offer eclectic programming at Broadway's Theatre at Ace Hotel. This spring it brings Whistleblower, inspired by Edward Snowden's 2013 exposure of illegal government surveillance on American citizens. Spoken word performer Jerry Quickley will read from a projected text, trying to make sense of our new high-tech age, while composer Phillip Glass provides live musical accompaniment. The concert will also include a performance of another Glass work, Is Infinity Odd or Even?
At 929 S. Broadway or cap.ucla.edu.
BEACH SLANG
March 26 at The Bootleg Theater
Beach Slang is a stalwart of the Sub Pop Records alternative scene, even if frontman James Alex is the only original member left and the only constant. Their songs range from anthemic pop-punk to raw, short and gritty tracks, but their intensity never lets up. So when they take over Beverly Boulevard's Bootleg Theater, it will get loud. They're touring in support of a new album, The Deadbeat Bang of Heartbreak City.
At 2220 W. Beverly Blvd. or bootlegtheater.com.
STORMZY
May 27 at The Novo
If you don't know Stormzy, you're missing out on the biggest star of the British grime and rap scene. The Glastonbury festival-headlining performer arrives in Downtown with catchy beats and politically charged lyrics. He's on tour for his new album Heavy Is the Head, so expect to hear his latest singles "Audacity" and "Own It." And even if you're not familiar with British politics, you'll likely end up singing along to his scorching 2019 track "Vossi Bop."
At 800 W. Olympic Blvd. or thenovodtla.com.