DTLA - The blues is a quintessentially American genre, drawn from African-American musicians in the South, and popularized around the United States in the 1920s. As the name implies, the blues is full of woes, lamentations, conflicts and struggles, whether of the personal or societal variety. Just listen to Muddy Waters, B.B. King, John Lee Hooker or some of the other legendary artists.
     While the blues is an aural medium, this week it takes on a visual dimension, too. That's because the blues is front and center in Ma Rainey's Black Bottom. The 1984 August Wilson work that uses the genre to tell a story of ambition, despair, exploitation and racial politics opens at the Mark Taper Forum on Sunday, Sept. 11 (previews are already underway). The show, which represents the ninth time that a Wilson work has been mounted by Center Theatre Group, runs through Oct. 16.
[Get DTLA stories in our daily email newsletter.]
    Ma Rainey is directed by Phylicia Rashad, the TV and film veteran who last year helmed the Taper's production of Paul Oakley Stovall's Immediate Family. Set in Chicago in 1927, the plot centers on a recording session with real-life blues singer Ma Rainey (played by Lillias White) and the four members of her band, including pianist Toledo (Glynn Turman) and the young, ambitious trumpet player Levee (Jason Dirden). While waiting for Rainey to show up, the members turn to jokes and discussions of daily life. Tensions rise. And that's all before Rainey and her entourage arrive, ushering in another set of conflicts.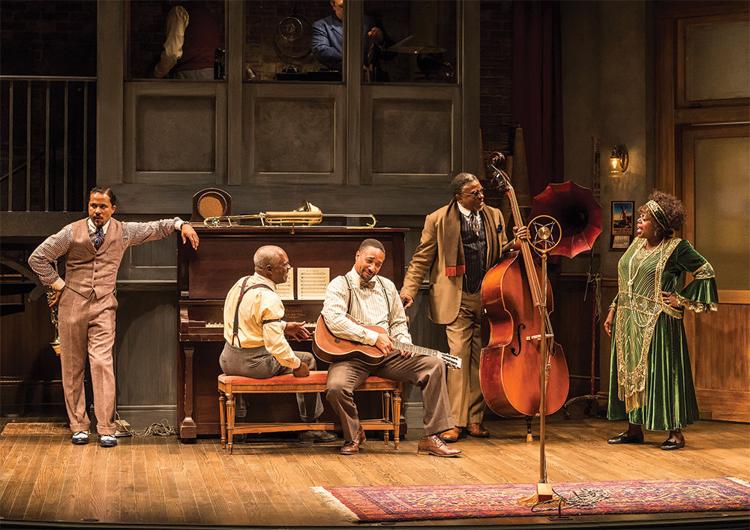 The play poses some hefty challenges to the performers — that's because not only must they interpret Wilson's words, they also must be able to play their instruments. That's a particular challenge for Dirden, who didn't know how to play the trumpet before being cast. He started practicing in June, he said, playing anything he could, even "Twinkle Twinkle Little Star." The cast members got private teachers in July, and the following month they began band rehearsals, playing together before running through the play later in the day. 
    Dirden said coming together as a band helped the cast bond, and that the camaraderie is evident on stage.
    "We realized we could take this on the road as a band," Turman boasted. "Let's see if we could get our agent to book us some gigs!"
Back to the Wilson Well
    Wilson's plays have long been a staple of Center Theatre Group's programming, with five shows presented at the Taper (two others were at the Ahmanson Theatre). Additionally, CTG stages the annual August Wilson Monologue Competition for students.
    Turman and Dirden both said the conflict and dramatic tension in Ma Rainey is clear, and that the trick to mastering the band members comes down to mannerisms and interaction. They give great credit to Rashad, who previous directed Wilson plays. The director, they said, could easily step in during a rehearsal and offer new perspectives on how everyone should react and move.
    The two have both acted in Wilson's work before, and they even appeared on stage together about a decade ago, playing father and son in a version of Lonne Elder III's play Ceremonies in Dark Old Men.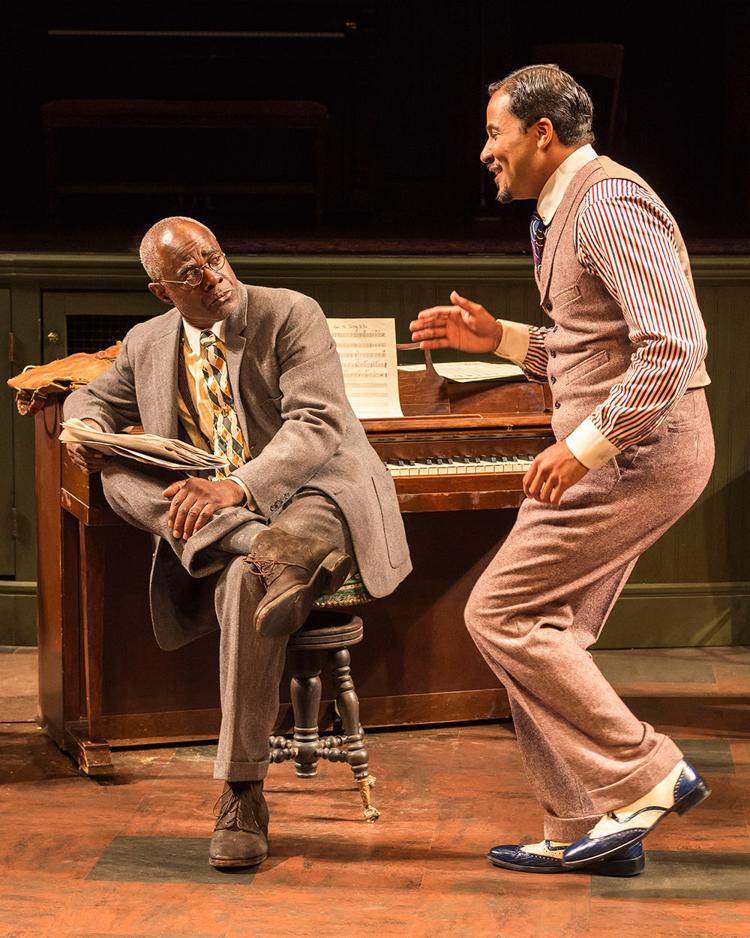 That theme of the separation of the generations is inherent throughout the new show. Dirden's Levee is youthful and eager to make his mark and advance in the world. Turman's Toledo, by contrast, is older and more patient, operating with wisdom and experience. It sets up a classic clash, with Dirden noting that the younger man believes he has all of the answers, and that he knows the best way to propel the music. 
     "Levee is watching these guys who he respects, but they're telling him to sit and wait and be happy with what someone's giving you," Dirden said. "All Levee's saying is, 'Why? Why wait?'"
    Wilson wrote Ma Rainey 32 years ago, and even then it was set more than a half-century in the past. Still, Dirden believes the play resonates powerfully today. The themes and the dialogue on racial politics and exploitation in the music industry continue to be felt, he said. 
    "If you look at our times now, you see how relevant what he wrote is. So little has changed," Turman said. "Where did he get this insight from? When he writes it's like he's being channeled by some force that puts him in the belly of our society."
    Dirden agreed, and believes audiences will still get something urgent from the show. That's not the only benefit, he added: They'll also enjoy a live blues performance.
Ma Rainey's Black Bottom runs through Oct. 16 at the Mark Taper Forum at 135 N. Grand Ave., (213) 628-2772 or centertheatregroup.org.
© Los Angeles Downtown News 2016