Love them or something else, ABBA's legacy runs deep.
The Swedish pop group formed in Stockholm in 1972 and had a string of hits including "Dancing Queen" and "Take a Chance on Me." Then, just when it seemed like they'd be consigned to the nostalgia circuit, their songs became the basis for Mamma Mia! Since debuting in the West End of London, at the Prince Edward Theatre in 1999, it has become one of the best known and most hummable jukebox musicals in the world.
[Get DTLA stories in our daily email newsletter.]
In 2008, the musical was transported to the silver screen, where Meryl Streep, with flowing golden hair, played the mother Donna, and a young Amanda Seyfried played her daughter Sophie.
Seyfried and Streep share a trait that has been seen in almost every version of Mamma Mia! staged anywhere: They are both white, blonde-haired women.
That's partly why a new production of Mamma Mia! that opens this week in Downtown Los Angeles is so unusual: It is being staged by East West Players, and as the Little Tokyo-based company commonly does, it is employing a majority Asian-American cast.
Faith, Doubt and Deceit in East West Players' 'Man of God'
The question asks itself: How does a troupe known for its Asian-American take on stage classics tackle a quintessentially European jukebox musical filled to the brim with music from a Swedish pop band?
The answer is actually pretty simple, said cast member Anthea Neri, who plays Tanya, one of Donna's eccentric friends. She jumped into the topic during a break from rehearsal last week at the David Henry Hwang Theatre, where the show opens on Thursday, May 16.
The idea, said Neri, is that you don't have to change much. The themes and beats of the show are universal.
"When you take the story down, it's just about a family," Neri said. "It's just humans having human experiences; living as a single mom, having friends and going through relatable things. It's not, 'Oh, they have to be a Caucasian family.' We slap that on as a society. But what East West Players and what a lot of people are doing now is asking, 'What if we take it and give it our own twist?'"
Set on the fictional Greek island of Kalokairi, Mamma Mia! follows Sophie Sheridan, a 20-year-old bride-to-be who, without telling her mother, invites the three men who could be her biological father to her wedding. The hope is that by getting to know the men, Sophie will discover who her father is, and achieve the dream of having her dad walk her down the aisle on her wedding day.
East West Player's 'Vietgone' Is Fresh, Funny and Original
Donna isn't exactly pleased with her daughter's actions. That leads to two hours of squabbles, questions of marriage, relationships and identity issues, and almost two dozen disco-filled Abba songs.
The traditional themes remain in the EWP version, but are presented by a largely Filipino cast. That vision is important for Jules Aurora, who plays Lisa, one of Sophie's bridesmaids. She said that the best part of the show is that it breaks the stereotype of the model minority, which is often lopped onto Asian-American cultures, allowing the actors to tackle the more risqué themes in Mamma Mia!
"I don't think our stories are even told at all in mainstream entertainment," Aurora said. "I think adding elements of our heritages and adding little elements of what we know personally allows audiences to connect and kind of see how this translates into our lives personally."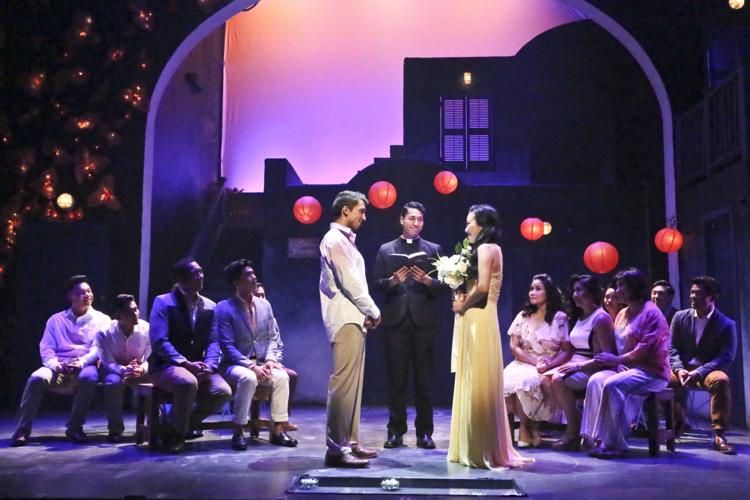 Culture Shock
EWP's current season carries the theme of "Culture Shock," with shows that seek to disrupt and dispute the status quo by taking charge of the "outsider" narrative. That comes into play in Mamma Mia! for Danny Bernardo, who tackles the role of Harry, one of the three potential fathers. The show gives him an opportunity to play an Asian British man.
"To be Asian American is one thing, but to be Asian in England is a completely different thing," Bernardo said. "There are just these great things that we get to examine as an actor of Asian descent. I was going to go into it as, oh, I'm just a British guy, but it was actually more fun to think, okay, what would a British, gay Asian be doing at this point, and why would he have this dialect versus what his parents would have?"
The largely Filipino cast was not intentional, Bernardo said, and happened organically as the roles were cast. And there was plenty of interest. Mike Depalma, who plays Bill, one of the potential fathers, and who has been performing with EWP since 1999, said there were more actors seeking roles for this show than for any production in the company's history.
Passion and Politics in a Musical Nutshell
Depalma said that the popularity of Mamma Mia! and EWP's name recognition helped, but he thinks the breadth of roles available prompted such a large turnout.
Neri said such a level of inclusion is refreshing for a demographic often shoehorned into specific parts.
"When you see the breakdown [for Mamma Mia!], usually it's Caucasian," Neri said. "For this one, it was like, oh my God, I can be anybody. I just have to show up as me."
Dancing Queen
The Little Tokyo show's diversity is a calling card, but the success of this Mamma Mia! will ultimately depend not on the look of the cast, but on how well they play the roles and tackle the songs and choreography. With such familiar material, audiences may arrive with high expectations.
Despite reaching Broadway in 1999, the music, penned by original ABBA members Björn Ulvaeus and Benny Andersson, was written during the band's heyday more than 40 years ago. Productions of the musical have sought to keep the 1970s feel, but Preston Mui, who is choreographing the EWP show, has moved the setting to the 1990s.
Bernardo said that the shift keeps the performance fresh.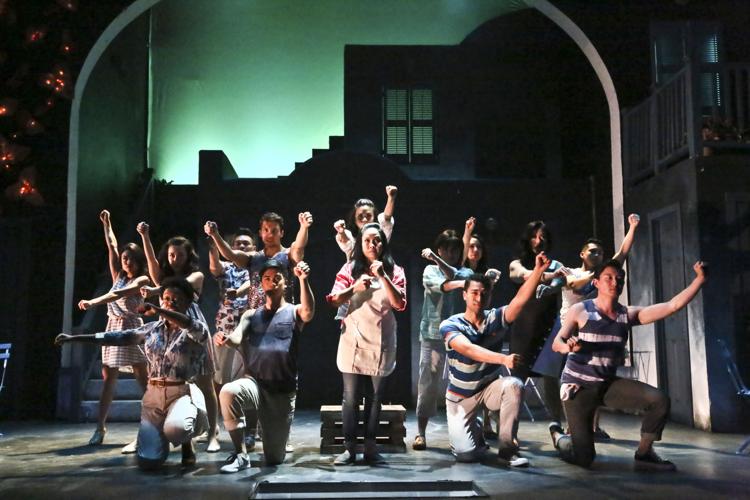 "This is the '90s and these guys are going to be steeped in hip-hop," Bernardo said. "It just kind of subverts the expectations for the show. There are so many great surprises."
Still, the cast knows the audience will arrive with a sense of familiarity. Ensemble member Steven Agdeppa remembers listening to ABBA Gold, a compilation of hits released in 1992. He said that members of the Asian American community have a connection to ABBA, as the band's songs are a fixture at the karaoke bars popular in Asian-American circles.
"We grew up with this music," Agdeppa said. "So watching the movie, and seeing the musical and now doing the musical myself, it's kind of like a weird full circle. My parents are super excited to come. They're going to be jamming out in the audience."
George Takei, WWII Internment Camps, and a Big Musical  
The cast expects the audience to join them as well — literally. Aurora said that there are portions of the show where the actors enter the crowd, almost willing the people in the seats to sing along to those familiar songs.
Mamma Mia! runs through June 9 at the David Henry Hwang Theater at 120 Judge John Aiso St., (213) 625-7000 or eastwestplayers.org.
©Los Angeles Downtown News 2019