The late artist Leo Politi is best known for his children's books. He wrote and illustrated more than a dozen, featuring characters such as the wide-eyed, mischievous kids Pancho and Rosa. The stories frequently took place in Los Angeles.
[Get DTLA stories in our daily email newsletter.]
There was another side to Politi: He was also a prolific painter who time and again turned his eye to the city that he loved. Politi's views of Los Angeles, and his concern over how the metropolis changed during the 20th century, are on display in a new exhibit at the Italian American Museum of Los Angeles.
Leo Politi's Los Angeles: Works of Love and Protest showcases 39 pieces, including some previously unseen works, that span Politi's career from 1930 to the mid 1990s. It opened Feb. 12 and runs through May 19 at the museum at El Pueblo de Los Angeles Historical Monument. Admission is free and the museum is open Tuesday-Sunday.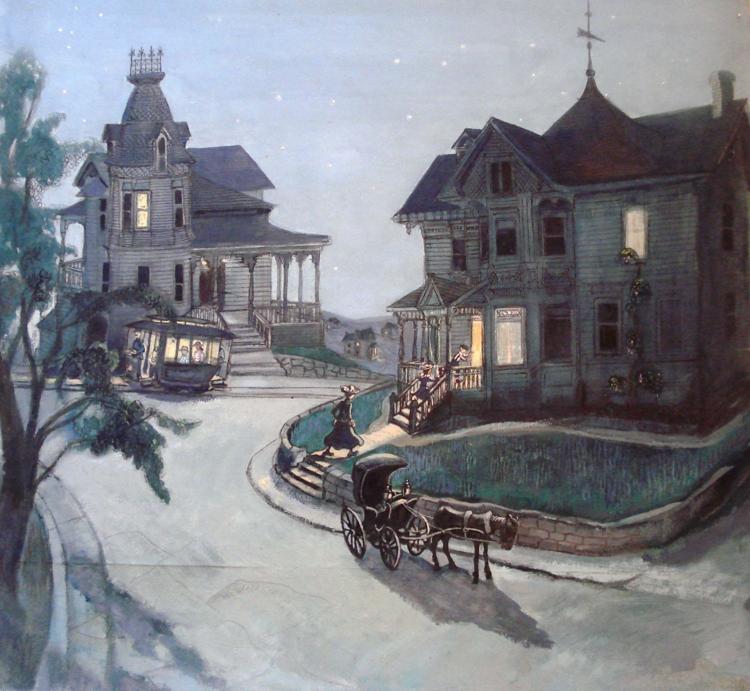 Set up in two rooms, the pieces are loosely arranged, with no grouping by style or subject. Collectively they showcase Los Angeles' transformation, particularly around Bunker Hill, as a neighborhood of old Victorian homes gave way to steel-and-glass skyscrapers.
"As we were reviewing some potential work to be exhibited, I realized that what I was looking at was like a portrait of L.A. at a specific time," said Marianna Gatto, executive director of the Italian American Museum. "He captured communities in the 1960s when everything was in a state of flux; places that no longer exist, communities that have changed tremendously. He asked, what is the future of Los Angeles? Can we really call it progress when we're destroying so many of these landmarks?"
Born in Fresno in 1908, Politi studied art in Europe. He returned to California in 1931, witnessing the impact the Great Depression had on the state. Settling in Los Angeles, he started drawing and painting scenes of daily life in the city.
He regularly worked on Downtown's Olvera Street, painting passersby and people he saw working in the shops. He later began creating children's book, including Pedro: The Angel of Olvera Street, which describes the Las Posadas procession that takes place in El Pueblo every Christmas season. He also earned notoriety for Song of the Swallows, in which a child entertains a friend with tales of birds and their annual migration to Southern California.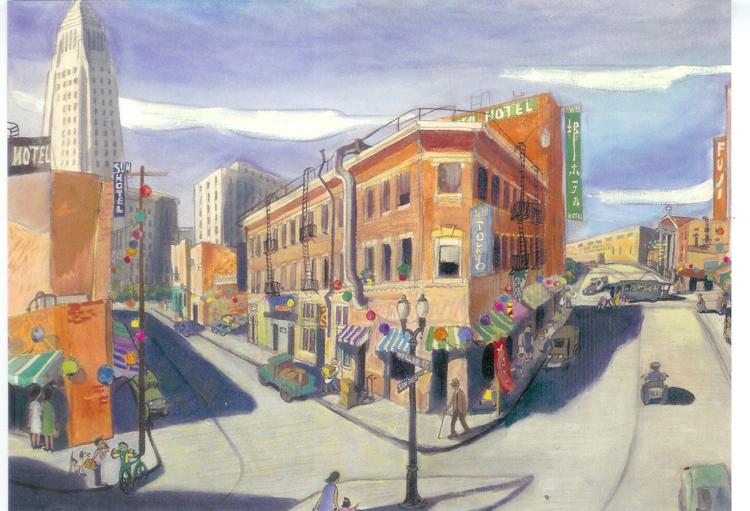 Works of Love and Protest reflects Politi's affection for his adopted home. Yet it also reveals his dismay at what was lost amid that change.
Gatto said Politi's paintings frequently sought to preserve places that were changing due to displacement or redevelopment. The Bunker Hill works show bustling life from above, with early model cars speeding by high-peaked Victorian homes and old hotels and tenements.
The show reveals Politi's artistic range; few works are aesthetically similar. Impressionist takes on Third Street and Broadway and the Watts Towers adorn the wall alongside a crisp drawing of Bunker Hill. There's a painting of a dancer in Little Tokyo done in the style of Japanese art and a heavily inked depiction of San Pedro's old fishing boats.
Leo Politi's son, Paul Politi, said that the works emerged from a deep familiarity with the neighborhoods.
"My dad didn't drive. He took public transportation and walked," Paul Politi said. "He knew all the nooks and crannies of the city. He just loved L.A. If he had had a car, he wouldn't have seen as much as he did."
A View of Progress
Politi spent nearly 70 years in Los Angeles, and over the course of his career he also served as art editor of Script magazine. He had two children and died in 1996.
Works of Love and Protest includes a collection of children's books and magazine illustrations Politi did, also in an array of styles. Gatto noted that the characters in his work were never caricatures, and instead were inspired by people he encountered. Gatto thinks he was ahead of his time.
"Not only did he capture these communities at a certain time, but his work predated the multicultural movement by decades," Gatto said. "This was in an era when children's books were dominated by those Dick and Jane archetypes."
The show's title stems from a Politi quote displayed at the exhibit entrance. In it, he criticized the idea of progress built on eliminating the history of the city; he framed his work as part of preserving that story.
Paul Politi said his father's focus on trying various genres, topics and styles was intentional. He added that Leo Politi was not focused on acclaim. He likened his father to a Major League Baseball player who purposely stepped back to the minors.
That outlook includes his reputation. Paul Politi said that his father knew his children's books were not seen as high art by his peers, but that they provided other kinds of benefits that Politi enjoyed. Paul Politi added that his father saw that children were less jaded and stuck in their ways than adults, and he could better get his message across by creating art for them.
Those messages live on in the books. Now, with the Downtown exhibit, so does another side of Leo Politi.
Leo Politi's Los Angeles: Works of Love and Protest runs through May 19 at the Italian American Museum of Los Angeles, 644 N. Main St., (213) 485-8432 or iamla.org.