DTLA - At the start of the 21st century, Kip Fulbeck began an ambitious and original project: He would photograph an individual from the shoulders up, with skin exposed. Under each image there was a written statement by the subject.
[Get DTLA stories in our daily email newsletter.]
What set the project apart was that Fulbeck only photographed mixed-race individuals who were of Asian or Pacific Islander ancestry. The written statements explored what it meant to be "hapa," a phrase derived from the Hawaiian word for "half."
During the project Fulbeck shot approximately 1,200 people. It resulted in the exhibit kip fulbeck: part asian, 100% hapa, which opened at Little Tokyo's Japanese American National Museum in 2006. The show was a hit for JANM, both in attendance and in helping expand the museum's programming beyond solely Japanese American identity.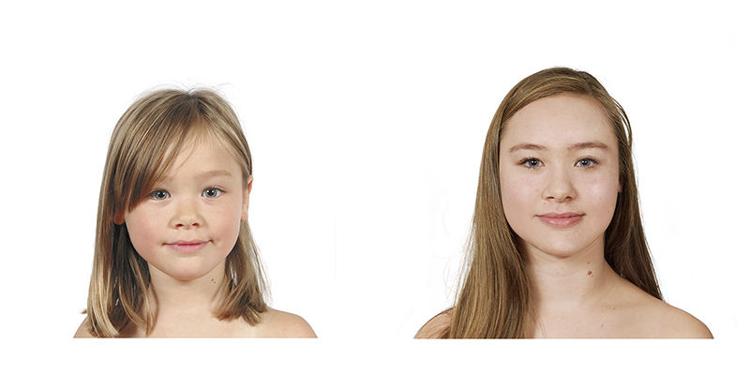 Now, Fulbeck has returned to the subject, with a new study in the Hapa Project. An exhibition opened at JANM on April 7.
The show hapa.me: 15 years of the hapa project, which runs through Oct. 28, is split into two parts. The main room is focused on the participants Fulbeck shot in 2001 and again in 2016. Images are displayed side-by-side in a single frame, allowing visitors to see how the individual has changed physically. Some of the comparisons are stark, while other people look to have hardly aged.
The images, arranged in a minimalist style, also have an updated statement from each subject next to the original written thought. Additionally, the individual's heritage is written in faint letters on the side of the piece, detailing some unique descriptions. One person is identified as "athabaskan/inupiaq/finnish/sapanese/swedish/english," while another is described as "chinese/japanese/german/hungarian /english."
For Fulbeck, whose background is Cantonese, English, Irish and Welsh, the show is both personal and professional.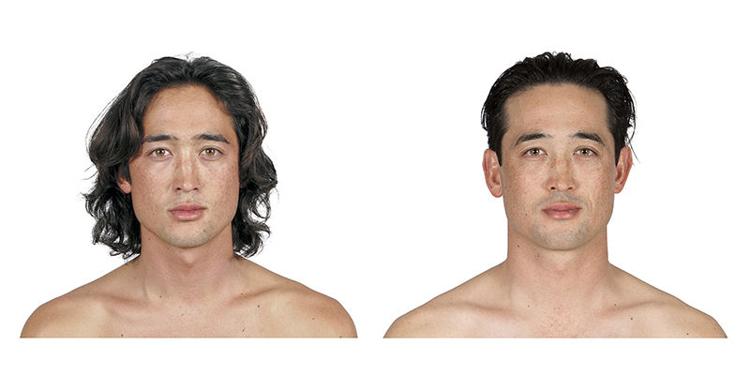 "It's interesting. I'm a conduit for the participants to process their identity," Fulbeck said. "Growing up, being multiethnic and multiracial, you don't have that cultural footing to stand on. On job forms they ask you to check one box. A friend of mine who's one of the participants said that your parents can't teach you what it's like it to be multi-racial, because they don't know."
Just as the subjects have changed since the 2006 exhibit, so has the museum. Back then JANM was heavily focused on Japanese-American identity, according to Clement Hanami, the institution's vice president of exhibitions. It made sense, he said, to explore the mixed-race experience, as many younger Japanese Americans were marrying people of other ethnicities. 
In the 12 years since the first Hapa Project show, JANM has significantly broadened its programming, with shows focusing on everything from tattoos and baseball to the wider Asian and Pacific Islander community. Hanami said that it also made sense to bring Fulbeck's project back after 12 years.
"Since the 2000 census, more and more people are identifying as biracial. There's more of an awareness there," he said.
Some of the most striking pieces are the subjects who were shot first as children and later as young adults. The passage of time has yielded a deeper understanding of who they are and what it means to be hapa. In one frame, a toddler drew scribbles beneath her photo, while as an adult she describes herself, ending with "I'm happy, I'm me."
This is the fourth JANM exhibit for Fulbeck, 52, who is also a professor of art at the University of California, Santa Barbara. He said he worked on hapa.me for about a year, shooting hundreds of subjects in multiple cities. He noted that it was sometimes hard to find people, as in many cases he had only outdated Hotmail or AOL email address to go by. Still, he said that almost everyone he was able to find was interested in participating in the project.
While the main room holds about three dozen pieces, the other subjects Fulbeck shot over that year-long period are featured in a second room, with their photos and statements arranged in a series of binders. The space is set up to invite viewers to pause, take a seat and read the messages one at a time.
There is also an interactive component to hapa.me. On Saturdays, visitors can have their photo taken with a Fujifilm camera, with the image quickly printed out. People can then write a statement and post their picture on the wall. Being mixed-race is not a prerequisite to participate in this part of the show.
For Fulbeck, hapa.me marks the final chapter of the Hapa Project. As he looks back, he deflects credit for the enduring artistic exploration of identity. Instead, he points to the power of his subjects.
"They're pretty brilliant," Fulbeck said. "I look at myself as a cheat; I set up systems for people to be geniuses. It's all their statements."
hapa.me: 15 Years of the Hapa Project runs through Oct. 28 at the Japanese American National Museum, 100 N. Central Ave., (213) 625-0414 or janm.org.
© Los Angeles Downtown News 2018