DTLA - American imperialism always seems to leave a poisonous legacy, especially when it involves the presence of the U.S. military in other nations. Few works of art capture the callousness of the situation quite like Giacomo Puccini's 1904 opera Madame Butterfly. 
The tragic story is also a classic one: A young and beautiful Japanese geisha falls in love with an American naval officer, who sails away soon after marrying her and returns years later, American wife alongside him, to retrieve the son she bore him. 
Get DTLA stories in our daily email newsletter.
Madame Butterfly is a true workhorse of the genre, and one that L.A. Opera staged in 2012. Mounting it just four years later prompts a question: What merits a 2016 run?
The answer is that this iteration of Madame Butterfly comes from Santa Fe Opera and is new to Los Angeles. Under the hand of director Lee Blakeley, it strips away the visual spectacle and instead hones in on Puccini's elegant but accessible music and a naturalistic, gripping performance by soprano Ana María Martinez. The run at the Dorothy Chandler Pavilion has four more performances through April 3.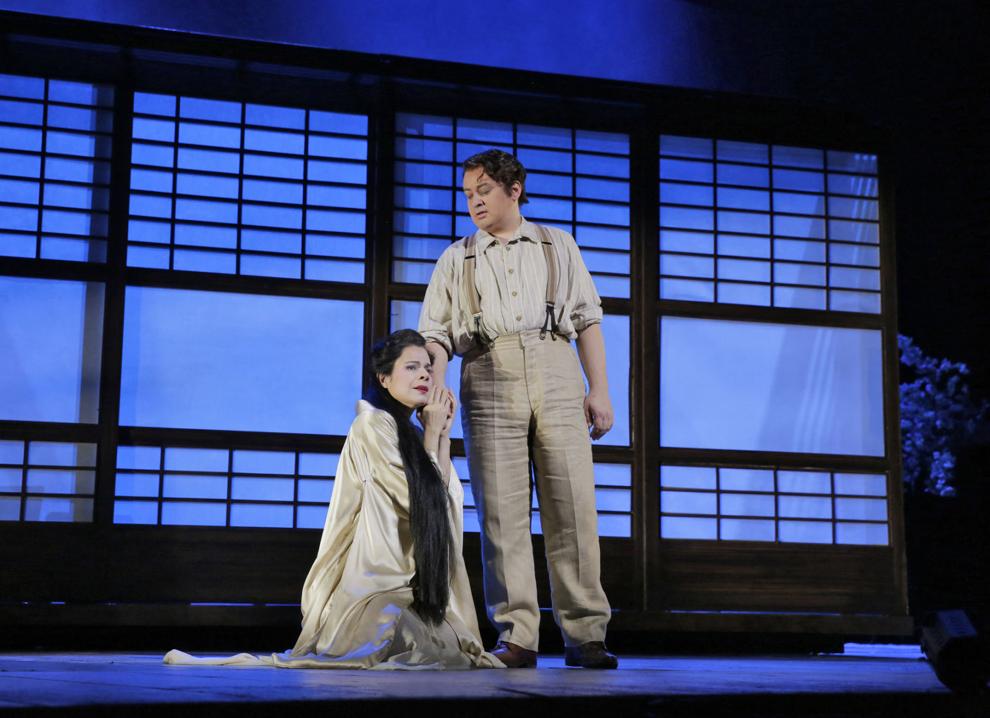 Unlike some of Puccini's grander operas, Madame Butterfly lacks a large ensemble or even much of an extended cast. Its heart is Cio-Cio San, or "Butterfly," the 15-year-old geisha who is from a noble family that lost its honor and wealth.
The production opens with workers building a traditional Japanese house as B.F. Pinkerton (Italian tenor Stefano Secco), a lieutenant in the U.S. Navy, giddily discusses his marriage to Butterfly with matchmaker Goro (Keith Jameson). It's clear that Pinkerton sees this arrangement as temporary, but he comes off more clueless than evil, even when U.S. consul Sharpless (Kihun Yoon) reminds him to be gentle with the girl.
Some directors and sopranos choose to play up Butterfly's youth and exoticness. This production thankfully avoids that. Martinez's Butterfly maintains grace even in the face of an exciting life change, and her nearly immediate devotion to Pinkerton feels grounded in optimism, not cartoonish romance. Her warm and restrained soprano, meanwhile, gives a lilting energy to the young geisha without painting her in broad, girlish strokes.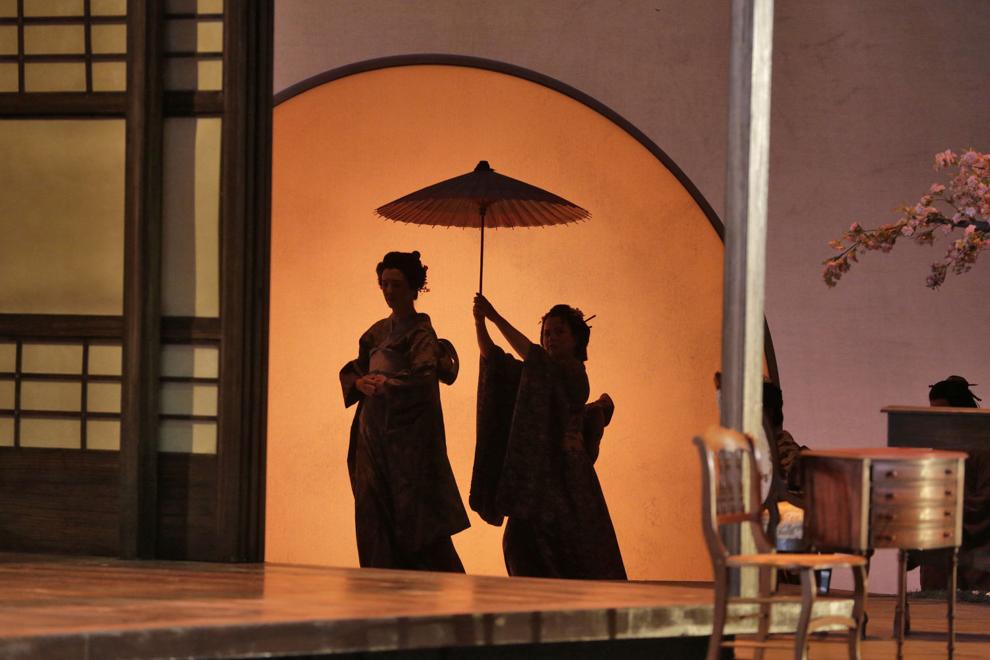 Jean-Marc Puissant's set eschews bombastic features in favor of a minimalist layout, with the house, built on a rotating pedestal, serving as the main focus. This is a massive departure from the 2012 production, but the simple design frames some memorable images, as when the wedding procession walks along the back of the stage, silhouetted by the blood-orange glow of a low-hanging sun.
From the pit, conductor James Conlon kicks off the overture with a rousing pace and throws plenty of hard jabs with splashes of percussion, stabbing strings and sweeping crescendos. The orchestra rewarded Conlon with impeccable execution on opening night.
Predictably, Puccini's music shines bright in this production, and Martinez is an excellent anchor, leveraging her crisp top-end power and navigating wavering, vulnerable phrases with ease. Secco's Pinkerton lacks on-stage charm and chemistry with Butterfly, but he comes alive for the emotional (and vocal) highs, especially melding well in duets.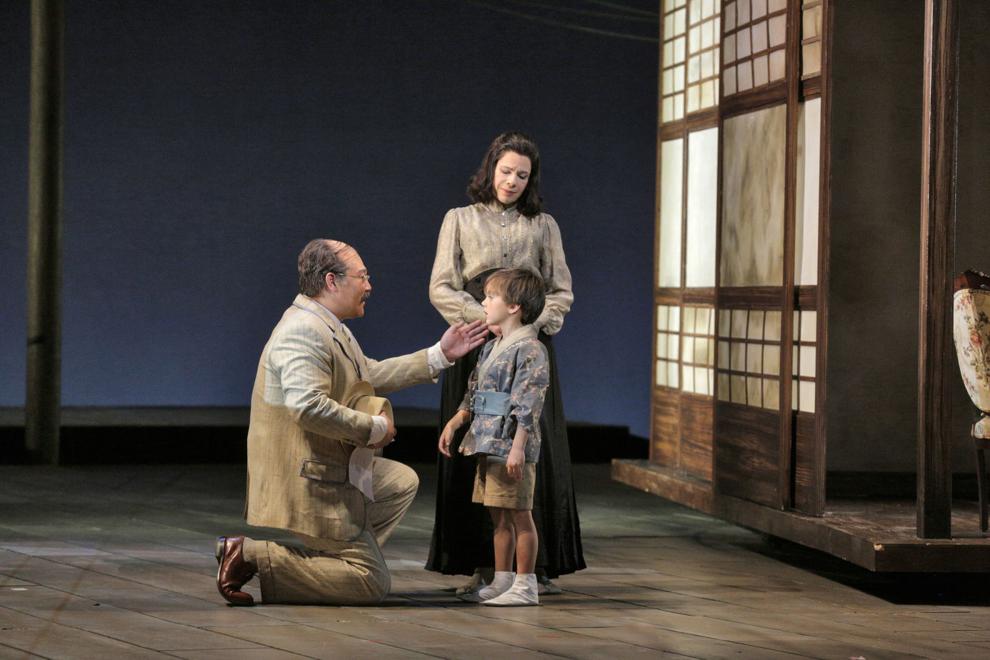 South Korean native Yoon is a surprise as Sharpless, who repeatedly tries, and fails, to protect Butterfly from Pinkerton. Yoon's big-chested baritone gives the consul an aural gravity that reflects his role as a moral center of the story. Rounding out the main quartet is Suzuki (an impressive Milena Kitic), Butterfly's devoted maiden, who like Sharpless recognizes disaster coming for Butterfly long before the young girl does. 
It's clear in the opening of the second act that several years of waiting patiently has taken its toll on Butterfly, who looks older and has nearly no money to care for her son. The cannon shot that marks Pinkerton's eventual return is cause for joy for Butterfly but a funeral toll for everyone else. When the disaster arrives, it feels like a proper gut-punch.
As the finale approaches, the lighting from Rick Fisher shifts to saturate the stage in a gloomy gray. The creeping sunrise as Butterfly and her son wait through the night, kneeling by the door for Pinkerton, is melancholy perfection.
Madame Butterfly runs through April 3 at the Dorothy Chandler Pavilion, 135 N. Grand Ave., (213) 972-8001 or laopera.org.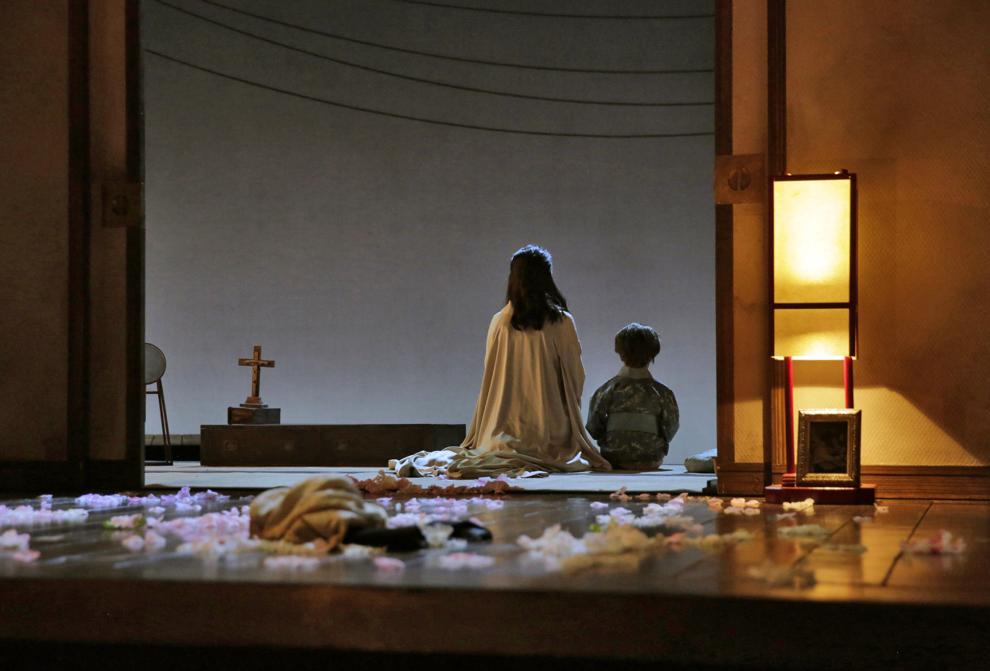 © Los Angeles Downtown News 2016