DTLA - It has long been obvious to Allison Agsten that the art world is lined with ivory towers.
[Get DTLA stories in our daily email newsletter.]
   Gatekeepers exist in every subset of the industry, from fine art dealing to galleries to large museums. Being connected to the right person can open every door, while knowing nobody is a sure way to be left out in the cold, she says.
As director of the Main Museum at 114 W. Fourth St., Agsten is trying to subvert that status quo. Last year the burgeoning institution propelled by Old Bank District developers Tom Gilmore and Jerri Perrone debuted a unique program to bring Downtown Los Angeles artists to the literal table with Agsten. The artists met with her for about an hour at a time to receive constructive criticism and ultimately a spot on the white walls of the Historic Core space to display one of their works.
Agsten isn't sure whether the program and ensuing exhibit, dubbed Office Hours, was unprecedented — but it certainly was rare.
"I talked to colleagues, and nobody knew of anything like it. In fact, the only ideas they had for me was, 'Don't do it, it's crazy,'" Agsten recalled with a laugh. "But after the first day, I knew I wanted to do it again this year. I was learning so much about Downtown and connecting with new people. There's no substitute for one-on-one relationships."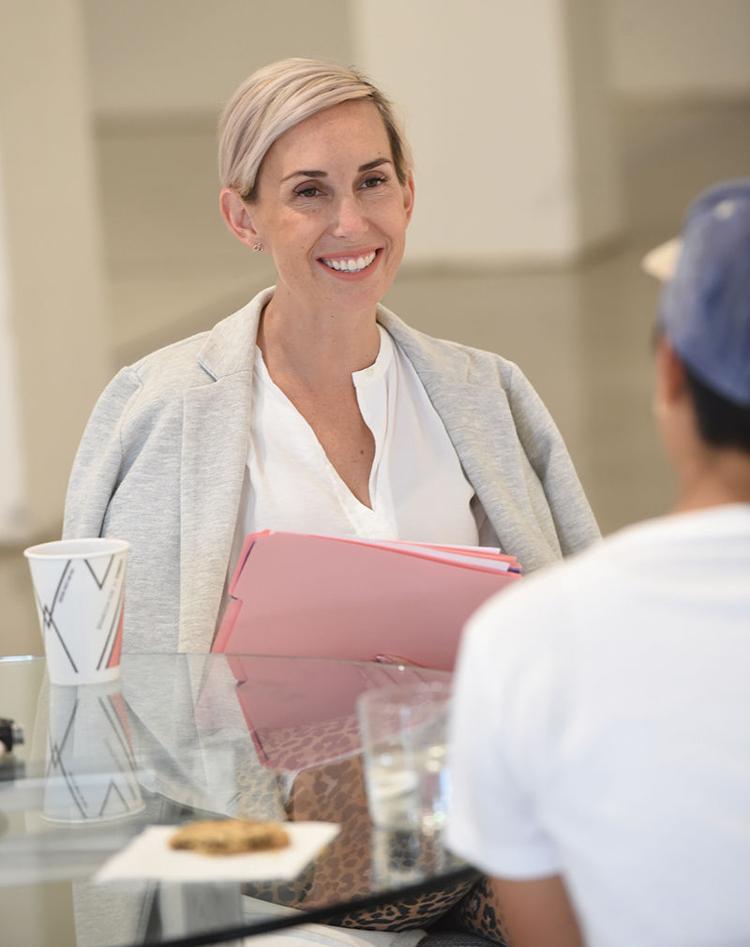 Throughout the month of November, Agsten met with about 50 local artists for the second edition of Office Hours. She has selected one work from each person for the exhibition that debuts on Wednesday, Nov. 29. Admission is free and the exhibit continues through Dec. 17.
Rather than pre-select artists for Office Hours, Agsten decided to make it a first-come-first-served system — the online list filled up in about two minutes. The open call also means that Agsten works with artists from the entire spectrum of arts knowledge, skill and intent. Some labor full-time on their creative pursuits, while others have day jobs and often struggle to find time to produce consistent work, Agsten noted.
On a recent Friday afternoon, Asli Tusavul, an architect with Frederick Fisher and Partners, arrived through the front door with an armful of works etched onto glass and metal. The museum's staff settled her at a table adorned with flowers and a plate of oatmeal-raisin cookies. After a few minutes Agsten ambled down from her office, face alight.
Tusavul would later admit that she was "a little worried," given that it was her first-ever meeting with a curator, but in reality, the conversation quickly picked up a friendly rhythm. Agsten exudes an easy, engaged charm that one would imagine coming from a favorite high school teacher, even as she takes diligent notes on the artist's background, vision, insecurities and questions.
The two pored over Tusavul's works, which range from sculpture to canvases to public installations but are broadly inspired by architectural forms, vivid with color and texture. At one point, the conversation turned existential, with Tusavul questioning whether her craft as an architectural designer was holding her back from being a "real" artist.
"I see myself more as a designer. Both designers and artists produce beautiful work but maybe an artist should spend full time on her vision?" Tusavul pondered. "People separate these labels. Sometimes it confuses me."
Agsten frowned and nodded, and pursed her lips for a moment before responding.
"There are so many extraordinary artists I know who have agonizingly little time to spend on their work because they have full-time jobs, family commitments, whatever. But art involves intent and when someone tells me they're an artist, I believe them. I don't question it," Agsten told her. "I think design has often a functional application and that can be the difference between art and design. But art can be functional and design can be art."
The response seemed to lift a weight off the shoulders of Tusavul, who sat up straight with a little exhale and grinned. The meeting concluded after another half-hour with the collaborative selection of a piece to hang on the wall, a smattering of hugs and well-wishes, plus Agsten's admonition that Tusavul take a cookie for the road.
Building Community
The Main Museum is an evolving, long-term project, with ambitious plans for 40,000 square feet of exhibition space and a new structure on the joint rooftop of the 1903 Hellman Building and the 1905 Farmers and Merchants Bank Building.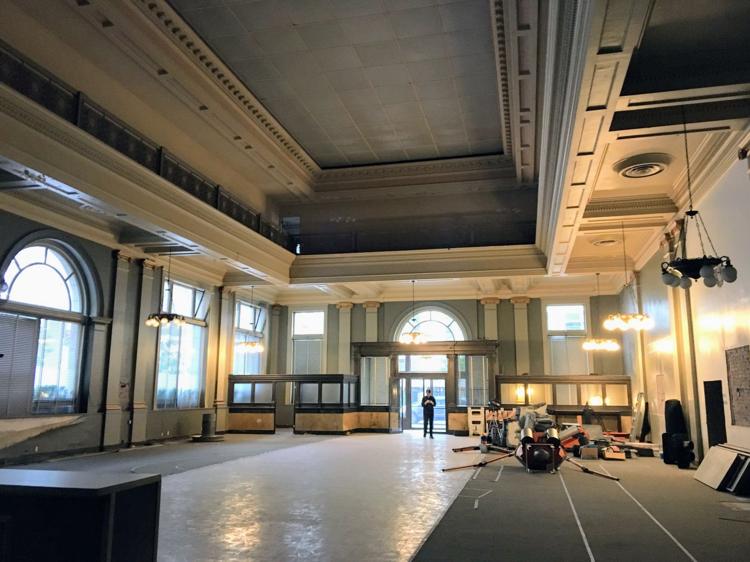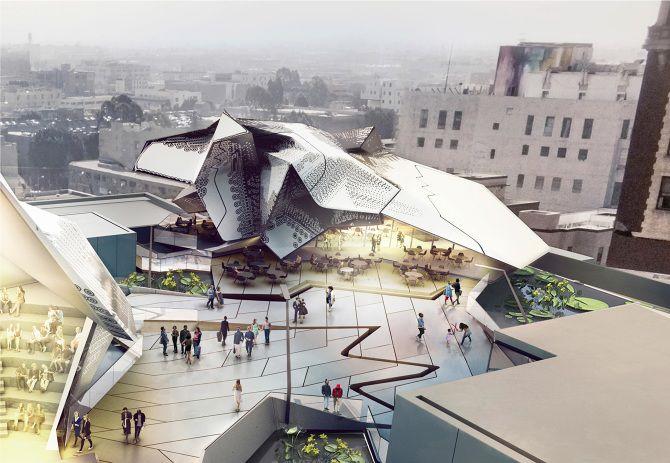 The project, with a conceptual design by architect Tom Wiscombe, is expected to open in 2020. For now, the available ground floor space along Main Street is activated as "Beta Main," with ongoing work guided by Land Office architect Nora Gordon. Agsten, the former curator of public engagement at the Hammer Museum, has a steady stream of exhibitions planned for coming years.
The Main Museum has a commitment to investigate the artistic process, she said, which not only inspires a program like Office Hours, but even the design of the space, where the busted edges of tray ceilings and a concrete-and-tile floor with a historical patina remain.
Part of any artistic process is getting feedback and joining a community of peers, yet Agsten says the artists she interviews have trouble finding that in Los Angeles, which ostensibly has a thriving art scene.
"The number-one thing people say is their most pressing concern as an artist is 'community,' and critical dialogue is related to that. With less of an exchange with peers, it's hard for an artist, especially one early in their career, to know whether they're on the right track," Agsten said. "For someone who doesn't know you to give time and feedback can be essential."
Agsten also revels in the notion that she can play matchmaker between artists and those in institutions beyond the walls of the Main. She grabbed Tusavul as the young artist gathered her things, leaving with an encouraging thought: "I know the perfect people for you to meet at the opening."
Office Hours runs Nov. 29-Dec. 17 at the Main Museum, 114 W. Fourth St., (213) 986-8500 or themainmuseum.org.
© Los Angeles Downtown News 2017