DTLA - For decades, The Nutcracker has been a holiday staple at performing arts centers across the country, with families returning year after year, little kids in tow, to watch the "Dance of the Sugar Plum Fairy" and "The Nutcracker Suite." Although occasional productions wound up in Downtown Los Angeles over the years, they have been sporadic.
[Get DTLA stories in our daily email newsletter.]
Last year, the Music Center launched an effort to change the situation, co-commissioning a new production of George Balanchine's adaptation of The Nutcracker. It returns to the Dorothy Chandler Pavilion this week.
The Miami City Ballet will do five performances of The Nutcracker on Friday-Sunday, Nov. 30-Dec. 2 (including three matinees). Set to Tchaikovsky's iconic music, the ballet follows Marie, a young woman who receives a nutcracker toy for Christmas. It soon comes to life and some spectacular dances follow. Tickets start at $34.
This Nutcracker builds on Balanchine's choreography and has a huge cast. The Miami City Ballet is bringing its full company of 52 dancers, plus seven pre-professional and three student dancers, Miami City Ballet Executive Director Tania Castroverde Moskalenko said. In addition, there are nearly 60 local student dancers (some still in elementary school) from the Colburn School and the Gabriela Foundation's everybody dance! program, as well as performers from the Los Angeles Children's Choir.
The ballet starts in a relatively grounded setting, at a Christmas party. Marie receives her present, and soon the nutcracker comes to life and is revealed as a prince. Marie finds herself transported to the magical Land of Sweets, where dancers representing various nations of the world perform one by one, leading up to a final waltz.
Moskalenko said that the ballet has emerged as a holiday staple in part for its ability to inspire wonder, and also because it is so accessible. She describes it as "gateway" show into the world of ballet.
"The Nutcracker is a staple for every dance student. It never gets old," Moskalenko said. "It has a fantastic score and it captures the wonder of childhood. Inside the theater, we're all transported back to being kids."
The Nutcracker is epic in nature, with new worlds, sweeping battles and a tour of global cultures all mixed into one big story told through dance. This production utilizes a live orchestra and more than 100 people on stage.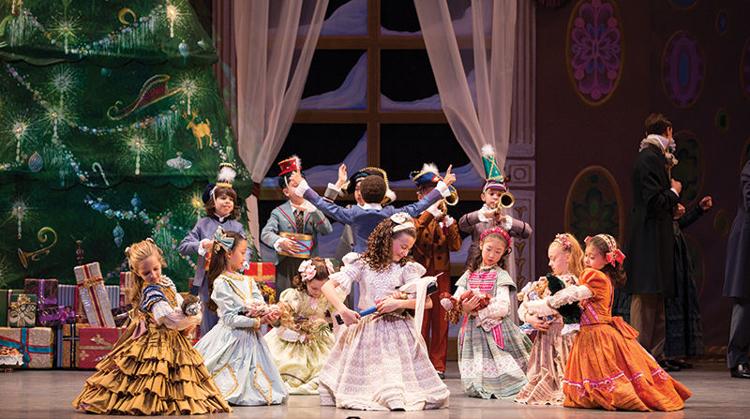 The idea for a recurring Downtown Nutcracker came from Rachel Moore, who became president and CEO of the Music Center in 2015. Moore, a former professional dancer with New York's American Ballet Theatre, said she wanted to bring in a "high quality" production. She noted that the Miami City Ballet is known for its mastery of Balanchine's Nutcracker, and has been doing a version of the show for more than 20 years. The initial agreement is to do this Nutcracker in Downtown for three years.
"The Miami City Ballet fit the bill," Moore said. "And at the Colburn School, the two people who run their school for dance, James Fayette and Jenifer Ringer, they're former New York City Ballet dancers, so they also knew the choreography really well."
The Dorothy Chandler stage allows the Miami City Ballet to expand its production, Moskalenko said. In mounting the show last year, the company introduced new sets and costumes designed by Cuban-American artists Ruben and Isabel Toledo. The bright colors echo Miami's famous beachfront buildings. Moskalenko said the designs create a luscious effect that also suits Los Angeles' climate.
The show also stands out for its use of student performers. Due to the intricacies of Balanchine's choreography, the students began formally practicing for the show in September, Moore said, though some started even earlier with a summer "boot camp." Moore added that even for professional dancers, Balanchine's style is difficult to master, as his compositions rely on a fast tempo and quick flurries of movement.
"For ballet lovers there's a lot to enjoy. It's not simply pageantry — a lot of real dancing happens," Moore said. "There's a lot of energy on stage."
The Nutcracker runs Friday-Sunday, Nov. 30-Dec. 2, at the Dorothy Chandler Pavilion, 135 N. Grand Ave. or musiccenter.org/nutcracker.
© Los Angeles Downtown News 2018