DTLA - Wolfgang Amadeus Mozart wrote his first opera at the age of 11. Over the next 15 years he unleashed 11 more operatic works, his renown growing with each note he penned.
[Get DTLA stories in our daily email newsletter.]
Then came his 1782 comedy The Abduction From the Seraglio. Melding a hip European obsession with Turkish culture with commentary on gender, sexuality and class, Seraglio bowled over his biggest fans and ardent critics alike. Mozart had already established himself as a keen musical technician; this opera delivered a newfound maturity and verve.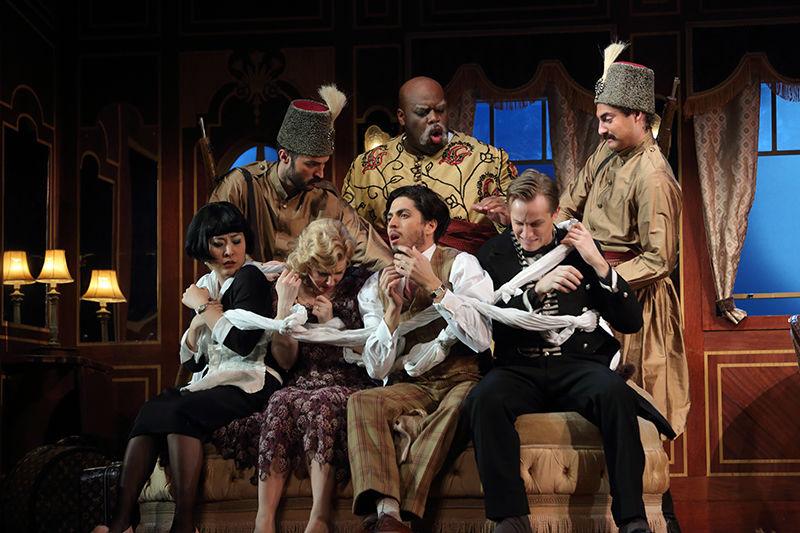 Nearly two and a half centuries later, though, Seraglio ranks fairly low in the Mozart repertoire, and is overshadowed by such warhorses as The Magic Flute and Cosi fan tutte. Despite the libretto's culture-clash comic antics, tense action scenes and romantic tragedy, Seraglio is not a popular choice of opera companies, noted James Robinson, the director of a production now in Downtown Los Angeles.
"It is a difficult show to cast, sure — the music is very specific and demanding vocally. But it's also that audiences don't recognize it. Maybe they go, 'What the heck is a seraglio?'" Robinson said with a chuckle.
The Abduction From the Seraglio opened at the Dorothy Chandler Pavilion on Jan. 28. The L.A. Opera production, performed in German with projected English supertitles, runs for five performances through Feb. 19, including at 7:30 p.m. on Saturday, Feb. 4.
The term "seraglio" refers to harems in a Turkish palace for women, be they servants, concubines or wives. Mozart's comedy follows the trials of a young man, Belmonte, as he searches for his fianceé and servants after they are taken by a powerful Turkish figure known as "the Pasha."
In Robinson's reworking, there's no grand Ottoman-era palace — and respective seraglio — to infiltrate. Instead, the production largely takes place on the cross-country train the Orient Express, and is set amid the glamour of the roaring 1920s. 
Operatic Change-Up
A nascent version of Robinson's updated Seraglio first hit a small stage at a festival hosted at Washington, D.C.'s Wolf Trap National Park for the Arts. It caught the eye of the brass at Houston Grand Opera, which asked the director to expand it. Seraglio has toured the world since its 2001 debut, and remains a change-up for opera companies and fans.
"It's an opera that has a lot of spoken word — the singspiel, as Mozart called it. And it reminded us of early Broadway musicals in that way," Robinson said. "We pay homage to a lot of movies from the '20s and '30s, like Bringing Up Baby. The comedy of Harold Lloyd was a big influence, too."
The tale begins with a disaster: A shipwreck leaves Belmonte with his wallet, tennis racket and suitcase, but missing his lover Konstanze and their servants, Pedrillo and Blonde (whom also share a romance). It turns out they've been rescued — but also taken — by the Pasha (played by TV actor Hamish Linklater), who is bringing them back to his home.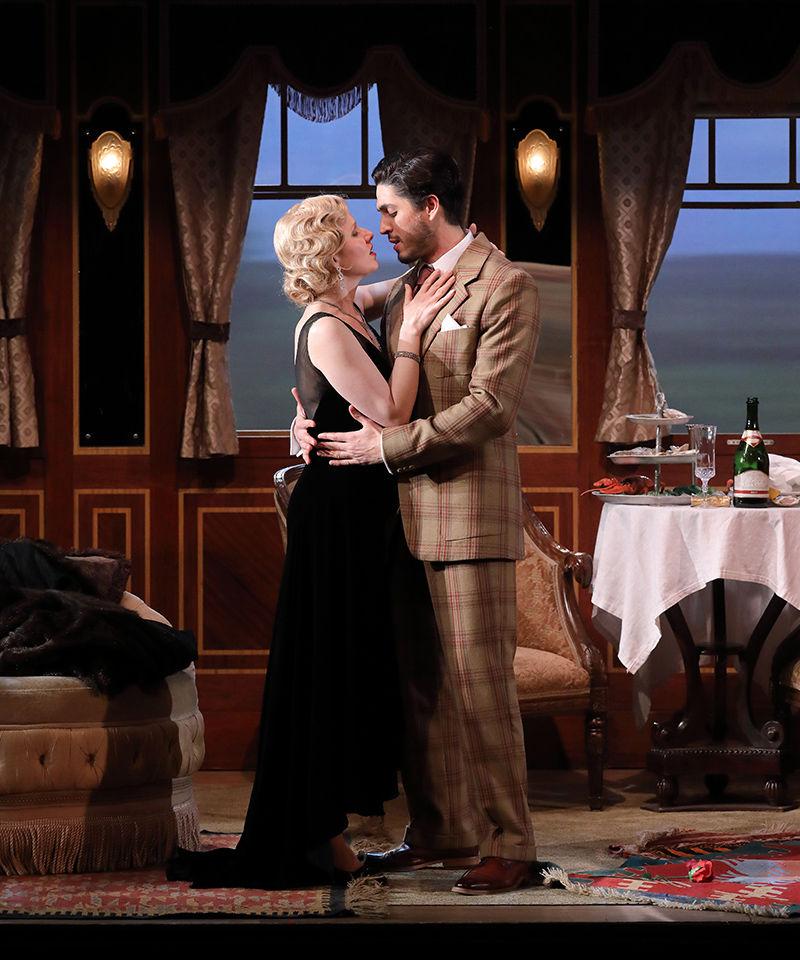 Despite Konstanze's protests, the Pasha begins to fall in love with her. Meanwhile, the entitled and somewhat childish Belmonte musters up the courage to come after them on the train, where he meets up with Pedrillo and hatches a plan to break the women out.
Tenor Joel Prieto was offered the role of Belmonte in the past, but turned it down because he felt he was too "green" for a part that calls for musical and emotional maturity. Turns as Tamino in The Magic Flute and Ferrando in Cosi fan tutte built his confidence and expertise with Mozart compositions. Belmonte is now a favorite role, Prieto said.
"He is so brave in almost a naive way, going into a situation where he could be captured and killed," Prieto said. "Of course he's doing it for love, but I really like the aspect of seeing him have to convince himself he can do it, and then follow through." 
The high-stakes plot and the confines of the train make for dramatic set pieces, including a scene where Belmonte clings to the outside of the moving rail car. In general, much of the action takes place in various train cars.  
The cast consists of just six people, and Seraglio has a reputation for requiring immense vocal flexibility. Konstanze's aria "Martern aller Arten," or "Torture of All Kinds," is an elaborate test for a rangy soprano like Sally Matthews, who is tasked with virtuosic runs and jumps in the coloratura tradition. As Osmin, the Pasha's strict and somewhat vicious right-hand man, Morris Robinson must hit some of the lowest notes in the opera repertoire for a bass voice, while also singing with lightness and subtlety.
The rousing orchestral pieces are being helmed by L.A. Opera Music Director James Conlon. In addition to the vocal technicality, Mozart's score features flourishes of extra percussion and a bombastic energy, with nods to Turkish sounds. Both Robinson and Prieto credit Conlon with being a stabilizing force for a dynamic show. 
"He is a conductor that really nurtures you and can take you under his wing," Prieto remarked. "When he's there on that podium, I know it's all going to be alright. Even despite his ambition and vision, he makes us comfortable in every number." 
The opera includes narrative themes that feel relevant today, Robinson said. While the Pasha may be an antagonistic figure, the conclusion of Seraglio twists the audience's judgment of his character. Aspects of the opera dabble in 18th century notions of orientalism and sexual exoticism, but it also satirizes western notions of the "Turkish despot" stereotype. 
"It's an East-meets-West story, and like many artists, Mozart was fascinated by the Ottoman Empire," Robinson said. "He wanted to explore how two cultures can understand each other."
Sometimes that understanding happens in a serious, tragic fashion, and other times it leads to comic antics. In the case of Seraglio, it's both. 
The Abduction From the Seraglio runs through Feb. 19 at the Dorothy Chandler Pavilion, 135 N. Grand Ave., (213) 972-8001 or laopera.org.
© Los Angeles Downtown News 2017