DTLA - When hip-hop leapt out of the streets of 1970s Brooklyn and began to be noticed across the country, the culture was primarily tied to African American and Puerto Rican communities.
[Get DTLA stories in our daily email newsletter.]
More than four decades later, the art form has long gone mainstream. In 2018 it's a multicultural movement that influences virtually every sector in almost every community across the globe. Whether sports, fashion, business or politics, the impact of hip-hip is undeniable.
Still, Asian American communities often note that they been overlooked and underrepresented within the culture. A new exhibit in Downtown Los Angeles seeks to change that.
The Chinese American Museum of Los Angeles recently launched Don't Believe the Hype LA: Asian Americans in Hip-hop. The exhibit on the second floor of the museum at El Pueblo de Los Angeles Historical Monument seeks to bring Asian Americans in hip-hop to the main stage and place their accomplishments on equal footing with other, better-chronicled contributors.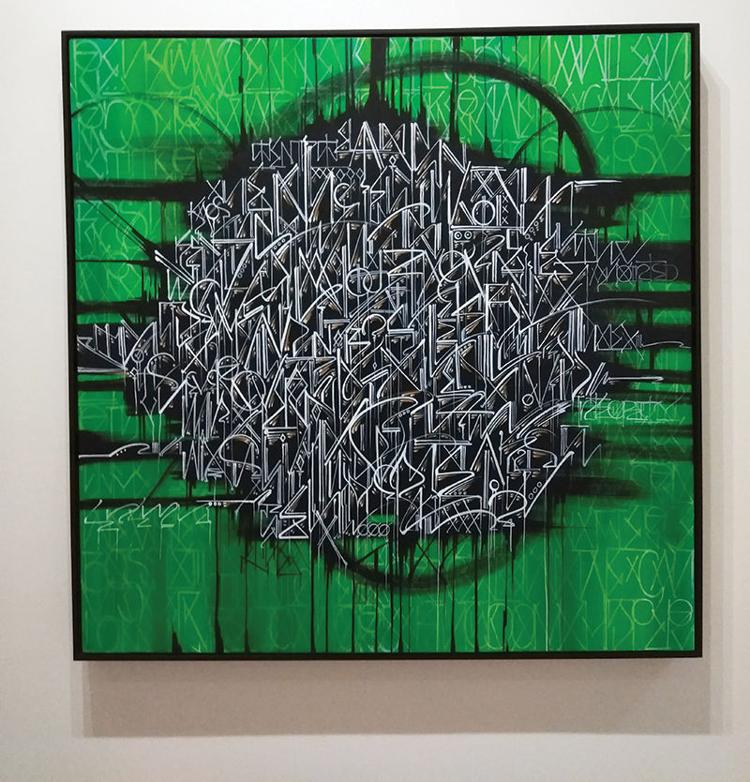 "The show transcends racial identity," said Justin Hoover, co-curator of the exhibit. "It's about the community, the location and the people who embody hip-hop."
The exhibit is tidy, filling just about 1,800 square feet of space, and features the work of 15 of Los Angeles' more influential and historic Asian American hip-hop artists. Admission is free and the show continues through Nov. 4.
Don't Believe the Hype, with a titled plucked form a Public Enemy song, is co-curated by Ninochka "Nosh" McTaggart. It spun out of her Ph.D project, on African American and Asian American relations in hip-hop, while attending the University of California Riverside. 
McTaggart spent almost eight years researching the framework of what would eventually become the exhibit. What she found through her research and interviews of subjects was that the same themes of rebellion, inclusion and identity that attracted African American and Puerto Rican originators to hip-hop was also deeply embedded in Asian American communities.
"Hip-hop provides a liberating space for Asian Americans," McTaggart said during a phone interview with Los Angeles Downtown News. "Although we can't escape all the stereotypes, it's sort of a liberating space to get away from the kind of model-minority stereotypes."
The exhibit began as a larger, nationwide look at Asian American hip-hop artists, before being condensed to Los Angeles. McTaggart and Hoover made that decision when they realized that L.A., a hub for hip-hop since the early '80s, had plenty of fodder on its own.
"There is so much even in just L.A.," McTaggart said. "We are a smaller museum, and even within L.A. it's hard to represent everyone."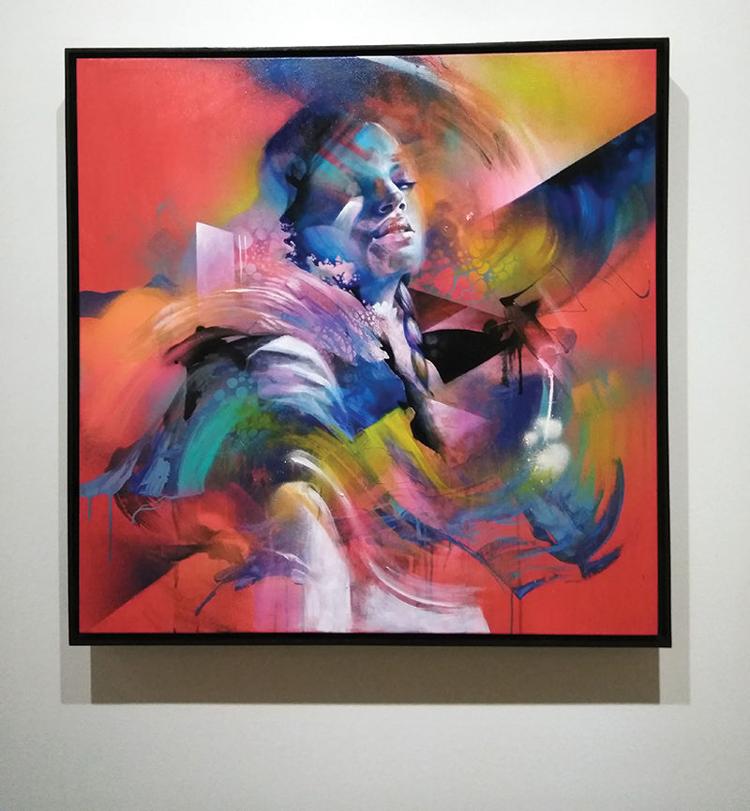 McTaggart, who grew up a fan of hip-hop in Northeast L.A., said she selected some participants in the exhibit from her own knowledge of hip-hop, and got input on others from scholars, artists and writers from around the country. The participants run the gamut, from muralists such as DEFER and Gajin Fujita to rapper Jason Chu to music series organizer Daryl Chou. 
While the names may be unfamiliar to many people, they are almost sacred to hardcore Los Angeles hip-hop fans. The creations of DEFER and Fujita have appeared on walls in galleries across the city. Chou organized the once word-of-mouth underground music series Firecracker in Chinatown.
Fujita and DEFER, who were members of a 1980s L.A. graffiti crew known as Kill to Succeed, collaborated on the site-specific mural "Extricate," which fills an entire wall in the exhibit. It depicts a samurai in front of striking gold lettering.
The first thing visitors will notice in the exhibit is not the art, but the music. Songs from Chou, who performed at the exhibit opening, and Mandeep Sethi (aka SETI X) are pumped out of speakers.
The music complements the visual components. The museum walls are covered with murals and paintings from artists including Hueman and Kenny Kong.
There are also family-friendly and interactive elements, which Hoover said was a focus from the design stage. That includes a dance game by Kong in which visitors' steps and movements are captured by an X-Box Kinect sensor. That in turn triggers sounds, and digital paint splatters onto the gallery wall.
In another part of the exhibit, people are encouraged to sit and scribble a poem. They are then placed on a wall for others to read.
The show also features historical elements. Photographs of the local underground hip-hop scene by Farah Sosa take up space along the hallways of the exhibit, acting as a historical link between the various artworks.
McTaggart acknowledged that the exhibit will likely appeal to hip-hop heads. Still, she said it is designed to inform and educate the general public, including those who visit CAM expecting a more traditional show.
That comes in a description of the four pillars of hip-hop: MCing, DJing, breakdancing and graffiti. Those are plastered onto a wall, and though the exhibit is built around Asian-American artists, the goal is to make people aware that the exhibit is ultimately about inclusion, and not about separating the different people who make up the culture.
Don't Believe the Hype: LA Asian Americans in Hip-hop runs through Aug. 23 at 425 N. Los Angeles St. or camla.org.
© Los Angeles Downtown News 2018