An image of former president Richard Nixon hangs on a wall, his jowly features at odds with the beachwear he's drawn wearing. In another room, a colorful 12-foot-tall palm tree stands out in front of a black and white desert background. The pieces of art are emblematic of two new exhibitions at Hauser & Wirth Los Angeles. One is rooted in an artist's cultivated and extensive use of grid work developed over years, while the other represents works done by another artist during a period of reinvention and experimentation. 
[Get DTLA stories in our daily email newsletter.]
The two exhibitions, Resilience: Philip Guston in 1971 and Charles Gaines: Palm Trees and Other Works, offer contrasting styles as part of Hauser & Wirth's fall programming. The shows opened at the Third Street gallery in the Arts District on Sept. 14 and are on display through Jan. 5.
Resilience is the larger of the two new exhibits. On display in Hauser & Wirth's north gallery, it's the first Los Angeles solo show for Guston since 1963. Curated by his daughter Musa Mayer, the exhibition is centered around, as the title suggests, two series of art Guston made in 1971.
Just a year prior, a major exhibition at the Marlborough Gallery of his then-new figure work had been met with critical revulsion, with the show being lambasted throughout the art world.
40 for the Fall: A Rundown of 40 Concerts, Exhibits, Films, Events and More Coming to Downtown
"So what interested me in this show was to show how he recovered from that critical rejection," Mayer said at a media event ahead of the public opening.
Guston bounced back from that failure in 1971 with two series, one on Rome and the other on Nixon, both rooted in satire and the politics of the time.
Following the embarrassment at Marlborough, he relocated to Rome and started what would be called his "Roma paintings," largely pink, red and brown-based slightly on abstract scenes of city life.
The "Roma" half is splint into four sections, "Hoods," "Forms," "Ancient Fragments," and "Garden Landscapes." The works in the first segment feature slightly cartoonish hooded figures, depicted lurking or suspiciously in their abstract landscapes. The latter three feature work inspired by the other urban settings that Guston lived in.
The other half of the north gallery is turned over to Guston's Nixon drawings. Done during the height of the Vietnam War in the wake of protests, the satirical works poke fun at Nixon, taking shots at both his appearance and his political ambitions. Mayer said that both Nixon and her father were born the same year, and Guston liked to imagine Nixon in his youth. Some of the images feature an adult Nixon wearing children's clothing or at summer camp. The art is far from flattering; in some works, Guston exaggerates the president's features so his nose and cheeks appear phallic. In one piece, Guston takes aim at Nixon's diplomatic efforts in China, drawing him as the literary villain Fu Manchu.
Henry Kissinger, Nixon's advisor and Secretary of State, is depicted in some of the drawings, represented only as a sentient pair of glasses, tagging along with Nixon on adventures.
As with the Roma paintings, the Nixon series features repeated motifs. The series are relatively cohesive, with repeated characters and shapes.
An Energetic History 'for Morons'
"I think you'll also see in this work from 1971 many of the forms carried onto the final decade of his life," Mayer said.
Numbers and Grids
The gallery's other new exhibit has fewer artwork, but is far more modern.
Charles Gaines: Palm Trees and Other Works, on display in the art complex's south gallery, collects 10 pieces from his 'Numbers and Trees Plexiglas" series. Each work utilizes a background made from a black and white photo of a desert landscape. Those are wrapped in Plexiglas covers, on which in a numbered grid system (starting at zero in the middle and increasing in numeric value as it extends out) has been overlaid. Using those squares, loose palm trees are created, in blue, green and red layers.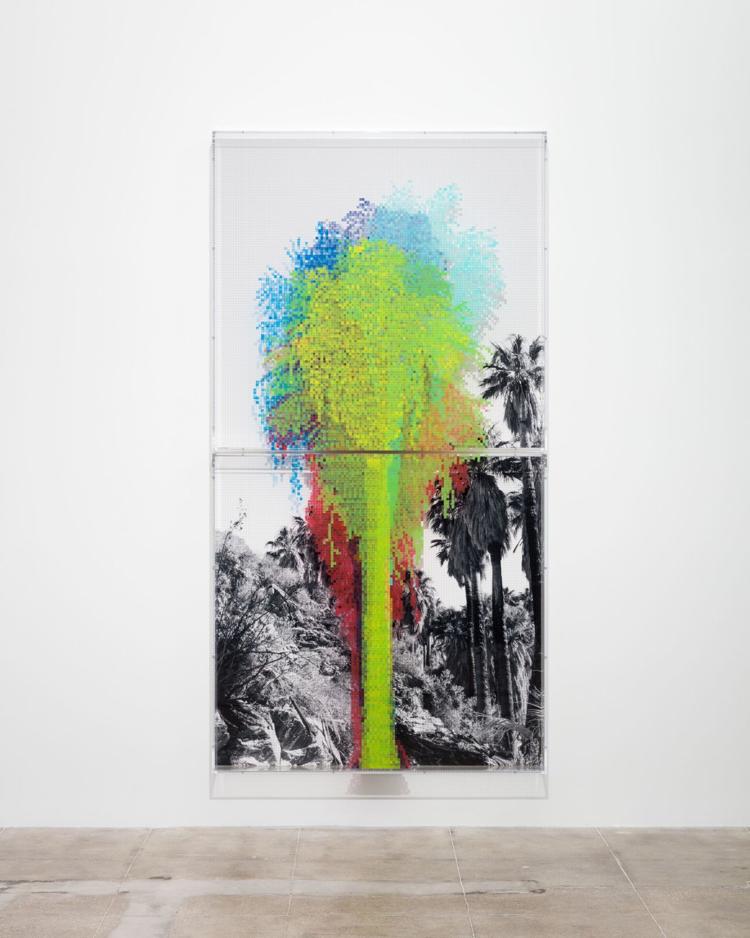 Also part of the show, in a side room, is "Manifestos 3." Large prints of a 1967 Martin Luther King Jr. speech and James Baldwin's 1957 essay "Princes and Powers" hang on the wall, while a screen scrolls the text as classical music plays. But the music is actually a translation of those works. Each letter from the text is matched up with an equivalent musical note, so the prose becomes a song.
"They are two different parts of my work. The first uses systems and numbers to translate shapes and objects, and apply them." Gaines said. "The other work [Manifesto 3] is based on language, and uses the structure of language to translate the texture of material into music."
Stacen Berg, Hauser & Wirth Los Angeles' senior director, said that while Guston's show was all about one year of reinvention in an artist' life, Gaines' is more about a discipline developed over decades. The Los Angeles-based artist started the "Numbers and Trees Plexiglas" series in 1987, and has been refining it since, exploring how various layers can create a complete work.
Exploring Dim Sum on Two Wheels
With "Manifestos 3," the works on display are the third part of a series he has been developing over the past five years. The second edition was performed by a live band at Downtown's REDCAT in December 2015. Gaines said that visitors can follow along with the music just by reading the letters and words in the text as it plays.
"So you can see, I'm not lying to you," Gaines added.
Visitors can also get a peek into Gaines' artistic process on the mezzanine level. A series of watercolor paintings hang on the walls on that floor, each one in a different color showing the different layers that comprise Gaines' Plexiglas pieces.
As part of his show, Gaines will also be taking over Hauser & Wirth's Book and Printed Matter Lab for a 10-week lecture series on critical thinking, Berg said.
Resilience: Philip Guston in 1971 and Charles Gaines: Palm Trees and Other Works are on view through Jan. 5 at Hauser & Wirth Los Angeles, 903 E. Third St. or hauserwirth.com.
nslayton@timespublications.com
©Los Angeles Downtown News 2019