DTLA - As ancient accounts tell it, the Christian monk Saint Anthony the Great left society around 270 AD to roam the wild Egyptian desert by himself. For decades, he lived an ascetic life in isolation, only consuming a bit of nearby villagers' food from time to time.
[Get DTLA stories in our daily email newsletter.]
The scant nutrition kept him alive, but his near-death state inspired constant terrifying visions and temptations, which Anthony battled with prayer. He one day emerged from his solitary fort, no longer battered but instead enlightened.
More than 1,500 years later, French author Gustave Flaubert, inspired by the legend of the Egyptian hermit, began his journey to write a book dubbed The Temptation of St. Anthony. Written as a stage script, the novel remains his life's great work.
A new version of the tale recently arrived in Downtown Los Angeles. The independent theater company Four Larks has mounted The Temptation of St. Antony in the group's hideaway headquarters and performance space, called Basic Flowers, at Second Street and Broadway. The show runs through Oct. 2.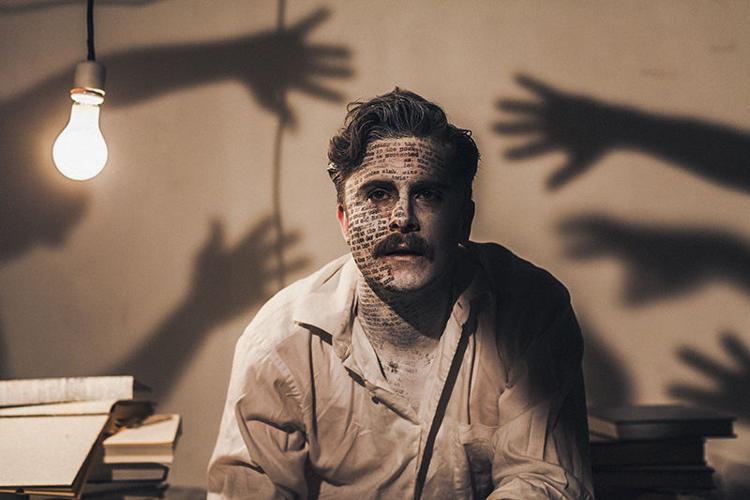 Four Larks is a tight ensemble of performers founded nearly a decade ago by Mat Diafos Sweeney (the company's creative director) and Sebastian Peters-Lazaro (producing director). Sweeney advises audience members not to show up expecting a conventional stage layout or theatrical experience. Instead, Temptation fuses dance, live music, voiceover, art installations and dialogue pulled from Flaubert's text to create something that is more of a sensory experience than the kind of thing you'd find at the Taper.
Flaubert's text is already essentially an "unstageable play," Sweeney added, as it's a subjective and mind-bending interpretation of the St. Antony tale.
"It fell into my lap while we were working on something else, and I just found it confounding," he recalled. "It opened up an impossible theatrical challenge because it comprises the entire history of the world's religions and a psychedelic tour through a solitary mind."
Flaubert's novel was inspired by a painting of St. Anthony he saw in Genoa, Italy, and it follows a single night in which the monk is accosted by visions and beings that represent the seven deadly sins, death and more. Four Larks' performance, directed and co-written by Sweeney, frames it all around a writer who is working on his own art and struggling to cope.
"He's in his cavern, hunched over his typewriter, and holding to a spiritual or artistic truth despite being confronted by all these wild ideas," said composer Ellen Warkentine, who wrote the score with Sweeney. "We designed it so the show feels like a very cohesive, beautiful, dreamlike experience."
The six principal cast members take on multiple roles, save for Max Baumgarten, who plays The Hermit. Characters like the Queen of Sheba, King Nebuchadnezzar and the ascetic Hilarion (himself inspired by St. Anthony) all make appearances in the 75-minute show, which is accompanied by live original music from a six-person band.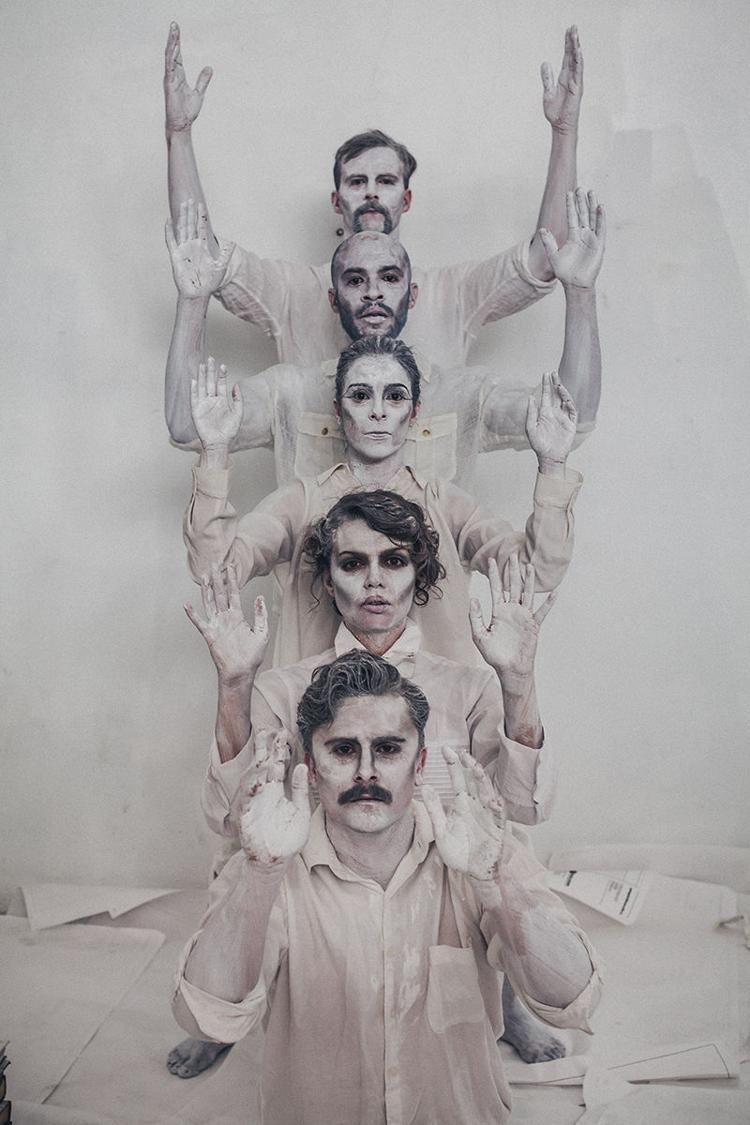 Warkentine's minimalist, folk-flavored score (a big influence is the composer Meredith Monk's hypnotic work Book of Days) serves as a backbone to Temptation, which was staged in Downtown last year, albeit in a different iteration. She praised Four Larks for working collectively to reshape elements.
Sweeney and Peters-Lazaro graduated from UCLA in 2006 with degrees in music and world arts, respectively, and soon decided to launch Four Larks in Los Angeles. A project took them to Melbourne, Australia, in 2008, and they ended up staying for nearly six years.
Four Larks received an affordable deal on the Historic Core space it now calls home, but its mission is to produce works in temporary sites around Downtown. Easier said than done: Rising rents and landlords with little enthusiasm for a bootstrappy theater company means that the site hunt has gotten harder, Sweeney says — especially in the last two years.
"We've opened the Basic Flowers space to other performers, so we know Downtown is thirsting for artist-friendly spaces," Sweeney said. "They're disappearing, but the frustrating experience in Downtown is that there's empty space but no incentive for property owners to open up those spaces."
The early success of Temptation in August helped the company pull the trigger on a weeks-long extension. St. Anthony may have shut himself away from the outside world, but his legend continues to draw crowds.
The Temptation of St. Antony runs through Oct. 2 at 242 S. Broadway or fourlarks.com.
© Los Angeles Downtown News 2016