Since 1934, Nisei Week, the annual festival of Japanese culture, has lit up the streets of Little Tokyo. Thousands of people come out each year for a variety of events that highlight the experiences and culture of Japanese Americans ("Nisei" refers to second-generation Japanese Americans).
[Get DTLA stories in our daily email newsletter.]
Despite a six-year halt during World War II, the festival remains a vital part of the Little Tokyo community. The 79th annual Nisei Week returns this week, with a slate of programs and events taking over the historic neighborhood in Downtown Los Angeles.
Starting on Saturday, Aug. 10, and continuing through Aug. 18, this year's events are scheduled mostly on the weekends and feature everything from the traditional grand parade to educational classes to the popular gyoza-eating competition.
While the festival showcases nearly 90 years of Japanese American culture, Nisei Week President David Yamahata said that in recent years the focus has been on bridging the gap between the festival's traditional options and newer events that will draw a younger and diverse crowd to Little Tokyo.
"Our mission is to share the Japanese and Japanese American culture with as many different communities as possible," Yamahata said. "But with that said, we're also trying to mix the traditional with some new ideas."
Striking a balance can be challenging. Yamahata said that one of the greatest difficulties is finding a younger generation of volunteers to join the Nisei Week board and suggest events to attract a younger audience. Activities including a car show, a Rubik's Cube tournament and a cosplay competition all reflect this aim.
Randy Masada, a board member and Vice President of Events and Programming, said that by changing up the offerings, the festival is matching the ever-developing neighborhood. That reflects a community that now has an array of housing complexes, restaurants and shops, including many that do not directly target a Japanese American audience.
"Little Tokyo is changing," Masada said. "The whole area is gentrifying, you're seeing all different kinds of people come in, young and old. If you look up Little Tokyo online, it's listed as a tourist destination."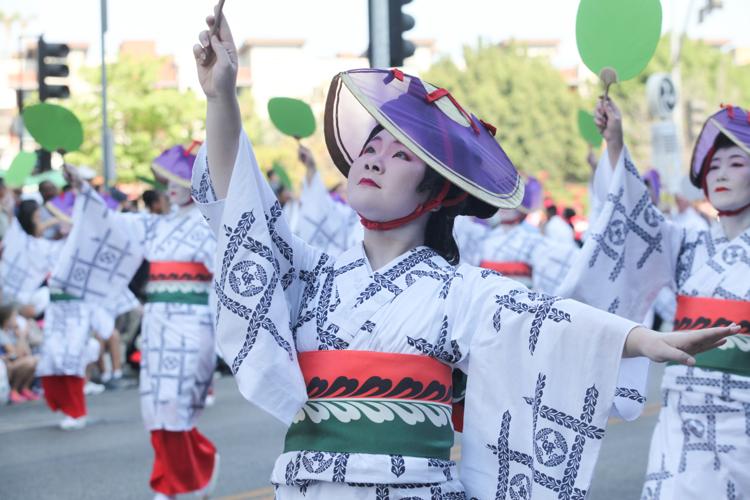 The bulk of the festival takes place at the Japanese American Cultural & Community Center plaza. Last year, the board added Sunset on the Plaza, a sort of night market that features local businesses, live music, food, and a beer and sake garden. The event returns on Saturday from 5-10 p.m. with 12 musical acts.
Inside the JACCC, people can find exhibits on tea ceremonies, ceramics, flower arranging, calligraphy and more.
Masada said that there is a push to use the festival as a platform for artists and businesses.
"We really crammed it in this year," Masada said. "We wanted to try to support as many artists as we could in a short period of time."
Another returning feature is Aki's Pup-Up Party. Named after the festival's mascot, Aki the Akita, and taking place on Sunday from 10 a.m.-3 p.m. at the JACCC plaza, the event is an ode to the dog lovers of Downtown, and includes a dog fashion show, pet snacks and animal adoption opportunities.
Helen Ota, a Nisei Week board member and director of donor engagement and special events at the JACCC, said that the addition of the Pup-Up also reflects a changing Downtown.
"Especially in Little Tokyo, we're seeing a lot of dogs in the neighborhood," Ota said.
Eat Those Dumplings
The new events are intended to complement, not overshadow, the longstanding neighborhood traditions that make up the bulk of Nisei Week. That includes the Natsumatsui Family Festival, which returns to the Japanese American National Museum on Saturday from 11 a.m.-5 p.m. Visitors can glimpse JANM's exhibits, check out performances and participate in family-friendly arts and craft opportunities.
A Nisei Week highlight is always the Grand Parade. Starting on Sunday at 4 p.m. and snaking throughout Little Tokyo, it includes a colorful array of floats and dancers, as well as war veterans and community members.
This year Akemi Miyake, a local philanthropist, will serve as the parade grand marshal, and the Los Angeles Clippers will be the parade marshals.
Building Bridges through Ukuleles
A huge crowd is expected at the 13th annual Day-Lee Foods World Gyoza Eating Championship, which takes place at the JACCC on Aug. 17. Last year, competitive eating champ Joey Chestnut consumed a startling 359 dumplings in 10 minutes.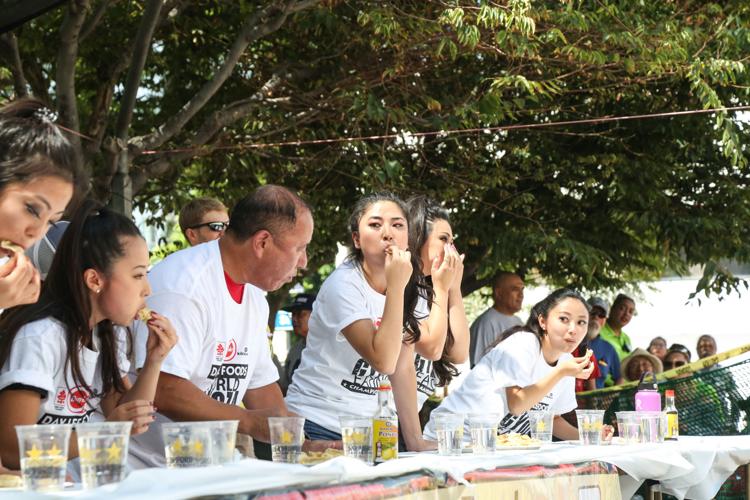 The festivities conclude with the Ondo Public Street Dancing Party along First Street on Aug. 18, followed by a closing ceremony. Yamahata said it's not uncommon to see people jump out of the crowd and into the fray to try a few of the traditional dance moves.
"It really attracts a large crowd and that is where you really get to see that this is really for all ages," Yamahata said.
With an 80th year celebration on the horizon, Ota said she hopes that people not only enjoy Nisei Week, but also view it as an educational opportunity, and soak up knowledge about Japanese art and culture.
A full Nisei Week schedule is at niseiweek.org.
©Los Angeles Downtown News 2019