The House of Machines exemplifies how the eastern end of Seventh Street has changed. The space, which opened in November, is part cafe and bar, part store, part event space and part motorcycle repair shop. It arrives on a stretch of Seventh now full of clothing boutiques, eateries and the media giant Warner Music Group.
[Get DTLA stories in our daily email newsletter.]
House of Machines originally opened in Cape Town, South Africa in 2013. Fiona and Chris Richardson, who co-own the Downtown Los Angeles, spot, were friends with the proprietors, which led to the new space. The shop is modeled on the Cape Town location, but is bigger, occupying 3,300 square feet.
There's another side of House of Machines. The business is a sponsor of the Outlier's Guild Custom Motorcycle Show, an exhibition and convention for custom builders, taking place at the Container Yard in the Arts District at 800 E. Fourth St. on Saturday, March 23.
Los Angeles Downtown News stopped by to see what's in store.
Evil Twin, Good Beans: Perhaps the busiest part of the business is Clutch, the cafe and restaurant, especially in the morning. In addition to a menu of sandwiches, salads, bowls and breakfast burritos, there is a full espresso bar. The cafe uses Evil Twin beans from Spain, the first time the roaster has sent them to an American company, according to Fiona Richardson. Expect to pay $3-$5 for Americanos and lattes.
Barrel of Fun: The spot also has a full bar. The beers on tap include House of Machines' own draft, The Bolt, plus a collection of Japanese craft brews. Amanda Colom overseas the cocktail program, which is focused on barrel-aged concoctions, all on tap behind the counter, including Old Fashioneds, Aviations, Manhattans and Negronis. Cocktails run $12-$14.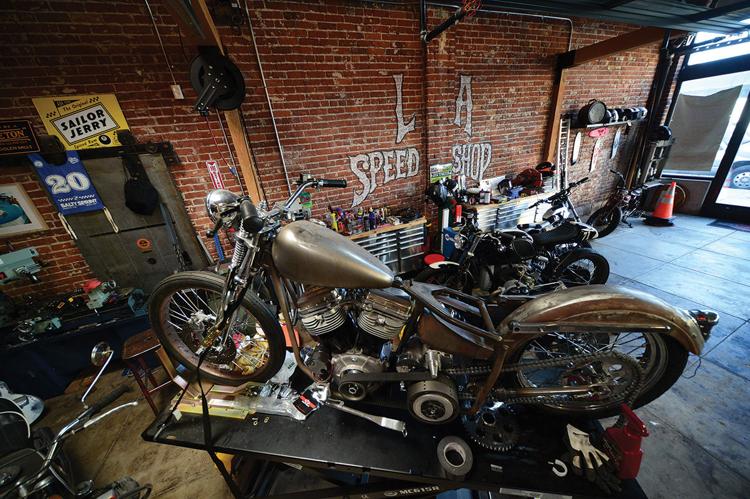 Get to the Chopper: Naturally, motorcycles are a focal point. Some are on display, next to wide couches, and 30 motorcycle helmets hang from the ceiling. The store has a partnership with BMW's Motorrad line, with at least one BMW motorcycle on display throughout the week. Also in house is the L.A. Speed Shop, a motorcycle assembly and customization shop.
The motorcycles are for sale and prices vary by make and size.
Fiona Richardson said the numerous elements in House of Machines can confuse people, and some customers are unsure if they need to be motorcycle owners to get in.
"People sometimes walk in and ask, 'What are you guys?'" she said.
Anyone is welcome at any time.
Look the Part: House of Machines has a small apparel section, mainly sweaters and T-shirts. There's House of Machines' in-house brand along with items from BMW's LNLA (Limits No Longer Apply) line. Shirts are $34.99 and sweaters are $60. There are also LNLA-branded wallets and beanies ($24.99).
Go Bigger: The House of Machines space is big, and feels bigger thanks to the bowtruss ceiling and skylights. It shares an event space with an adjacent media company. In January, the store started doing live music every Thursday-Saturday evening, with most of the acts being rock groups. Admission is free.
The 2,500-square-foot event room has been used for motorcycle displays and art exhibits, Fiona Richardson said, and combined with the main store, The House of Machines can hold 720 people. An April 6 event will showcase a series of artist-decorated recycling bins before they are sent to Indio for the Coachella music festival.
Moto Show: This week The House of Machines is one of the sponsors of the Outlier's Guild Custom Motorcycle Show. It will feature dozens of high-end custom-built bikes, art and photography, and visitors can meet the creators. The House of Machines will have a pop-up version of its Seventh Street space there. Tickets are $10. Information is at ogmotoshow.com.
The House of Machines is at 2028 E. Seventh St. or