Los Angeles is a sparkling nexus of innovation and impact. St. Vincent Jewelry Center's Gems of LA campaign recognizes brilliant women in our community who are at the forefront of social change. At the top of our list is the queen of downtown Los Angeles, Carol Schatz, who shines as bright as the gems she models for St. Vincent Jewelry, LA's premiere destination for red carpet and ready-to-wear jewelry.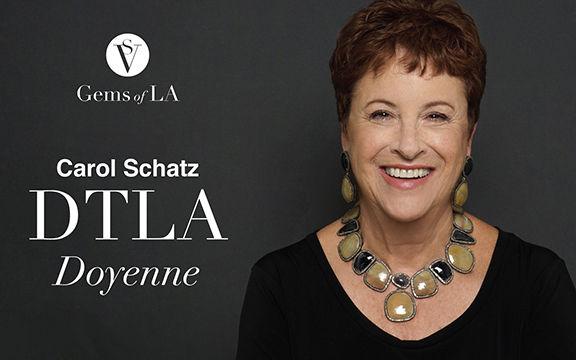 For more than 30 years, Carol has been a driving force in downtown Los Angeles. At the helm of both the Central City Association (CCA) and the Downtown Central Business Improvement District (DCBID), it was Carol's bold vision, tireless efforts, and unrivaled chutzpah that catalyzed the extraordinary transformation of DTLA, generating over 30 billion dollars of investments, 40,000 residential units, and hundreds of thousands of new jobs.
"I worked my tuchas off," admits Carol, who in 1995 broke the glass ceiling as she penetrated CCA's traditional 'good old boys club' to become its first female CEO.
As a testament to Carol's tenacity, perseverance and sweeping influence, the city christened the intersection of Hope Street and Wilshire Boulevard as Carol Schatz Square.
As one of LA's most visible economic development leaders, Carol retired in 2018 departing with the title President Emeritus of the DCBID. And while she handed the baton to a new generation of DTLA advocates, she will always retain the crown as queen of Downtown LA.
The crown jewel of DTLA in the heart of downtown's historic district, St. Vincent Jewelry Center. With its rich history and diverse cultural tapestry of more than 500 merchants and manufacturers from across the globe, shoppers can find custom and ready-to-wear creations including GIA certified diamonds, precious gems, pearls, platinum, gold, silver, and designer time pieces at 40 to 70% below retail chain store prices.
To keep them on-brand and Instagram-ready, celebrities, hip hop artists, NBA players, and Hollywood stylists alike turn to St. Vincent Jewelry Center for their everyday and red-carpet bling. Three street level plazas filled with hundreds of merchants are open to the public, while the upper level salons can also be accessed by appointment only.
Whatever your jewelry jam, St. Vincent Jewelry Center is the one-stop shop for all that dazzles, sparkles, and shines.