DTLA - Last November, city leaders approved a $1.2 billion redevelopment project at 1933 S. Broadway, just a few blocks south of the 10 Freeway. The developers aimed to break ground this year on the transformation of The Reef/L.A. Mart, turning a small hub of creative-industry and fabrication tenants into a massive cluster with more than 1,400 apartments and condominiums, a hotel, and more than 120,000 square feet of retail/commercial space.
[Get DTLA stories in our daily email newsletter.]
Construction never started, but this month the project was back in the news, with the announcement of a beefed-up public benefits package and the developer's decision to either sell the project, now known as Broadway Square, or find a financing partner.
The path to the present turned out to be an obstacle course, with the developer, local politicians and neighborhood activists navigating issues such as affordable housing, environmental law and more. It also could prefigure future development fights in a changing neighborhood.
The scale of the proposed project initially required major zoning changes, and the city worked with Reef owners Avedis and Ara Tavitian on a suite of public benefits, including reserving a portion of the project for low-income tenants, setting aside $18 million to preserve affordable housing contracts in the community, and a commitment to giving 30% of construction jobs to local workers.
Correction: A previous version of this article misidentified Avedis Tavitian as "Ava" Tavitian. Downtown News regrets the error.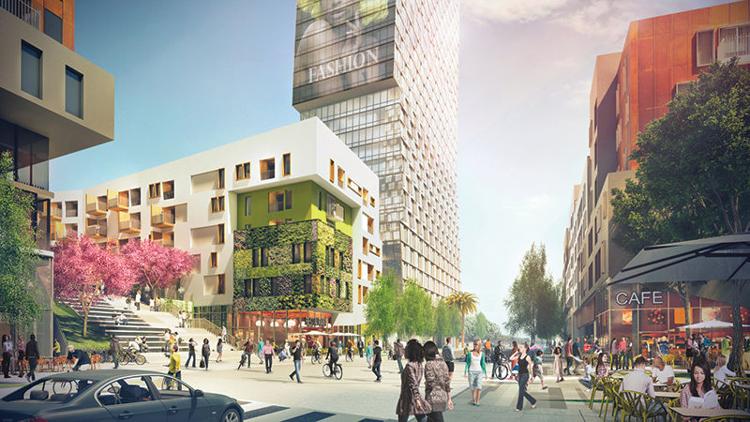 "I asked the Reef to contribute resources unlike anything we have ever seen in the City of Los Angeles," Ninth District City Councilman Curren Price said in a statement last week to Los Angeles Downtown News. "I am certain this development will set the tone for future developments in the Ninth Council District to do more than simply 'build' in our community, but to provide meaningful, long-term investment for our residents."
Still, some community groups protested, voicing fears that a new demographic of luxury-housing residents could begin to change the landscape of the largely middle-class community. Advocates honed in on the developers' concession to set aside 5% of the 540 apartments for low-income residents. It wasn't enough, said Cynthia Strathmann, executive director of Strategic Actions for a Just Economy (SAJE).
"There's evidence that when you create transit-oriented development, if you don't have adequate housing for people who primarily use that transit, you merely replace high-transit users with low-transit users and increase greenhouse gasses," Strathmann said. "That was the environmental angle we needed."
With the greenhouse-gas approach SAJE employed a controversial but common practice to fight the development. It filed a lawsuit in December, targeting the project's environmental impact review under the California Environmental Quality Act.
"Our real intention was to find a resolution. People often use CEQA appeals without a real environmental concern. Some might differ with me, but in this case we had a legitimate reason," Strathmann said.
Negotiations reopened, and the owners have now agreed to apply the 5% low-income housing concession to the project's entire 1,444 residential units, rather than just the planned apartment component, bringing the number of subsidized residences to 72. The settlement did not include money paid directly to SAJE.
Using CEQA is a frequent tactic for groups to extract dollars for their own operations, according to local real estate litigation experts. Another activist group, the little-known Golden State Environmental Justice Alliance, also filed a December lawsuit against the Reef's owners. Its L.A.-area lawyer Steven Blum declined to comment on a separate settlement that was reached. The details of that settlement were not disclosed.
Howard Sunkin, a representative of the Reef project and a partner at Downtown lobbying firm Ek, Sunkin, Klink & Bai, noted that the owners were looking to resolve, not prolong, litigation from the start.
"We're very fortunate that we were able to do so on terms that were reasonable. We're very excited to move a transformative project forward," Sunkin said. "It's an area that's been underserved and we're proud to be the first to go to market with something wonderful for the community."
With the settlements, the entitled Reef project is now being marketed to national and international developers and financiers, with some potential for a new owner to take over the site and plans, according to Laurie Lustig-Bower, executive vice president at CBRE, which has the listing for the project.
"The mega scale of the project, spanning two full city blocks, offers an opportunity to build one of the largest developments in Downtown L.A.," Lustig-Bower said. "It also presents a strategic location as it sits at the gateway to the Central Business District, Staples Center, L.A. Live, Convention Center, Exposition Park and USC."
Still up for debate is how the development will impact the surrounding neighborhood, as worries remain that the Reef could lead to more developers or business interests acquiring other nearby properties, with hopes of catering to a wealthier demographic and new workers.
Proposed updates to the Department of City Planning's Southeast L.A. Community Plan suggest a number of parcels currently zoned for industrial or manufacturing uses around the Reef would be approved for "community commercial" use, allowing for new businesses as well as some residential construction. Yet there are natural limits on what kind of development will spread, said City Planner Bryan Eck.
"We've been doing very little 'upzoning' to allow for bigger projects on sites that already have housing. It's not common," Eck said. "The diverse ownership of the parcels makes it challenging, too. To assemble lots together from that patchwork is difficult even if we do change zoning rules."
Strathmann said she hopes to see more consistent city policy when it comes to extracting public benefits from developers, noting that many people proposing large projects are uncertain of how a community will organize and what advocates will demand.
The upside may be that more developers are savvy about what kind of public engagement is needed in liberal parts of California to ensure a project can move forward, said Julian Gross, a lawyer with PolicyLink who has worked on numerous community benefits negotiations (including the SAJE-Reef settlement).
"National developers who come into blue areas of California and don't think they need to consider community benefits end up learning pretty quick, and there's been a dramatically increased willingness for many developers to come to the table with advocates," Gross said.
In this case, public outreach doesn't simply mean "a bunch of design charettes where you show how pretty your project is," Gross said, adding that true community engagement always involves some compromise by all parties.
© Los Angeles Downtown News 2017