Vancouver-based the Onni Group is moving ahead with its plan to redevelop the Times Mirror Square complex in the Civic Center, following a thwarted challenge from preservationists hoping to keep all five of the site's structures.
[Get DTLA stories in our daily email newsletter.]
Last week the draft environmental impact report for the project on the block bounded by Broadway and First, Second and Spring streets was released.
Onni plans to preserve and renovate three buildings from the early part of the 20th century on the eastern side of the block, while demolishing an office tower and parking structure on the western side of the complex; that includes a 1973 building designed by William Pereira that preservation advocates had particularly sought to save. The City Council gave Onni the go-ahead to raze those structures.
Those would be replaced by towers standing 57 and 37 stories that would together add 1,127 residential units. The new construction would also create a north-south paseo through the block, linking First and Second streets.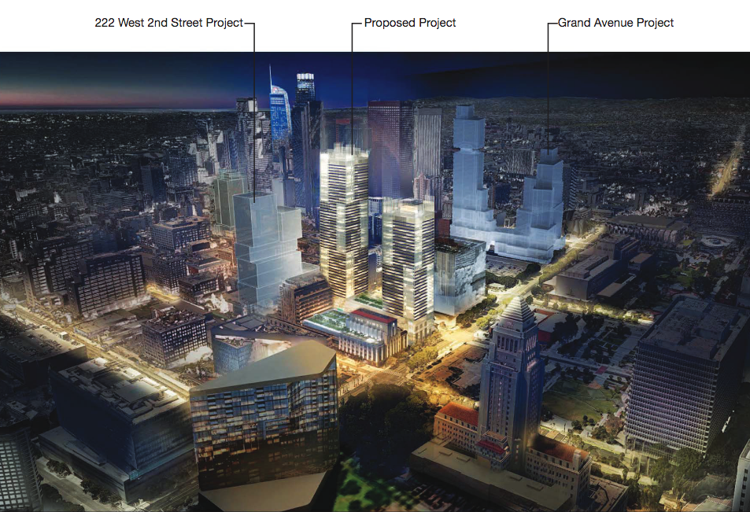 Renderings from architecture firm A.C. Martin show the new buildings rising from a concrete podium designed to echo the style of the older portions of the complex. The towers are glass and steel, with balconies on approximately two-thirds of the units.
Onni anticipates starting work by the end of this year, with construction taking place in one phase and wrapping by 2023. The budget for the Times Mirror Square redevelopment has not been disclosed. Public comment on the environmental study is now through May 20.
The Los Angeles Times left its longtime headquarters last summer for a new home in El Segundo.
The full report can be found at planning.lacity.org.