In December, construction crews set about a renovation of the atrium inside the Wells Fargo Center on Bunker Hill. An uproar from preservationists ensued when workers removed water elements designed by landscape architect Lawrence Halprin as part of his Los Angeles Open Spaces Network.
[Get DTLA stories in our daily email newsletter.]
Five months later, landlord Brookfield Properties has unveiled more plans for the atrium, which involve radically overhauling the entire space.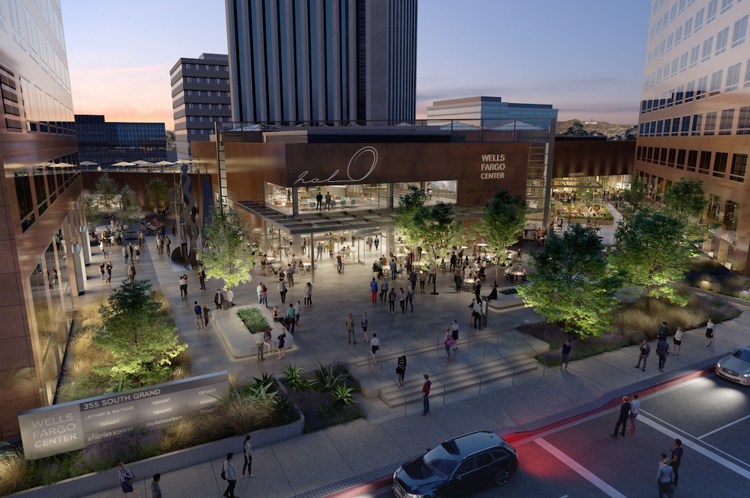 The project, dubbed "Halo," will open up the three-story atrium, with an indoor-outdoor bar, additional seating, two restaurants and a fitness center. There will also be a tenant lounge managed by the co-working company Convene. Renderings show tall ceilings and enhanced sight lines into the atrium via large windows.
The $60 million plan is expected to take 18 months. Part of the impetus is that the common areas in the 1983 complex feel "dated," according to Brookfield Executive Vice President for the Western Region Bert Dezzutti. He said limited seating, sometimes hard-to-find entrances and a need for modern amenities spurred the overhaul.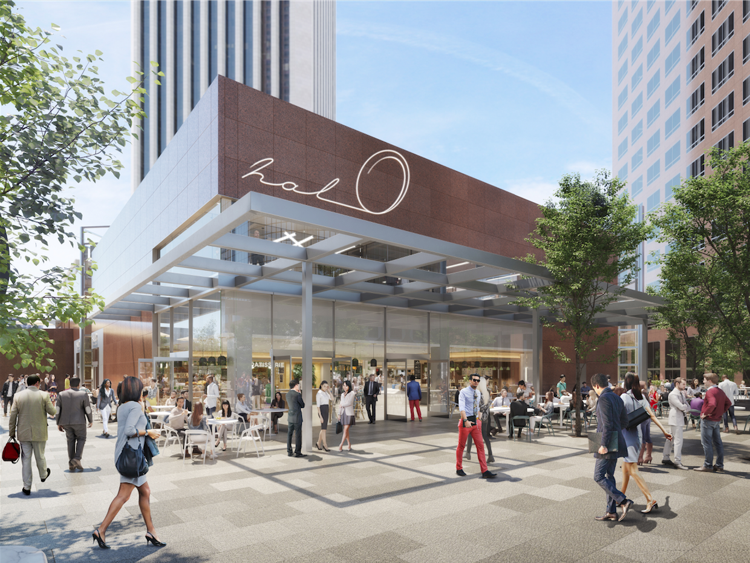 "It needed to reflect more contemporary tastes in terms of what office tenants are looking for," Dezzutti said. "They're looking for informal meeting areas and the ability to stay connected regardless of where they go on property."
The two-tower Wells Fargo Center was designed by Skidmore, Owings & Merrill. That firm is helping with the redesign, and is working alongside interior design firm AvroKO and landscape architecture group GGN.
The towers, which stand 54 and 45 stories tall, hold approximately 2.5 million square feet of office space. Dezzutti said the atrium work will improve conditions for building tenants, which include legal and financial firms, among them USCB America, Latham & Watkins, and Wells Fargo.
"We are cleaning up the unnecessary obstructions to enjoying the outdoor and indoor common areas," Dezzutti said. "We feel this will make the project very unique. It will be restored as the center of Bunker Hill."
Most of the atrium is now closed. Some businesses remain open, such as the steakhouse Nick + Stef's.
Frank Gehry to Design Colburn School Expansion
Dezzutti acknowledged that the construction will require some "adjustments" from office tenants, but said that Brookfield's property management team is communicating with the business on the scope of the work.
Dezzutti did not say if Halprin's statues would return in the refurbished atrium. He said that Brookfield and the design team are still determining what art will be there, and that it will be a mix of existing and new pieces.
The Halo is expected to open in mid-2019.