One of the most anticipated projects in Downtown Los Angeles has nothing to do with housing or office space, and everything to do with returning a dose of green to the heart of the community.
Planning for the renovation of Pershing Square began last year, and new details suggest the city is getting closer to a final vision, if still a long way away from physical construction.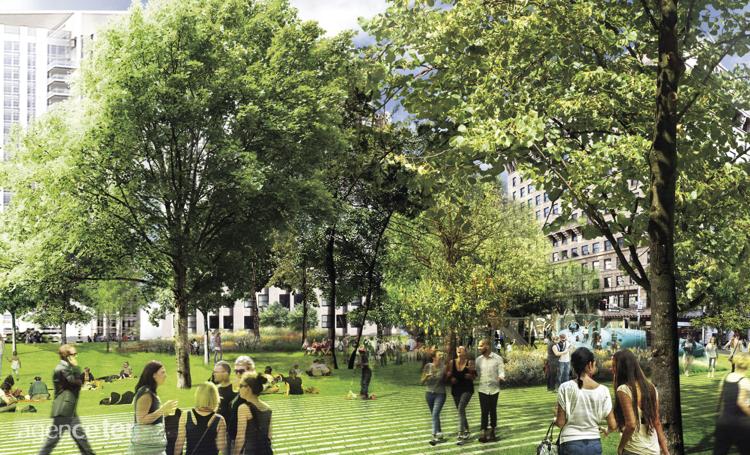 Architects with Paris-based firm Agence Ter and Los Angeles' Gruen Associates, which together won the bid to redesign the park with a focus on flattening the space, have made some key changes to the layout of Pershing Square. The updated look was revealed Monday at a 5 p.m. presentation in the park.
Over the past five months, the team has conducted a more precise evaluation of how to bring the concrete plaza back down to street level while balancing two priorities: Leaving enough depth to plant greenery, including large trees, while preserving the underground parking structure that provides revenue for the park and city.
In the designs, a large pergola, or shade structure, that once spanned the Hill Street side of Pershing Square has been moved to the opposite side, along Olive Street. A number of seating areas, as well as food and drink vendors, would sit under a framework of slats, which provide shade during the day and light up at night.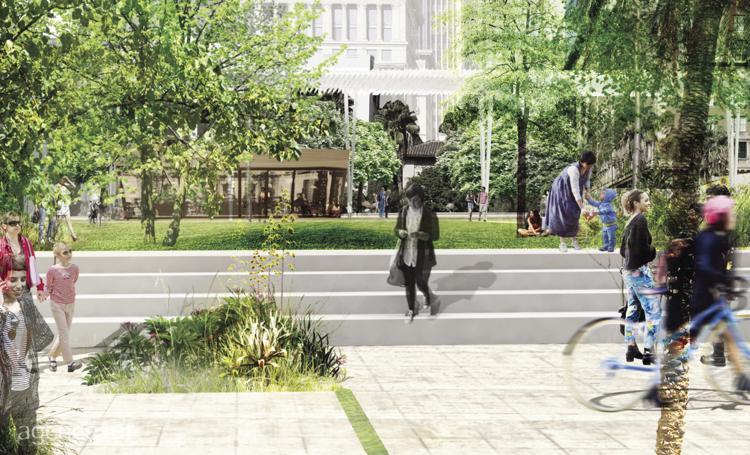 The secluded "grand garden" and a promenade of trees, meanwhile, would be moved to the eastern side of the square along Hill Street, providing a natural canopy for visitors.
Agence Ter and Gruen Associates, along with the city Bureau of Engineering and Department of Recreation and Parks, is aiming to deliver another update in early spring with the completion of a "Concept and Feasibility" phase of engineering review.
There is still no date for starting and completing construction, and the project lacks a definitive price tag until further analysis is completed. The architecture teams competing for the bid in spring 2016 were instructed to work with a roughly $50 million budget.
The nonprofit Pershing Square Renew, a coalition of city and private stakeholders tasked with fundraising, has so far identified just $1.5 million for the feasibility study from the city and another $2 million from Quimby fees (paid to the city by developers for park creation) and general public benefits dollars from Downtown-area developments. A search for more funds is ongoing.