Downtown Los Angeles has seen a rapid expansion of the residential scene in the past six months, with a number of long-in-the-works projects opening. Many of these have been in South Park or the Financial District.
The emergence of steel-and-glass skyscrapers in those communities has overshadowed another sizable development in the Fashion District. There, Washington state developer Holland Partner Group has staked out a corner, building a pair of 24-story towers that have vastly expanded and modernized the housing scene.
[Get DTLA stories in our daily email newsletter.]
Holland Partner's Grace on Spring, at 732 S. Spring St., opened in November, and the Griffin on Spring, at 755 S. Spring St., followed a month later. Tenant recruitment has been steady, with the 300-unit Grace now 34% leased and 31% occupied. Griffin, with 275 apartments, is 50% leased and 44% occupied.
Holland Partner Group acquired the land for the towers, previously parking lots, in 2012, said Tom Warren, executive managing director for the developer. Construction began in 2016. Grace cost $162 million, while Griffin was $160 million.
The developer has been a key player in the Downtown residential scene, with five projects (counting these two additions) holding more than 1,600 apartments; its most notable developments include the Sofia in City West and the Stoa in the Civic Center.
The Fashion District properties represent a slightly different strategy. Warren said Holland Partner was seeking a neighborhood that was drawing in new activity but still felt tied to Downtown's history.
"The richest neighborhoods are ones with all kinds of building stock, and this has that," Warren said during a recent afternoon tour of the project. He noted that when the developer acquired the land, other nearby developments such as the Ace Hotel were underway. He added, "It seemed like a great place to be working in."
The two buildings have similar features. Both have concrete facades on the first 75 feet to mirror the historic buildings along Spring Street, while the upper levels employ glass and steel elements. Luis Arambula, a principal with the architecture firm MVE+Partners, which designed both buildings, called the towers "fraternal twins."
Griffin, on the western side of the street, was designed to take after the Neo-Classical and Art Deco buildings of the Historic Core, with an emphasis on arches and columns in its lobby and outer façade. Grace, on the other side of Spring, is more modern, leaning into the Fashion District's aesthetic with a laced concrete weave on its exterior. Both towers are designed to be energy efficient, and are certified LEED (Leadership in Energy and Environmental Design) Silver by the United States Green Building Council, according to Arambula.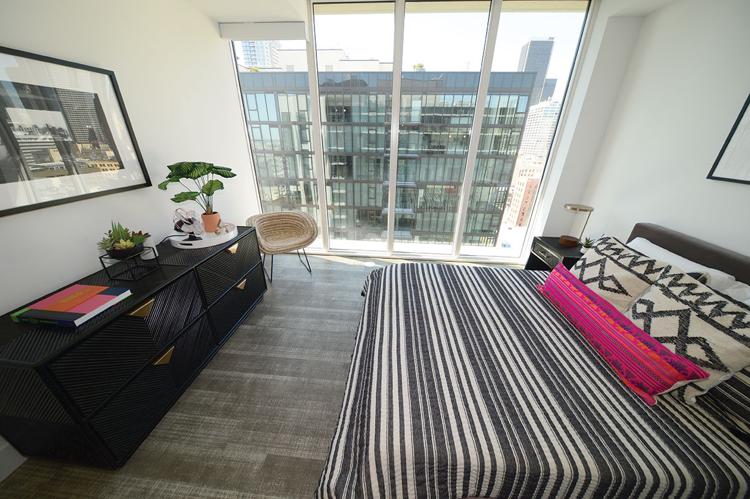 Warren said that Holland Partner Group acquired the land without entitlements, and sought to stick as closely as possible to the Downtown Design Guidelines. That required certain height requirements on Eighth and Spring streets, plus setbacks from the street.
To get the desired number of units, Holland Partner Group had to go tall, which meant a higher cost. Still, the developer believed the residential momentum in the area would only increase by the time the buildings were finished.
At Griffin, rents start at $3,190 for a 730-square-foot one-bedroom apartment, and $3,540 for a 1,110-square-foot two-bedroom unit. Grace offers a 448-square-foot studio starting at $2,245, with one-bedroom apartments beginning at $2,975 for 694 square feet of space. The average price is $3.80 per square foot, which puts the buildings toward the upper end of the Downtown pricing spectrum, but still below some of the luxury projects that have recently opened, according to Steve Basham, managing analyst for the brokerage firm CoStar Group.
Grace and Griffin are both more expensive than other buildings in the Fashion District, but Alex LiMandri, founding principal partner with the brokerage firm DTLA Life, said that the pricing is comparable to some of the renovated loft buildings along Spring Street.
"It's brand new and modern, which somewhat makes up for the price compared to the other apartment buildings," LiMandri said. "Grace and Griffin don't feel as expensive as some other buildings in the Financial District or South Park."
Inside and Outside
The towers are not Holland Partner Group's only recent addition to the area. In December, the developer opened the 28-story Alina, a 341-unit apartment building at 700 W. Ninth St.
Grace and Griffin offer studio to three-bedroom apartments. Units come with stainless steel appliances, quartz countertops, floor-to-ceiling windows and Nest thermostats. Each apartment includes a washer and dryer, and approximately 20% of apartments in Grace have balconies; Griffin has balconies on 15% of the units.
Each tower includes a pool deck with lounges and cabanas, as well as a two-story fitness center. The buildings have rooftop decks with grills and fire pits and sweeping views of the Downtown skyline. As part of the growing trend of pet-friendly Downtown Los Angeles, each building has a dog runs and washing stations.
Both buildings have above- and below-grade parking, with 400 stalls in each structure.
Warren said that Holland Partner Group is not targeting any specific demographic, instead positing that Downtown is attracting a wide variety of people. Given the competition, the towers are offering up to eight weeks of free rent, which is relatively standard for new projects in the area, according to residential market experts.
Hamid Behdad, president of the Central City Development Group and a veteran of the Downtown development and residential scene, called Holland Partner Group's decision to build two towers in the Fashion District a bold move. He noted that dense high-rises are difficult to construct, and require developers with capital and experience.
"For them to invest that much in that part of town, I think it was a great opportunity for Downtown. It was very ambitious," Behdad said.
The towers arrive as Downtown has seen the debut of more than 3,000 residential units. Mack Real Estate Development and AECOM opened the 38-story, 536-unit Aven in South Park in January, while the Vancouver-based Onni Group launched its 53-story 825 South Hill tower, with 490 apartments. The 648-apartment luxury building Circa opened across from Staples Center.
Behdad expects the Grace and Griffin to have a catalytic effect on development in the Fashion District, speaking a new round of high-rise construction. He said that Holland Partner Group's project proves there is a high level of demand in the neighborhood.