DTLA - Along the First Street entrance to the Police Administration Building, there is a memorial that stands cold and apart from the living challenges and social media-fueled tensions faced by the Los Angeles Police Department. Here, 207 badges are mounted on a wall to honor the LAPD officers who have died in the line of duty since 1907. Forty-two of those bronzed shields recall men who died in Downtown. 
[Get DTLA stories in our daily email newsletter.]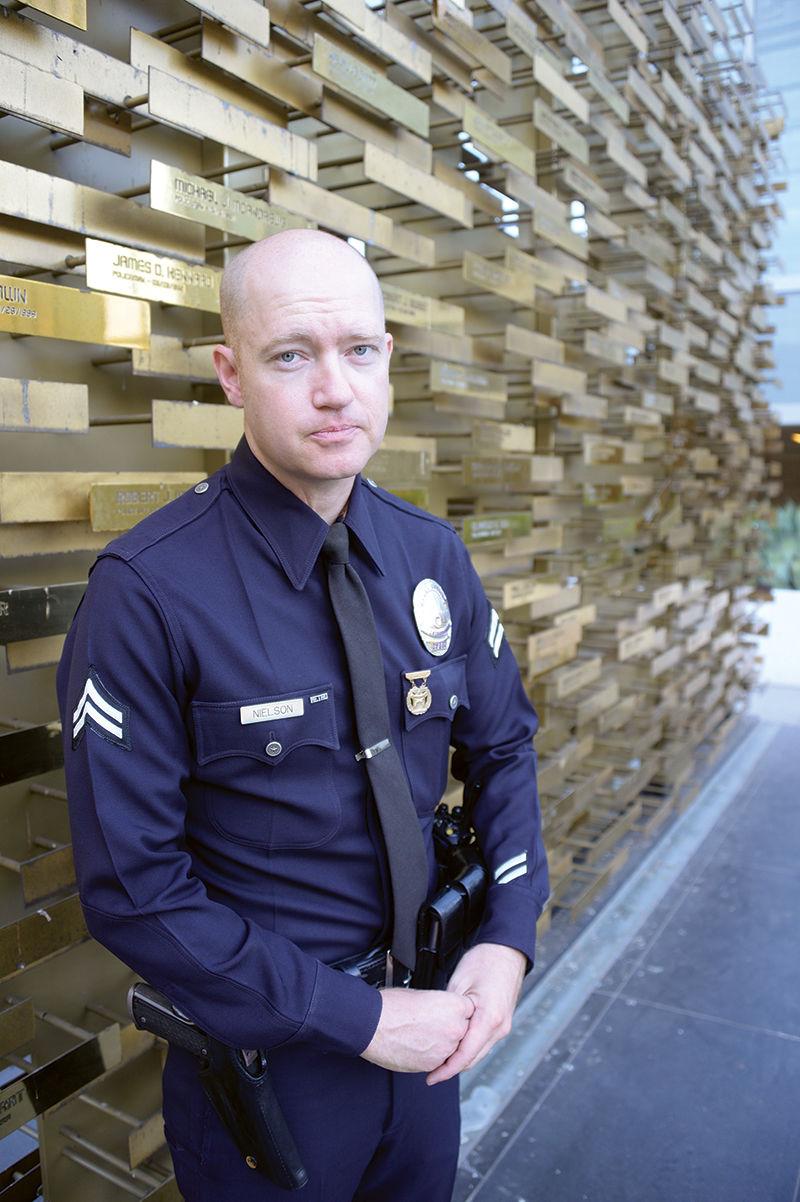 That is not the only place where the department's fallen are remembered. Although many people may not realize it, Downtown Los Angeles is filled with placards honoring late officers. From Exposition Park to Chinatown to the concrete banks of the Los Angeles River, the community is replete with black signs striped with royal blue that memorialize an officer killed at that location.
Known as the Memorial Street Sign Project, the initiative to commemorate the site of every line-of-duty death in LAPD history debuted in 2014. That May, the first placard was unveiled at Second and Main streets, where Officer Edward E. Wilhoit was shot to death on Aug. 20, 1924.
The issue of police violence, and violence directed at police, has exploded across the country in recent years. By comparison, the Memorial Street Sign Project is a low-key affair.
Officer Bradley Nielson has been a key player in the initiative. Currently detailed to the elite Metropolitan Division, the 14-year LAPD veteran was tasked with overseeing the creation and installation of the placards. Nielson was also given the responsibility of researching the circumstances of each death.  
Nielson's work took him deep into a warren of department and city paperwork. He scoured newspaper archives, combed through court and death records and searched the vaunted LAPD volumes of the macabre known simply as "murder books." 
The research yielded a unique perspective. 
"We've been living and fighting and dying on the streets of this city for a hundred-some years," he said matter-of-factly after recalling how Officer Norbert John Huseman was killed in Newton Division during a 1945 gunfight over a baby carriage.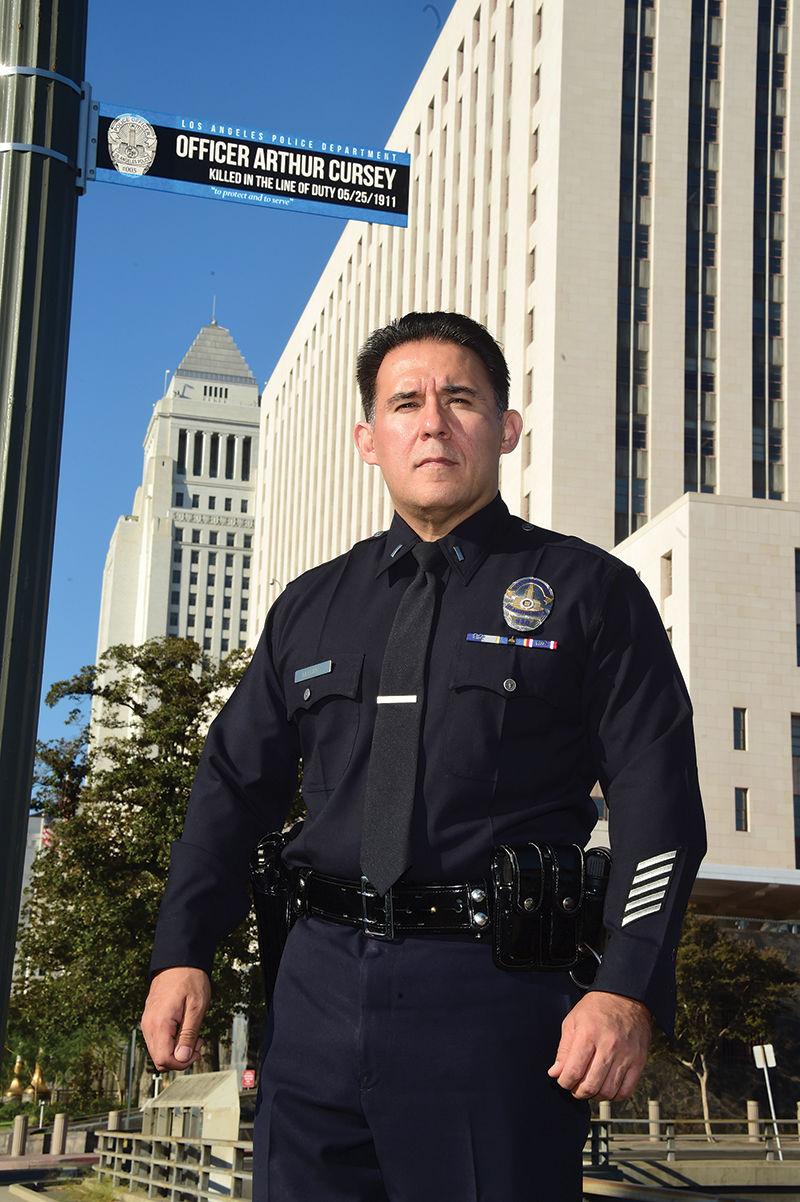 Vehicular Mishaps
A number of unlikely factors have contributed to LAPD deaths. In Downtown alone, two officers succumbed to heart attacks. One was electrocuted. Lt. Charles Johnson died in 1917 when he slipped on the wet floor at the old Central Station at First Street and Broadway while boxing with a colleague (see sidebar this page). 
Fourteen officers died in vehicular mishaps, though that doesn't always mean cars. In 1911, a train struck Officer Cecil S. Bowman on the Sante Fe Railroad tracks. Officer Joseph Romeo died in a streetcar accident at Main and the now-gone Marchessault Street in 1919. Officers Larry Amberg and Alex Inicki perished in a 1966 helicopter crash.
In the course of his research, Nielson found that there were a rash of fatal LAPD motorcycle accidents in the first half of the 20th century, including three deaths in Downtown from 1919 to 1941. Among those killed were Officer Matthew P. McDonagh, whose motorcycle collided with a train at Sixth and San Pedro streets in 1923. Inadequate gear made early motorcycle duty all the more lethal.
"A lot of the guys didn't have specialized equipment — just leather jackets and boots," Nielson said.
Nielson points to improvements in equipment and medical care as integral factors in decreasing traffic-related fatalities. Still, three decades ago, Downtown would be rocked by two separate incidents. The first occurred Oct. 29, 1983, when a trio of drug suspects hit a squad car belonging to officers Arthur Soo Hoo and William Wong (see sidebar p. 12).
Just five years later and about a mile away, tragedy struck again. On Dec. 12, 1988, officers Derrick Connor, Manuel Gutierrez and David Hofmeyer perished in a collision at Fifth and Wall streets. During a predawn chase tied to an operation targeting Downtown auto theft, Hofmeyer and his partner, Officer Vernon Drake, sped north on Wall Street while Gutierrez and Connor raced eastbound on Fifth Street. The ensuing crash sent the wreckage of both cars careening through the intersection. Drake, the lone survivor, was the only officer amongst the four wearing a seatbelt that morning. 
Why so many traffic deaths? The makeup of the city has much to do with it. The LAPD patrols an area just over 500 square miles, and has far fewer officers on foot compared, to, say, the New York Police Department. The geography means many LAPD officers are in cars. In decades past, before modern safety standards, the risks posed by car accidents were far greater.
The Gun Problem Is Not New
Shootings have been part of the Los Angeles Police Department since Deputy Marshall Joe Dye killed City Marshall William C. Warren at the corner of Spring and Temple streets in 1870. Since then, vicious gun battles such as the 1974 shootout with the Symbionese Liberation Army and the 1997 North Hollywood bank robbery shootout have influenced local police tactics and training.
While Downtown Los Angeles has never had an equivalent incident, 24 of the 42 officers killed in the community died from gunfire. Eleven were killed while attempting to apprehend robbery suspects. 
The highest-ranking officer killed was Capt. William Auble. In September of 1908, the once acting police commissioner pursued a burglary suspect. The man drew a revolver and shot Auble three times, including once in the throat. The slain captain's marker is at Ninth Street and Grand Avenue.
Auble's murder, along with those of Officers Patrick H. Lyons and Clyde May in 1907, inaugurated a particularly deadly era for the LAPD. Sixteen police officers were shot in Downtown between 1907 and 1930.
That mirrored a Prohibition-era wave of violence across the United States. At the zenith in 1930, 304 officers were killed nationwide, according to the National Law Enforcement Officers Memorial Fund. That number declined steadily after the repeal of the 18th Amendment in 1933, only to spike again in the mid 1970s. 
Other factors contributed to Los Angeles being a dangerous place in the 1910s and 1920s. At the time, a dense, heavily working class population in a growing city resulted in a thriving vice presence that included prominent bootlegging, prostitution and gambling. Organized crime was prevalent.
Police methodology and equipment also played a role. In its early years, the LAPD utilized a call box system. Officers rang in once an hour to check for updates and messages. A comprehensive radio system was still years away and, with it, the promise of ready backup. 
"So many LAPD fatalities early on had to do with single officers on a foot beat," Nielson said. "Typically it's a case of one officer trying to take enforcement action against a group. He gets them up against a wall and frisks them. They turn against him, take his weapon and use it against him."
Personal Interest
Nielson isn't the only one who has made a mission of honoring those who died in the line of duty. So has Lt. Jorge Macias, who has been with the department for 36 years. He has delved into not only the circumstances of the deaths, but also the families of the fallen, the lives of the perpetrators and the consequence from the incidents.  
His involvement began in 2010 when he was a member of the department's Employee Assistance Unit, which, among other responsibilities, handles funeral arrangements for officers and their families. Macias came across a photo of a clean-faced officer named Arthur B. Crusey who died in Downtown in 1911. Macias began to dig through historical records to unearth details about the boyish cop with the subtle grin. The story he pieced together is as hard-boiled as cold-blooded murders get in this city (see sidebar this page).
"Crusey looked like a young kid," Macias said. "I used census materials and ancestry.com to ask what happened to his family? Did his wife remarry?"
Since then, Macias has compiled profiles of nearly a dozen fallen officers. They appear on the LAPD online profile page that corresponds with the Memorial Street Sign Project (lapdonline.org/officers_killed_in_the_line_of_duty). The biographies are identifiable by their deep nuance and almost poetic style.
Macias' approach is simple.
"My goal was to take the reader back to the moment, answering such questions as, 'What kind of day was it? Hot? Cold? Rainy?'" 
Through his research, an individual incident becomes a gateway to a fuller understanding of the men who protected a fledging metropolis. Lone photos and incident reports form the base for rich biographical portraits.
"Back then, a beat cop knew every corner, every alcove," Macias said, "If someone was described, they tended to know who it was."
A personal factor propels Macias' interest. Officer Steven Gadja, Macias' 1990 classmate at the Police Academy, was killed in the line of duty in Boyle Heights on New Year's Eve 1998.
"I think about it quite often," said Macias. "In the L.A. Police Academy, the instructor tells everyone, 'One of you may be killed in the line of duty.' Seven and a half years later, it happened." 
For Macias and Nielsen, part of being a police officer is honoring those who, even a century ago, put their lives on the line by putting on a uniform. As they tell the story of the LAPD's fallen officers, they also tell the story of the city.
---
STORIES OF FALLEN OFFICERS
Arthur Soo Hoo and William Wong
At the end of their shift on October 29, 1983, anti-gang officers Arthur Soo Hoo and William Wong were driving at College Street and Broadway in Chinatown. At the same time, a 1977 Buick Skylark carrying three men fleeing from a drug deal gone bad was speeding southbound on Broadway at 75 mph. The Skylark ran a red light and hit the squad car. Two suspects fled on foot while another passenger escaped the Buick, only to collapse on the street. Soo Hoo and Wong were declared dead at the scene and were buried near one another in Whittier's Rose Hills Memorial Park. The driver and passenger who escaped from the car were on the run for 20 years until 2003, when fingerprints taken from the interior of the Skylark were matched to those of a Vacaville man. The car's driver, Teobaldo Villanueva, remains at large.
Charles E. Johnson
In the early years of Hollywood, Lt. Charles E. Johnson was an LAPD celebrity. The decorated Spanish-American War veteran made a decent side career playing a cop in films from Mutual and Majestic Studios. On the night of March 15, 1914, the three-story Occidental Hotel at 428 S. Hill (the site of a current two-story annex next to the Hotel Clark) caught fire. Johnson stormed into the inferno, dragging sleeping guests from their rooms to safety. He then used a length of pipe to leverage gratings off some basement windows, allowing trapped Chinese workers to escape. All told, Johnson saved nearly 20 people that night. His promising career was cut short, however, on Nov. 13, 1917. While play-boxing with a colleague in the former Central Station assembly room, Johnson slipped on a patch of wet cement and fractured his skull. 
Leo Wise
St. Patrick's Day boozing turned violent in 1957 when Officer Leo Wise was called to a bar at Pico Boulevard and Figueroa Street to settle a dust-up between drunk patrons. Wise told the inebriated Marion James Linden to head home. Linden, who had spent eight years in a Colorado prison for murdering his wife, retrieved a gun from his car and shot Wise. Before collapsing, the officer stumbled to a call box. Of note: The first civilians to render aid to Wise were four Mexican nationals who the Los Angeles Police Commission later cited for "heroism and disregard for personal safety." They attempted to patch Wise's wounds. Instead, Wise instructed them to take down the shooter's license plates. The four pursued Linden until alert motorcycle officers nabbed the suspect at 11th and Alvarado streets. Linden was executed in the San Quentin gas chamber in 1961. 
Charles P. Wiliams
In the 1920s, Charles P. Williams, one of the few African-American officers in the LAPD, was working as a plain-clothes vice cop on Central Avenue. The area was packed with gambling hovels, whiskey joints and cheap hotels. On the night of Jan. 13, 1923, a local made Williams and his undercover partner for cops and warned them of a crazed man brandishing a pistol at Eighth and Stanford streets. As Williams and his partner approached, the man, an anti-prostitution crusader named John Pryor, fired. Williams was fatally wounded by two shots to the abdomen. Though he was the city's first African-American policeman to be killed in the line of duty, for decades he was often confused with a white Charles Williams. In 2010, the corner of Sixth and Central was renamed Charles P. Williams Square. 
Patrick J.Downey
The anarchist sentiment that rolled across the country in the early 20th century was felt in Los Angeles as well. Radical firebrand Emma Goldman lived and lectured here from 1910-16. In 1910, the MacNamara brothers, zealous labor advocates, bombed the old L.A. Times building. Enter Irish-born Detective Sgt. Patrick J. Downey, who was charged with riding the rails to catch suspected anarchist activists attempting to sneak into Los Angeles. On Feb. 18, 1919, Downey and a fellow officer chased two stowaways off a train near the Llewellyn Iron Works at 1200 N. Main St. Downey leapt from the moving train to pursue the men on foot. During an ensuing scuffle, a man named Bert Williams wrestled Downey's gun from him. The officer was shot in the chest and died at a hospital at First and Spring streets. Williams was apprehended. 
Arthur B. Crusey
Career criminal Patrick Henry Kelly was also known as John Isaac Crossley or John Holland. He had spent time in Folsom and San Quentin on burglary charges. He came Downtown and engaged in various illegal activities (robbing saloons, etc.) while working at the Industrial Ironworks at Fourth and Mateo streets. On May 25, 1911, Kelly attempted to steal a bicycle from a pawn shop at Main and Commercial streets. A young policeman named Arthur B. Crusey witnessed the crime and moved in, but Kelly drew a .38 revolver and fired. Crusey was hit in the right side. Kelly was using dum-dum rounds, bullets notched across the tip so as to flatten upon impact — the damage to Crusey's organs was extensive. As Crusey lay bleeding, a private citizen, Tudor Soloman, grabbed the officer's weapon and chased after Kelly. The thief turned and fired a shot that nearly cleaved off Soloman's lower jaw. Crusey died the next morning. Soloman died six years later of "tuberculosis of the brain" related to the incident. 
© Los Angeles Downtown News 2016