Linda Valentino knew that South Park would be seeing swells of construction when she chose to open her Downtown Dance & Movement studio just off the corner of 12th and Hope streets in 2015. That was kind of the point — getting into the neighborhood before it hit critical mass with residents would pay off in time, Valentino thought.
For two years, Valentino has courted customers from Downtown Los Angeles and beyond, offering a mix of dance and exercise classes but also space for filming, photography and other uses. The reviews have been positive, but Valentino is now facing an unexpected crisis: Her visitors have nowhere to park.
"We get a lot of people that say they love the studio and programs but just can't deal with how hard it is to get here and find parking, especially with conditions being so inconsistent. They don't know what to expect," Valentino said. "I've lost at least $70,000 in daytime bookings from people who set up sessions but backed out."
She's far from alone, as a perfect storm of factors has put a variety of South Park business owners in a bind. Many are particularly frustrated by what they say is a lack of communication between builders, businesses and the city.
A decade ago South Park was filled with surface parking lots. Today, many of them have been snapped up by developers. Not only are they off-limits to vehicles, but construction on the sites means that many surrounding stretches of street parking are dedicated to work crew vehicles, often for months and sometimes longer.
Construction also sometimes requires full street closures for tasks such as concrete pours, and business owners report a lack of communication from contractors about when those are occurring. The city Department of Transportation is not in charge of such notifications and does not offer a coordinated system for residents and businesses to track what activity will occur on any given day.
"South Park is in a transitional period, so until this becomes a thriving neighborhood where more people are walking everywhere, parking remains essential," said Andrea Borgen, owner of the bar and restaurant Barcito at 12th and Grand. "I'm on an awkward corner and my saving grace was that I was surrounded by parking. They're all developments now, which is awesome long-term. The question is, what will we do in the interim?"
Where Did the Parking Go?
The construction boom in South Park includes seven-story apartment buildings, new office spaces and a series of mega-projects along Figueroa Street.
Surface lot closures have pushed office workers and renters who regularly used those lots to the few spaces that remain. This includes the structure at 1111 S. Hope St. and a lot at 1020 S. Hope St.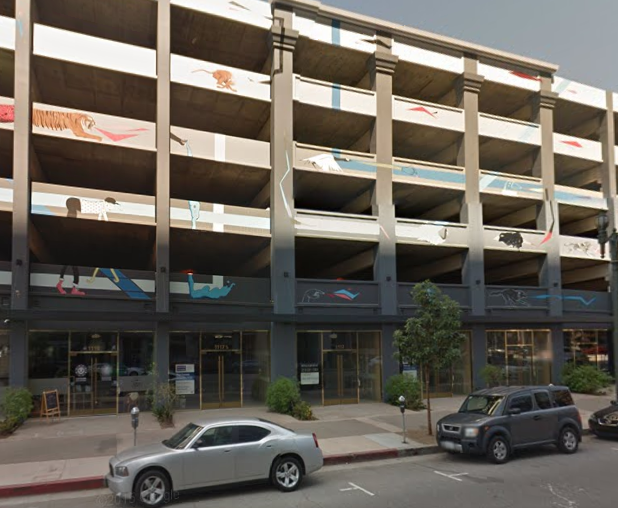 Street parking, too, is disappearing as construction crews block off the curbs along their project sites. Many people are not aware of the practice, but contractors can apply to have parking spaces pulled from public use between 6 a.m. and 6 p.m.; it costs just $17 per posted sign per month (placed every dozen feet or so). These permits can be extended every month for as long as the project requires, according to DOT.
Crews can also pay to remove meters altogether. This can last for the duration of the project. Crews pay flat fees for removal and re-installation of meters: $100 for the first meter, $25 for every meter after that, plus additional fees if the entire post must be removed.
"We've lost a huge majority of parking meters, whether it's between 6 a.m. and 6 p.m. or removed on a permanent basis," Valentino said, rattling off examples along Hope, Olive and 12th streets. "Some of these projects are scheduled to finish in 2019, so it's the long haul."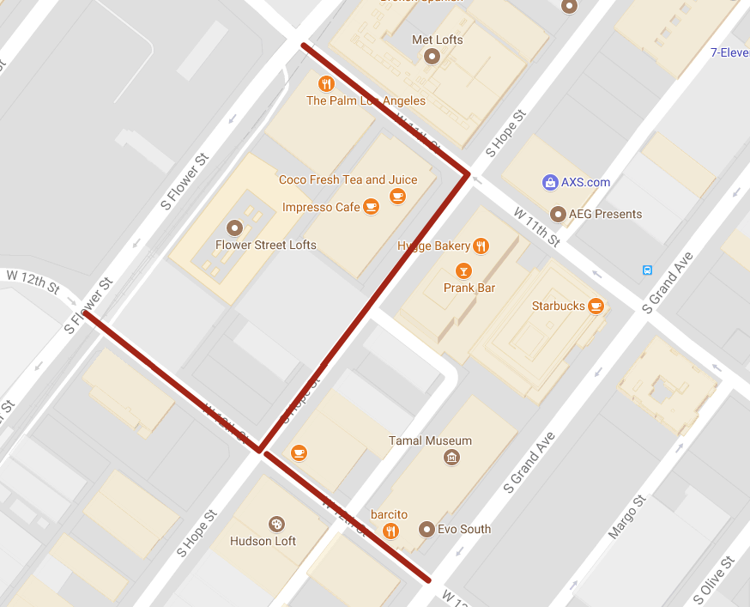 While the DOT keeps records of no-parking permits and closures, the department is not in charge of updating stakeholders about them. Transportation Planner Oliver Hou said the DOT has not received many complaints about a loss of street parking in the past.
"These problems are normally dealt with on a complaint basis, like if a permit is being misused," he said. "This phenomenon is kind of new, as there's been a lot more construction recently."
Another complicating factor for business owners is the city's MyFigueroa project, which will create bicycle corridors between South L.A. and the Financial District. It passes along 11th Street between L.A. Live and Broadway and will add new lanes and transit platforms.
The problem for business owners is that concrete barriers have been up for months, and unexpected utility work has driven up costs and delayed progress, according to the DOT.The city expects to finish construction on the north side of 11th Street by the end of the year, at which point work will switch to the south side and last through spring 2018, according to Hou.
The lasting closure is a blow to motorists andpedestrians, said Corwyn Anthony, general manager of BottleRock on 11th and Hope streets, which directly faces the construction.
"The businesses around here have all been 100% in support of MyFig from the get go, but nothing's changed in months," Anthony remarked. "The way it's been handled, it's just no coordination, no leadership, just absolute missteps. It just blows dirt onto our windows."
Anthony said revenue at BottleRock has fallen 14% this year, which he attributes in large part to overall construction and parking problems. It is even worse for Tony Chou, ownerof CoCo Fresh at 1111 S. Hope St. He said revenue has fallen 50% compared to the same period last year.
"In terms of parking troubles, the clearest way we can tell is that we just get no more USC students whatsoever. They don't bother. There's also fewer people who can park here for games," Chou added.
No Coordination
The business owners are angered not just by the closures, but by what they say is a lack of communication. Barcito's Borgen described the level of outreach from builders over the past two years as "close to none."
Anthony, Valentino and others say they have sought assistance from various city entities, including DOT and the office of 14th District City Councilman José Huizar, but have gotten little help.
Rick Coca, a spokesman for Huizar, said the council office has heard the complaints, and acknowledges the need for a better framework.
The city's online Public Right of Way Reservation System is supposed to help track street closures, but currently does not give real-time updates or details of a closure. The City Council on Nov. 1 passed a motion from Huizar to have city agencies determine how to update the program.
"Downtown Los Angeles needs a sophisticated, comprehensive and fluid system that is accessible to multiple departments and to the public," Coca said. "We need a system that takes all factors into consideration by design. What we have in place now does not work and it needs to be replaced."
DOT is planning on reviewing how it permits temporary no-parking zones and removes meters, according to Hou. That review is expected to begin within the next year, he said.
"We don't want to be giving parking away, because when you equate the fee price to the per-meter revenue, construction companies are getting a very, very good deal," Hou added. "We want to audit whether we're losing revenue unnecessarily and how to balance a loss of parking."
The South Park Business Improvement District has met with business owners to brainstorm potential solutions. The results have been mixed.
While the BID recently created met with FilmLA and the Los Angeles Police Department to create new restrictions on film shoots using street parking, it has been unable to convene a meeting of area contractors.
That remains a possibility in the future, said Ellen Riotto, executive director of the South Park BID. In the meantime, the organization is exploring other options, like asking surface lot owners to potentially negotiate cheaper hourly rates for patrons of nearby businesses.
"Unfortunately, we don't have the capacity to spend five hours a day on this single issue," Riotto said. "These are systemic problems that'll take time. But the health of our small businesses is integral to the draw of South Park on the rest of Downtown and the city."
Whether those businesses can weather the storm remains to be seen.