DTLA—This summer, I traveled to Europe with my family. As we visited Berlin and Paris, I couldn't help but continually compare the cities to and contrast them with Los Angeles. 
There are points in common; all three are buzzing international cities with thriving arts and cultural scenes. Just as Los Angeles is in the midst of a building boom that is changing its urban fabric, Berlin has been transformed since the fall of the Wall three decades ago. Meanwhile, construction was everywhere in Paris as the city preps for the 2024 Summer Olympics, which will precede the 2028 Games in L.A.
President Garcetti's Olympics Opening Speech
I was also struck by how much Los Angeles could learn from these cities, and in certain dramatic ways, how Los Angeles lags so far behind Berlin and Paris. Don't get me wrong or demand "Send him back!" I love L.A., and the portion of the city east of Alvarado has been my home for more than two decades. I have no desire to live anywhere else, including west of Alvarado.
Still, these modern metropolises have L.A. whupped when it comes to a trio of issues that impact daily life. Los Angeles could be a friendlier, more habitable place if it takes cues from what Paris and Berlin have achieved in regards to bicycling, rivers and homelessness.
On Two Wheels
Visit central Berlin and you'll be struck by how many people ride bikes. You'll also be struck by how many people walk around and swig from large bottles of beer, particularly in the late afternoon, but that's a whole other matter.
Many Berlin residents ride their own bike, though there are also rentals, dockless options and racks similar to the Metro Bike Share system. Few people wear a helmet, but that's in part because Berlin has an extensive network of safe biking lanes.
It's not as much of a bike-opolis as The Netherlands, but Berlin has common-sense car-less solutions such as extra-wide sidewalks where half the space is for pedestrians, and half is reserved for those using pedal power. While shared sidewalks are not everywhere, they are extensive and provide an opportunity to safely crisscross much of the city. My family, with a 10- and 12-year-old in tow, did exactly that.
I'd take the family on long bike trips through the heart of Los Angeles, but I'd prefer that we not die. Despite some city leaders' occasional chirps about promoting local biking, L.A. lacks an extended network where cycling lanes are separated from vehicles.
Avid cyclists may be fine with speeding down busy thoroughfares, but I shudder when I think of pedaling the length of the $20 million MyFigueroa project. Yes, some segments contain physical buffers that protect cyclists from cars, but these are interspersed with long stretches with only painted lines on the street and little stencils of a bicycle, and I'm pretty sure that a white stripe won't stop a texting driver from plowing into me.
Creating a network of sidewalk bike lanes is neither easy nor inexpensive. Further, L.A. drivers go ballistic whenever you even hint at removing a vehicular lane, almost as if they believe that having an abundance of car lanes is a Constitutional right. There are countless hurdles to clear.
That said, if cyclists must continue to share the streets with two-ton vehicles, then good luck getting masses of people out of their cars and onto two wheels. If Berlin figured it out, then L.A. should be able to do the same.
A River Runs Through Them
Among the loveliest sights in central Berlin is the Spree, the river that rolls through the heart of the city. Thousands of tourists each day take advantage of the copious short, affordable boat tours or longer floating cruises.
Paris too is filled with companies providing pacific excursions, some passing by sights such as Notre Dame and the Eiffel Tower, and others built around an evening on-boat meal. Even if you never take the tourist-oriented trek, the banks of the Seine and the city's canals practically beg people to sit and linger. During my visit, one evening I saw long lines of small groups of young Parisians hanging out on the concrete edges of the canal for hours, drinking wine, making out with each other and smoking like crazy.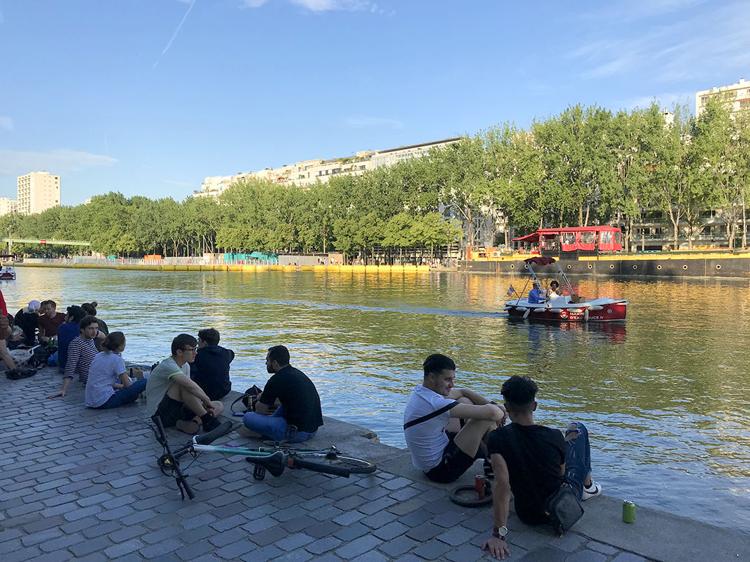 The city builds on the inviting infrastructure with the Paris Plages program. "Plages" means "beaches," and during the summer extended stretches are turned into urban gathering points complete with trucked-in sand, lounge chairs and umbrellas, enclosed swimming spots, free tai chi classes and more public programs.
Los Angeles would achieve wonders if it could capture even 20% of what Paris and Berlin do with their rivers. I'm not the only one who feels that way, and the stalwart group Friends of the Los Angeles River has spent decades trying to convince the public of the value of reclaiming the 51-mile waterway. It's also not as if the city totally ignores the concept — a few years ago L.A. was pushing a $1 billion overhaul of portions of the river. However, it required ample federal funding, and the momentum dried up when Donald Trump was elected President.
As with better biking options, restoring or improving the L.A. River would be mega-complicated and pricey. There are safety concerns, too — after all, the Army Corps of Engineers encased the waterway in concrete decades ago because flooding during winter rains would wipe out neighborhoods. L.A. wound up with an unsightly project that protected a growing metropolis.
Yes, there have been some river improvements, including portions where people can now kayak. But you can't take a leisurely cruise through Downtown Los Angeles like you can through central Berlin or Paris.
I suppose someone could push you in a shopping cart on the concrete portion of the river, and you can fish for carp, but it's not the same thing. And considering everything that gets tossed in the direction of the river, sunbathing on the banks would be less Paris Plage and more L.A. Plague.
On the Home Front
The most striking difference I witnessed between Los Angeles and the European cities concerned homelessness. I didn't see a single trash-strewn tent encampment, or even a single tent, in Berlin. I glimpsed one long line of partially tree-obscured tents in Paris as we rode from the airport to the center of town, but none within the city.
This led to the frustrating realization that in Los Angeles I've become habituated to seeing lines of tents nearly everywhere, and people in rags lying on sidewalks or talking to themselves. I've been conditioned to expect this, and what was truly stunning is that I was truly stunned by not seeing teeming tent encampments in the heart of Berlin and Paris.
Again, Los Angeles Needs a Homelessness CEO
Local leaders have sought to get a handle on homelessness, and between government spending and funds approved by voters, billions are going to the effort. Still, as every Angeleno knows, homelessness is getting worse, not better. More people are suffering than ever before.
The money/difficulty line mentioned above is magnified here, and in addition to NIMBYism, the homelessness situation in Los Angeles has been impacted by court rulings that might flummox Paris and Berlin. Plus, as one longtime Berlin resident I spoke with said when we discussed the topic, "We're a welfare state," with citizens bearing much of the cost. Angelenos would put down their pumpkin-spiced lattes and rebel if taxes rose to the point that local government could adequately care for and house everyone who needs care and housing.
Still, when you see clear streets and sidewalks, there's an argument that whatever is being spent in Berlin and Paris is worth it.
It's possible that reversing homelessness, improving the L.A. River and making biking safer will never happen in L.A. But if two leading European cities can pull off these feats, a great metropolis like Los Angeles should be able to do the same.
Copyright 2019 Los Angeles Downtown News