A few years ago a group of Downtown Los Angeles activists and stakeholders noticed a problem. Despite having a vibrant and inclusive LGBTQ population, Downtown lacked a gathering akin to the pride festivals held annually across the nation in June.
Thus sprouted the DTLA Proud Festival, scheduled for August so as not to conflict with other activities and to give people a respite from June Pride month. Since that first day-long Central City event in 2016, it has blossomed into a three-day celebration of LGBTQ culture in the heart of Downtown.
The slate of performances, artists and more kicks off at Pershing Square on Friday, Aug. 23, with a free all-ages, no alcohol day. It ratchets up on Saturday and Sunday. Tickets are $10 for the weekend.
Festival organizers say that 15,000 people showed up last year, and they are preparing for growth. They anticipate that 20,000 people will flock to Pershing Square over the three days.
Oliver Alpuche, the festival founder and president of the nonprofit behind the event, said that the goal is not only to celebrate and feature performers, but also to support those launching businesses in Downtown.
"We really wanted to make sure that with this festival, yes it's a time to celebrate, but it's also time to support your local community," Alpuche said. "Our stage performances are geared to local artists, and we took a step forward and looked at entrepreneurs and asked, how do we give them a platform?"
That is addressed in a section known as The Marketplace. The festival will close off a portion of Hill Street for a 20-vendor space that focuses on LGBTQ-friendly entrepreneurs.
The Robey Theatre Company Marks Its 25th Anniversary With Pieces From the Past
Participants will include Round2 LA, a clothing store at 605 S. Los Angeles St., as well as Pocket Square Clothing, a boutique men's clothing brand on Seventh Street. Other businesses include one selling CBD products and another that focuses on spiritual healing goods.
The Hill Street space will also hold a food court filled with approximately 16 food trucks.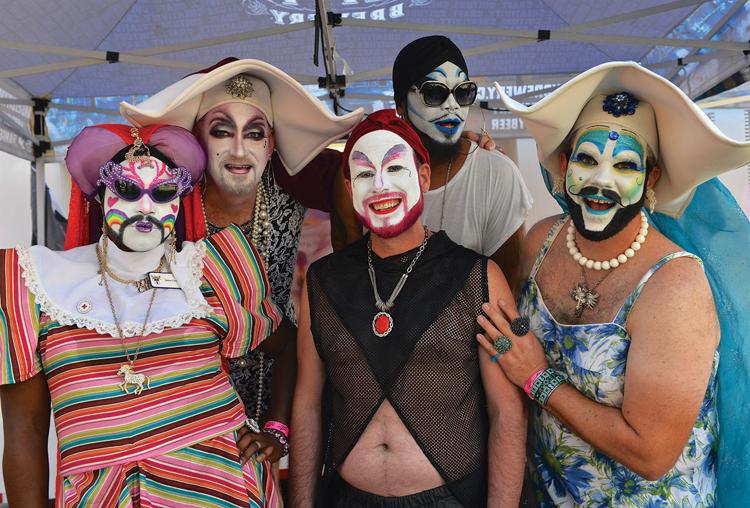 Eric Solis, the festival's co-founder, said organizers made the decision to try to bring together as many facets of the LGBTQ community as possible, whether someone who works in the apparel industry, or someone who operates a food truck.
"We try to bring together an otherwise disjointed and disconnected community into one cohesive experience where our attendees can really get a sense of our community and the scale of our community," Solis said.  
Take the Stage
While the entrepreneurial spirit will draw eyes and dollars, most of the action will be geared toward the festival's main stage. The lineup includes a colorful array of singers, bands, performers and speakers.
Cheer LA, a local adult cheerleading organization, is scheduled to perform, as is Judas Joe Manson, a drag queen who specializes in impersonating Lady Gaga.
Abhora, one of the 10 contestants to compete on the second season of the Canadian show "Boulet Brothers Dragula," is also expected to bring his unique brand to the Pershing Square stage. Expect plenty of horror movie-inspired garb.
Alamo Drafthouse Goes Big at Opening Party
Solis said he is particularly interested in seeing Mrs. Shalae, a Beyoncé impersonator and community activist.
"When she performs, you really think that Beyoncé is on stage," Solis said.
He added that the weekend also marks the return of Mariachi Arcoiris de Los Angeles, the world's first LGBTQ mariachi band. The group has performed at the last two installments of DTLA Proud and always draws an enthusiastic response.
Alpuche said that the performance lineup is deeply diverse.
"It's a full spectrum of talent that represents different aspects of our community," Alpuche said.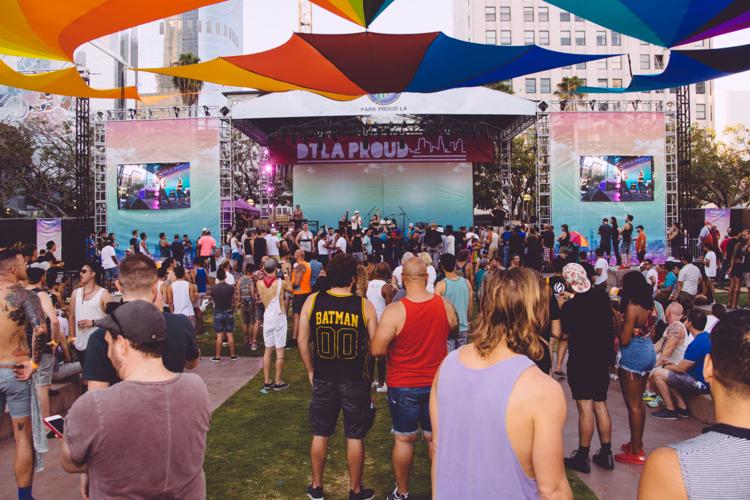 Also returning for the third time is Summertramp, a 20,000-square-foot water park in the southern portion of Pershing Square. Created by DTLA Proud co-founder Andres Rigal, it started as its own standalone event to bring a bit of the beach to Downtown Los Angeles.
The park features a collection of waterslides, pools and water guns that allow people to cool down in the summer heat. DJs provide the soundtrack.
Looking to the Future
While the DTLA Proud organizers are busy getting ready for the big crowds and the weekend's slate of activities, they are also looking to the future. Solis said that the organization's board of directors has begun exploring how DTLA Proud can become a year-round organization.
One avenue the board is exploring is creating a LGBTQ community center in Downtown.
"There is a missing link, especially in the Downtown neighborhood, to have a space that isn't necessarily a bar, nor a festival, where the community can work together," Solis said.
While the center is in the early stage, possible elements include everything from a cafe to providing services for counseling and financial advice. Possibilities under discussion also include a nonprofit incubator, conference room and theater.
To help achieve that goal, Solis said that proceeds from the DTLA Proud festival will go toward the project. The aim is to begin work on it next summer, with potential temporary space in the Fashion District. The idea is eventually to find a permanent home in Downtown.
There's another change that organizers are getting ready for: 2019 will mark the last year that the festival will take place at Pershing Square. Solis said that due to the event's growing size and popularity, in 2020 they may look to move to Grand Park, or another larger venue.
Solis said that the growth is testament to the demand for a celebration like DTLA Proud.
"It is just pure jubilation," Solis said. "You can really see the happiness on everyone's faces, and you can see just how strong, how visible and how proud our community is to celebrate in one space."
DTLA Proud runs Friday-Saturday, Aug. 23-25, at Pershing Square, 532 S. Olive St. or dtlaproud.org.
©Los Angeles Downtown News 2019