DTLA - The upcoming musical film La La Land is one of this year's most hyped productions, with eager talk of Oscar potential for its leads, Ryan Gosling and Emma Stone, and young director Damien Chazelle (Whiplash).
[Get DTLA stories in our daily email newsletter.]
The film follows a washed-up piano player (Gosling) and a bright-eyed actress (Stone) as they pursue their career dreams, reinvigorated by a romance that takes them across the city. In one highlight scene that appears in the trailer, they ride and share a kiss on Angels Flight, the historic funicular that connects Bunker Hill and the Historic Core.
The only problem: Angels Flight has been closed to the public for three years. It's not supposed to be used for film shoots, either.
The California Public Utilities Commission, the state regulatory agency that oversees Angels Flight, confirmed to Los Angeles Downtown News that it has notified the Angels Flight Railway Foundation that usage of the funicular by anyone other than its employees is prohibited. The CPUC was not aware of the La La Land shoot before being contacted by Downtown News, according to a representative.
"The Foundation has assured staff that they understand that no more use of any kind is allowed except for the work to bring the system back in service," a CPUC representative wrote in an email.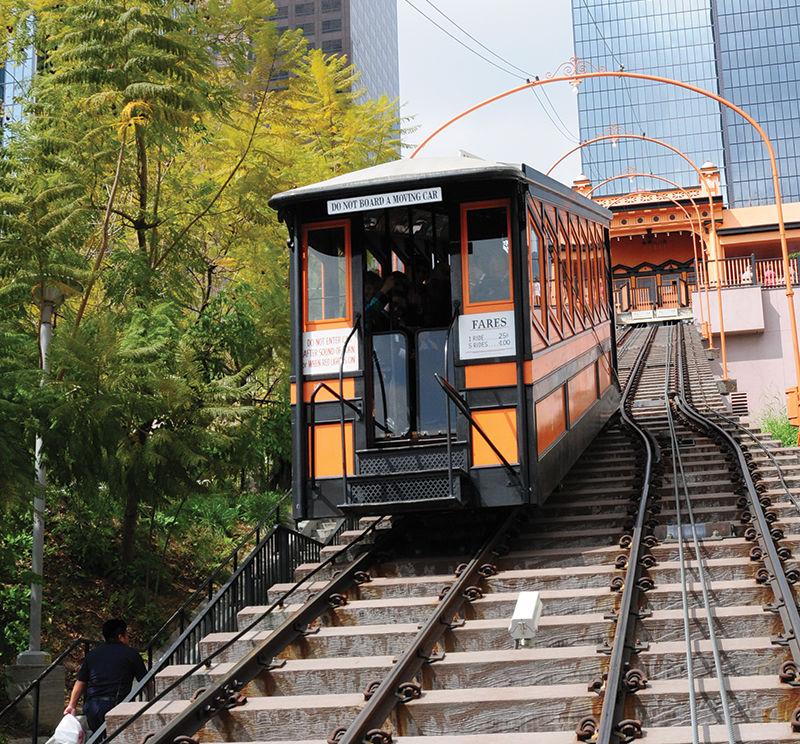 Hal Bastian, president of the AFRF, acknowledged the "reprimand" and said the foundation made a mistake. 
"We knew Angels Flight was not allowed to operate for the public. We did not think it would be an issue with a film crew, because that is not the public," Bastian said in an interview.
It's another speed bump in a rocky history for Angels Flight, which opened in 1901, then was shut down in 1969 as Downtown Los Angeles faded. The former Community Redevelopment Agency brought it back in 1996, but in 2001 it was closed again after a deadly accident that killed an 83-year-old man.
Repairs were made and lawsuits were settled, and it resumed operations in 2010. However, a September 2013 derailment caused it to be shuttered again.
A blistering investigation by regulators found several safety problems, all of which have been addressed save for the trickiest — and most expensive — component: a new evacuation walkway. 
During the 2013 evacuation, emergency crews had to carry riders from the elevated tracks to an adjacent fenced stairway. The CPUC, in conjunction with federal regulators, decreed that a new evacuation walkway was needed to eliminate the risk of people falling from the tracks to the ground below.
The AFRF has been raising money for about a year to pay for the initial design and engineering study for the walkway, which Bastian estimated at $31,000 (the ultimate cost of the walkway is unknown). The foundation also must pay insurance premiums even though the funicular remains closed.
[On Bunker Hill, A Very Strange Land Battle]
"Every month, we have to raise over $5,000 to pay for our public liabilities insurance as well as property insurance. We are required, under our ground lease, to do that," Bastian said. "It has been extraordinarily difficult to raise that on a monthly basis. When the film came to us, it was an opportunity to pay our bills."
Bastian declined to specify how much the foundation was paid for the shoot, noting that it was "several thousands of dollars." Production studio Summit Entertainment did not respond to requests for comment.
La La Land prominently features Downtown buildings and attractions, and Angels Flight was sought specifically for its historic appeal and relation to a long-gone Bunker Hill, director Chazelle told the New York Times.
"It's a somewhat mythical L.A. neighborhood that doesn't really exist anymore the way that it used to," Chazelle told the Times. "A lot of the old structures got razed, and now what you see behind this in the shot is a lot of gleaming high-rises." 
The funicular can be spotted in a lengthy list of films, from the 1920 comedy pic All Jazzed Up to 2011's The Muppets, in a scene in which Jason Segel and company sing the Oscar-winning tune "Man or Muppet." Now, however, AFRF will not take on film shoots, Bastian said.
The foundation is asking Downtown stakeholders and others to donate money for the railway's monthly bills. Bastian did not specify a timetable for when a walkway would be designed or built, or when Angels Flight will reopen.
"There is fatigue in the public, and some think that it will never run again. But I am here to tell you that as the president of this foundation, she will run again," he said. "We thank all supporters who have donated, or are continuing to talk about Angels Flight."
Donations and more information are at angelsflight.org.
Twitter: @eddiekimx
© Los Angeles Downtown News 2016