DOWNTOWN LOS ANGELES - Angels Flight, the historic funicular on Bunker Hill, has been shut down since a September 2013 derailment. 
Get DTLA stories in our daily email newsletter.
A state and federal investigation revealed mechanical, maintenance and human operation errors, which the Angels Flight Railway Foundation, the nonprofit that oversees the funicular, has since addressed. The orange-hued railcars — dubbed Sinai and Olivet — are now functional and can occasionally be seen gliding up and down the steep grade from Hill Street to California Plaza.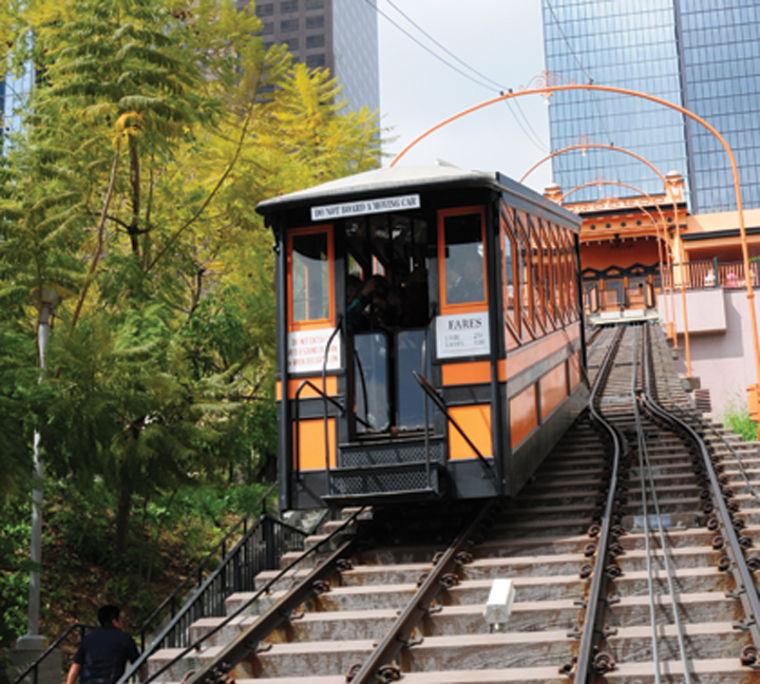 Riders, however, are nowhere to be seen. That's because the California Public Utilities Commission, which regulates railways in the state, will not allow Angels Flight to accept passengers until it builds an evacuation walkway adjacent to the tracks. 
The foundation previously argued that a conventional steel-and-concrete walkway was too costly and unnecessary for safe evacuations. In July, Mayor Eric Garcetti, the chairman of the Metro board of directors, asked the agency to look into what it could do to expedite the negotiations.
The involvement of Metro was cause for optimism, but a staff report completed last month shows that the agency is backing the CPUC's demands. In the report, Metro asks the foundation to "conduct a detailed analysis" on its funding sources, annual costs of staffing and maintenance, and the feasibility of creating a conventional evacuation walkway.
"Metro has pledged to work with the railway foundation and Public Utilities Commission to advise on the best path forward for getting Angels Flight up and running again," Metro said in a statement to Los Angeles Downtown News. "Angels Flight is an L.A. treasure, but it must strictly conform to state and federal safety rules."
After several months of discussions with the CPUC and the National Transportation Safety Board, funicular officials are ditching alternative ideas, such as a collapsible track that could rise during emergencies, and moving forward with an engineering study for a permanent track-adjacent walkway, according to foundation President Hal Bastian. 
"We are hiring engineers to do a preliminary design that we will take to the CPUC to see if it meets their favor. When the CPUC approves the design, we will figure out what it will cost to build," Bastian said. "We're asking for everyone's patience. The foundation knows that Angels Flight will run again."
The foundation is currently raising money to cover the $31,000 cost of the study as well as its annual $50,000 in insurance premiums, which must be paid even when the funicular does not run, Bastian added. It will begin another fundraising campaign once the price for the walkway is calculated. 
Donations and more information are at angelsflight.org.
© Los Angeles Downtown News 2015