DTLA – City Controller Ron Galperin yesterday released an audit that harshly criticizes the Los Angeles Homeless Services Authority's outreach operations, and called for the organization to be more proactive when it comes to helping people on the streets, and to make better use of data.
LAHSA leaders objected to much of Galperin's report, charging that it only explores a small segment of LAHSA's outreach efforts. The authority called the audit "misleading."
[Get DTLA stories in our daily email newsletter.]
According to Galperin's report, titled "Strategy on the Streets," LAHSA — a joint city-county authority responsible for addressing and connecting the homeless population to services — failed to meet seven out of nine goals outlined by the contract between the city and the agency during the 2017-18 fiscal year, and was short on five of nine goals in 2018-19.
According to the audit, in 2018-19 LAHSA was supposed to place 20% of the homeless individuals that it assessed in shelter or bridge housing, but only got to 14%. When it came to permanent housing, LAHSA housed just 4% of individuals, below the 10% required by the contract.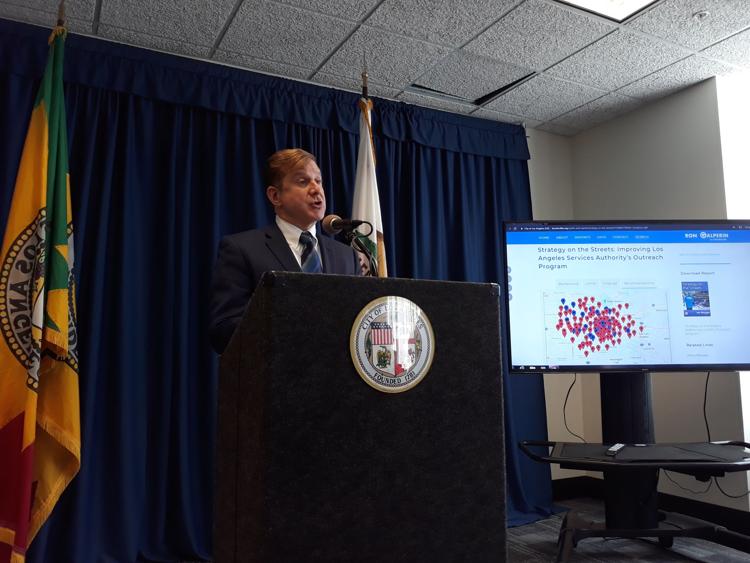 LAHSA fared even worse when it came to mental health and substance abuse, according to the audit. It said that just 6% of people who self-identified a substance abuse disorder obtained treatment, compared to the 25% metric set by the contract. For mental health afflictions, just 4% of the mandated 25% received treatment.
Four Months In, El Pueblo Shelter Draws Mixed Response 
"In the course of my auditor's yearlong look at LAHSA, we found that the outreach efforts in the city of Los Angeles are not where they should be," Galperin said during a press conference at City Hall East. "LAHSA works for the city and needs to achieve measureable goals. It has a contract that requires them…. In most areas, LAHSA failed to even come close to achieving the goals that were set out."
Objections
Representatives for LAHSA protested portions of the audit. Heidi Marston, director of operations for LAHSA, said that the report was misleading, and fails to account for changes that the authority has undertaken in data operations and service frameworks.
Several hours after Galperin released "Strategy on the Streets," LAHSA Executive Director Peter Lynn responded by agreeing with some elements, including the need for outreach workers to be proactive, rather than respond to complaints about homelessness.
However, Lynn had harsh words for the bulk of the audit.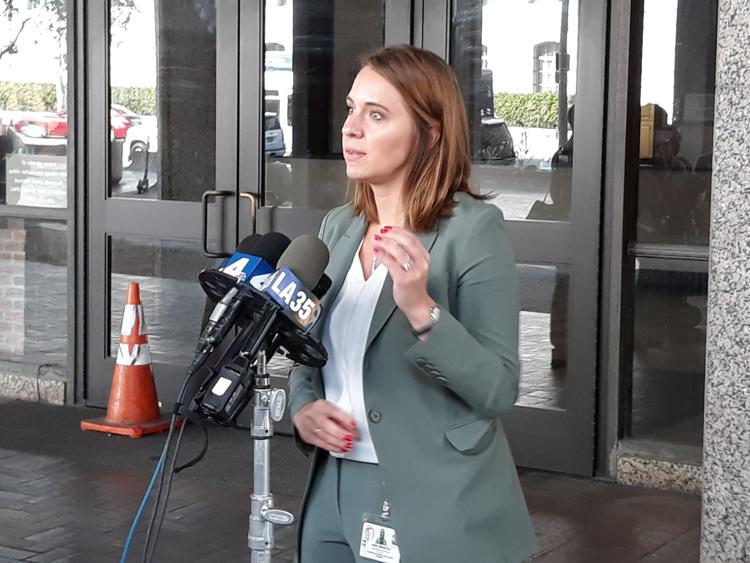 "Unfortunately, this report is misleading," Lynn said in a prepared statement. "It ultimately says nothing about LAHSA's outreach efforts, which contacted record numbers of our homeless neighbors in the year it studied. Instead, it notes that certain metrics were ill-suited to evaluating that work, while ignoring measures that show effectiveness. The work today proceeds with better data collection and metrics, but the Controller's report misleads the public if they get the impression that LAHSA's work has been less than effective."
Regarding the housing goals, Marston said that the city and county have lagged on building shelter and permanent housing, which impacts the services the authority is able to administer. She also objected to the criticism of LAHSA's mental health and substance abuse outreach, saying that federal privacy laws prevent accurately reporting substance abuse and mental health data.
Downtown Women's Center Opens 25-bed Emergency Shelter on Skid Row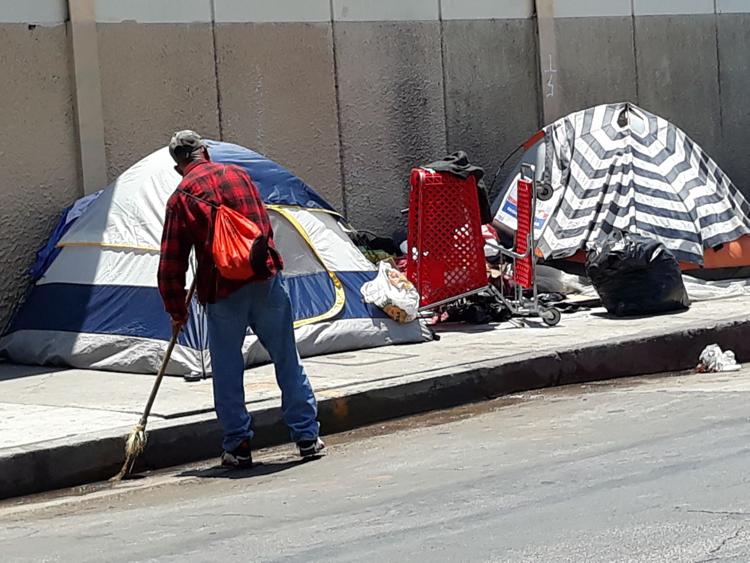 LAHSA said that the report highlights just one outreach contract with Los Angeles representing $3.5 million, or 6%, of LAHSA's total outreach allocation.
The report comes as Los Angeles is in the grips of a homelessness crisis. The LAHSA Homeless Count released in June found that homelessness in the county rose 12% in 2019 to nearly 59,000 people. In the city, the increase was 16%, to 36,135 people.
Skid Row Homelessness and a New Sense of Urgency 
There have been many serious repercussions. Last year, according to statistics provided by the Controller's office, 918 homeless people died on the streets of Los Angeles.
The audit found shortcomings with LAHSA's data collection processes, and also characterized the authority's outreach strategy as largely limited and "reactive." According to the report, nearly 67% of the LAHSA's outreach time is tied to encampment cleanups conducted by the Bureau of Sanitation.
Galperin also found issue with LAHSA's claim that 21,000 people were placed in housing in 2018. According to the report, that number includes repeated placements for some individuals or families.
Number of Homeless People Living on Skid Row Spikes by 11% 
The audit also placed a target on the city's goals in addressing homelessness, saying some are unclear, or in certain cases contradict County goals.
"This poses a problem for LAHSA, but also for the City in terms of how the City is going to enforce its own contract," Galperin said.
Galperin suggested improving transparency and accountability by enhancing geo-mapping of street outreach activities and creating a management system called "HomeSTAT." Similar to the CompSTAT system used by police agencies across the United States, including the LAPD, HomeSTAT would use data to organize and prioritize outreach.
LAHSA called the HomeSTAT recommendations redundant. The authority said a similar system is already in place at the Unified Homelessness Response Center, which operates out of the Emergency Operations Center in Downtown on Temple Street.
Skid Row Faces Record Number of Homeless Children 
Alex Comisar, a spokesman for Mayor Eric Garcetti, said the mayor will review the recommendations in Galperin's report.
"If we're going to solve this crisis, we need ideas and input from all of our leaders, and we should always be wiling to put our strategies under a microscope," Comisar said. "The Mayor appreciates the Controller's work, and will review the recommendations in this report."
©Los Angeles Downtown News 2019