DOWNTOWN LOS ANGELES - Historic Core apartment king Barry Shy turned heads in 2010 when, in the lobby of his latest property, he commissioned a mural that depicts the Downtown skyline with African lions perched atop each of his buildings.
If all goes according to Shy's plans for the next few years, he's going to have to call back his muralist to add four more lions.
Shy, whose most recent project was the SB Tower that opened in 2010, is working on plans for four separate residential projects on which he expects to break ground within 12 months. 
He plans to build the four buildings — three would be ground-up projects; one is a proposed adaptive reuse conversion of an existing building — all at the same time.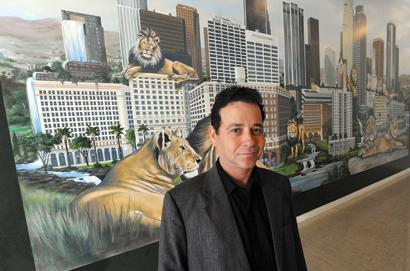 Rather than tackle the proposed developments one-by-one, Shy said he'll save money by building all four projects, which comprise 1,150 units, at once because he can use the same contractors. He estimates that it will take eight to 12 months to finalize plans and secure permits for each project. 
With about 1,200 units in his current Downtown portfolio, Shy is already among the largest landlords in the Central City. Specifically in the Historic Core, he owns more housing product than any other landlord, by a wide margin.
One of his four planned projects, SB Omega, would be a 40-story, 500-unit tower on what is currently a parking lot on the southwest corner of Sixth and Main streets. 
The other three projects, however, are located a bit beyond Shy's normal Historic Core stomping grounds. 
He bought a 12-story building at 939 S. Broadway, just south of the United Artists Theatre, which is being turned into an Ace Hotel. Shy plans to convert the current garment-maker building into 150 apartments.
Immediately to the south, Shy also bought the adjacent parking lot at Broadway and Olympic Boulevard. There, he plans to build 250 units in a new building that will rise to about 13 stories along Broadway and about 20 stories along Olympic Boulevard. Then, at 916 S. Hill St., which is currently a parking lot, Shy plans to build another 250 units in a 20- or 21-story tower. 
Shy said he paid $30 million collectively for the two Broadway properties and the Hill Street site. The big purchase, he said, was motivated by the need to defer tax liability on the gains from selling a senior living facility outside of Downtown (the federal tax code allows real estate investors to defer tax payments on capital gains if the profits are re-invested in another real estate asset).
Gentler Lion
The Israel-born Shy, 49, has been a controversial figure in Downtown, mostly because he has often found himself embroiled in legal battles related to his local business deals.
He has tangled in court with tenants and former business partners and has earned a reputation for litigiousness. 
Moving forward, Shy said he's become less inclined to settle disagreements in court. In years past Shy said he would fight tenants over claims large and small. He was motivated by principles more than money, he said, and whatever it took to win, he'd do it. Now?
"It's not worth the headache anymore," he said.
With a major workload on the horizon, Shy believes he's on to Downtown's next hottest mini-market — the area between the Historic Core and South Park.
Measured by recent investment, the general area bound by Olympic Boulevard and Eighth Street, from Broadway to Figueroa Street, it's tough to argue with that bet.
Shy's two Broadway properties will add to a rapidly changing corner. They neighbor the under-construction Ace Hotel, and are across the street from Geoff Palmer's proposed two-building 686-unit project.
Shy's Hill Street site is a block from Canadian developer Onni Group's 32-story tower that is under construction at Ninth and Olive streets, and another block from Hanover Company's under construction 284-unit project at Olympic Boulevard and Hill Street.
Then there's Carmel Partner's 700-unit complex under construction at Eighth Street and Grand Avenue.
Property owner Steve Needleman, who through his company Anjac Fashion Co. controls several sites in the area, and who sold the Broadway building and Hill Street parking lot to Shy, said the area became a target for two key reasons. One, it was already home to some high-profile investments in the Ace Hotel and the proposed Street Car, which would run down Broadway and up Hill Street. The second, and perhaps more important factor, he said, is land. The area has lots of parking lots, at least for now.
Needleman, who said he was entertaining multiple offers for the two-parcel package, said he wanted to sell to Shy because of the developer's track record of completing projects. 
"When it came down to the different buyers, I had the confidence in him because I knew that he was going to finish the project," Needleman said. "Barry has made it happen and you can't take away from the impact he's made on a residential level Downtown."
The exact timeline for Shy's four projects are uncertain, but he expects to secure approvals for them within eight months to one year. Residential projects of their proposed size generally take about 18 to 24 months to build.
Contact Ryan Vaillancourt at ryan@downtownnews.
©Los Angeles Downtown News.