DTLA - Bicyclists rejoice. Downtown Los Angeles is showing some serious love to the two-wheeled set this week.
[Get DTLA stories in our daily email newsletter.]
On Sunday, Sept. 30, Downtown will be an anchor for one of the biggest ever installments of CicLAvia, the community happening in which streets are closed to vehicles, and pedestrians and people on two wheels take over. That event happens to take place on the final day of a lower-profile gathering that celebrates community bicycle projects and advocacy.
The Bike! Bike! Conference runs from Thursday-Sunday, Sept. 27-30. Centered at Los Angeles State Historic Park, it provides an opportunity for bike owners, bicycle shops and bike groups to come together and workshop new ideas and methods to advocate for urban bicyclists.
The conference is completely organized by volunteers. Areli Morales, a co-planner of the conference, said participants will be able to discuss unique problems with Los Angeles' bike infrastructure.
"We'd like to open the dialogue and conversation with other bike co-ops in other cities on how they solve their problems in their communities," Morales said. 
An estimated 200 people from around the country are expected to attend, and dozens will set up tents and sleep in the park. Workshops are scheduled throughout the day, as are events such as a group street painting and a karaoke contest.
The conference will also feature live music spun by local DJs, group rides throughout the weekend and a "bike-in" movie night on Saturday at the Los Angeles Eco-Village (at 117 Bimini Place in Koreatown). Rad!, a film about BMX racing, and Pee Wee's Big Adventure will be screened.
Los Angeles River State Park Partners, a group created last year to advocate for safe access to parks along the Los Angeles River, is helping organize Bike! Bike! events at different parks. Jon Christensen, a board member of the group, said it makes sense to be involved.
"Los Angeles is a bicycling city and is becoming more of a bicycling city every day," Christensen said. "But we still have really big challenges to safe bicycle access to our parks down by the river."
The Park Partners' plans to release a short report featuring maps that detail pedestrian and bicycle access issues at the various parks during the conference. 
Musical Wheels
While the Bike! Bike! Conference is for avid bike advocates, CicLAvia is aimed at a wider audience. For the first time, that also means all variety of music fans, including classical aficionados.
The Los Angeles Philharmonic is turning 100 this year, and is kicking off the celebration by partnering with the nonprofit CicLAvia.
Starting at 9 a.m. on Sunday, eight miles of city streets connecting Walt Disney Concert Hall and the Hollywood Bowl (the Phil's traditional and summer performing homes) will be shut down to motorized vehicles. In Downtown, Grand Avenue down to Wilshire Boulevard will be closed. CicLAvia runs until 4 p.m.
Meghan Martineau, vice president of artistic planning for the Phil, said that the organization started preparing for the centennial two years ago andcould have thrown a self-congratulatory party, but instead opted to pursue an event that engages the city.
"We really want to take the time to support the entire city that nurtured and supported us and really helped guide us that entire 100 years," Martineau said.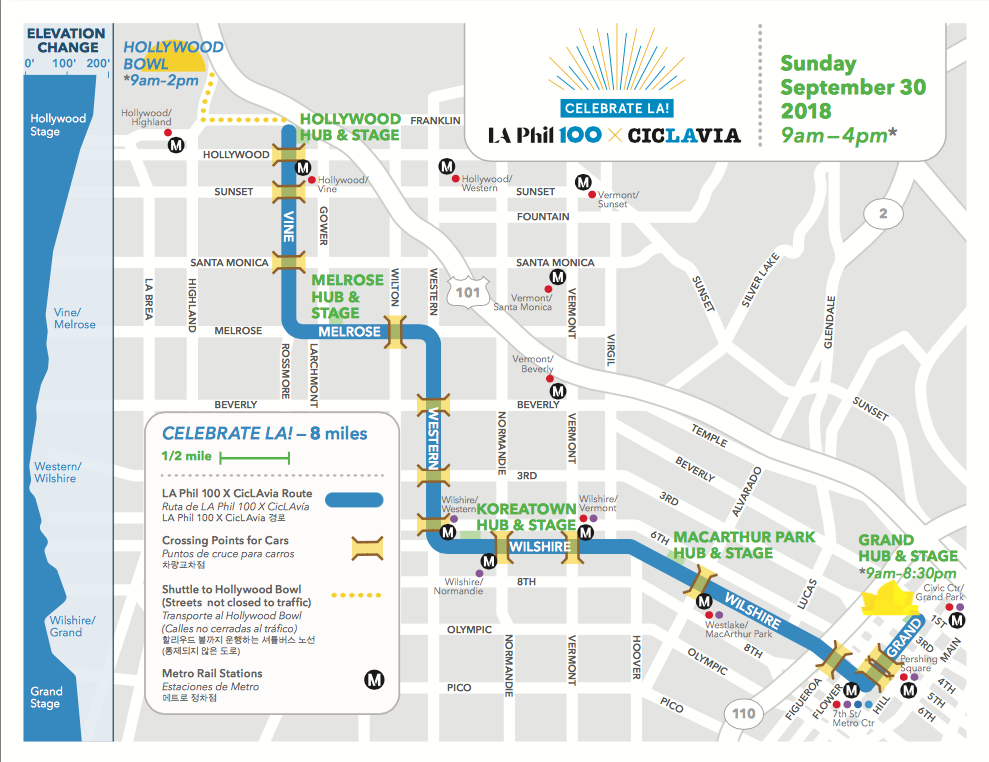 CicLAvia events take place a couple times each year, and in addition to getting pedestrians, skateboarders, cyclists and families pushing strollers on the streets, there are usually several hubs along the route with entertainment zones.
That is being amped up for the 27th CicLAvia. There will be six activity hubs, with performance stages, art installations, family-friendly events and more.
The highlight will be the more than 40 music and performing groups that represent the city's diverse scenes and sounds. Participants include Latin/funk/rock/party band Ozomatli, the big drums of the Taiko Project, dancers from Diavolo, Jewish-themed Klezmer Juice, and even the USC Marching Band.
"It really offers a unique opportunity to celebrate Los Angeles history," said Romel Pascual, CicLAvia's executive director. "But also celebrate its future."
CicLAvia specializes in organizing free outdoor events that instill a sense of community. Pascual said that by carving the routes through city streets, it becomes apparent just how connected different neighborhoods and communities are.
"Given a short six- to eight-mile route, you are connecting multiple communities," Pascual said "In a car, that would take hours."
The route begins at Disney Hall, where performers include the Los Angeles Philharmonic Brass, the Calder Quartet and a DJ set from DaM-FunK.
The other terminus is the Hollywood Bowl. That will also be the site of a free 7 p.m. L.A. Phil performance featuring Herbie Hancock, Katy Perry and other artists. Online registration for the event was closed at press time.
Other entertainment hubs include Levitt Pavilion at MacArthur Park, Liberty Park in Koreatown, Melrose Avenue at Windsor Boulevard, and Vine Street in Hollywood. In total, more than 1,800 performers are scheduled to participate during the day.
Martineau said it is a major undertaking, but a fitting one considering the milestone.
"A lot of this has been us dreaming big and going out asking people to come celebrate with us," Martineau said.
Pascual said that the route takes about half an hour by bike if traveling at a leisurely pace, but he expects people to go slower. After all, there are booths to visit and performances to watch on this Sunday bike ride.
CicLAvia is Sunday, Sept. 30, 9, a.m.-4 p.m., ciclavia.org. The Bike! Bike! Conference is Sept. 27-30 at various locations, bikebike.org.
© Los Angeles Downtown News 2018