Major changes are being discussed for the DASH bus system, the short-distance shuttle service that operates in individual neighborhoods and complements mass transit on bus and rail. Chief among the proposals is a vast expansion of routes in Downtown Los Angeles in response to the community's exploding residential base.
    [Get DTLA stories in our daily email newsletter.]
    The current proposals follow a transit analysis that the Los Angeles Department of Transportation, which operates the DASH system, began in 2014. If everything works out as planned, Downtowners could expect to see certain shifts in service times by this summer, and bigger changes to routes by 2019.
    "LADOT Transit conducts community needs assessments every five years to understand where our service is most useful and complementary within the existing transportation network," said Corinne Ralph, chief of LADOT Transit.
    In Downtown, the expansion would add more evening and weekend DASH buses, including to neighborhoods such as the Arts District where there is a paucity of service. Additionally, daytime service would increase to every 15 minutes on most routes.
    According to maps posted on the LADOT website, there would be one new Downtown route (Route C; one of 10 new routes citywide) and five current Downtown routes would be altered. The main elements are:
  Downtown Route A: The route currently runs in a loop around Little Tokyo, with a main spine on First Street, then moves down Flower Street, jogs into City West and returns up Figueroa Street. The alteration mostly eliminates the path west of the 110 Freeway and instead loops down to L.A. Live. The route would also receive Saturday and Sunday service and longer weekday hours.
  Route B: The route now connects the Financial District with Hill Street in Chinatown. It would be vastly extended, going from Pico Boulevard and the L.A. Live area up through the Financial District, serving main corridors in Chinatown and then running to neighborhoods east of the 5 Freeway. It would include weekend service and extended weekday hours.
  Route C: LADOT recommends a new route that would operate similar to the former Route A. It would connect Little Tokyo with the Financial District and City West, primarily using First, Flower and Figueroa streets. The City West jog would utilize Seventh Street and Wilshire Boulevard. It would operate on weekdays; no weekend service is recommended.
  Route D: The route that runs from Union Station and proceeds on Temple Street before going through the Historic Core and South Park, and then down past California Hospital Medical Center and Los Angeles Trade Technical College, would stay mostly similar, though its southern portion would operate on Broadway rather than Grand Avenue. Weekend and extended weekday hours would be added.
  Route E: A route that connects City West with the Seventh Street corridor and the Fashion District, and the area around Washington Boulevard and San Pedro Street, would also be relatively similar, though the western terminus would run toward MacArthur Park. Hours would be extended throughout the week.
  Route F: This route would see more of an expansion than a change. Currently it ferries riders between the University of Southern California and the Financial District via Figueroa Street. Under the new proposal, once it gets to South Park it would head east, pass along Ninth Street, move up to Seventh Street, then proceed all the way through the Arts District on Mateo Street, ultimately going to Cesar Chavez Avenue. There would be extended weekday and weekend hours.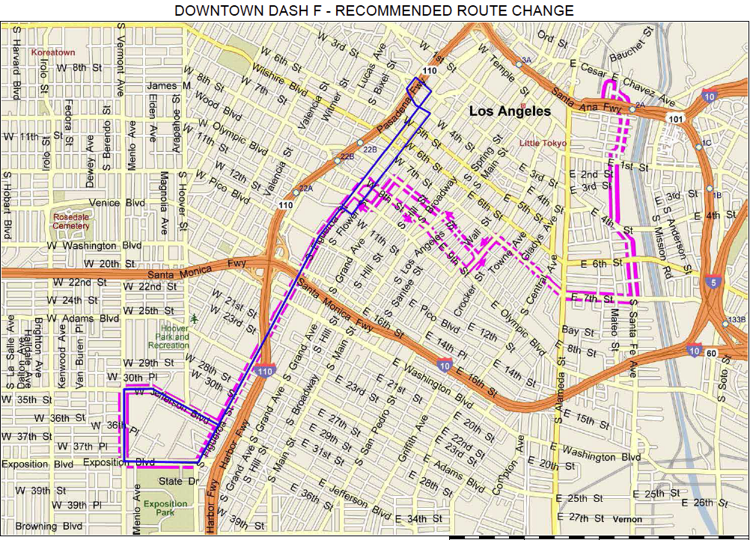 Neighborhood Rides
The DASH bus system was founded in 1985 to fill gaps left by longer commuter services, such as Metro's train and bus system. It runs shorter loops in Downtown and 27 other neighborhoods, and rides are 50 cents (25 cents for seniors), with the purpose of making it easy for people who need to run errands and make quick trips.
    The system has not had a major route overhaul in Downtown since 2010, the year of its last transit service analysis. Since then, the community has expanded significantly. That prompted LADOT to begin a new survey, which involved gathering comments from thousands of riders and holding town hall discussions in numerous neighborhoods. The general consensus, according to Oliver Hou, a transportation engineer with LADOT, was that riders wanted more — more bus routes, more buses on the road and longer hours of operation.
     But more routes means higher costs.
     The city currently allocates a total of $71.8 million for DASH services through Proposition A funds, which provide for local transportation costs. Implementing the changes would require the purchase of 96 additional buses to augment the 206 vehicles currently in the DASH fleet. According to the LADOT, each bus would cost $750,000-$850,000. According to LADOT reports, it would take 12-18 months to purchase and receive the buses from a manufacturer.
Big Expansion Planned for Bike Share
    The proposed route shifts are drawing applause from Downtown stakeholders. Ellen Riotto, executive director of the South Park Business Improvement District, said area residents spoke out frequently during the town hall portion of the analysis, calling for more service.
    "We pushed for expanded routes and hours," she said. "We've been working very hard to bring this to the forefront of LADOT's mind as they consider how to improve that service."
    Miguel Vargas, executive director of the Arts District BID, said that the proposed changes would be a welcome addition to a neighborhood that is increasingly becoming an attraction for residents and businesses, including Warner Music Group, which is slated to open in the Ford Factory Building on Seventh Street in the fall.
    "Without a doubt this is going to create more avenues to get to and from the Arts District," Vargas said. "People are going to take advantage of it."
    The proposed DASH expansion comes as other major transportation projects are underway in Downtown. The Regional Connector will create three new Downtown stations and streamline rail travel across the region. Metro's West Santa Ana Branch line, scheduled to break ground in 2022, would hold multiple Downtown stops, including potentially one in the Arts District.
    Fourteenth District City Councilman José Huizar, who has called for more transportation service in the Arts District, while also proposing a Broadway streetcar, expressed enthusiasm for the proposed DASH changes.
    "Increasing public transit service is key to ensuring that we have a vibrant, accessible and walkable Downtown Los Angeles," Huizar said in an emailed statement to Downtown News. "Combined with the Streetcar's alignment, the new routes will improve access to neighborhoods such as the Arts District, South Park and the Fashion District. Additionally, the proposal to extend service on nights and weekends will dramatically improve access to all of Downtown for residents, visitors and our workforce."
    Ellen Endo, president of the Little Tokyo BID, honed in on the possibility of increased weekend availability. She noted that seven-day service would benefit a district that has ballooned from 1,500 residents 10 years ago to 6,000 currently.
    "It's something that I think will improve the general economy and allow people to experience Little Tokyo who might not have had the opportunity otherwise."
    City Ride, the LADOT run, on-demand shuttle service for the elderly and disabled, would also see some expansions in service.
    What happens next is still to be determined. The City Administrative Office is currently preparing a funding study for the proposed changes. According to a representative of the office, that is expected to be complete by August. Ultimately the shifts would need to be approved by the City Council and the mayor.
© Los Angeles Downtown News 2018