On March 8, Los Angeles Police Department officers responded to a report of a stolen bicycle in the 1100 block of South Santee Street in the Fashion District.
[Get DTLA stories in our daily email newsletter.]
When police arrived in the bustling neighborhood they noticed three cannabis dispensaries. Two were operating in one building. The third was across the street.
After checking with local and state officials, police determined that the businesses did not have licenses to sell recreational marijuana either from the state's Bureau of Cannabis Control or the city's Department of Cannabis Regulation. Officers returned with warrants that afternoon and searched the businesses.
According to Lt. Andy Mathes, who is in charge of the LAPD Central Gang and Narcotics Unit that executed the search warrants, the action resulted in the seizure of almost 1,000 pounds of marijuana, approximately $46,000 in cash, a small amount of cocaine and 10 guns, only three of which had legitimate serial numbers. One business also had a grow room filled to the ceiling with marijuana plants. By law, shops selling marijuana cannot operate a grow room on site.
In total, three people were arrested for owning and operating an unlicensed cannabis dispensary. Another 15 misdemeanor citations for working at an unlicensed cannabis business were issued.
The bust was a significant get for the LAPD's Central Division — on March 9, Commander Timothy Harrelson tweeted images of the grow room and the cash and weapons that were seized — but whether it will have any long-term impact is in question. Four days later, when a reporter visited the site, all three businesses were open, and there were no signs of police activity.
Mathes said that is a common occurrence.
"Generally speaking, a lot of these illegal shops are closed for a couple of days, and they just pop back up again," Mathes said during an interview with Los Angeles Downtown News. "Sometimes next door or even in the same building."
For Downtown Pot Shops, Legalizing It Isn't So Simple
 Dodging the Law
Cities across California have struggled to get a handle on marijuana sales at a time of changing laws. Unlicensed and unpermitted sellers have long been an issue in Downtown Los Angeles. In 2014, Downtown News reported that more than 30 businesses were selling marijuana in the Central City, though only six appeared to have met the then-criteria for legal medicinal marijuana sales.
In 2016, California voters approved Proposition 64, which legalized recreational use of marijuana throughout the state. The proposition required businesses that sell or otherwise deal with marijuana to acquire a license from the Bureau of Cannabis Control, along with approval from a local agency.
In March 2017, Los Angeles voters passed Measure M, which created the city's regulatory system for recreational sales. A few months later the city created the Department of Cannabis Regulation to administer and process all commercial cannabis licenses. Cat Packer, a former coordinator with the nonprofit Drug Policy Alliance, was tapped as executive director.
The rollout has been slower than some people hoped, and while many businesses are securing permits and paying taxes, scores continue to operate illegally, whether because they are waiting for permits, or are un-phased by possible punishments.
During a January event at the L.A. Grand Hotel, Packer said that for every legal operation in the city, there are about seven unlicensed businesses.
The Department of Cannabis Regulation keeps a list of permitted cannabis businesses in Los Angeles — currently recreational sales are allowed at approximately 180 locations. According to the map, there are just 10 authorized businesses within the core of Downtown.
Ridley-Thomas Warns of Unexpected Side of Legal Pot Sales 
Yet people who live and work in the area have no shortage of places to buy. Weedmaps, an online directory of marijuana dispensaries, shows 26 storefronts in Downtown Los Angeles.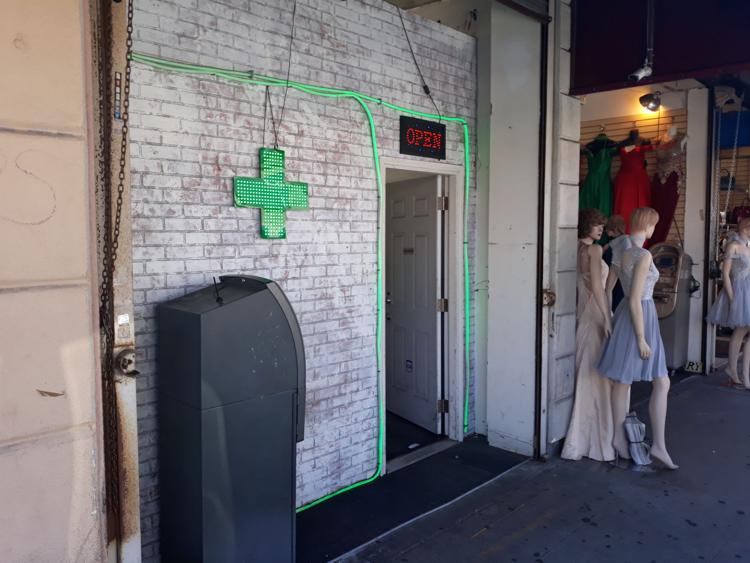 Rena Masten Leddy, executive director of the Fashion District Business Improvement District, said that her staff counted 19 cannabis businesses in the district in February. Some of the storefronts appear on Weedmaps; others do not.
None of the businesses on the Fashion District's list were found on the city's map of compliant businesses.
Ramping Up Efforts
Mathes' team has conducted raids on illegal businesses across Downtown. He said that enforcement of the city's cannabis policy has become a priority for the Narcotics and Gang unit.
"It's part of the overall strategy," Mathes said. "Some of these business, the licensed ones that are vetted by the state, theydon't have a lot of the other issues that these small shops have."
The city has also taken steps to combat unpermitted businesses. Last September, City Attorney Mike Feuer's office began its second wave of crackdowns on illegal cannabis businesses, shutting down 105 locations. Most were stores, while others were grow sites and delivery services. In total, 202 cases have been brought against 820 defendants since enforcement ramped up in 2018.
The office has been busy this year. According to Rob Wilcox, director of community engagement and outreach for Feuer's office, in the six-week period since Feb. 20, 87 locations have been shut down.
But that doesn't mean businesses stay shut. As happened with the Fashion District dispensaries, closed businesses often quickly reopen, whether in the same space or nearby. It's a scenario that has been compared to an endless game of whack-a-mole.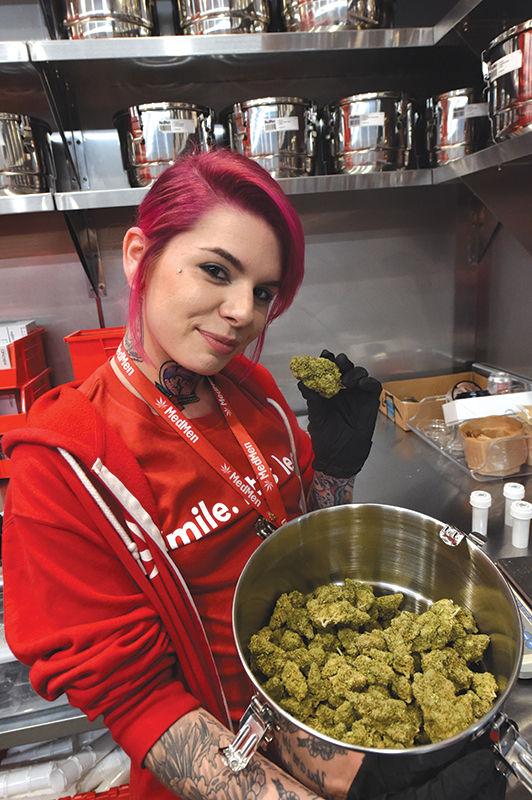 Adam Spiker, executive director of the Southern California Coalition, a cannabis trade group, said the situation hampers those trying to play by the rules. He said owners of illegal and unpermitted businesses understand the process and have devised techniques to skirt the law.
According to Measure M, operators of illicit businesses, as well as landlords who rent space to them, can face civil action with fines of up to $20,000 per day, though the tool is rarely used. When it comes to criminal prosecution, business owners and employees who are convicted of illegal sales face only a potential sentence of six months in jail and up to $1,000 in fines.
This, said Spiker, amounts to a gap in enforcement and makes it easy for illegal businesses to keep operating even after criminal charges have been filed.
"I know of no other industry that is licensed that has this type of unfair competitive disadvantage," Spiker said. "Any other legal industry, if there is some sort of illegal actively, it is shut down."
He added, "Right now, the illegal storefronts know that they can't get more than a slap on the wrist if they get caught. So it's pretty much a line item and a cost of doing business."
The issue has caught the attention of Mayor Eric Garcetti. Last week, according to published reports, he acknowledged the challenge of businesses that close and quickly reopen, and mentioned the possibility of dedicating city funds to crack down on illicit operators.
The city is seeking new approaches. On March 11, the City Council approved an ordinance to authorize the Department of Water and Power to shut off utilities to buildings that house unlicensed or illegal cannabis activities. In a prepared statement, Councilwoman Nury Martinez, who co-authored the legislation, said that, among other challenges, it is a community safety issue.
"For years I have made the case that businesses who flout the rule of law must not be allowed to take advantage of taxpayer funded resources," she said. "Moreover, it is unfair to the operations of properly licensed businesses who are playing by the rules."
The ordinance went into effect on March 12.
Spiker said that the ordinance is a start, but questioned its potential impact. After all, he noted that unlicensed marijuana sellers who have their power shut off could just fire up a generator and keep going.