One of the most anticipated projects in Downtown Los Angeles is ready to open, four years later than originally planned. On Friday, July 19, the Alamo Drafthouse in The Bloc will start screening movies.
[Get DTLA stories in our daily email newsletter.]
The two-story space at 700 W. Seventh St. holds 12 movie theaters with a total of 569 seats on the upper floor, and the complex will screen the boutique's chain's traditional mix of blockbusters, independent films, documentaries and themed offerings. A downstairs level will hold a bar, store and gaming arcade.
It's the first Alamo Drafthouse in Los Angeles, and while guests can order food and drink without leaving their seat, the venue will also maintain the chain's strict zero-tolerance policy against talking and texting while a movie plays.
Opening films include The Lion King, Midsommar and Spike Lee's 1989 film Do the Right Thing.
The debut marks the culmination of a long-planned and long-delayed project. The Austin, Texas-based Alamo announced the Downtown location in 2014, with initial plans for a 2015 opening. That was repeatedly pushed back.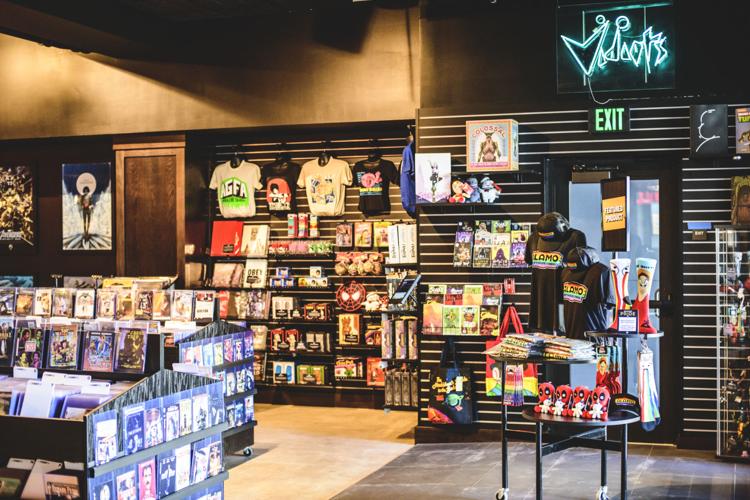 The delay stemmed from a mix of a change in plans and wider construction delays at The Bloc, Alamo Drafthouse founder and CEO Tim League told Los Angeles Downtown News at a media tour of the complex this week.
"The initial delays were in part because in mid-stride we redesigned it. That cost us a lot of time. That's on our end," League said. "And then just construction takes a lot longer."
The 12 theaters hold between 40 and 63 people. General admission tickets are $17-$18.
Four Under-the-Radar Exhibits in Downtown
In addition to its selection of films, the cinema chain's claim to fame is its large menu of food and drinks delivered straight to customers. People sit at reclining seats, which have a small table, menu, notecards and pens. Guests can start a tab before each film starts. Servers bring the food while the lights are down, moving quickly and not talking to audience members.
Alamo launched in 1997 and there are now 40 locations. The chain maintains a decidedly non-corporate approach, with often profane videos warning people about the no-talking and texting rule.
The upstairs section alone employs 160 people, according to Drafthouse Los Angeles General Manager Leslie Newell.
Guests enter via an elevator or staircase from the courtyard at The Bloc off Seventh Street. The downstairs bar offers 48 beers on tap, from popular breweries to local Downtown spots such as the Arts District Brewing Co. and Mumford Brewing. There is also a full cocktail menu (customers order off a selection printed on VHS cases). Food, with options such as chilaquiles and truffle parmesan popcorn, can be ordered downstairs as well.
A downstairs spot dubbed the "Video Vortex" offers a large selection of DVDs. People who sign up can borrow two movies at a time for free.
The Downtown Alamo Drafthouse will have themed nights built around horror or just "weird" movies, according to Rachel Walker, the head of creative and programming for the Downtown outpost. Plans also call for food and drink specials tied to certain releases, as well as trivia and game nights.
The staff expects that, given the location, it will host studio screenings and premieres.
"We're able to do a bunch of premieres and events in Austin, but that takes a lot of difficult travel," League said. "Here it's just car service. I'd be surprised if there aren't a lot of events here."
The theaters open for members of Alamo's loyalty program on Friday, while the general public can start seeing movies on Saturday.