DTLA - The residential revolution of the last 15 years has brought more than just humans to Downtown Los Angeles. It has also brought resident pets.
Get DTLA stories in our daily email newsletter.
In the early years of the housing boom, dogs were often cited as an important community-building tool, and the Dog Day Afternoon event was founded on the idea that people who might never talk to each other would begin conversations when their leashed canines began sniffing.
Downtown's pet evolution has only furthered that trend, though it is no longer confined to dogs. The number of pet services, stores, salons and other options that have sprung up means that owners of cats and other animals are meeting each other every day.
In the following pages, Los Angeles Downtown News runs down 30 of the local shops, services, events and more that every pet owner should know. Fido and Fifi are well served in this urban jungle.
Stores
Just Food For Dogs
If our lean years taught us anything, it's that grub fit for canine consumption will likely sustain a human as well. The theory holds up remarkably well with Just Food For Dogs, the newly arrived joint next to DTLA Vets. Ready made, vacuum-sealed meals starting around $3 form the core of Just Food For Dogs' menu. DIY (that's "do it yourself" not "dig in yourself") food kits with a variety of lamb, fish, chicken and beef flavors will run you about $20, but make 30 pounds of pet meals. A run of supplements and specialty diets are also available. Your pets will love the food. The hard part is not trying it yourself.
At 333 S. Spring St., (213) 709-2963 or justfoodfordogs.com.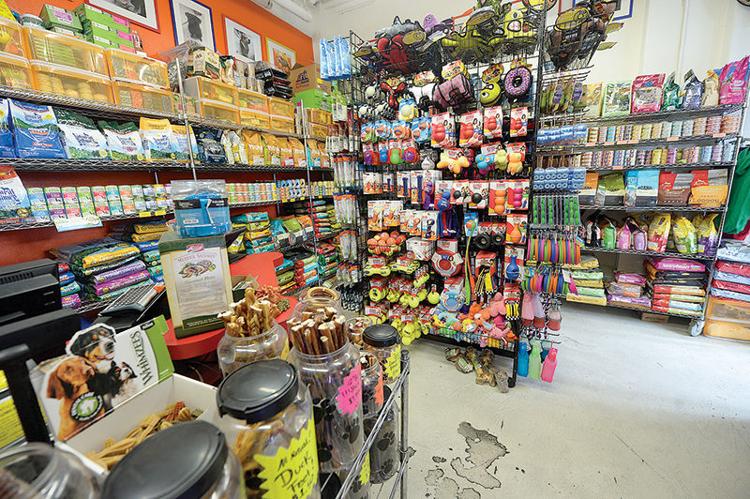 Pet Project LA
Do you need wet food or dry food? How about toys and bedding? Egads, where do you get something to remove stains caused by your beloved animal? All can be found at Pet Project LA on Spring Street just north of Sixth. Open at 10 a.m. seven days a week, the Historic Core shop also offers a full line of grooming gear that promises to leave your animal looking chic and your loft fur-free. Did we mention bunny rabbits? Yes, the mass-reproducing pets that have become a fixture of the Skid Row animal black market receive special attention at Pet Project LA, where food, bedding and treats are always in high supply.
At 548 S. Spring St. #107, (213) 688-7752 or petprojectla.com.
Pussy & Pooch
As the saucy name implies, the boutique Historic Core pet supply shop caters to both feline and canine needs. The windows are dressed with a variety of seasonally appropriate pet couture indicative of the fine wares (including raw and organic pet treats) held on the copious racks. Monthly "mutt" and "meow" mingles offer an opportunity for your animals to socialize, and if you also happen to meet an interesting human at one of these gatherings, then good for you. Additionally, P&P holds the Bathhouse, a well-attended salon offering just about any cosmetic service your pet requires. Those animals craving a snack (read: all animals) can saddle up to the Pawbar for a little taste before you literally have to drag them home.
At 564 S. Main St., (213) 438-0900 or pussyandpooch.com.
Events
Blessing of the Animals
Dating back to the third century, the Blessing of the Animals is a relic of the days of St. Anthony that has bestowed heavenly protection upon our canine, feline, avian and reptilian counterparts. Here in Los Angeles, the Blessing takes place at the Plaza at Olvera Street on the Saturday before Easter. Archbishop José Gomez presides over a procession of dogs, cats, snakes, turtles, birds, rodents and more, and offers his blessing and a sprinkle of Holy Water. The all-ages event is free.
At the Plaza or online at calleolvera.com.
Cat Art Show
If you made it to the Think Tank Gallery on Maple Street on March 24-27, then you enjoyed Cat Art Show 2: The Sequel. If you missed out, then pray to the almighty feline in the sky that version three comes next spring. As the name implies, the Cat Art Show was in fact a showcase of cat-inspired art, with works by more than 70 creative types, including Mark Ryden and Norman Reedus from "The Walking Dead." Even if you missed out, artistic highlights are still online. Meow!
At catartshow.com.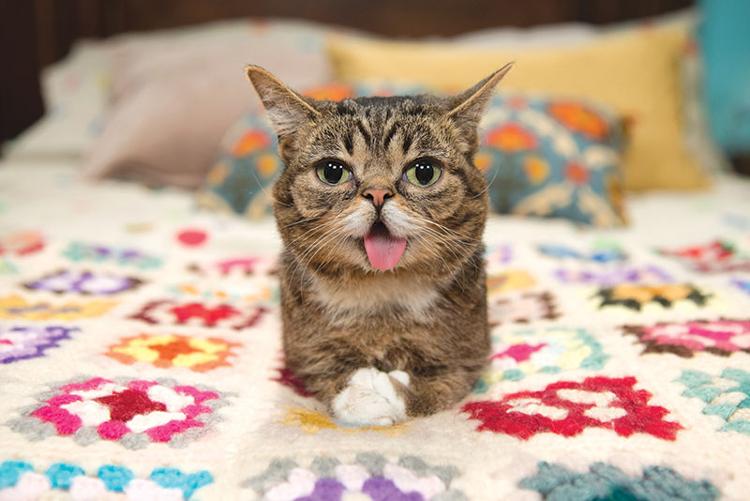 Cat Con
While it sounds like something in a David Mamet film, Cat Con is actually a celebration of all things feline that takes place June 25-26 at The Reef. Part expo, part symposium and part market, Cat Con will have a slate of speakers, and a highlight will be the Cat Video Fest on Saturday evening at the Theatre at Ace Hotel. More than 12,000 people attended the inaugural Cat Con last year, and the numbers could increase for a happening that will stock all manner of toys, furniture, art and more. Can it get better? Yes! That's because celebricat Lil' Bub will be in the house.
At 1933 S. Broadway or catconla.com.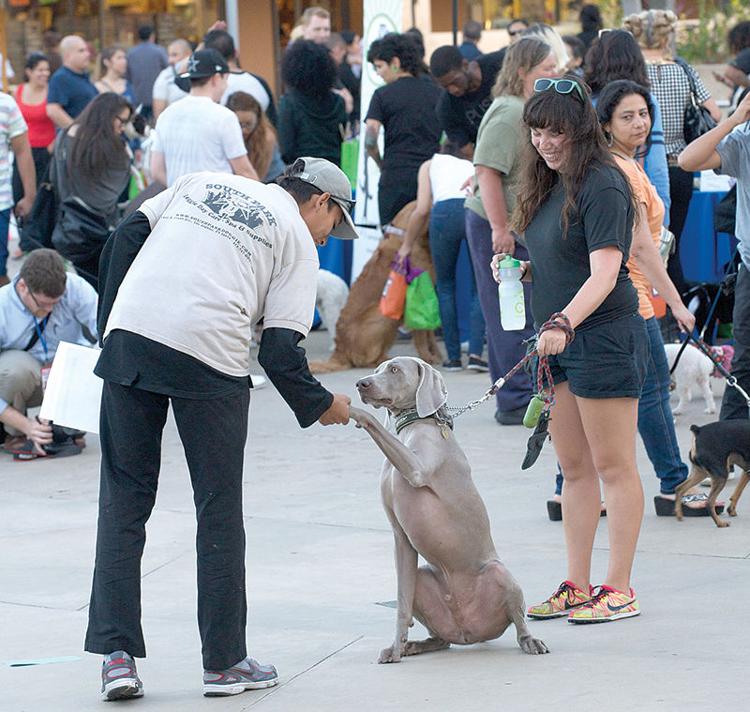 Dog Day Afternoon
The ultimate Downtown pets-and-people confab, Dog Day Afternoon takes place every summer on the plaza of the Cathedral of Our Lady of the Angels. Recent events have drawn more than 1,600 humans and 1,000 dogs. All the pets are on leashes, and for a few hours in the evening they mill about the plaza, sniffing and playing while the humans converse, enjoy food and drinks and check out booths from local pet operations. There are puppy adoptions and even a few cats looking for a permanent home. The event is sponsored by the Downtown Center Business Improvement District, and this year's happening, scheduled for July 13, will be the 10th installment.
At downtownla.com.
Veterinarians
DTLA Vets
It was only a matter of time before an enterprising veterinarian set up shop near the Historic Core, where a multitude of caring pet owners were starved for accessible care. Doctors Leia Castañeda and Eve Flores begin doing house calls and a monthly clinic at Pussy & Pooch in 2011, and two years later they opened the 6,000-square-foot clinic at 333 S. Spring St. Open from 8 a.m.-7 p.m. on weekdays and 8 a.m.-noon on Saturday, DTLA Vets (two other doctors are also on staff) offers a broad spectrum of medical services ranging from routine check-ups to emergency walk-ins. On the more esoteric side of the care menu, you'll find Chinese and holistic healing, dental care and surgery.
At 333 S. Spring St., (213) 613-1537 or dtlavets.com.
Little Tokyo Pet Clinic
The Little Tokyo Pet Clinic has a very limited website and Facebook page, and Yelp, as is often the case, reveals a deeply polarizing split between glowing reviews and harshly critical rebuffs. Beyond that, we were able to discern that the Alameda Street establishment is open from 9 a.m.-6 p.m. Monday through Friday and 9 a.m.-3 p.m. on weekends. While other information was scant, we were able to confirm that Dr. Hye-Ok Chung is licensed to practice veterinary medicine in the state of California and that the California Veterinary Medical Association vouches for her practice.
At 333 S. Alameda St. #222 or (213) 537-0989.
Dog Parks and Play Spots
Arts District Dog Park
At the corner of Fourth and Molino streets in the heart of the Arts District, the Honda Family donated the use of a corner parcel of land for a dog park. A 2014 kerfuffle resulted in a lock suddenly appearing on the park's gate and a quest for paid admission, but that has been eradicated, as a group of donors worked with the Los Angeles River Artists and Business Association and the office of 14th District City Councilman José Huizar to ensure that all two- and four-legged creatures can enter for free. Nowadays, crushed granite, a separate small dog area, a dog water fountain, benches and a mural make for a lovely experience while a timed lock (courtesy of Huizar's office) stands sentinel, keeping the park open from 5 a.m.-11 p.m. daily.
At 1004 E. Fourth St. or laraba.org/dog-park.
Grand Park Dog Park
Grand Park is known as "the park for everyone." It is also the park for every dog, providing they don't all come at once. A fenced-in, postage stamp-sized dog run in the Civic Center park opened in the fall of 2012. The space near City Hall is about 2,000 square feet, and an olive tree in the middle provides some much-needed shade. There are benches so humans can sit while the canines romp. Get in on the action from 5:30 a.m.-10 p.m. daily.
On Spring Street between Temple and First streets.
L.A. Live Dog Park
Not only does the L.A. Live sports and entertainment complex mean food, bars, games, concerts and public gatherings, it also means dog time! Anschutz Entertainment Group opened the L.A. Live Dog Park in late 2013, and from 5 a.m.-10 p.m. daily you can drag your doggy down to a little swath of fenced-in park in the shadow of the 110 Freeway. Behind the iron fence the pets can canoodle and carouse to their heart's content without the threat of traffic or an overzealous sports fan. There are benches, water fountains and areas for small and large dogs. Not that you would want to force your pet to self-identify one way or another. It's just a courtesy for those that do.
At L.A. Live Way between Olympic Boulevard and Eleventh Street.
LAPD "Dog Park"
The park behind the Police Administration Building on Second between Spring and Main streets isn't a "dog park" per se. Okay, technically it's not a dog park at all, as it was designed solely for the two-legged set, whether or not they are members of the LAPD. Still, on any given afternoon, a gaggle of doggies from the surrounding residential areas parade into the park for a quick socializing jaunt and perhaps a few rounds of catch. The self-policing park (see what we did there!) is widely cherished, but pet owners beware: There is no fence separating the park from the streets beyond. Rigid discipline must be instilled before you unleash your pup.
On Second between Spring and Main streets.
Spring Street Park
We instantly regret even bringing the subject up, but now that we're on the topic of Downtown's most controversial parcel of land, let's clear the air: The nearly one-acre former parking lot between the Rowan and El Dorado lofts is intended primarily for human use. No, this is not a dog park just because you have used it as such. Yes, the Historic Core deserves an exclusively purposed dog park. No, your dog may not be off leash. Yes, that security guard does have authority. No, he will not give you a ticket. Yes, that park ranger might. No, no one likes it when you let your dog run and urinate and kill the grass on the small hill. Yes, everyone does it anyway. No, you may not access the park at 11 p.m., for the hours are sunrise to sunset.
At 428 S. Spring St. or friendsofspringstreetpark.com.
Celebrities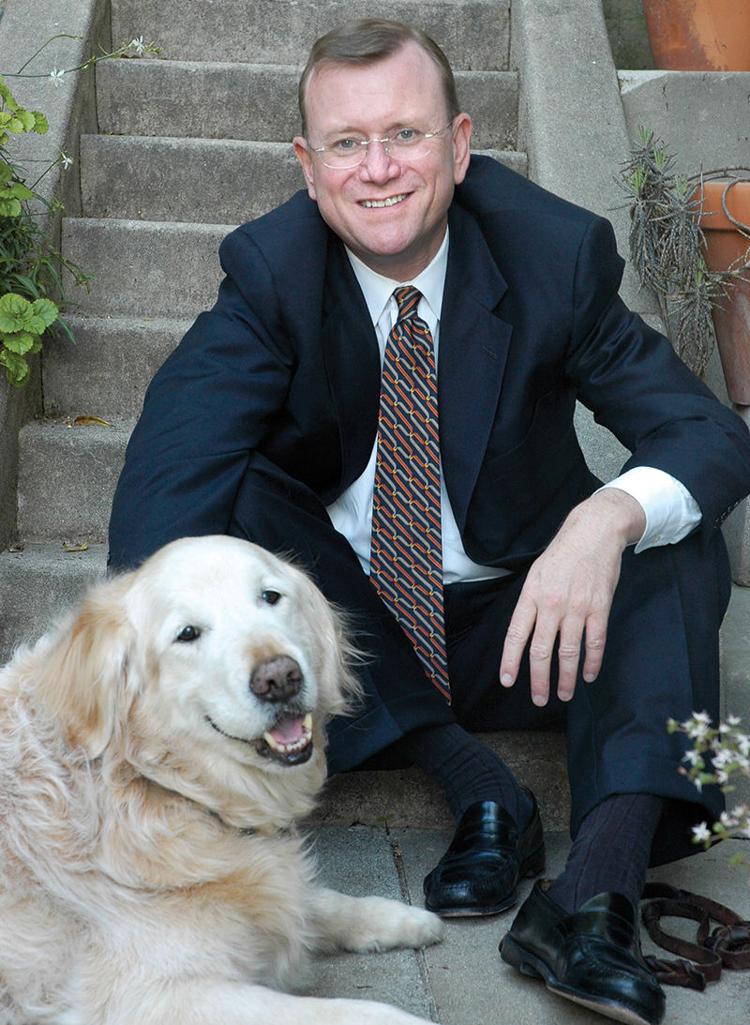 Buddy
Canines have been in Downtown Los Angeles almost as long as people, but when it came to the post-2000 residential revolution, Buddy the golden retriever was more or less the First Dog of Downtown. Buddy belonged to area super-booster Hal Bastian, and the two of them were a familiar sight on the street, with Buddy being a conversation starter in those early years. Buddy also had another role: Almost every time a new dog arrived in the Old Bank District, Buddy would have an informal play date with the arrival. Buddy passed away at the age of 12 in 2008, and he remains the only dog ever to have an obituary in Downtown News. These days Scooter is Bastian's animal companion, but Buddy has never been forgotten.
Spartacus
During Councilman José Huizar's somewhat fractious re-election campaign in 2015, local resident Josh Albrektson jokingly ran his King Charles Spaniel, Spartacus, as a competing candidate. The canine ambassador to the world of local politics became an emblem not only of the election, but also of Downtown dog ownership. Though his candidacy was eventually abandoned in favor of a Huizar endorsement, Spartacus' legacy lives on in an abundance of public sightings, Godzilla-inspired memes and a collaborative electrical box portrait from artists James Wilde and Dirt Cobain at the corner of Seventh and Figueroa streets.
On Instagram @DTLASpartacus.
Walking, Training, Boarding and Other Services
Bark & Clark
Bark & Clark headmistress Tamara Clark's doggy discipline philosophy has been fine-tuned to satisfy three goals: a canine's need for both physical and cerebral work, ample play time and good old-fashioned love. The Historic Core dog trainer touts years of experience and certification, bonding and licensing via the Animal Behavior College (it does too exist). Beyond standard group training and private sessions for recalcitrant pups, Bark & Clark offers an intriguing $50 Pooch Parade class in which owners accompany their be-pawed companions on a jaunt through the city intended to impart basic obedience lessons relevant to the street.
At (213) 321-6319 or barkandclark.com.
City Strut
Perhaps you know Bonnie Dias as the rollerblading dog walker. Her balance is indeed impressive, yet even more awe-inspiring is the breadth of her training services. An acolyte of celebrity trainer and wolf master Jennifer McCarthy, Dias' skill set runs from basic obedience training to pet CPR. City Strut offers a variety of training options, from basic Skype sessions on the low end to week-long, boarding-included intensives. For pups new to Downtown or timid beasts, Dias offers almost weekly workshops that run $60.
At (213) 361-4321 or city-strut.com.
Dog Day LA
Downtown transplant Dan Tracy got his start in the pet-care biz in Baltimore. Nowadays, the intrepid Tracy has a crew of walkers who spend their weekdays trotting through South Park, the Arts District and all points in between to briefly liberate your beloved canine. The nuts-and-bolts dog-walking service focuses on individualized interaction. Starting at $10 per 15 minutes, all walks are exclusive to your best friend — no group walking here. For youthful and more exuberant doggies, the puppy package offers more routine visitation with an emphasis on draining excess energy and alleviating bladder capacity. Not to be neglected, Dog Day LA will even pop in on your feline to brighten their day.
At (213) 986-8293 or dogday.la.
Downtown Doggies U Wash
The name is slightly misleading given the spectrum of full-service grooming (starting at $45 for small dogs) offered at Downtown Doggies U Wash. However, most dog owners who pop in to the Hill Street location pay $13-$15, depending on the size of the canine, to give old Fido a bath with their own hands. Downtown Doggies U Wash provides the facility, shampoo and blow drier. While you may regret not handing over your pooch's matted fur to a professional groomer, the price point on self-washing for space-poor loft dwellers is a steal. Downtown Doggies U Wash is open from 9:30 a.m.-2:30 p.m. Tuesday-Friday and 8 a.m.-2 p.m. on Saturday.
At 744 S. Hill St. or (213) 623-8100.
Downtown Pet Lovers
With an incredibly broad name that smacks of the obvious, Downtown Pet Lovers is, yes, an option for comprehensive pooch care. The leash-masters preside over individual and group walks for clients whose canine companions are not enrolled in their half- and full-day doggy daycare (walking prices are $25 for 30 minutes solo and $15 for 30 minutes in a group walk). Those terriers, labs, Chihuahuas and errant Shih Tzus lucky enough to spend time with no more than four four-pawed companions are all guaranteed to be mature, fixed and vaccinated. Homebody pets can enjoy 30-, 45- and 60-minute check-ins throughout the day, meaning your furry friend won't be home alone all day while you work to pay for kibble. Ducking out of town for the night? Downtown Pet Lovers has overnight pet sitting as well.
At 123 S. Figueroa St., (213) 290-4686 or downtownladogwalker.com.
Fetch! Pet Care
You can find a Fetch! Pet Care branch in 29 of the 50 states and the District of Columbia. Why there is no location in Arkansas, we are unsure. Suffice it to say, local operator Elizabeth Hollendoner oversees a "pet concierge" service active in communities including Arcadia, Pasadena, San Marino and Downtown Los Angeles. Pet owners can shell out for sitting, group hikes or private dog walking. Perhaps most appealing are "almost overnights," prolonged in-home pet care that keeps your animal companion content for two extra hours at night and one additional hour in the morning while you are off doing busy, adult things.
At (626) 768-0387 or fetchpetcare.com/la-downtown.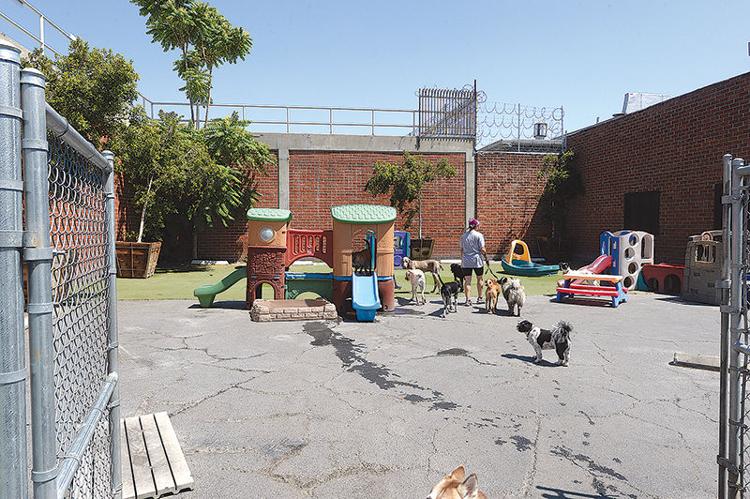 Go Dog LA
There is a legend passed between dogs in a language of eager pants and whispered woofs (we might have made that up): Somewhere south of the great, yawning 10 Freeway, there is an Elysium for man's best friends. Go Dog LA, as it is known in human, offers spacious indoor and outdoor areas reminiscent of parks. Careful screening ensures that the puppy equivalents of roid-rage bros and catty diva gossip queens are excluded. The resulting social mélange is a daily delight of active and playful dogs living as happily as possible without the company of their beloved humans. Some of these dogs even spend the night from time to time or return home freshly bathed. Miracles do happen. Day care starts at $20 for a half-day.
At 1726 Maple Ave., (213) 748-4364 or godogla.com.
Muttropolitan
In the heart of Little Tokyo, Muttropolitan provides comprehensive grooming for the furry canine in your life. All-inclusive packages such as Refresh, Touch-Up and Make-Over offer head-to-tail grooming. This is literally the case, as Muttropolitan services include trimming facial hair and cutting those pesky nails. If your dog isn't in the mood to have a stranger's hands all over them, self-service pet washing stations are available. Treat yourself to a Galvatron shot at nearby Bar C afterwards.
At 408 E. Second St., (213) 626-8887 or muttropolitan.com.
Roxy's Doggy Daycare
The Arts District Roxy's Doggy Daycare is paradoxically run by a woman not named Roxy. Kathleen is a veteran of veterinary intervention with laurels for helping reunite owners with their furry friends after Hurricane Katrina. Nowadays, you can unleash your hound in her concrete-lined Central Avenue canine warren for a mere 28 bones a day (and by bones, we mean dollars). A mere $120 gets you five days and an even $400 will be sufficient to keep your companion happy and entertained between the hours of 6:30 a.m. and 8 p.m. for an entire month. Grooming options are also available.
At 611 S. Central Ave., (213) 239-0309 or roxysdoggydaycare.com.
South Park Doggie Daycare
Voyeurism and dogs: Two of the hallmarks of our digital age merge at South Park Doggie Daycare, where doting puppy parents are invited to spy on their furry children via an uninterrupted webcam stream throughout the day. And what a day it is: South Park Doggie Daycare advertises a schedule rife with playtime, walks, "tugs" and toys. Rates vary, but unlike some competitors, South Park Doggie Daycare allows pet owners to purchase daycare in five-, 10- or 20-day increments that can be used on days of your choosing. As a topper, a regimen of extensive training options can help prepare your dog to do just about anything short of your taxes.
At 1320 S. Grand Ave., (213) 747-3649 or southparkdoggie.com.
Uptown Pup
Located on the southern edge of the Arts District, Uptown Pup offers 3,000 square feet of pristine play space. Beyond customary half-day, full-day, week, month and other extended-stay rates, Uptown Pup offers an $8 hourly rate for those times when the pup just can't come along for that afternoon errand to the Valley. Introvert dogs who prefer to stay at home can also benefit from Uptown Pup's dog-walking services, which offer a variety of options from $15 group walks that run 30 minutes to $35 one-hour solo treks. As is customary, grooming, boarding and training options offer ample opportunities to get your dog in line and keep them happy while you go on about your life. But please, hurry back from the Valley.
At 819 Mateo St., (213) 935-8171 or uptownpupinc.com.
Walk Fido
This bare bones (bones not provided) walking service caters to Downtown dog owners whose canine would feel confident amid other quadrupeds. On the low end, a 30-minute group walk will run $15. For those seeking a full work week of accident-forestalling intervention, five days of group walks cost from $60-$100 depending on how long you'd like Sir Barks-a-Lot to hit the streets. Other services include park trips, vet visits, cat sitting and a vaunted $75 private training walk. No, you can't use that for summer interns, just dogs.
At 500 Molino St., (213) 479-2426 or walkfido.com.
Walka-Walka
Besides being a local face about town and a modular synthesizer connoisseur, Brad Apodaca helms Walka Walka Dog Walking Service. His troop of leash masters have been guiding packs of four or fewer dogs through the streets of Downtown since 2007, instilling quality elevator manners and socialization skills all the while. You, the doting dog owner, have a choice of one or two 30-minute walks per day, starting at $15. If you work a lot and want to go monthly, there are single and double daily walk options for up to $300. It's not cheap, but repeated carpet cleaning from a housebound canine will cost a lot more.
At (206) 459-3077 or walkawalka.com.
Groups
DTLA Dogs
As has become vogue across the Facebook-accessible world, dog owners have gathered in a community of DTLA locals to express their undying love for canis familiaris. The 364 members of DTLA Dogs post a variety of pictures advertising the perks and pitfalls of pooch ownership. You've got your standard discussions of affordable vets, advertisements for dogs seeking "forever homes," garden variety dog-ailment warnings, meet-up and socialization event invites and a bucket full of other canine digital ephemera.
At facebook.com/groups/dtladogs.
DTLA Dog Park Campaign
This niche collective focuses on efforts to convert the bare lot at First and Broadway into a dog park. It may be a tough sell given that the city is moving forward with plans for a traditional human-oriented park and has gotten drawings from four finalists, but nothing ventured, nothing gained. The DTLA Dog Park Campaign is nonetheless a positive venue for pro-dog action.
It's a got a long name with a bunch of numbers, so just search for it on Facebook.
Miscellany
Salmonella Turtles
When walking through Santee Alley in the Fashion District or some of the main thoroughfares in Chinatown, you might see cute little turtles in plastic aquariums. Resist the urge to buy the reptiles for your kids, as the sales are probably illegal, and the animals may spread illness. The turtles are usually red-eared sliders, and you can often buy them along with the aquarium for less than $10. However, as Downtown News reported in 2013, the Food and Drug Administration four decades ago banned the sale of turtles with shells less than four inches long. A spokesman for the California Department of Fish and Wildlife also pointed out that the smaller the reptile, the greater the likelihood that it carries salmonella, which can be spread to humans by skin-to-turtle contact, and can cause diarrhea, abdominal cramps and fever. While we're on the subject, also resist the urge to buy one of the cute bunnies you sometimes see for sale in the Fashion District. Too often they are malnourished or ill.
© Los Angeles Downtown News 2016