DTLA - In April 2014, the California State Parks department closed the 32-acre Los Angeles State Historic Park on the edge of Chinatown. That began a one-year, $20 million project that would modernize the whale-shaped site.
[Get DTLA stories in our daily email newsletter.]
The budget rose and the one-year timeframe turned into three years. Finally, all the work has been completed: The park is scheduled to open with a huge community party on Saturday, April 22.
"We have a very functional, beautiful park, drawing from a lot of different ideas," said State Parks Superintendent Sean Woods. 
The reconfigured space at 1245 N. Spring St. is expected to appeal to a variety of residents and workers, both from Downtown Los Angeles and nearby communities. It contains a large area for picnics and relaxing, as well as a track that will lure walkers and joggers. There's a section that serves as a natural habitat, and an area that can host music festivals drawing up to 25,000 people.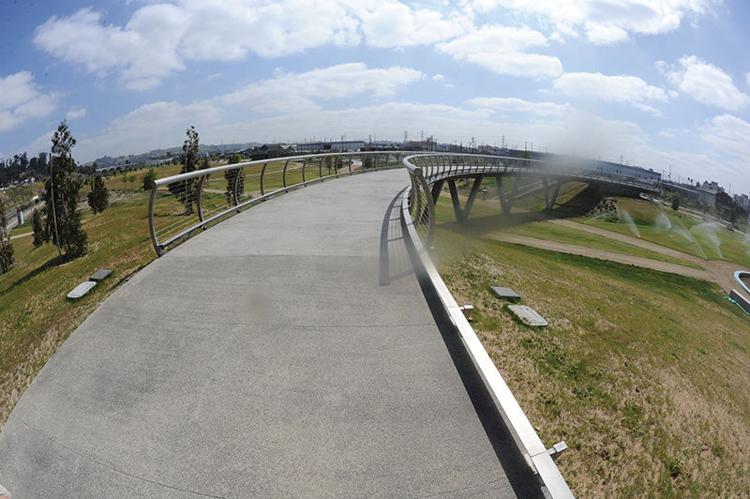 It is intended to be a site for people to spend hours at, or just a few minutes. The upgrades include previously lacking elements such as permanent parking and restrooms.
"State Parks, and kudos to them, did a holistic and deep dive into really bringing forth a community-driven planning process," said Marissa Christiansen, executive director of the prominent organization Friends of the Los Angeles River (FoLAR). "I'm excited for the whole thing."
This marks a major transformation for a spot with a long history. For decades the land was known as the Cornfields. It once held train tracks, and corn seed that fell over the railcars sprouted.
In the late 1990s, it became the site of a community battle. A developer wanted to acquire the land. Neighborhood and community groups including FoLAR banded together in opposition. The State Parks department bought the property in 2001. However, it still sat empty.
Flexible Design
Things changed in 2005, when artist Lauren Bon launched her "Not a Cornfield" project in the park. Despite the title, Bon and her team turned the site into an actual cornfield, growing and harvesting the crops for a full agricultural cycle. They also held small concerts, readings and community gatherings.
When Bon was finished, she donated the irrigation, lighting and other infrastructure. The State Parks department opened it as a public park, though it lacked some permanent amenities. Fees for upkeep came in part from renting it out to concert promoters for events such as the FYF Fest. Woods said that in the last year the park hosted several festivals that drew a total of 300,000 people. 
The renovation began that same year. Work was delayed at one time by the discovery of heavy metal and lead contaminants in the soil; crews had to remove and replace the tainted dirt. It wasn't the only find: Crews also uncovered remnants of the old Southern Pacific Railroad yard and the station that once operated on the site.
Although much of the infrastructure was in place by last year, further delays came from literally waiting for the grass to grow. Officials did not want to open the park until greenery across the site had time to take root — it needs to stand up to expected heavy foot traffic.
Woods noted that, when the project began, different entities wanted different things from the park. Some called for an environmental focus, while others sought to prioritize recreational use. There were also calls to emphasize the history of the area.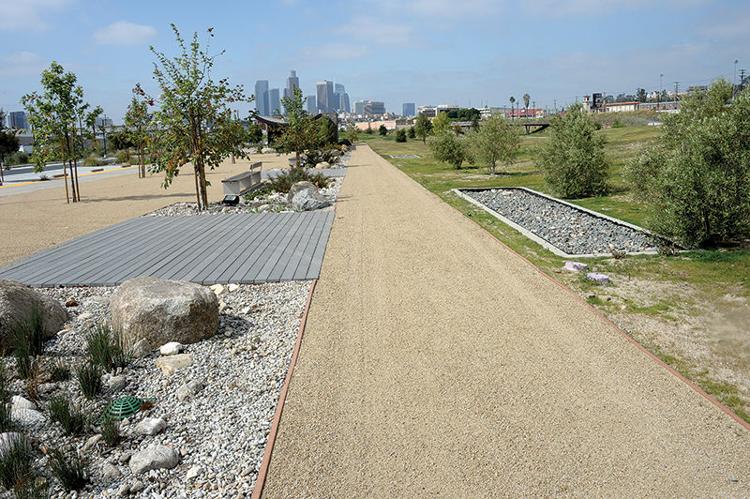 The department listened to everyone.
"We came up with a very flexible design," Woods said. "The park is broken down into three zones."
The design was based on an initial model from Hargreaves Associates, and was revised by State Parks following community meetings and input. The northern third of the park is meant to be a "habitat," with rolling hills, native plants such as California white sage, and a lakebed that will fill when it rains. 
The middle section is designed as a "great lawn," with a roughly 10-acre expanse of grass for picnicking and play. The lawn is ringed by trees and is the flattest part of the park. Woods said that it will be the site for festivals and events, with stages set up on the southern end. A parking lot with dozens of stalls sits just east of the middle section. 
The southern end is distinguished by a large curving bridge that offers an elevated view of the park. The section also has a visitor center with an interactive media set-up showcasing the history of the area. Other buildings along the eastern edge of the park offer restrooms and office space for State Parks staff. 
Long-Awaited Arts District Park Opens
A 1.1-mile track encircles the park. Along with native plants such as goldfield flowers, there are orange and olive trees throughout the space. A restaurant and beer garden are in the works and will open near the main entrance, Woods said. 
George Yu, executive director of the Chinatown Business Improvement District, said it "took a village" to make the park a reality, but that the finished product is worth the wait.
"This is going to be a very usable park for the entire community, for everything from active recreation to just kicking back," Yu said.
Changing Community
The park's construction, including the soil remediation, came in at roughly $24 million. L.A. State Historic Park will operate on an annual budget of just over $1 million. Woods said there is room for further improvement, including possibly creating educational gardens. 
"I like to call the park an improvisational landscape," he said. "As the park grows, we can make some adjustments."
The park will continue to hold events, though none as large as in years past, Woods said. The capacity for concerts and festivals is 25,000, in part to keep the grass from being trampled.
The first event is this Saturday. The free opening day festivities start at 10 a.m. and will feature the band Quetzal, singer Milck, the Shaolin monks and more. 
On May 20, the park will host its first music event, the new Skyline festival headlined by the Swedish duo Miike Snow. 
The park arrives as the area is experiencing great change. Developer Forest City's Blossom Plaza apartment complex opened in the heart of Chinatown last year. Atlas Capital hopes to open its nearby mammoth College Station project in 2019. There are plans for a boutique hotel at 1245 N. Spring St. from the hospitality group BLVD745. The Riboli family, which operates the San Antonio Winery, filed plans last year for a residential development along a long, narrow strip of land adjacent to the park. 
Christiansen said that a nonprofit organization is being formed to plan programming for the park, and that she will sit on the board. She said that will give the community a seat at the table and ensure that the park serves them. 
Changes may come, but none will be greater than the park's arrival. 
---
The Downtown Park Roster
The Community Has More Green Spaces Than You Might Think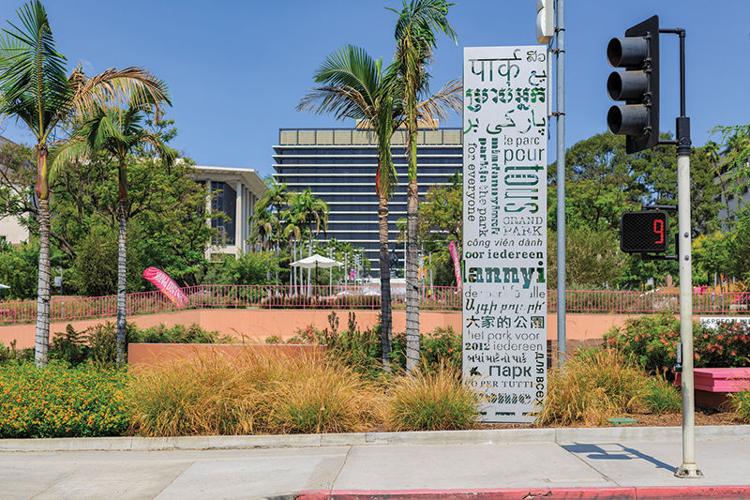 Los Angeles State Historic Park may be the largest park in Downtown, but it's not alone. There are a number of places where workers, residents and visitors can find greenery, public space, and in some cases a playground or a dog run. Here's a rundown.
Grand Park: The 12-acre site opened in 2012 and was an instant hit. It stretches from the Music Center to City Hall. While a couple busy streets divide it into three sections, it boasts a delightful splash pad, and hosts an array of free performances and events. There is also a small, enclosed pet area, hot pink chairs and tables, and a kid's playground.
Pershing Square: With its extensive hardscape, this Financial District destination is more a gathering space than a traditional park. Still, the Pershing Square staff does a fine job of turning an architectural lemon into lemonade, thanks to a free slate of summer concerts, seasonal events including the recent Easter egg hunt, and a winter ice rink. There are a couple kid's playgrounds, too. Bonus: French firm Agence Ter is working on a redesign that will make it level with the surrounding streets and add greenery.
Spring Street Park: The $8 million facility between a pair of Historic Core condominium buildings opened in 2013. It has a small toddler's playground, benches, a dog run, a green hill and a space for events. 
Grand Hope Park: The facility on the campus of the Fashion Institute of Design and Merchandising in South Park has a welcoming green lawn and some amusing deer statues. It also offers a playground, which has become a hub for parents to talk while the kids cavort. 
Arts District Park: Downtown's newest park opened to immense fanfare last November. The half-acre space at 501 S. Hewitt St. is a draw for the quickly changing community. There is a children's playground, green space, ample plantings and seating. 
Maguire Gardens: The space adjacent to the Central Library may be small, but it is also a bucolic collection of grass, trees and calming water features. There is a collection of benches, making it a nice escape for Financial District denizens to either grab lunch or read a book.
Vista Hermosa Natural Park: One of Downtown's most overlooked parks may be its most beautiful. Nestled in City West with an entrance on Toluca Street, the space operated by the Santa Monica Mountains Conservancy has a lovely walking trail, a soccer field, an amphitheater, a playground and plenty of grass. It's a true respite from the urban bustle.
FAB Park: Okay, this isn't a park… yet. The city last year selected architect Mia Lehrer to design a two-acre park across from City Hall and adjacent to Grand Park. First and Broadway Park will cost $28 million (including site acquisition) and hold a central plaza, a two-level structure with an outdoor amphitheater, a rock-paved path and some tulip-shaped shade structures. Groundbreaking is anticipated for early 2018.
© Los Angeles Downtown News 2017