DTLA—The price of the proposed streetcar system that would run through Downtown Los Angeles is now nearly $291 million, and would rise by another $15.6 million if an extension to Grand Avenue is added. Plans call for starting construction next year and finishing by 2021.
[Get DTLA stories in our daily email newsletter.]
Those are some of the details revealed in a new Environmental Assessment published by the city Bureau of Engineering. A 30-day comment period began on Monday, July 23. The report is on the BOE's website, and a public hearing on the project will take place at the Caltrans building (100 S. Main St.) from 6-8 p.m. on Thursday, Aug. 2.
The 318-page report reveals a number of details about the project that has been championed by 14th District City Councilman José Huizar. Originally broached in 2008 as part of his Bringing Back Broadway initiative, Huizar initially hoped for cars to run in 2014. Instead the streetcar has repeatedly been pushed back and multiple efforts to secure federal and other funding have been proposed.
The assessment reveals a 3.8-mile route that would be shaped like a pipe standing up, with a main southbound spine on Broadway from First to 11th streets. It would proceed west on 11th, turn north on Figueroa, then roll east on Seventh Street. At Hill Street it would again turn north, and go up to First Street. A right turn would bring it to Broadway, allowing for a continuous loop.
If the Grand Avenue leg is included, a streetcar at First and Hill would turn left on First Street, proceed two blocks and go south on Grand to a stop in front of Walt Disney Concert Hall.
Editorial: Streetcar Should Connect to Grand Avenue
Among the elements detailed in the Environmental Assessment:
• The streetcar would have 23 stops, with nine on Broadway, one each on the block between Second and Third streets, Third and Fourth streets, and so on. The pace of one stop every block continues for much of the route.
• The platforms would be a raised concrete pad measuring about eight feet wide and 70 feet long. Platforms that are shared with Metro buses or DASH buses could be up to 120 feet long.
• Streetcars would run seven days a week with three to six cars rolling depending on the time of day. It would operate from 6 a.m. to midnight on Monday-Thursday, 6 a.m.-2:30 a.m. on Friday, 9 a.m.-2:30 a.m. on Saturday, and 9 a.m.-midnight on Sunday and holidays.
• During peak periods, generally weekday rush hours, cars would arrive at a station every 10 minutes. In later evening hours the frequency would be every 15 minutes.
• The streetcar would have an estimated 4,181 daily riders upon opening, though with a Grand Avenue extension that would increase to 5,860. Twenty years later projected ridership with the Grand Avenue leg would hit 7,760. The projections came from Metro models.
Price and Funding
The $290.7 million price tag is an increase from a $266 million estimate in November 2016. According to the new assessment, construction would cost $117.7 million, while $44 million would be spent on land acquisition and another $43 million would go to purchase vehicles. The price includes about $25 million in contingency fees.
The Grand Avenue extension would be another $15.6 million. If the latter element is included the total cost would hit $306.3 million.
Annual operating costs are estimated at $6.6 million, according to the analysis.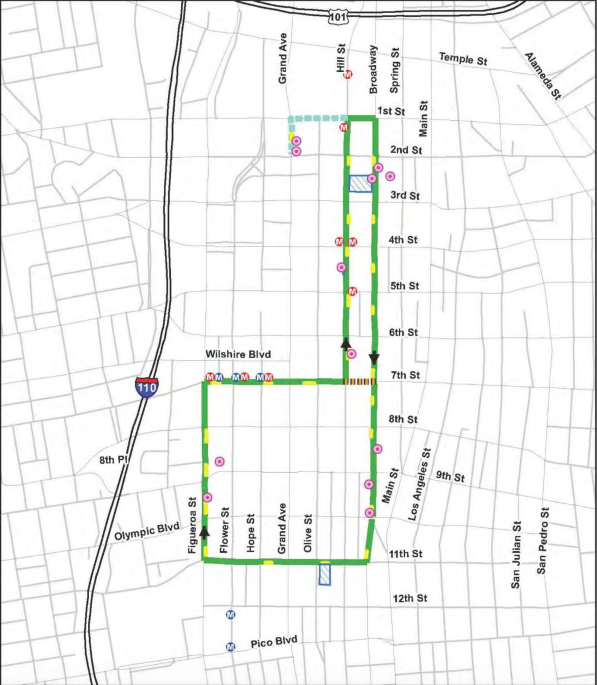 Funding has long been a challenge for the project. Multiple attempts to win grants from the Federal Transit Administration failed. In the past there have been discussions of a public-private partnership.
Property owners in the vicinity of the streetcar route have voted to tax themselves $65 million for construction, but that would only be applied if the project comes to fruition.
The most recent funding effort involves trying to access funds from Measure M, a half-cent sales tax for mass transit projects approved by L.A. County voters in November 2016. Huizar succeeded in getting the streetcar added to the list of approved Measure M projects, but it was placed in the third tier, where money would only become available in 2053.
Streetcar Backers Angle for Measure M Money
Huizar has sought to get the streetcar moved up the list. Measure M holds a provision to accelerate the timeline for "shovel-ready" projects if revenues are higher than anticipated.
The streetcar would require improvements at a number of Downtown intersections. There would also be extensive utility relocation, including moving sewer, power and fiber-optic lines.
In addition to the track and the stops, the streetcar would need a maintenance and storage facility, and two locations are currently being considered. One is a collection of parcels measuring nearly 67,000 square feet on the west side of Broadway between Second and Third streets. The other, about 51,000 square feet, is at the southeast corner of 11th and Olive streets. The maintenance facility would be two to three stories tall with indoor and outdoor work areas.
In both cases the city would have to buy the land.
Streetcars have a long history in Downtown. The report notes that a cable car system was established in 1885, with the 2nd Street Cable Railroad, which ran west from Spring Street. Electric-powered systems soon took over, and by the 1890s the Los Angeles Consolidated Electric Railway (or LACE) handled most service in Downtown. LACE struggled, however, and gave way to the Los Angeles Railway Corporation; around the turn of the 20th century the company had Yellow, Brown and Red cars operating in Downtown.
The system reached the height of its popularity in the 1920s and '30s, according to the streetcar analysis, but then gave way to automobiles. The system slowly shrank, and the final Los Angeles Railway system lines shut down on April 1, 1963.
Copyright 2018 Los Angeles Downtown News