On a sunny weekend morning in Chinatown, half a dozen people walking down College Street stopped and peered inside the windows of a tiny space, drawn in by the blunt sound of fists hitting pads and kicks echoing out into the street. Inside, around two dozen people shuffled around the space, running through martial arts drills in the fluid style developed by the legendary Bruce Lee, who once taught in the unadorned studio.
Fifty years since people last trained in the space, and 46 years after the actor and martial artist died, Lee's studio has been brought back to life, with a second-generation student guiding people through the principals of Jeet Kune Do, or "the way of the intercepting fist," a style built on efficiency and avoiding rigid formality. The space at 628 W. College St. was Lee's studio until he closed it in 1969. The building most recently housed a dentist's office — the signage is still there — but has sat vacant for the past 18 years.
The studio came back to life last month under the guidance of Eric Carr, a Los Angeles-area native. Carr said he had been a fan of Lee since he was a kid, but growing up poor, never had the opportunity to train in Jeet Kune Do. That was until he met Jerry Poteet, one of Lee's main students, in 2001. A friendship and training relationship was sparked, and eventually Carr was encouraged to start his own classes. The 42-year-old has taught people for 10 years, having regularly held lessons at the former Cornfields area, in what is now Los Angeles State Historic Park on the northern end of Chinatown.
Lee studied wing chun kung fu, and trained many Hollywood stars while he pursued his acting career and developed Jeet Kune Do. The Enter the Dragon and "Green Hornet" star died in 1973, but is still celebrated as a cultural icon in the neighborhood. A bronze statue, depicting Lee in his signature fighting stance with numchuks in hand sits inside Chinatown's Central Plaza, and his image can be found in many of the small tourist shops that dot portions of Chinatown.
Still, his studio has sat empty.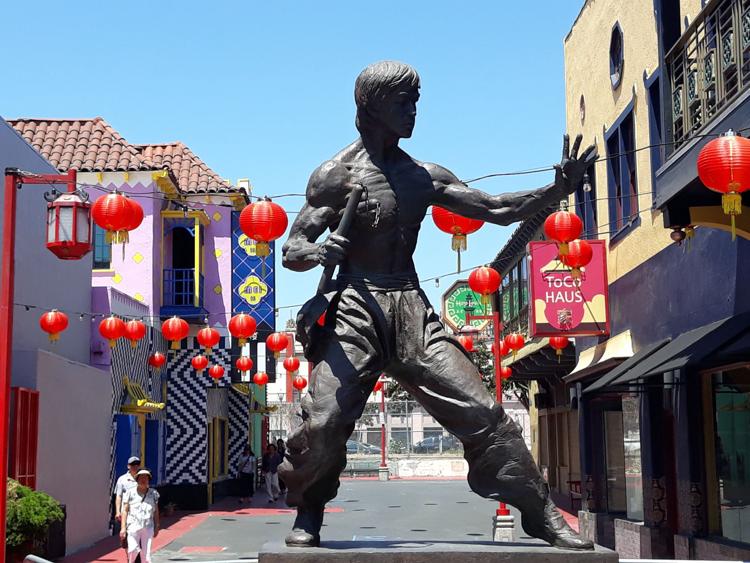 Carr said that the long-time owner of the building hadn't been interested in seeing it used for martial arts, but after the owner's son took over, a local artist, Annie Morrison, leased the space. She agreed to let Carr hold classes inside the studio. Carr said that when he and his students were able to hold their first lesson in the 1,100-square-foot studio, they were elated.
"We'll be starting with once-a-month, free sessions. It's great to be back in Chinatown, to be able to spread JKD here where Bruce taught it," Carr said.
The unnamed studio held two classes on Nov. 10, a mix of Carr's long-time students and new ones who came from Chinatown and the wider Los Angeles area. Carr and his experienced students moved through the room, checking form. The skill levels were mixed over the course of the day, ranging from people who were trainers in other styles to novices. There was even a professional mixed martial artist in the fold; UFC bantamweight fighter Andre Ewell (who has a 15-6 record) participated in the first class of the day, decked out in a yellow tracksuit similar to the one Bruce Lee wore in the unfinished film Game of Death. Ewell had heard about the class from a friend and said he couldn't miss the chance to train there.
"It's Bruce Lee, so I'm all in on it," Ewell said after class. "Just watching everyone else be here in this space, I'm learning a lot from them."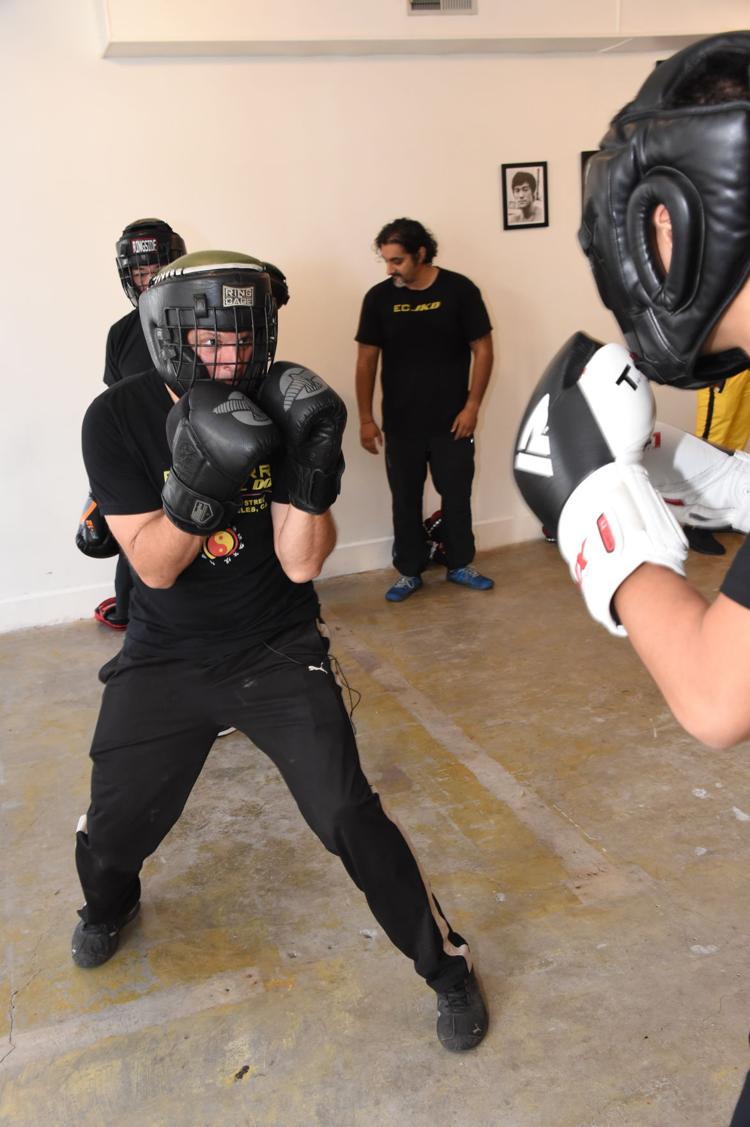 A Changing Neighborhood
The studio was brought back as Chinatown faces serious changes, with much of the neighborhood's long-time institutions closing or moving. Just east on College Street, the long-running Pacific Alliance Medical Center hospital abruptly closed in the fall of 2017. An effort to reopen it as an urgent care center is in the works, but has hit delays. After 30 years, the Ai Hoa Market on Hill Street, a neighborhood staple, relocated to El Monte.
Meanwhile, a number of low-income buildings saw their affordable housing covenants recently expire, with the Los Angeles City Council intervening to help low-income and aging residents keep their homes. Carr said he's been keeping an eye on how Chinatown is changing, and said that it's important that the character and history of the neighborhood is maintained. Everything changes, he added, but that change should be done responsibly. He hopes the reopened studio can help preserve part of Chinatown's history.
Beyond just the people who walked by and stopped to watch the classes, some Chinatown residents took part. That includes Jaden Wu, who, while stretching before class, said that the chance to learn Jeet Kune Do was exciting and something "cool" and "new" to do in the neighborhood.
"I heard about it on Meetup and had to check it out," Wu said.
On a typical training day Carr runs through basic introductions and shares stories about Poteet and Lee, before demonstrating some of the drills they will do. The studio is set up as it was when Lee ran it, empty floors and wide-open space with enough room for roughly 25 people. The walls are bare, except for a few placards from Lee's day and a small set of photos, including ones of Lee and Poteet. One even shows Lee and his students inside the space, showing how little it has changed in five decades. Carr intends to keep the studio as close to the original as possible.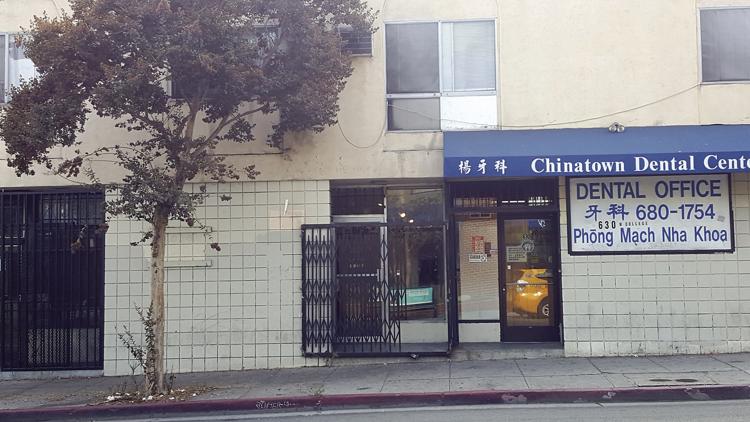 "We've set this up just like Bruce had it," he said before a class.
Carr hopes that he can bring more people in each month. He admitted the space is small, and said the parking in the area isn't the best, but said that as things get going, he'll start adding more classes.
"We want to be able to give back, in the spirit of Bruce," Carr said.
The students shared that excitement. Taking a sip of water between lessons, Jackson Jin said there's a certain energy and excitement that comes from being able to practice their technique inside the historic space.
"It's freaking history!" Jin said. "We're finally here, it's open, and we can work on the continuation of Bruce's legacy."
nslayton@timespublications.com.
©Los Angeles Downtown News 2019