DTLA—Hollywood loves its sequels. Just consider the litany of cinematic double-ups that have been created to win awards and earn gobs of money at the box office. The hits have included The Godfather Part II, Rocky II and Paddington 2. On the other end of the spectrum are efforts including the execrable The Next Karate Kid and the mystifying breakdancing sequel Breakin' 2: Electric Boogaloo.
I get why the film studios go back to the well. But boy was I surprised last week when the Los Angeles office of the Federal Bureau of Investigation showed that it too is getting into the sequel game. That was the situation on Monday, July 22, when a battalion of FBI agents armed with search warrants entered the headquarters of the Los Angeles Department of Water and Power, the City Hall East office of City Attorney Mike Feuer, and a couple other locations.
Six Months After the Huizar FBI Raid, the Waiting Game Is On
This came after the FBI last November raided the City Hall office and the Boyle Heights home and office of Councilman José Huizar. Who knew the FBI could produce a Downtown Los Angeles sequel in just eight months?
Call it FBI Raid II: Electric Boogaloo.
The raid, which exploded on Twitter mere minutes after it began, is, like its predecessor, both astounding and mystifying. Immediately upon hearing the news I started pondering how people in and around City Hall were reacting. As texts spread about federal agents entering local buildings, did 38 people in various city offices scream, "Shred the documents! Now!" Did someone try to hustle Mayor Eric Garcetti into a panic room? I wondered if, after learning that agents were in the area, but before knowing that they weren't headed his way, a distraught Huizar gathered his staff and said in a somber voice, "Today's the day we were hoping would never arrive."
For some reason, I'm thinking of another sequel: Bad Boys II.
Bungled Billing
As with the November raid, the public knows almost nothing about what went down last week and why — that's what happens when search warrants are sealed, and no one is arrested or charged with a crime. The bits that have been revealed, through prepared statements and reports in the Los Angeles Times and other media outlets, indicate that federal agents are looking at proceedings related to the 2013 rollout of a new DWP billing system, a debut that earned reviews even worse than those of Speed 2: Cruise Control.
Thousands of ratepayers were overcharged, leading to outrage, lawsuits, settlements, and then questions and complaints about the settlements. It's complicated stuff, but the Feds' search of Feuer's office appears to stem from outside lawyers that the city attorney hired to work on a lawsuit filed against PricewaterhouseCoopers, which helped implement the billing software.
This is mega-serious for City Hall. One individual well-versed in law enforcement and investigations pointed out that the warrants authorizing last week's searches require clearing a high bar, that federal judges don't just grant them quickly because they're in a hurry to get to lunch at the old-school haunt Paul's Kitchen. Instead, investigators likely spent months assembling the material needed to convince a judge that there's a legitimate reason to go digging, and an expectation of wrongdoing. That is elevated when it comes to getting a warrant for an attorney's office, and super double elevated when it's a warrant for the office of the elected top lawyer of the second-biggest city in the nation.
This is bad news for Feuer, who just this month, at a luncheon in Downtown hosted by the Los Angeles Current Affairs Forum, indicated that he is considering running for mayor in 2022. Even if nothing further related to his office is ever heard in regards to the FBI investigation, the search will look awful on sepia-toned election-related mailers from competing mayoral candidates.
On the other hand, Feuer isn't ducking the matter. Whereas Huizar seemed to disappear into a Tora Bora cave for months after his raid, Feuer's office almost immediately acknowledged the situation, and confirmed that warrants were served on employees in his office. He eschewed the standard "No comment," and instead a statement from his office said, "The warrants served on our staff relate to issues that have arisen over the class action litigation and settlement surrounding the DWP billing system, and the City's lawsuit against PwC. We have and will continue to cooperate fully with the expectation that the investigation will be completed expeditiously."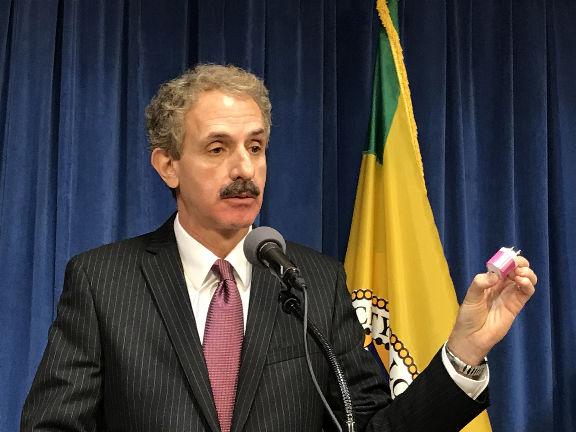 Additionally, Feuer showed up at a Los Angeles Downtown News event less than 36 hours after federal agents were in his office. He never uttered the words "off the record."
The raids also deal a blow to Garcetti, who in recent months has been pummeled for the city's worsening homelessness and garbage crises, and the swan dive defeat of the school-aiding ballot effort he backed, Measure EE. Garcetti was elected mayor in 2013 in part on a promise to reform the DWP, as the maligned department emerged as a battle point in his contest against Wendy Greuel. While controlling the DWP is about as easy as wrestling a greased hydra, the mayor appoints the commission that oversees the department and picks its GM. An FBI raid indicates that the promised reform is still a million miles away.
The Ups and Downs of 'Ericarus' Garcetti
Garcetti was doing damage control last week, trying to prevent the situation from spinning into Weekend at Bernie's II territory. Last month Garcetti had announced that DWP General Manager David Wright would step down Oct. 1, to be replaced by Chief Operating Officer Marty Adams. The day after the raid, Wright's departure was fast-tracked, and he was kicked to the curb in favor of Adams. Whether the elevation of a 35-year veteran of the utility leads to a fresh start remains to be seen.
Talking Trust
City Hall watchers are full of questions in the wake of the second raid. Among the most asked is, is it related to the first raid?
Whether the answer is yes or no, it's terrible. If the recent action spins from the Huizar investigation, then it looks like rot is spreading through the entirety of city government. If the DWP case is brand new, it opens the door to a completely busted system where no one exerts real oversight and checks and balances are afterthoughts. It's this kind of lack of control that led to the atrocity known as Basic Instinct 2.
In either case, a second FBI raid in less than a year erodes trust in City Hall, and it's not like local government was viewed as a beacon of integrity before this happened. After all, we recently saw a pair of Valley councilmen earning hefty salaries — Felipe Fuentes and Mitch Englander — quit public service for presumably more lucrative gigs in the private sector. Little sympathy was shown for the constituents suddenly left without representation.
What happens next is impossible to predict. The Feds tend not to leak, and eight months after the Huizar raid there's still far more speculation than substance as to where this is going and who, if anyone, will ultimately face charges. The Feds also won't be rushed in their investigations, so good luck predicting when anything will happen.
For now the real damage, as mentioned above, is to the public's faith in the city leadership. If Angelenos witness two FBI raids of local government in eight months, then no one will be surprised if there's an upcoming sequel to the sequel, or maybe it's a threequel. If that happens the reference point might not be Breakin' 3, but rather Broken 3: Los Angeles City Hall.
Copyright 2019 Los Angeles Downtown News