DTLA - With its promise to make bicycling safer and more accessible, the MyFigueroa project has been one of the most anticipated efforts in Downtown. It has also been one of the most delayed, due to construction snafus, neighbor challenges and changes to the overall plan.
[Get DTLA stories in our daily email newsletter.]
Now the $20 million streetscape improvement project is reaching the finish line. The overhaul of a four-mile stretch of the Figueroa Corridor will be formally unveiled on Thursday, Aug. 30.
MyFigueroa improves signage and crosswalks, and upgrades transportation infrastructure along Figueroa Street from Martin Luther King Jr. Boulevard to Seventh Street. It also reduces traffic lanes along the route.
Big Changes Recommended for Downtown DASH routes 
Jessica Lall, president and CEO of the Central City Association, said the project will make Downtown Los Angeles more welcoming and accessible for residents, workers and visitors.
"Mobility is Downtown's greatest asset," Lall said in an email. "MyFig and the many other transportation projects will make our neighborhood an even more important connection point."
MyFigueroa includes the construction of four miles of bicycle lanes, with 1.75 miles protected by a curbed buffer, or bollard. The project also created 13 new raised bus stops, which will allow buses to pick up pedestrians without crossing the bike path. It planted 189 trees.
The works extends to a six-block stretch of 11th Street, from Figueroa to Broadway. Previously a two-lane street with westbound traffic, it has been whittled down to one vehicle lane.
Tim Frémaux, senior transportation engineer for the Los Angeles Department of Transportation, which was in charge of the project, said the results live up to expectations.
"I think it represents a pretty big accomplishment in terms of redesigning a roadway and balancing it for all users," Fremaux said at a media preview last week. "It's not totally complete, so I don't want to give my final assessment yet, but some of the little issues that I saw are solvable, and I felt that I am much more protected as a cyclist."
Multiple Designs
The project initially began under the Community Redevelopment Agency, which secured funding in 2010. Following the dissolution of CRAs across the state in 2011, LADOT took over.
Get Ready for the Electric Scooter Invasion
The project went through multiple design iterations, said Deborah Murphy, the project's grant writer and chair of the pedestrian advisory committee. Initially the vision was highly dramatic, including a much larger separation between bicyclists and vehicles. A more modest proposal was eventually instituted.
The project follows the "complete streets" formula that has become popular in cities such as San Francisco, New York and Miami, according to the MyFigueroa website. The goal is to create a multimodal environment where the needs of pedestrians and bicyclists are balanced with those of car drivers and mass-transit users. One goal is to get people out of their personal vehicle, in part by making bicycling safer in urban areas.
The most noticeable change on Figueroa Street is the protected bike lanes. Though the width of the road shifts along the route, generally one or two vehicle lanes have been eliminated. There are also new trees, and pedestrian and bicycle traffic signals.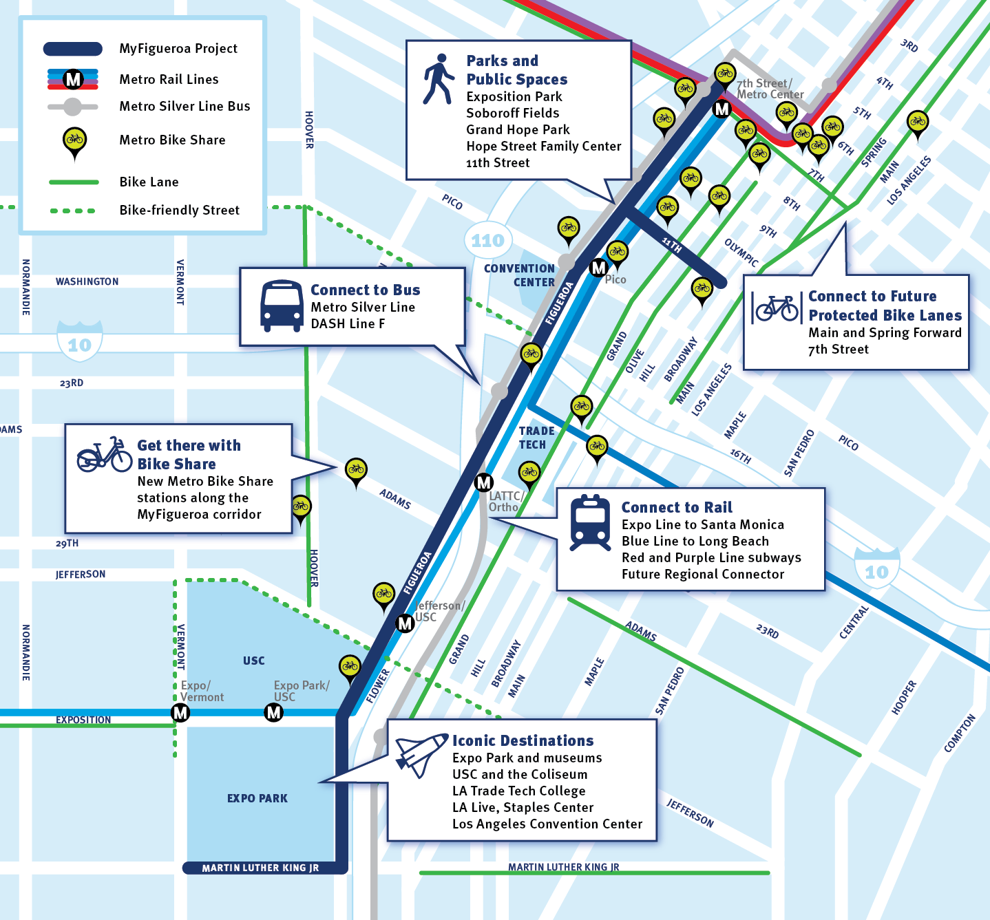 Murphy said that in the past the corridor often functioned as an alternative to the 110 Freeway for motorists, and that the heavy traffic has deterred novice cyclists.
"Having the protected bike lane is really the key thing to make it a pedestrian-friendly environment," Murphy said.
Groundbreaking dates were continually pushed back. Work finally began in October 2016. A completion goal of June 2018 was missed by two months.
During the construction, some South Park business owners complained about limited access for their patrons. Los Angeles Downtown News reported last November that some businesses claimed revenues fell by double digits due to a combination of MyFigueroa work and additional construction or other projects that closed off streets.
Another hurdle came before construction began. In 2013 the Shammas Auto Group, which owned several car dealerships along Figueroa Street (most have since been sold), protested shrinking seven vehicle lanes to four on portions of the route, due to worries about how the project would impact access to businesses.
The Auto Club of Southern California, which has a facility at 27th and Figueroa streets, also raised concerns about potential traffic jams from the loss of lanes.
A formal protest was filed with the City Planning department in September 2013. The appeal was dropped the following May after extensive meetings with city leaders.
Fremaux conceded that initial analyses indicated potential traffic delays, but said that LADOT has noticed less-than-anticipated congestion, due either to motorists remaining on the freeway, or using other roads.
Fashion District Gets $22 million for Street Repairs
"What we see right now is what we consider a more equalization of traffic in the area," Frémaux said. "As time goes on, we'll come back and do a real analysis to see what the numbers look like."
New Infrastructure
The green-striped bike lanes stretch from the University of Southern California campus to the heart of Downtown. Zachary Rynew, communications and volunteer coordinator for the nonprofit Los Angeles County Bicycle Coalition, tested out the route and said he hopes the overhaul will improve transportation along the corridor.
Still, he noted some concerns, saying that controlled bike sensors, which help time traffic lights, can cause confusion. He also pointed to green left-turn boxes intended for bicyclists; the painted street signs provide a turn lane for those on two wheels who intend to turn through an intersection.
"Some of the infrastructure can be a little confusing for cyclists and probably other road users," he said.
Oliver Hou, a spokesman for LADOT, acknowledged that some of the design elements are foreign to Downtown cyclists. He expects it will take time for riders to acclimate, but that ultimately the project will draw more bike riders to the Figueroa Corridor.
Motorists will also have to adjust, Hou said.
In the pre-opening period, some issues have become apparent. Cars and chartered buses sometimes idle along sections of the bike lane that are not separated by a buffer. During a media test ride last week, a city truck blocked a portion of the lane, forcing cyclists into the street.
Rynew also expressed concerns about the portion of the route near the Convention Center, where taxis and tour buses have blocked the bike lane.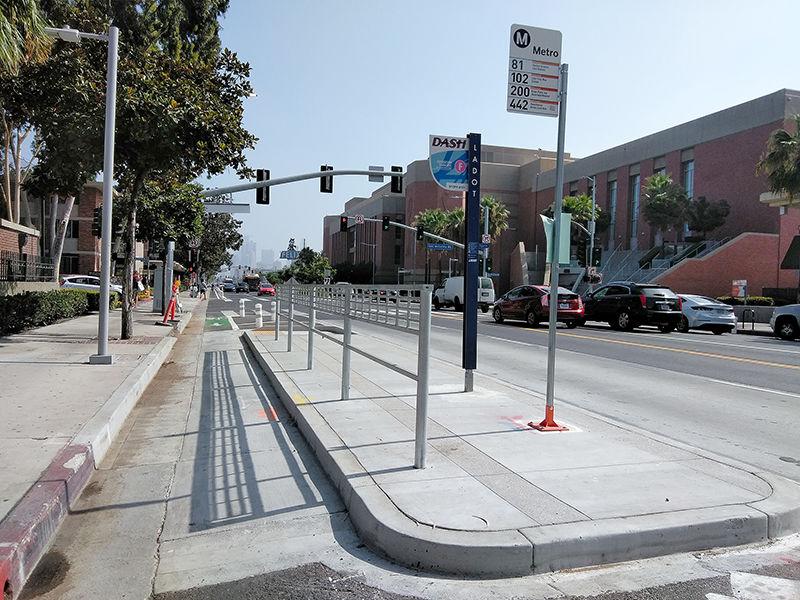 Hou said LADOT is using signs and other tools to inform drivers about the bike lanes in what were previously parking zones. The department is also working with the Convention Center to identify dedicated passenger-loading zones on Figueroa, he said.
City Councilman José Huizar, whose 14th District holds a portion of MyFigueroa (it also rolls through Curren Price's Ninth District), said the project could be "unique and special," though he noted it will take time to iron out some kinks.
"Ultimately, it will be the people using the multimodal options who will tell us whether the MyFig project is a success or where it can be improved," he said.
Last week, the final elements of the project were being applied, including work on the remaining portions of the 11th Street, and at Figueroa and Seventh streets. 
At the grand opening on Thursday, community members, whether they are on foot or two wheels, will get a chance to try out the improvements.
© Los Angeles Downtown News 2018