Downtown Los Angeles got a chance to hear from five of the candidates in the running to replace José Huizar as the representative for the City Council's 14th District this past week. They met in South Park on Wednesday, Jan. 22 to debate a variety of topics affecting Council District 14 as a whole, and specifically Downtown.
The debate featured candidates who had qualified for the March 3 ballot. The list included Los Angeles Unified School District board member Mónica Garcia, advertising executive, nonprofit organizer and former Eagle Rock Neighborhood Council Vice President Cyndi Otteson, social worker Raquel Zamora, former State Senate President pro tempore Kevin de León and nonprofit executive John Jimenez. It was the largest lineup for a Downtown forum on the race, and the biggest since a Dec. 11 forum hosted by the DTLA Strong neighborhood group.
Former Los Angeles Downtown News editor Jon Regardie moderated the event, which was jointly organized by the Downtown Center, Fashion District, Historic Core, Arts District, Little Tokyo, Industrial District, and South Park business improvement districts. Roughly 117 people attended the forum, which was held at the South Park Center at 1149 S. Hill St. The conversation focused specifically on Downtown.
De León arrived just as candidates were giving opening statements. Jimenez missed the start of the debate, arriving partway through.
Housing and Homelessness
One of the major topics was homelessness. The debate took place while volunteers participated in the Los Angeles Homeless Services Authority's annual homeless count in Downtown. Last year's count found a 16% increase over 2018 in the city, and an 11% increase in CD14. In Skid Row, there was specifically an 11% increase as well, up to 4,757 individuals in the roughly 50-block area.
De León touted his work in the state Legislature getting more funds for housing, but criticized the high costs and delays on Proposition HHH (which funds permanent supportive housing in the city). He proposed identifying all city-owned real estate sites that could be used for housing, and using modular, prefabricated units. Zamora called for expanding services to help people dealing with trauma and addiction on the streets. Garcia proposed creating "innovation zones," and using publically owned spaces for housing sites.
Otteson said that housing is the long-term solution, but, "new ideas" are needed to address the crisis. She talked about the need for low-barrier shelters, similar to the kinds of spaces in New York City, and mentioned the need for safe parking in every CD14 neighborhood.
"We need more renter protections," she added. "We need to look at a municipal bank to fund first and last month's rent."
Former Council President Herb Wesson introduced a motion in October for a study on the possibility of a municipal bank.
During the debate, Regardie asked about how the candidates would work to increase workforce housing if selected to the city council. All agreed on the need for it, but did not offer any specifics on how to create new units — Otteson mentioned possible vacancy taxes on developers to fund legal right to counsel — save for de León, who mentioned the need for incentives and state funds to build workforce housing, and to convince market-rate developers to build that kind of housing.
No candidate spoke in favor of splitting Downtown in the upcoming redistricting process, however as with the previous debate hosted by DTLA Strong, candidates did not point out that Chinatown, which is a part of Downtown, is already split from CD14, falling inside the First District. Portions of Downtown are also in Curren Price's Ninth District. When asked if they would support adding more members to the City Council, only Otteson suggested raising it, to 45-50.
During the debate, Jimenez, who arrived roughly 42 minutes late to the 90 minute debate, said that he also backed keeping all of Downtown under one district.
Livability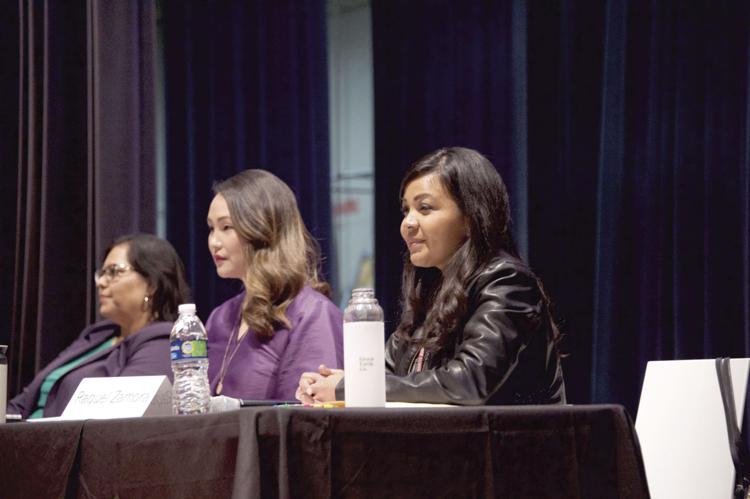 Also on the agenda was the matter of transportation, and how to expand mobility in Downtown Los Angeles. All candidates spoke in favor of the Downtown streetcar down Seventh Street and Broadway that Huizar had proposed earlier in his tenure. Otteson noted that it has been some time since the initial idea was put out, so a fresh look is needed. De León added that if not a streetcar, a dedicated electric bus down Broadway would benefit the thoroughfare.
When asked about electric scooters and other dockless transit options, the candidates agreed the devices offered more mobility options. Otteson and Zamora spoke of the need for more protected bike lanes in Downtown, and candidates said that private scooter companies that want to operate in Downtown should be regulated. De León said that the dockless scooters need docking stations in Downtown, which seemingly goes against the purpose of the dockless vehicles. A pilot program for a regulatory framework for dockless vehicles was created in 2018. Currently approximately 3,300 dockless vehicles are in Downtown.
Regardie also brought up the city's efforts to update the various community plans to guide growth into 2040 and what they would prioritize (Downtown's is the first of the plans being overhauled). Those on stage agreed for the need for more parks, while Zamora and Otteson both argued for the need for more public schools.
"One of the reasons I moved out of Little Tokyo and the Arts District was that there were no walkable public school options," Otteson said. "We need to make sure every single family in Downtown can stay in Downtown."
The topic of public safety drew loud responses from the audience, Although violent crime is down overall in the city, the LAPD's Central Division (which covers most of Downtown Los Angeles) reported a 4.2% increase in Part 1 crimes, which includes violent and property crime (see page six for more information).
The five all spoke of the need for expanding LAPD foot patrols. Jimenez touted his conversations with senior lead officers, and mentioned how congested traffic can delay responses to crimes in Downtown, while de León said the budget needs to be reexamined. He added that many officers who gain experience in Central move to the Metropolitan Division based elsewhere in Los Angeles, a claim that has been disputed by Central Division senior lead officers. Zamora said that people's perception of safety is valid, and said that the Central Division, currently based at Sixth Street and Maple Avenue, needs a new headquarters. Otteson and Garcia spoke of the need for more community policing, with Otteson specifically saying that active and clean streets can help deter crime.
Asked what the first resolution they would introduce in office would be, de León said it would remove red tape for constructing housing, while Garcia talked about expanding wellness. Zamora said she would push for revisiting the Mitchell case (which the city agreed to settle in 2019; it concerned the seizure of homeless individuals' property during cleaning sweeps). Otteson said she would propose a department of homeless affairs. It remains unclear how the new department would differ from LAHSA, the joint city-county agency that is currently tasked with overseeing the homeless crisis.
"We have a pot czar, but we don't have anyone specifically tasked to deal with this new constituency," Otteson said.
Also brought up was Oceanwide Plaza, the $1 billion mixed-use high rise complex near Staples Center that stalled out at the start of 2019, with no major ongoing construction due to financial troubles tied to the Chinese government restricting the outflow of capital to projects such as overseas real estate. All candidates said that the cause of the stall should be investigated — by the third response, audience members began shouting "Chinese money." Zamora said that there should be enforcement in future to prevent this from happening again. Garcia said that if the project, which has already topped out, is too big, it should be made smaller. De León suggested that if the project stays stalled, it could be repurposed for a different use.
"Given the crisis of affordability and workforce housing, as well as the homeless crisis, if it's not going to be reasonable and it's going to be an eyesore, I will look for all legal remedies possible for potential imminent domain so we can have workforce housing," he said.
The primary election is on March 3. If no candidate receives a majority of votes, the two leading candidates will compete in a runoff election in November.
nslayton@timespublications.com.
©Los Angeles Downtown News 2020